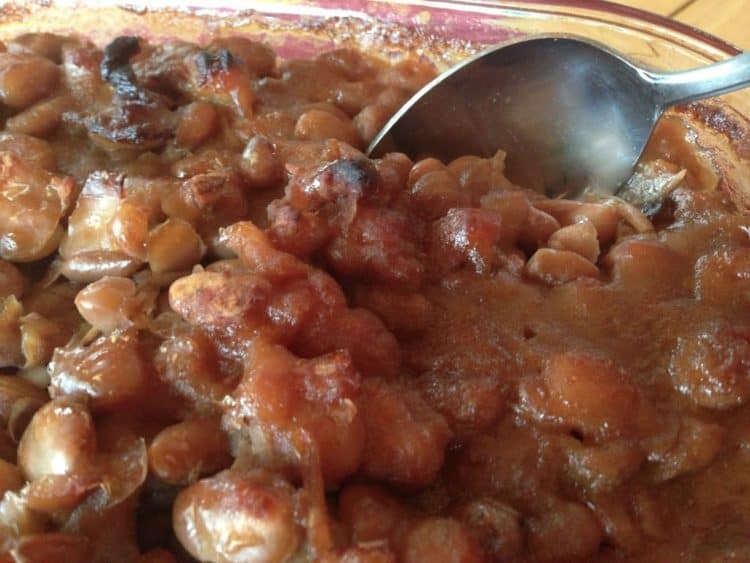 Everyone has someone in their family or circle of friends who is famous for one dish in particular.  For me, just a few examples would include my brother-in-law Kermit's "barbecued" chicken, my late aunt Rose's oatmeal cookies, and my mom's coffee cake.  For families like mine the list is almost as long as the number of siblings, aunts, uncles, cousins and neighbors that I have had throughout my life.  When it comes to baked beans the crown goes to one and only one member of my family, my aunt Ilona, the only sibling of my dad.  Her version of this dish mirrors its creator: understated, unwavering in character, and genuine goodness to the core.  My baked beans won't ever replicate my aunt Ilona's, nor will anyone else's.  That's no reason to not try a hand at making them, however.  Memorial Day is coming up and it's a perfect time to consider throwing a dish of these together.
This is one of those dishes where poetic license is not just encouraged, in my opinion it should be mandatory.  There are as many ways to make baked beans as their are varieties of beans.  Is it wrong to throw a couple of cans of commercial baked beans together in a baking dish, stir in some mustard and ketchup and call it a day?  Absolutely not.  There is however opportunity with baked beans to mark your signature, like my aunt Ilona's.  I've heard rumors throughout the  years that she uses maple syrup with hers.   Although I've never asked, I think this a reasonable assumption since my family hails from maple syrup country in northern New York state.  Growing up there and being a part of a maple syrup producing family, we learned from an early age that the uses for the sweet stuff from sugar maples extened well beyond pancakes and waffles.
My sister Ann was another kitchen artist.  Holy cow that woman could cook!  Baked beans were among her repertoire of standard sides. She almost always made them to compliment her husband Kermit's chicken and always served a huge green salad and big bowl of chips along side of them.  Typically there was copious amounts of absolutely mouth-watering food on her table.  One memory of her baked beans that stands out most was the afternoon she forgot to take them out of the oven, until long after the meal was eaten.  There was so much other food no one even began to miss a monster-sized dish of baked beans.  Still, we all felt some sense of loss, of unrealized pleasure, as it was obvious that none of  us had anyone have any room in our stomach to accommodate a single bean, and even if we  had, the beans had long passed their cooking point.  It was one of those awwwweee darn! moments which also illustrated even the most capable cooks have their moments.
Through the years I've put these together.  They are seldom the same from batch to batch but they are usually good with whatever they are served.  What follows is my basic method.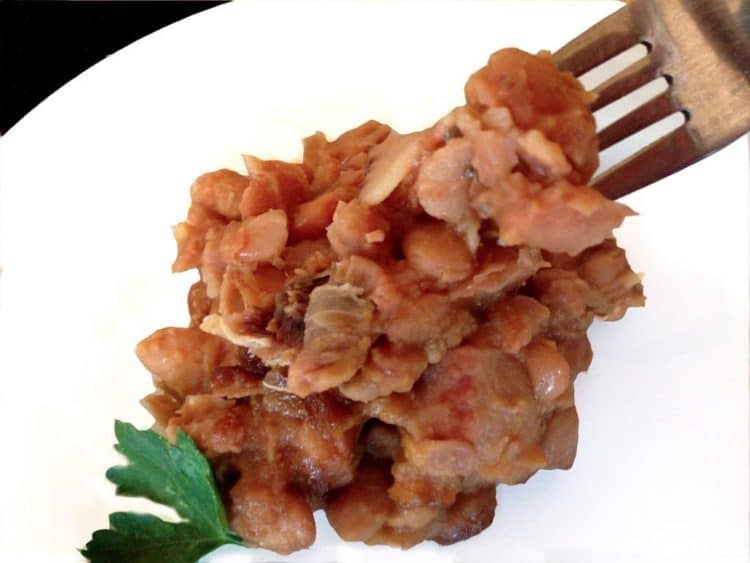 Ingredients
1 lb dried pinto beans
1 large white onion diced
1 cup brown sugar
1/3 cup dark molasses
1/2 cup yellow mustard
1/2 cup ketchup
Instructions
Rinse beans well and wash away any sand or gravel mixed in with them.  Place in large mixing bowl and fill with cold water until beans are covered with 2 inches of water.  Place  plastic wrap over bowl,  place in refrigerator and allow to soak overnight.
The next day, drain beans and place in large sauce pot.  Add chicken brother, cover and bring to boiling point and then reduce heat to low simmer.  Allow to simmer for 1 hour.  Preheat oven to 350 degrees F.  Drain beans, save and set aside the liquid (broth) for the baking process.  Place beans  in large mixing bowl.  Using large spoon, fold in remaining ingredients thoroughly but gently, taking care not to mash the softened beans.  Place bean mixture in well oiled oven-proof baking dish.  Add reserved broth to baking dish so that beans are covered in the liquid.  Place in oven and bake 3 hours, uncovered.
Tips
Check beans every 40 minutes and add more liquid if necessary, throughout the baking process.  Use water to add to beans if you run out of broth.

Add a pork bone to the beans while baking

Consider adding the following, according to your tastes and what you have available:
                           Chopped up bacon, 1/3 to 1 lb, add to mixture before baking
                           1 cup of your favorite barbecue sauce
                           1 cup pure maple syrup
                           1/4 cup bourbon
                            2 tablespoons fresh ground ginger
If you're not ready to eat when these are finished, or if you are transporting these, cover dish, wrap in foil, then wrap in large towel for further insulation (keep away from stove or heat source.)