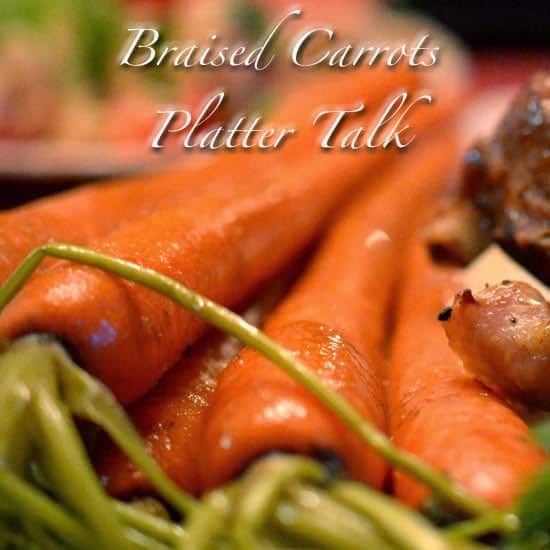 Over the past few months, we've featured a few posts with braised foods.  As I've learned a bit more about the braising technique I have found myself venturing off the beaten path a bit and running ideas through this little head of mine that eventually end up in my not-so-little belly.  These braised carrots make for a an attractive vegetable side serving while at the same time offer something that does not add girth to my waist line; all in all, a great combo.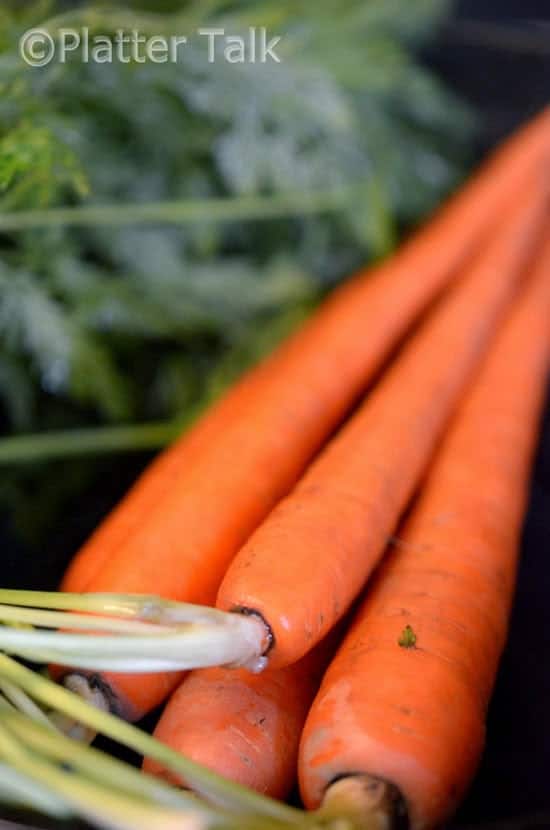 If you've read Platter Talk in the past, you probably know that the produce section ranks among my favorite parts of a grocery store.  (I love "good" grocery stores, and harbor a natural disdain for those falling out of that category.)  Carrots, perhaps more than any other garden vegetable, scream prooooduuccccce!!  to me.   The crowning canopy of greens atop the bright orange roots are a cheerful representation of natural goodness.  Who never had the chance to pull a sweet carrot from their mom's garden, brush off the clinging bits of earth, and consume it?   To me, such an act defines communion.  Who never had the chance to make a bunny rabbit's day by giving them a fresh garden carrot to devour?  For those who haven't had such life experiences, I feel sorrow.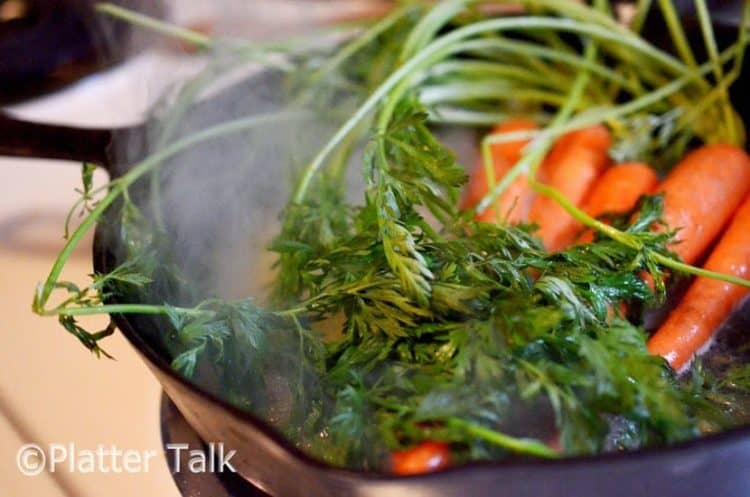 Besides featuring a vegetable that I love, I used one of my favorite kitchen implements for this post. One that is timeless,  almost infinitely versatile, and virtually indestructible: the cast iron skillet.  The carrots, the skillet, and our small cottage in the middle of Nowhere, Wisconsin.  All of these factors certainly enhanced this dish. Truly though, all you need are carrots and a good braising vessel to enjoy this easy and nutritious accompaniment to any meal.  I hope you enjoy this post and I hope you will give these a try.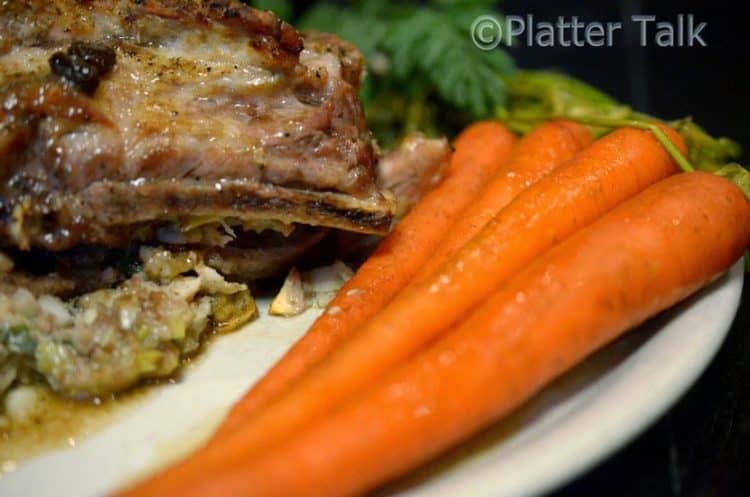 Be Sure and Follow Platter Talk on Facebook and Never Miss  A Great Recipe!
Braised Carrots
yield 3-4 servings
Ingredients 
1 lb (0.5 kg) whole carrots, washed

1 tablespoon butter

1 cup vegetable or chicken broth

1/2 cup dry white wine

1 tablespoon brown sugar

1/2 teaspoon ground cinnamon
Instructions
Preheat oven to 350 degrees F.

Add butter to large skillet and melt over medium high heat.

Add carrots to skillet, carefully seer all sides.

Add broth and wine, reduce to 1/2 volume.

Cover skillet, place in oven for 30 to 40 minutes to desired tenderness.

Remove carrots, place on warm plate and cover with foil to keep warm.  Reserve liquid for glaze.

Heat reserved liquid on stovetop to light simmer, stir in brown sugar and cinnamon, reduce till thickened.

Pour glaze over carrots and serve immediately.