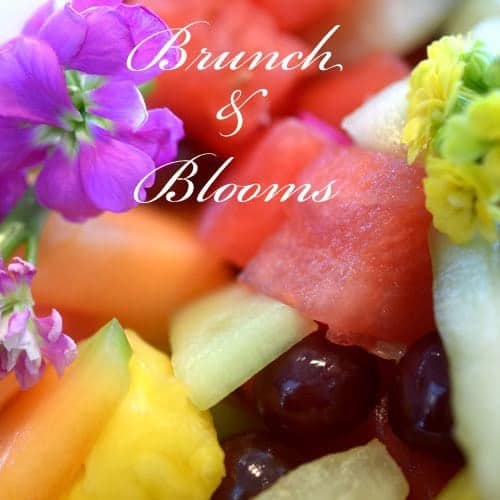 It's the beginning of March and it seems apparent that someone forgot to inform Old Man Winter that his term for the season has ended. In spite of the subzero temperatures of late, a sold out crowd of just under 100 people found refuge this past Saturday morning at The Paine Art Center and Gardens, in Oshkosh, Wisconsin. The Brunch and Blooms event, catered by Zuppas, featured an elegant menu of brunch-like savories and champagne, all amidst the beautiful floral backdrop in the Art Center's conservatory. For those in attendance, the brunch served as a prelude to the Paine's 5th annual Rooms of Blooms. I was among the fortunate to attend and partake.
This was Platter Talk's second event at the historic Paine, located in the center of Oshkosh. Last fall we had the privilege of visiting during a special luncheon where world renown French cuisine expert and educator Patricia Wells was promoting her latest cookbook, The French Kitchen Cookbook.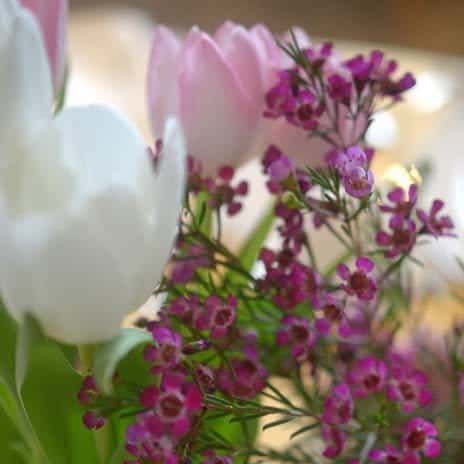 Mademoiselle Wells was not in attendance this past weekend, but there was an artist here who was also present for her event last fall.
Chef Peter Kuenzi, the man who prepared lunch for Patricia Wells last fall, along with his staff from Zuppas in nearby Neenah, concocted a gorgeous and delicious brunch for Saturday's guests featuring a menu that looked something like this:
Raspberry Cream Cheese Stuffed French Toast

Ham and White Cheddar Quiche

Roasted Vegetable Parmesan Quiche

Maple Ginger Sausages

Smoked Chicken Apple Sausages

Assorted Muffins and Scones

Fresh Fruit

Champagne

Orange Juice

Coffee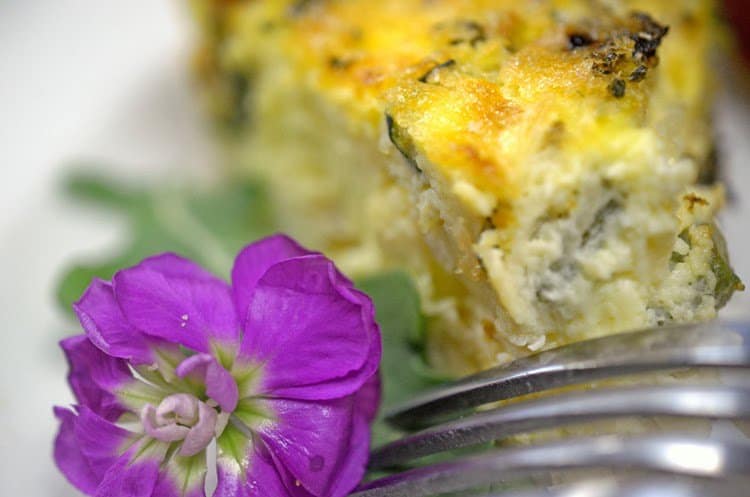 The Paine's conservatory was the setting for the day's Brunch and Blooms event. The center of the conservatory's floor was laden with a colorful bed of fresh flowers, replete with color, texture, and fragrance, all lending supporting shouts of advocacy for spring's arrival while bathed in rays of sunshine, filtered thorough the glass ceilings and walls and offering the only sensory evidence of winter's resilient grip.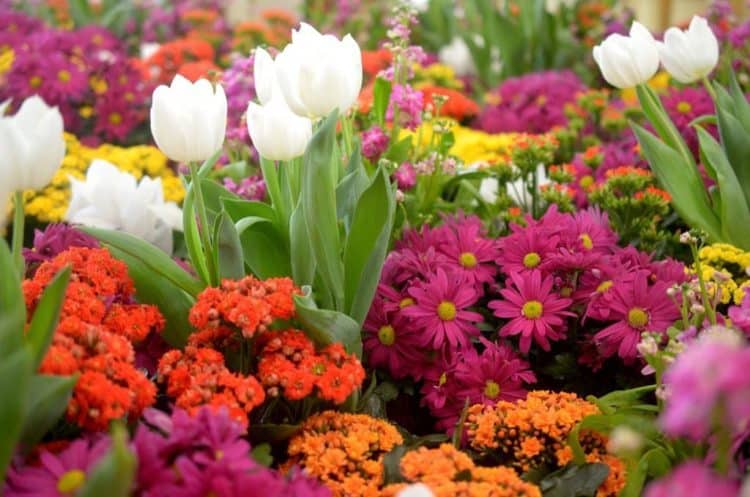 This year's theme within the conservatory, created by the Paine's horticulturalist, Sheila Glaske, is inspired by the delight and fantasy of dancing through the garden in the rain. A carpet of vibrant flowers and plants crowned by umbrellas and floral rain hats add to the charm and whimsical feel of the expansive and light-filled room.
The Saturday morning's light mood was fortified with the colors of warmth, fresh coffee, OJ and champagne (and combinations of the two), all manifested in the constant hum of friendly banter that is inherent to relaxed people in a beautiful environment and among friends.
Following brunch, guests were invited to tour the Paine mansion, located just a few short steps from the conservatory for the main event: The Fifth Annual Rooms of Blooms.
Upon entry to the mansion, the main gallery welcomes guests with its current exhibition of Wisconsin artists Ruth Grotenrath (1912-1988) and Schomer Lichtner (1905-2006) who were celebrated as the preeminent art couple in Milwaukee during the mid-twentieth century.
Within the gallery, participating floral artists created displays inspired by and echoing the current exhibition, celebrating a vibrant life in love and art.
The mansion is home to French Barbizon school and American paintings, sculptures, and decorative woodworkings, Persian rugs, tapestries, and English and American silver and china. The many rooms within were indeed blooming with fresh floral arrangements – some that shouted out from prominent points of display, while the beauty and serenity of others flowed from more discrete nooks and crannies; all contributing to an enveloping sense of timeless beauty throughout.
To this end, floral artist from the entire fox river valley of Wisconsin created an array of stunning arrangements and displays. Vibrant colors and and the exotic aromas of plants and flowers from near and far greeted and accompanied guests as they meandered throughout the Tudor Revival style edifice. Built for lumbar baron Nathan Paine and his wife, Jessie Kimberly Paine, there is little irony lost in the fact that the couple never lived in the "house."
A Saturday morning occupied by an elegant champagne brunch, surrounded by cheerful folk and abounding floral beauty – all within the grounds of a massive early 20th century mansion and art center. Yes, our our weather could have been more appealing here in Wisconsin last weekend, but it's hard to imagine how a few leisurely spent hours of Saturday morning could have been any lovelier. Thank you, to the people of the Paine along with Chef Peter and crew, for hosting this morning of Brunch and Blooms and the ensuing Rooms of Blooms.
Be Sure and Follow Platter Talk on Facebook and Never Miss A Great Recipe!