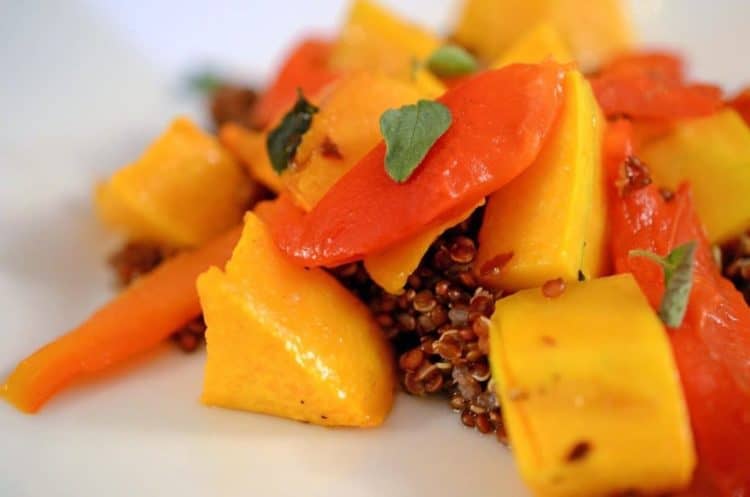 What a delicious time of the year! Visually, our eyes are feasting on autumn's colorful symphony, in fields and forests. As the fall colors near their peak, the same is true for the harvest of bountiful produce. The local markets here in Wisconsin are bursting with fresh beets, leeks, pumpkins, ornamental corn, and squash of every imaginable variety.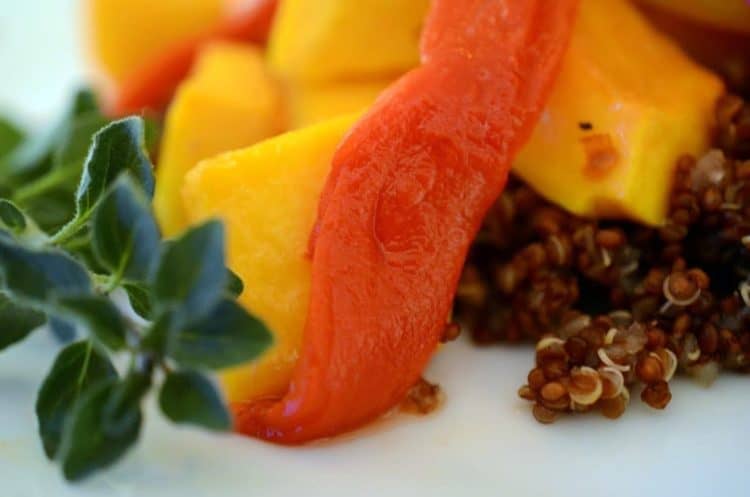 As with many foods that are loaded with nutrition and health enhancing qualities, I showed up a bit late for the squash party. I grew up with all of this stuff, most of it coming from my mom's huge garden. The problem was, I just would not eat it.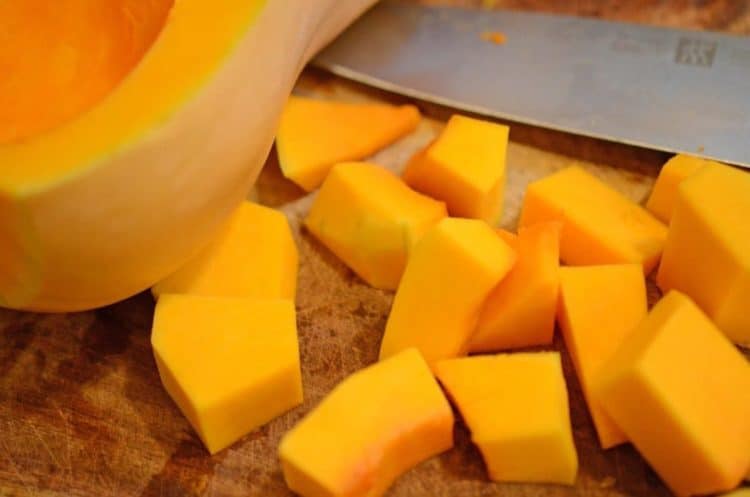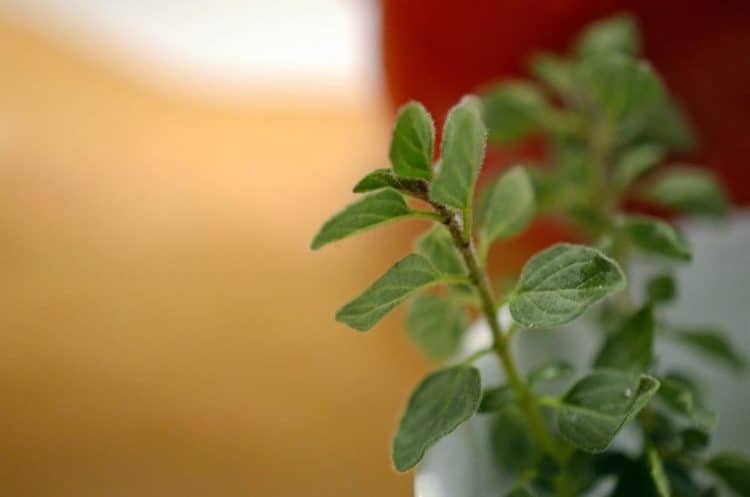 Better Late than Never is an adage I have employed frequently throughout my life – often because it seems I'm a tad slow on the uptake, sometimes.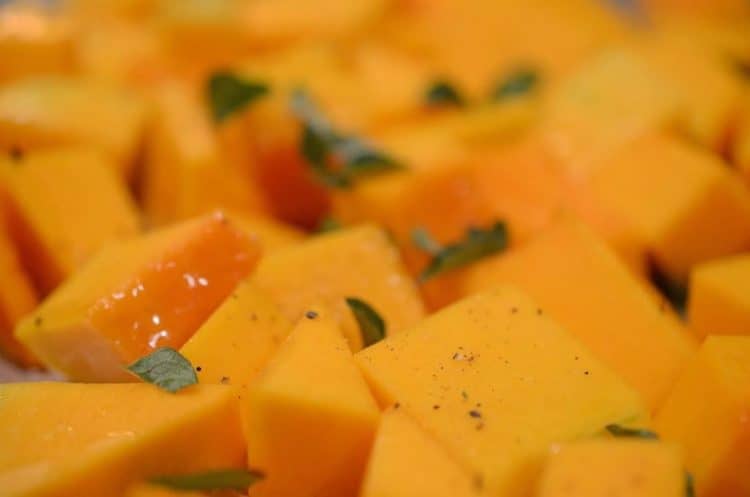 Fortunately, when I do "get it," I usually do so really well, in my characteristic all-or-none kind-of-guy fasshion. When it comes to food, particularly flavorful fare that is also healthy and life sustaining, I don't just "get it," I get excited.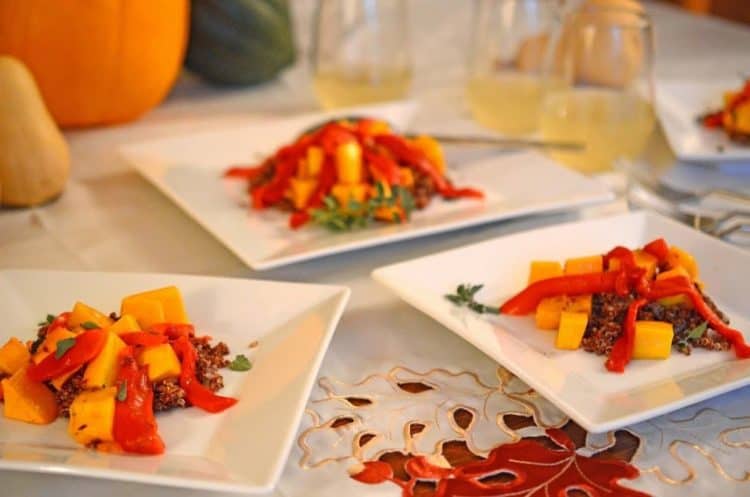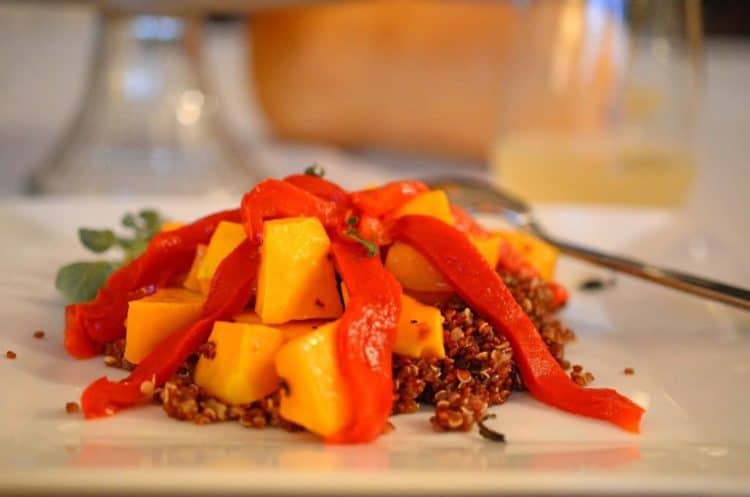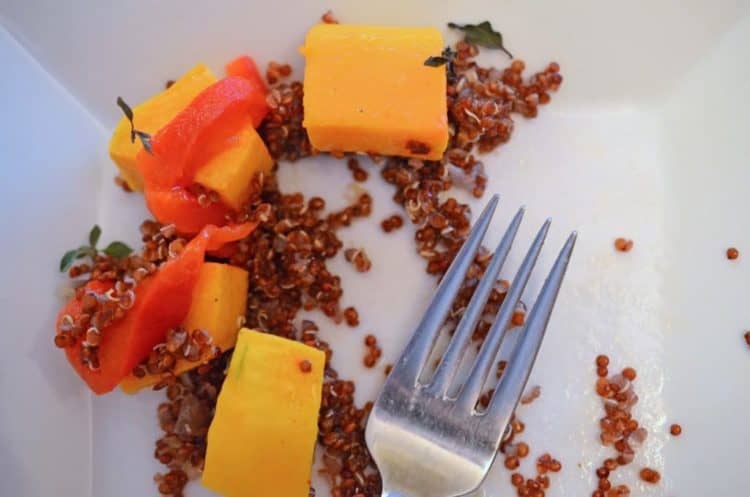 This little salad incorporates the power food quinoa, which we've touched upon before. To add a little more character to this component of this recipe, I prepared it with a bag of home procured broth from my own freezer. Holy flavor, was this wonderful in taste!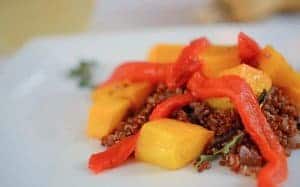 Be Sure and Follow Platter Talk on Facebook and Never Miss A Great Recipe!
Butternut Squash Salad with Quinoa and Roasted Red Pepper
a Platter Talk Exclusive
Recipe
Ingredients
1 medium butternut squash

1 red bell pepper

1 cup dry quinoa

3 cup broth or stock

3 sprigs fresh oregano

2 tablespoons olive oil

1/4 cup red wine vinegar

pinch of crushed red pepper flakes

fresh ground peppercorn and salt to taste
Instructions
Preheat oven to 350 degrees F.

Place pepper directly on oven rack, roast for 30 minutes or until skin is puffy and easy to remove.

Slice squash in half, peel and remove seeds. Cut into 1/2 to 1 inch cubes.

Toss cubed pieces in medium mixing bowl with olive oil.

Place on cookie s sheet and roast for 40 minutes or until tender throughout.

In small sauce pan, bring broth to light boil, and quinoa, reduce heat and stir intermittently for 15 minutes, until quinoa is tender and broth fully absorbed, then set aside.

Remove pepper from oven and allow to cool. Then remove skin, cut in half and remove seeks. Slice pepper in narrow strips 1/4 inch in width.

When squash is finsished roasting, remove from oven and place in large mixing bowl. Toss with red wine vinegar, salt, pepper, oregano leaves, and crushed red pepper flakes.

Place quniona on serving platter, arrange squash and roasted pepper strips on top.

Serve immediately or cover and refrigerate until ready to serve.