Want to dress up a simple brat into a meal that is dinner party worthy? Don't have time to go to the store? You probably already have all of the ingredients for this entrée in your pantry and freezer. As an extra bonus, follow this recipe and the technique I describe and you will also rid yourself of any pent-up angst that might be weighing on you. If I have peaked your interest and appetite – please read on.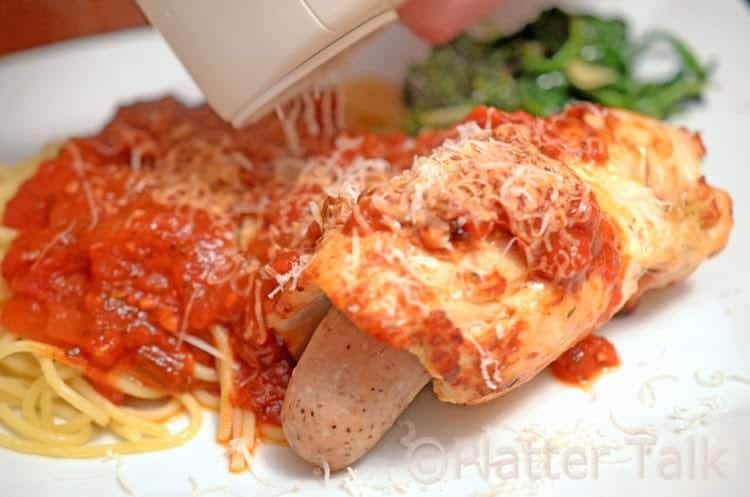 If you have read any of my other posts, you will know that I like to try and use things that we have on hand. My challenge on this day was to take the chicken that I had in the refrigerator and turn it into anything other than ordinary roasted chicken breasts. After a quick survey of our pantry, I found some canned tomatoes, tomato paste, onions, garlic, a variety dried herbs, a (rare) unfinished bottle of red wine, and some spaghetti. At this point it was obvious that there was a marinara sauce in our immediate future.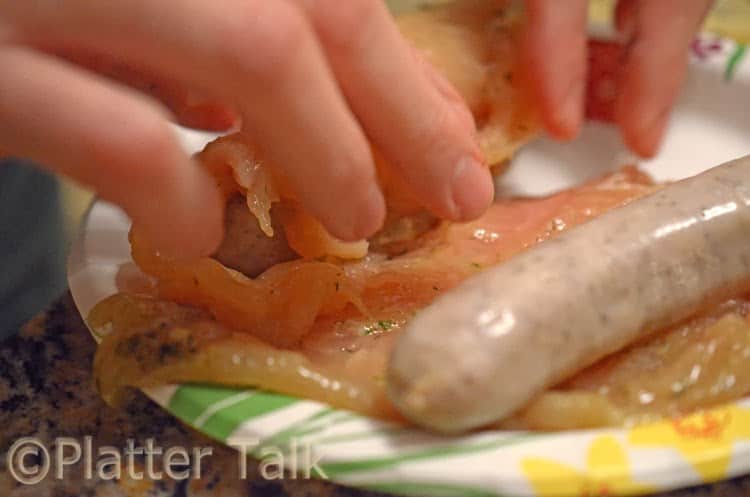 Now, it was back to those chicken breasts. What could I do with them that hadn't already been done? Ugh. Frustration brought on by the same ole' same ole' hit me. I did not want this to turn into just another chicken dinner. Indeed, I just wanted to whale on those chicken breasts. Wait…are you thinking what I am thinking? Pound the chicken breasts flat and then roll a delicious brat inside – all topped with a homemade marinara on a bed of pasta?
Although Dan encouraged me to make good use of the stainless steel meat tenderizer that was nestled away in a cozy corner of our countertop with a group of its kitchen gadget buddies, I had a better idea. Using this unconventional method of flattening the chicken breast with he bottom of a heavy sauté pan served two purposes quite effectively. First, it flattened the meat in a very even and uniform fashion. Second, remember the frustration that I had alluded to earlier? Gone.
)
The bratwurst was a perfect fit inside this blanket of chicken breast. A single toothpick secured the bond and before I knew it, the two were happily enjoying a sauté within the very vessel that made their union possible.
A short half hour or so of some oven time, along with the creation of a marina and the cooking of the pasta, our dinner was ready to be served. Like several of the other recipes we've featured here on Platter Talk, this was one that had never before graced our table. That's not the only similarity between this one and its formerly unknown predecessors. Like those that came before, this one was mouth-watering.
This recipe came together quickly and was a lot of fun. It allowed me to think outside of the box and get my roll on. I also was able to get some aggression out by flattening the chicken breast with the use of a favorite pan, all the while working my biceps. Even Shan T. would approve. On the other hand, maybe Dan is right. Perhaps I am taking this T25 fitness routine just a bit too seriously.
Instructions
Preheat oven to 350 degrees.
Place chicken breast between 2 pieces of waxed or parchment paper.
Using a skillet, pound the chicken breast flat to approximately 1/4 inch.
Season the chicken breast with poultry seasoning and salt and pepper.
Place brat at one end of the chicken breast and roll the chicken breast around the brat.
Poke toothpick into the seam side of the chicken breast to secure it so that it stays rolled.
Repeat with the other 3 chicken breasts and brats.
Add olive oil and butter into an oven proof skillet and heat over medium heat.
Place rolled chicken into skillet and brown all sides.
Finish chicken by placing in the oven until fully cooked, approximately 30 to 40 minutes.
Place on plate and top with marinara sauce and serve with a side of pasta.
Top with grated cheese of choice.