The holidays have come and gone.  However, the Christmas tree still stood tall and proud in our living room.  As much as I put it off, I knew that it needed to come down.  So on the weekend, I made a deal with Dan.  I told him if he took the kids to the cottage, I would de-Christmas our house.  He happily agreed, and I started to remove the decorations, all the while having thoughts of something warm and satisfying for dinner on this cold and snowy winter day.   After just a few hours into the day, my stomach also started to think about what it would be having for dinner.  Unfortunately, the kids had pretty much eaten everything in the house.  There really wasn't much in the refrigerator.  The other sad fact was that I wanted chili.
If you have read any of my past posts, you know that I like a challenge.  So I quickly began to assess what I had to work with. In the freezer, I found some chorizo brats.  This was a bonus find for me because I knew that I could take the chorizo out of the casing and use the meat that lay inside.  The other great thing about that find was that the chorizo already has some great seasoning and flavors.  This would definitely save me some time.
When checking the pantry, I struck out.  We did not have any stewed or crushed tomatoes.  This posed an unique problem.  How was I going to make chili without canned tomatoes?  I thought that I was going to have to abandon my chili dream, until I noticed a pint of cherry tomatoes on the counter.  I also remembered that I had some mild salsa and some bloody Mary mix in the refrigerator.  After grabbing a small white onion, I started to assemble this chili in the pot. The house began to fill with the aroma of chili.  I was so proud of what I was accomplishing that I sent Dan a text message and a picture of the chili in the pot.  He immediately prompted me to take some pictures and to start a post for the website.  "Pictures?", I responded.  That scared me more than putting this recipe together.  However, I think that both came out very good. At the ending of the day, I created a new quick and easy chili recipe and got the house back in order.  Not a bad day's work if I say so myself.  Stay warm, eat well, and try this chorizo chili. -Scott
Never Miss Another Platter Talk Recipe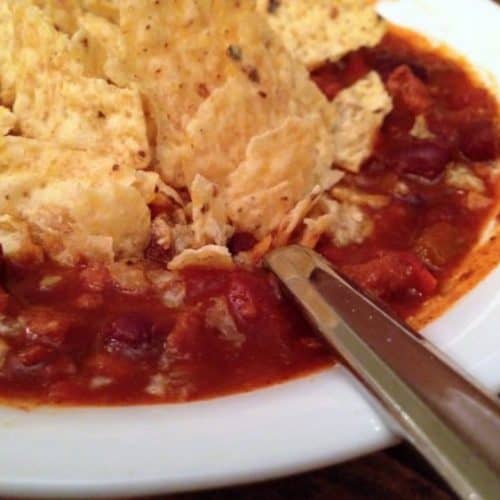 Ingredients
1

lb

ground chorizo sausage

1

small onion

chopped

2

tbsp

olive oil

2

tbsp

chili powder

1

tbsp

minced garlic

1

tbsp

ground cumin

1

pint

of cherry tomatoes

halved

2 ½

cups

of Bloody Mary mix

3

tbsp

salsa.

1

can black beans

drained

Salt and pepper
Instructions
•In a pot add the olive oil and heat over medium heat.

•Add the onion and cook until onion is transparent.

•Add the chorizo to the onion and cook until meat is cooked.

•Once the chorizo is cooked, add the remaining ingredients.

•Stir until everything is incorporated.

•Allow for the mixture to come to a slight boil.

•Place lid on the pot and reduce heat to a simmer, stirring occasionally.

•Cook for approximately 1 ½ hours.

•Serve with a dollop of sour cream, crushed tortilla chips or favorite cheese.
Nutrition
Calories:
178
kcal
|
Carbohydrates:
27
g
|
Protein:
8
g
|
Fat:
6
g
|
Saturated Fat:
1
g
|
Sodium:
522
mg
|
Potassium:
803
mg
|
Fiber:
9
g
|
Sugar:
7
g
|
Vitamin A:
1688
IU
|
Vitamin C:
41
mg
|
Calcium:
78
mg
|
Iron:
4
mg