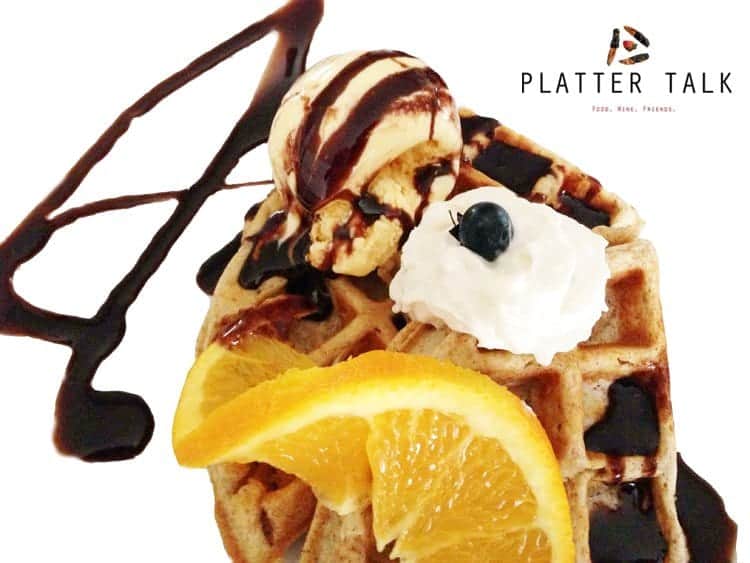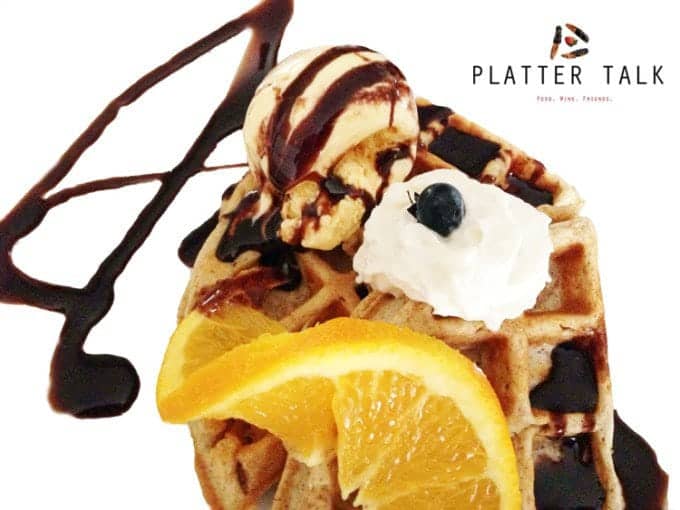 What kid doesn't like a good waffle?  For that matter, what adult doesn't like a good waffle?  I have yet to meet either.  Although surely they exist, this post is for the majority of us who always welcome a hot, delicious, and homemade waffle right out of the waffle iron.  If you do have kids, this process is almost guaranteed to generate a captivated audience in your kitchen.  Young and old alike, there is something magical about making waffles and with this recipe, that magic flows right into the taste.  Give these a try and try not to smile, I dare you.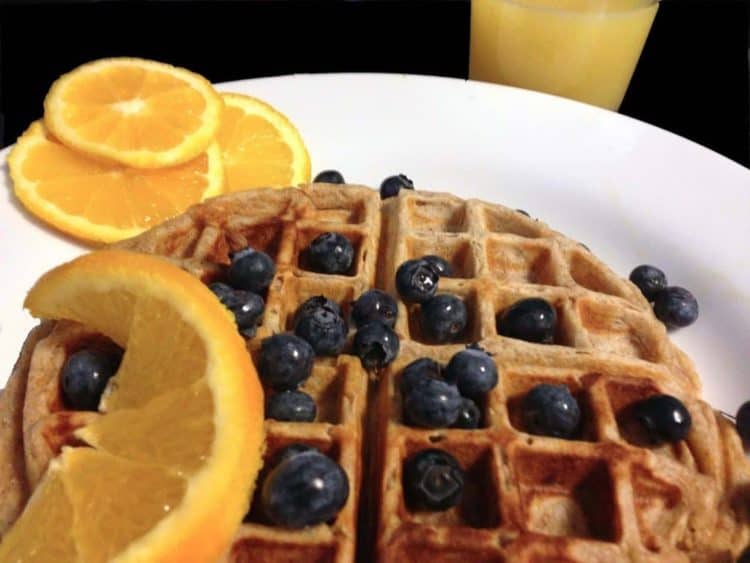 This waffle recipe starts out with a combination of whole wheat flour and all purpose flour.  The zest from an orange gets thrown into the mix and a little cinnamon and sweetness.  What results is a breakfast for champions, big ones and little ones alike.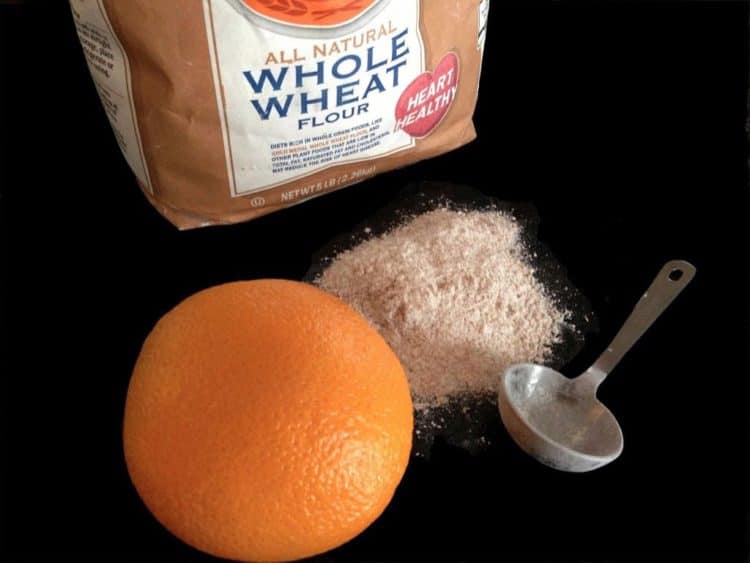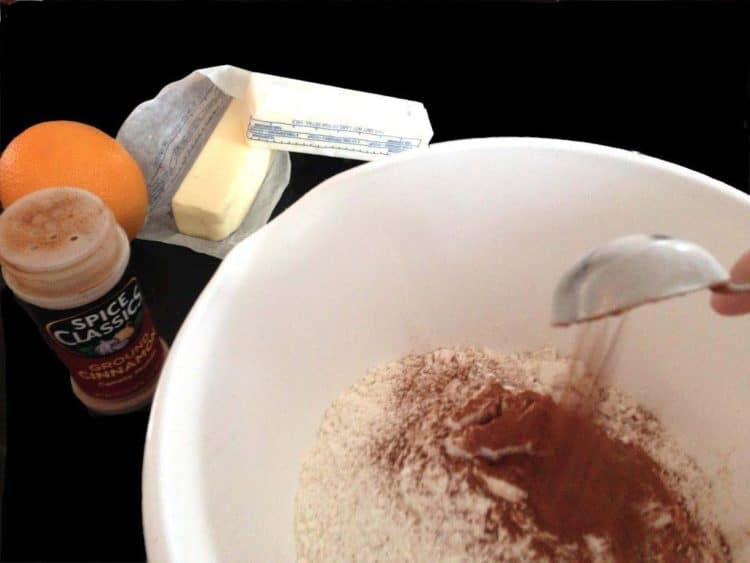 On this particular Sunday morning when these were made, our small cottage on a small lake in the middle of  Nowhere, Wisconsin was filled with 6 small to medium sized champions and all of them growing.  A waffle can be deceptively large, and given the frequent scenario of eyes being bigger than stomachs, there are often waffles leftover in our family.  This actually turns out to be a very good thing.  Waffles freeze well when wrapped in plastic wrap.  They can readily be popped into the microwave and reheated on those hectic school mornings when the minutes between rising and shining and catching a school bus fly by.  As an added bonus, the original magic is still present and can be enjoyed once again, at any given point down the road.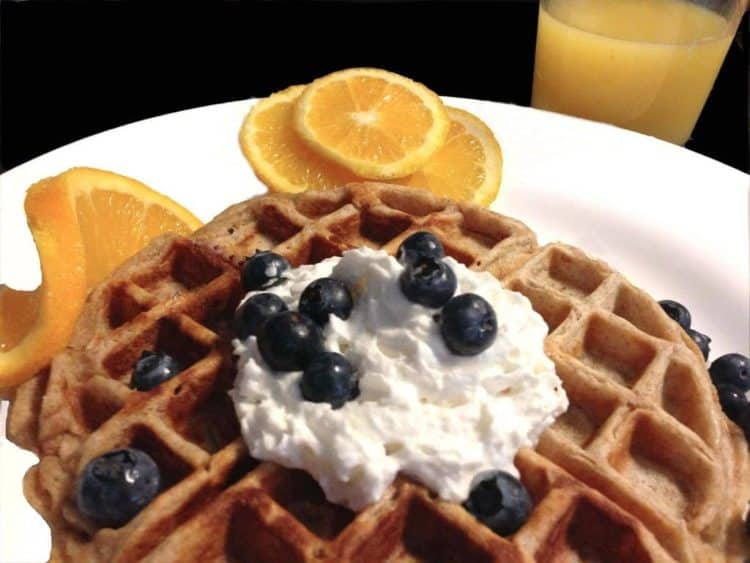 The toppings to adorn your waffles are endless.  Fresh berries and fruit rank highly among my favorites.  Growing up, the few times I experienced the joy of waffles for breakfast, we used real maple syrup, almost exclusively.  I can think of nothing more delightful than such a combination.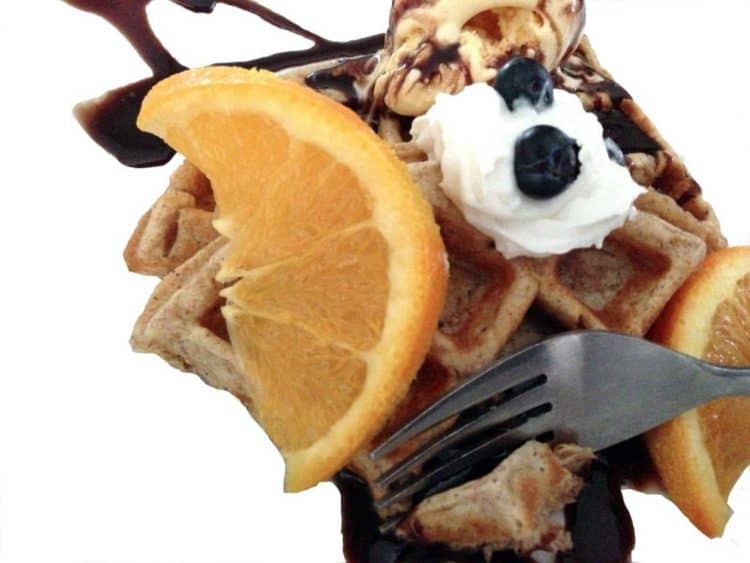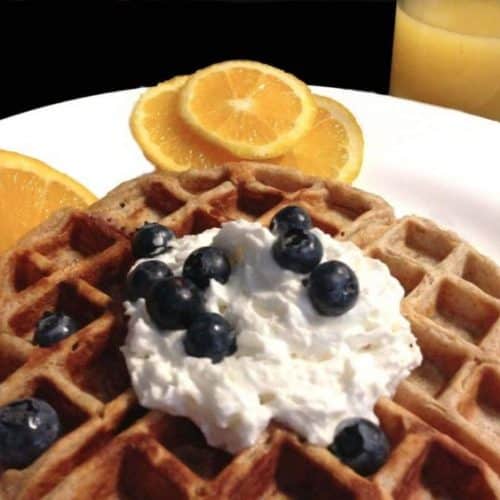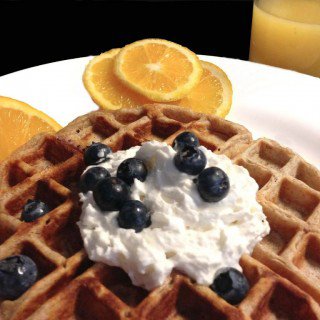 Ingredients
1

cup

all purpose flour

3

eggs

beaten

1

cup

whole-wheat flour

1

stick melted butter

1/2

tsp

baking soda

16

oz

buttermilk at room temperature

1

tsp

baking powder

1

tsp

cinnamon

1/2

tsp

salt

Orange zest

from 1 orange

3

tablespoons

sugar
Instructions
In a medium bowl, whisk together the flours, cinnamon, baking soda, baking powder, salt, and sugar. In another bowl beat together the eggs, melted butter, and orange zest. Then add buttermilk. Add the wet ingredients to the dry ingredients and stir until combined. Allow to rest for 5 minutes. Load batter into iron 1 cup at a time.
Notes
Tips
Before you get started, preheat your oven to 200 degrees F. Have a stone or cookie sheet ready where the waffles can be transferred and then kept in the oven, happy-family style, until the last one comes from the iron.
No whipped cream in the house? Try ice cream. I promise there will be no objections voiced.
If you don't have a zester a small grater works well. Get yourself a zester, it's one of those things that will bring you only happiness.
Wrap up any extra waffles in Saran or other plastic wrap and freeze for another breakfast date. You'll taste the love all over again.