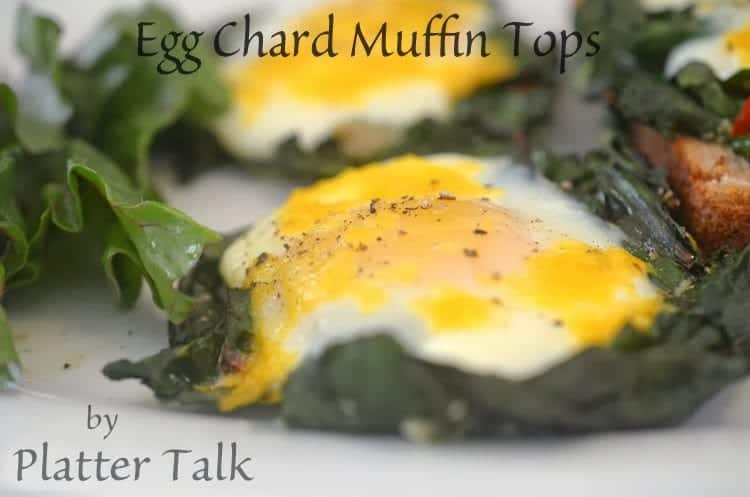 Saturday morning greeted us with a temperature of 8 below.  That's not how the day day started though.  We were awakened to the sounds of our kids playing and the bright rising sun filtering through our bedroom drapes.  Putting first one foot out of bed and then the second, and making my way to the kitchen, I could feel the warm heat of our humming furnace from below.  I proceeded to put this quick and easy breakfast together and once I saw and tasted the finished product, I knew it was going to be a great weekend, in spite of the sluggish mercury of our outside thermometer.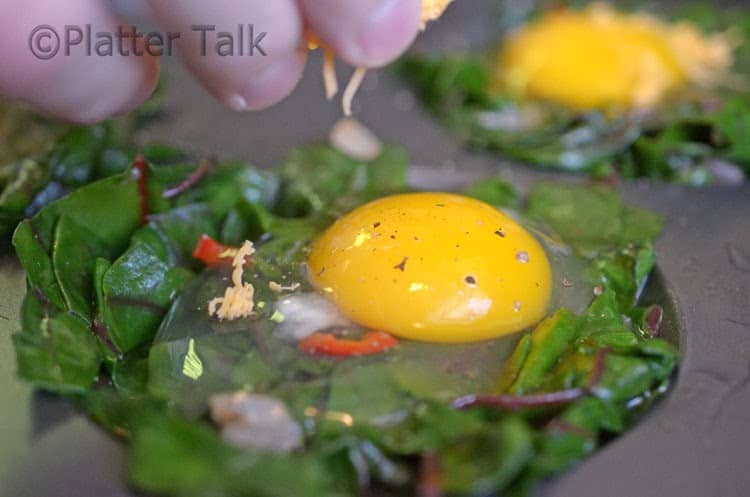 I don't think I've ever prepared anything with chard before, I'm sure I've never had it for breakfast.  Nonetheless, I picked some up earlier in the week, determined to make something with this vegetable that is widely accoladed for being one of the healthiest vegetables around, a close relative of beet root and chock full of vitamins A, C, and K.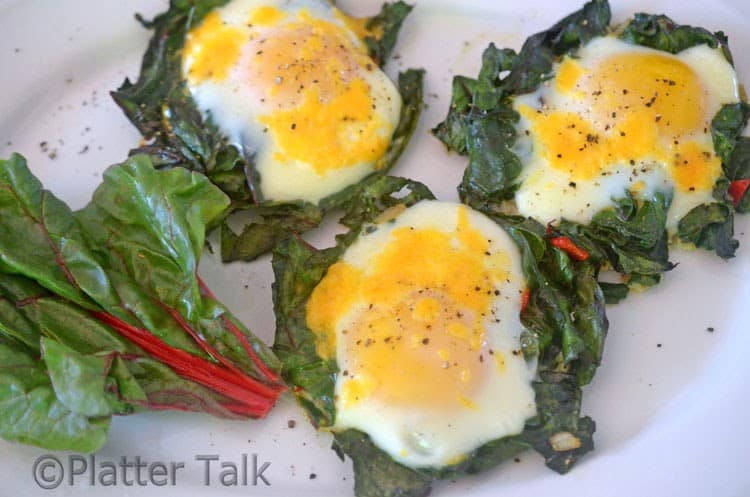 I decided to read a little bit about chard.  Some of what I learned is that about 1 cup of the dark green leafy vegetable provides over 200% of the RDA for vitamin A, over 700% of the RDA of vitamin K, and over 50% of the RDA for vitamin C.  Wowsa!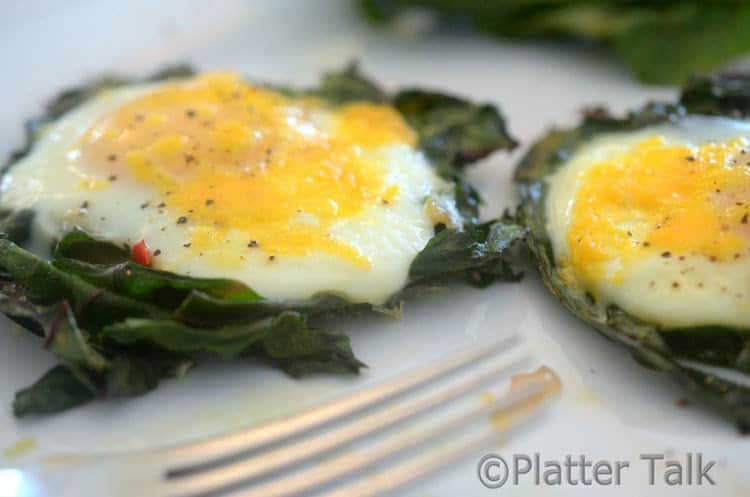 For each of these servings, I used a single leaf of chard, stem removed, and coarsely chopped.  This came out to very close to 1 cup of chopped chard.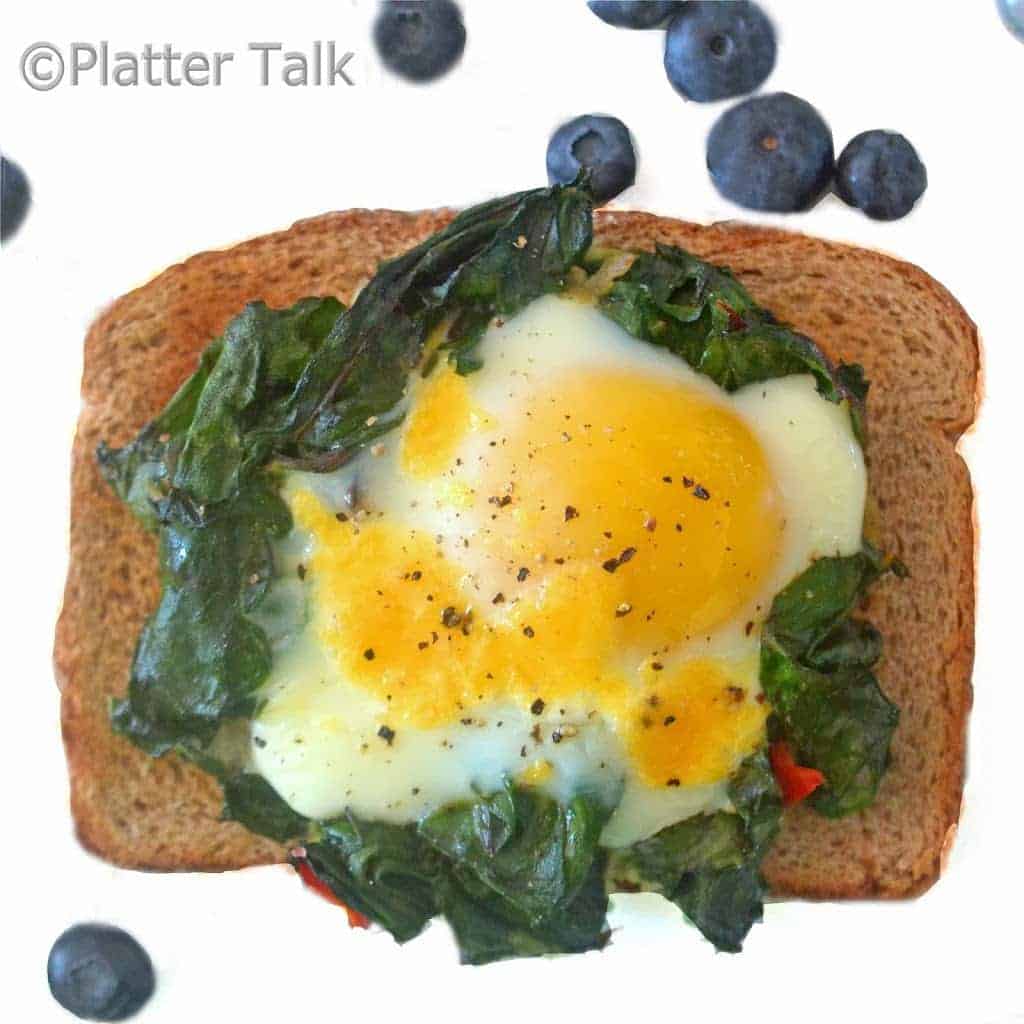 To this base of chard, seasoned with little salt and pepper, I added sauteed shallot and chili pepper, topped with a farm fresh egg.  Served on a slice of whole wheat toast and crowned with  a touch of cheddar cheese,  it quickly became apparent that we had ourselves a real breakfast winner here.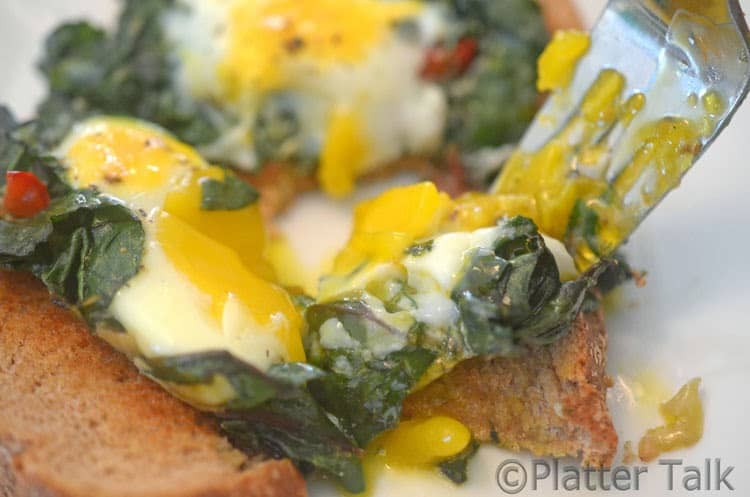 This bright and colorful breakfast, full of flavor and nutrition makes a great start to any day.  I found it to be the perfect retort to yet another subzero morning, in the midst of a seemingly relentless winter.  Spring is just around the corner.  This bright and healthy breakfast will help make a believer out of you too.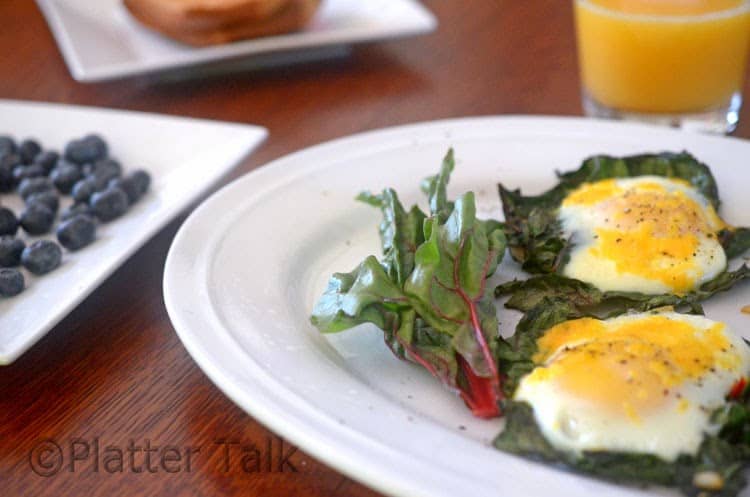 Never Miss Another Platter Talk Recipe
Egg Chard Muffin Tops
Make this fast and delicious healthy breakfast!

Ingredients
3

eggs

1

tablespoon

olive oil

3

large leaves of chard

stems removed and coarsely chopped

1

shallot

finely diced

1/2

red chili pepper

seeded and finely chopped

1

tablespoon

shredded cheese

optional

pinch

of salt

fresh ground pepper to taste.
Instructions
Preheat oven to 350 degrees F.

Using medium-sized saute pan, heat olive oil at medium high temperature.

Saute shallot and chili pepper until soft and translucent, add salt and pepper.

Add chard to saute pan, and stir about 3 minutes until mildly wilted (to about one half original volume.)

Apply non-stick coating to muffin top man.

Evenly layer chard throughout 3 muffin top molds, creating a shallow well in center.

Gently crack and egg and place in center of each of the prepared molds.

Top with a pinch of optional cheddar cheese, if desired.

Bake for 15 to 20 minutes, until egg appears done.

Serve immediately.
Nutrition
Calories:
137
kcal
|
Carbohydrates:
4
g
|
Protein:
7
g
|
Fat:
10
g
|
Saturated Fat:
2
g
|
Cholesterol:
167
mg
|
Sodium:
197
mg
|
Potassium:
294
mg
|
Fiber:
1
g
|
Sugar:
1
g
|
Vitamin A:
65.6
%
|
Vitamin C:
31.3
%
|
Calcium:
7.4
%
|
Iron:
10.1
%