It was a VERY long winter here in the mid-west.  Spring is gradually making its presence known, and with one week of May under our belt here in Wisconsin, it is none to soon.  One of the integral parts of the non-winter seasons here is the presence of our farmers' markets.  Farmers' markets across the nation as a whole have gained prominence over the past couple of decades, popping up in towns all across America, big and small.  Some of these markets are a few parking spaces in area, others occupy several city blocks.  It comes as no surprise that what is arguably one of the largest and  most well-known farmers' market in the country happens to be in the Badger state, whose very essence centers upon the American farmer.
The farmers' market of Madison is a big deal in Wisconsin.   Whether you live in or around the capitol, or if  you are a Cheesehead from another part of the state, it's a destination event for many residents and just one visit is all it takes to understand why.
Billed as the largest producer only farmers' market in the U.S., it's a time and place for serious producers of all things agriculture to showcase and sell their wares.  There is always an abundance of cheese products of course.  No matter what time of the growing season it happens to be, the yellow and white goodness that has made Wisconsin famous is ever-present.  Chatting with the folks who make the cheese brings a personal touch to the market experience.  The cheese curds shown below were not yet 12 hours old, warm and squeaky good.
Although it was too early for a lot of the fresh green, leafy produce and fresh cut flowers, there was an abundance of gorgeous root vegetables available.  Like the cheeses, real maple syrup, honey, and the baked goodness of some of the state's Amish-Mennonites were on hand as well.
As with many larger and diverse farmers' markets, the one in Madison has a good selection of ceramics, pottery and other crafts from artists throughout the state.
Here's a short video clip of State Street, the well known campus promenade of The University of Wisconsin in Madison.  State Street intersects the capital square and the farmers' market overflows over onto it.
Here's a link that offers general information on Madison's famed farmers' market.  It always makes for a memorable visit to Wisconsin's capitol city.

Tip
Treat yourself to a visit to The Old Fashioned,  named after one of the libations Wisconsin is well known for.
Don't be fooled by the name though, it's much more than a place for a cold beverage.  It features a menu of all good-things-Wisconsin.  Located directly on the capitol square, it is literally across the street from the Madison farmers' market.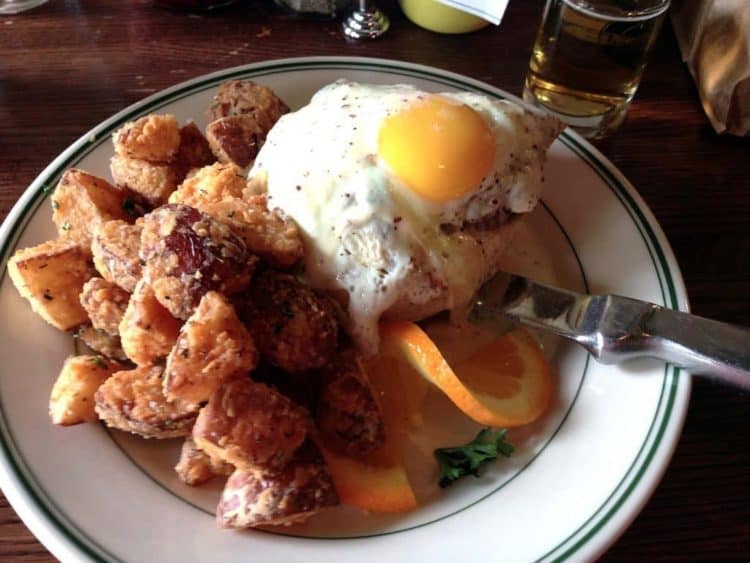 Tenderloin Benedict from The Old Fashioned.  Madison, WI