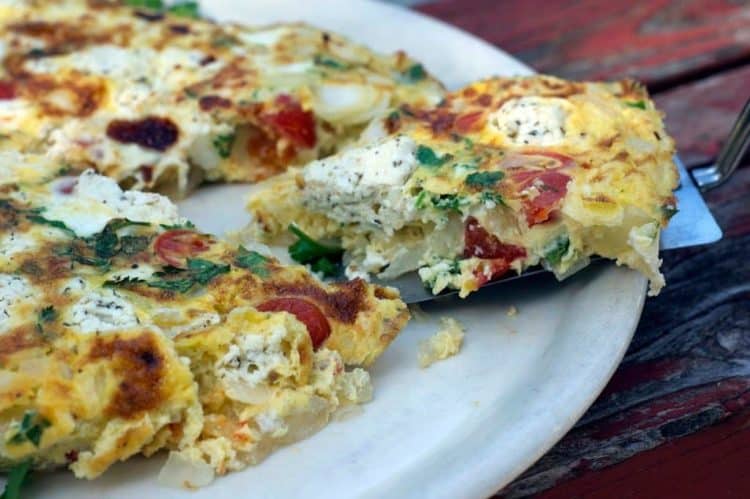 I have a confession to make.  Aside from the Doubleday Cookbook which I ordered some 30 years ago from the Doubleday Book Club, I have never bought a cookbook.  That is until yesterday.  Don't ask me why but while milling about a department store with my boys, I picked up a copy of Power Foods, a compilation of healthy recipes and ingredients from the editors of Whole Living magazine.  And now for my second confession:  I have not been able to put it down.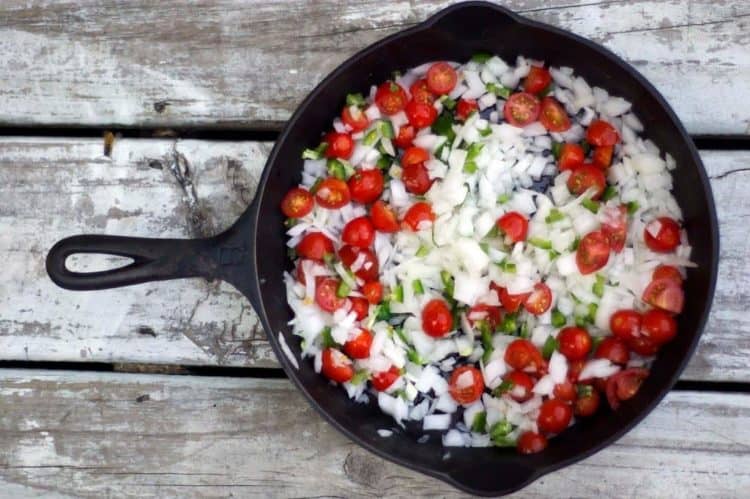 Our family is spending the last weekend of summer vacation at our small cottage on a small lake in The Middle of  Nowhere, Wisconsin.  With the luxury of a four day weekend together, I thought I had a little extra time afforded to put together some new to me recipes.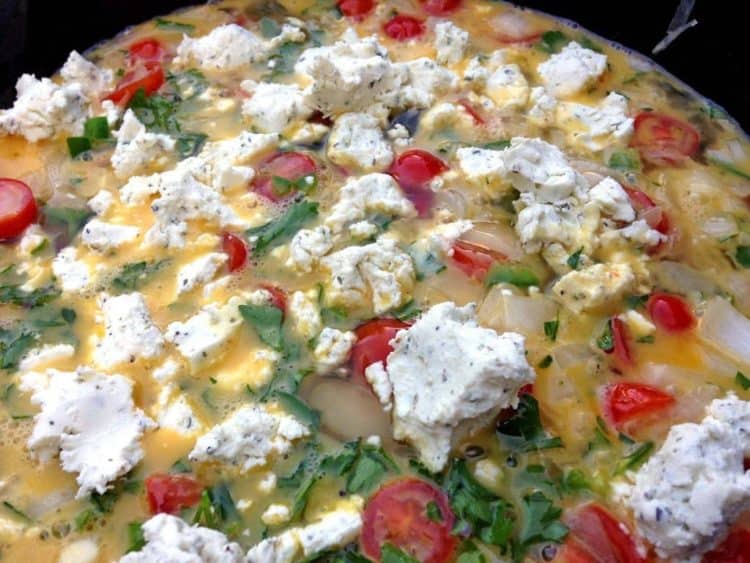 I consider myself efficient I most things I enjoy doing.  Confession numero tres, for today:  I feel terribly inefficient  in doing some of these posts.  Specifically, I think it is the photography angle (no pun intended) that gets me.  Thankfully, persistence could be my middle name.  ie., Slow and steady wins the race…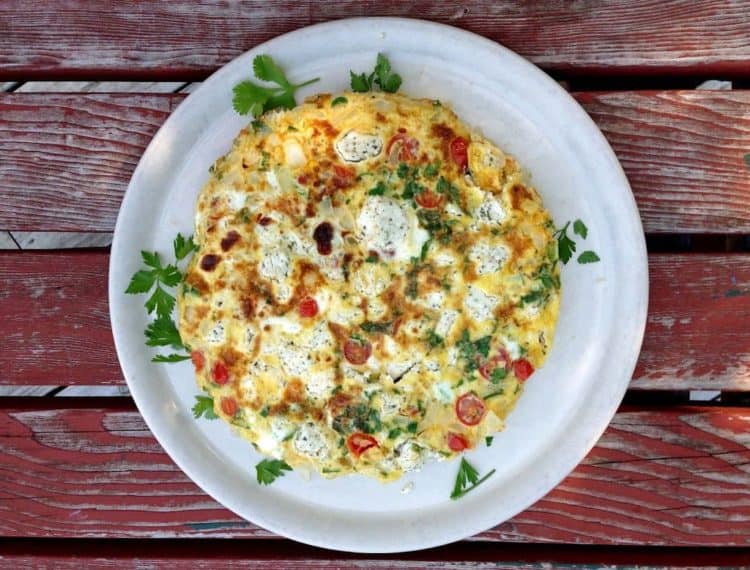 Just when I start to ask myself what it exactly is that I am trying to accomplish with this blog, I sometimes have a ta-dah! moment.  Such a  moment arrived this morning when our 10 year old son Joe walked into the cottage kitchen and proclaimed, "Dad, that pizza smells delicious!"  That's when our visitor, Anna  (also 10), who is exactly one part Italian and one part American corrected her host and stated with conviction, "That's not pizza, Joe.  That is freeee-Tata."  My heart smiled.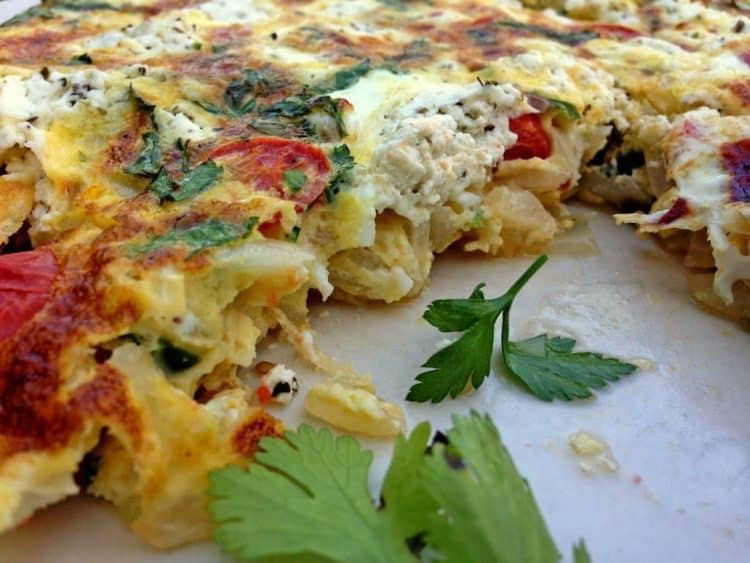 As I poured out six portions of breakfast cereal to the kids this morning, a bright sliver of sunlight found its way to my heart, once again, this time with the words,  "Dad, can I have some of that?" This time it was Isaiah and his eyes, and apparently his stomach as well, were fixed on the frittata.  I explained to him that I wasn't sure if he would care for it.  He ended up finishing two portions.
Bottom line:  This is a delicious meal, even some of the younger children enjoyed it.  It would make a fantastic special breakfast of sorts for guests, or as was the case with our family, just an ordinary breakfast meal.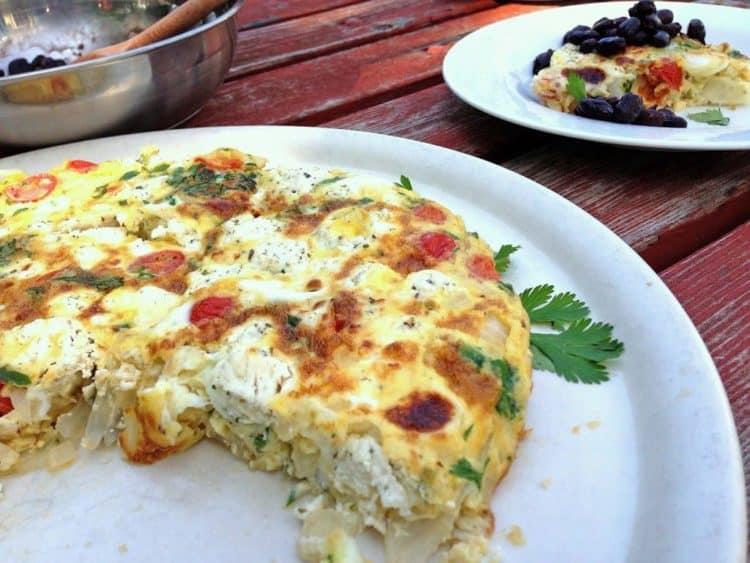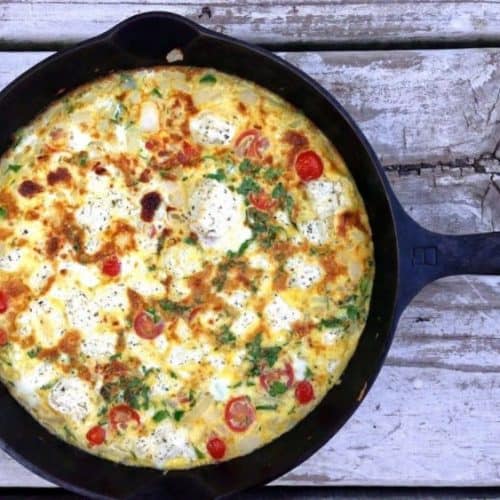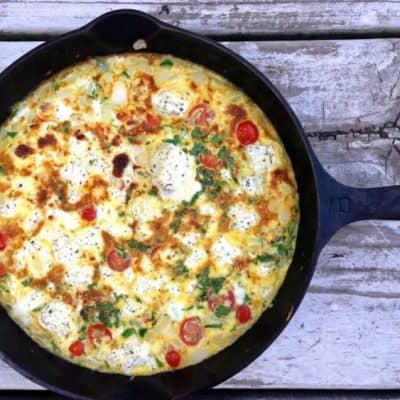 Frittata Ranchera with Black Beans
adapted from Power Foods
Print
Pin
Rate
Ingredients
6

eggs

large

2

egg whites

1/4

cup

fresh flat-leaf parsley

chopped

Coarse salt and fresh ground peppercorn

1

tablespoon

olive oil

1

onion

finely chopped

1 1/2

cups

cherry tomatoes

halved

1

jalapeno chiles

(ribs and seeds removed for less heat, if desired)

4

oz

crumbled goat cheese

15

oz

black beans

rinsed and drained
Instructions
Heat oven broiler, with rack 4 inches from the heat source.

In a large bowl, whisk together whole eggs, egg whites, and parsley; season with 1/2 teaspoon salt and 1/4 teaspoon pepper.

Heat oil in a medium size oven proof skillet, over medium heat.

Add onion, tomatoes, and jalapenos; cook, stirring occasionally, until onion has softened, about 6 minutes.

Add egg mixture.

Sprinkle evenly with cheese.

Cover, reduce heat to low, and cook until eggs are almost set, 5 to 7 minutes.

Heat beans in a small saucepan over medium-low heat until warmed through.

Uncover skillet and place frittata under broiler.  Cook until the top is set and just beginning to brown, 3 to 4 minutes.

Run a flexible spatula around edge of frittata to loosen from pan, then slide onto a plate.

Cut frittata into wedges and serve with black beans.
Nutrition
Calories:
185
kcal
|
Carbohydrates:
15
g
|
Protein:
12
g
|
Fat:
8
g
|
Saturated Fat:
3
g
|
Cholesterol:
129
mg
|
Sodium:
116
mg
|
Potassium:
337
mg
|
Fiber:
5
g
|
Sugar:
1
g
|
Vitamin A:
640
IU
|
Vitamin C:
12
mg
|
Calcium:
62
mg
|
Iron:
2.3
mg