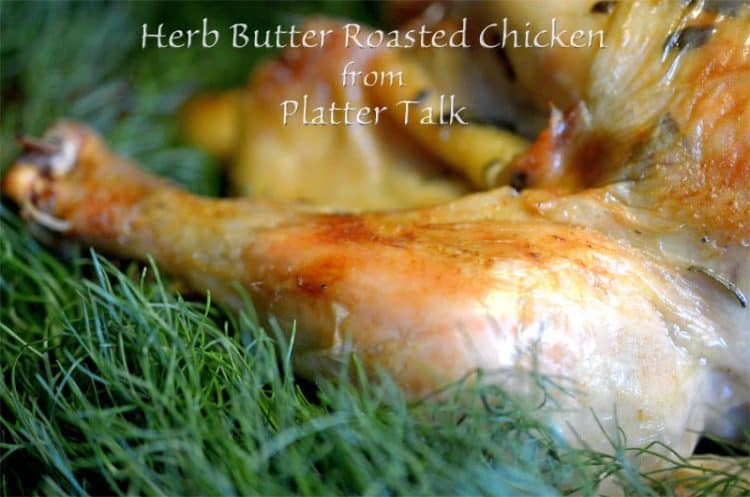 Another busy work week is complete and we as a family head to our cottage in the middle of Nowhere, Wisconsin to enjoy some quality time together.  Most weekends we decompress and watch movies, enjoy visitors and just veg out.   As you can guess, there are always large quantities of food around.  I am not proud to say this, but sometimes it comes in the form of prepackaged snacks and quick dinners (I think I just heard you all sigh).  This weekend however,  I wanted to make something really special for my family, thus Herb Butter Roasted Chicken was born.

Are you one of those people that have never roasted a chicken before?  Is your idea of a a roasted chicken dinner going to your local grocery store and buying one of their sodium-laden rotisserie chickens?  Don't get me wrong, I do that on occasion.  Especially during the week when the kids have to be at some practice or another and you there just doesn't seem to be any time to make supper.  How can you beat the convenience of this?  However, when you do have the time, nothing enhances the atmosphere of your house like the aroma of a chicken roasting in the oven.
If you have never roasted a whole chicken before, I am sure the task may sound difficult.  Everyone has their own way of doing it.  Some people will tell you that you have to baste the bird every few minutes to keep it moist.  What if I tell you that I found a way that you never have to baste your bird at all?  It's called herb butter.  What is herb butter you may ask?  Great question.  Herb butter is just fresh herbs incorporated into softened butter.  Sounds too good to be true?  By mixing up some of this butter and placing it under the skin of the unbaked chicken, the butter will melt and self baste the bird and the herbs will flavor your chicken.  I decided to use sage and rosemary but you can use any fresh herbs of your liking.  Once you find a combination that you like, you can use this herb butter for other things. Use your imagination.  Instead of garlic bread, you can use the herb butter as a spread and make toasted herb bread.  Get the picture?
Now to the great debate…….to stuff or not to stuff?  This is your preference.  However, you should be warned that if you stuff your chicken, it will take longer for the bird to cook.   For me, I like to make my stuffing separately and bake it in the oven with the bird, not in the bird.  This way I can get the stuffing to that level of crispiness that I enjoy.  I then take advantage of the empty cavity of the chicken.  I do "stuff" the cavity of the bird loosely with onion, celery, carrots and more of the fresh herbs I used in the butter (that is now resting under the skin of the chicken).  By stuffing the bird with vegetables, you get even more flavor as the chicken cooks.
After this chicken went into the oven, the cottage took on a heavenly scent, the kids started asking when would dinner be ready and Dan promptly poured some wine for us to enjoy as we waited for our meal to be complete.  Once it was ready, we sat down as a family and shared this fantastic meal.  I will definitely be making this again, and often.  -Scott
Never Miss Another Platter Talk Recipe