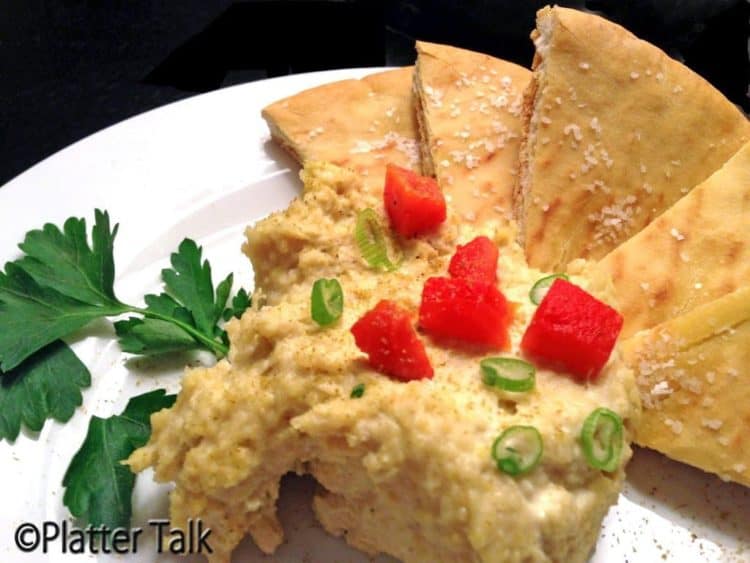 It's difficult for me to wrap my head around the idea that one of my favorite foods is something that has been around for 7,000 years.  No, I'm not talking about chocolate milk or margarita pizza.  As the title of this post suggest it is that creamy, smooth, and perhaps ever-ellusive healthy snack that goes well in wraps, on vegetables, crackers of all kinds, and of course pita.

Hummus, in Arabic translate into chickpeas – what some of us often call garbonzo beans, which I think is more fun to say (garbonzo, garbonzo, garbonzo.)  The full name of this condiment in Arabic, is hummus bi tahini, which incorporates the name of its other primary componnent: tahini paste.  Tahini paste is procured from the sesamee seed, after a long process of allowing the seeds to soak, removing the skins, soaking again, grilling, and thin milling and grinding into paste.  Holy garbonzo that sounds like a lot of work to me.  Fortunately tahini paste is available at many supermarkets.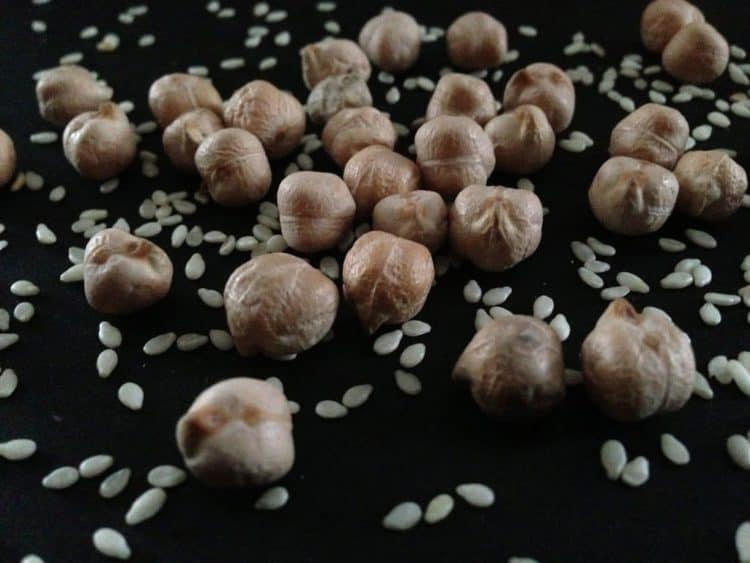 Depending on where you shop, tahini paste may be readily available, (I usually find it near the peanut butter) or if you ask a stock person to assist you in finding, you may well be met with a "Huh?" stare.  That being said, I have a secret that I have shared with only a few close friends –  in lieu of tahini paste, I have on occassioin been known to use sessamee seeds chopped up in my small food processer and mixed with olive oil.  Abominable, you're thinking.  But can I tell you something?   The taste is "there" and the suble texture of the ground sesamee seeds gives the hummus an almost undetectable crunch and in my humble opinion adds a small element of interest otherwise absent.   In fact, most times only I know.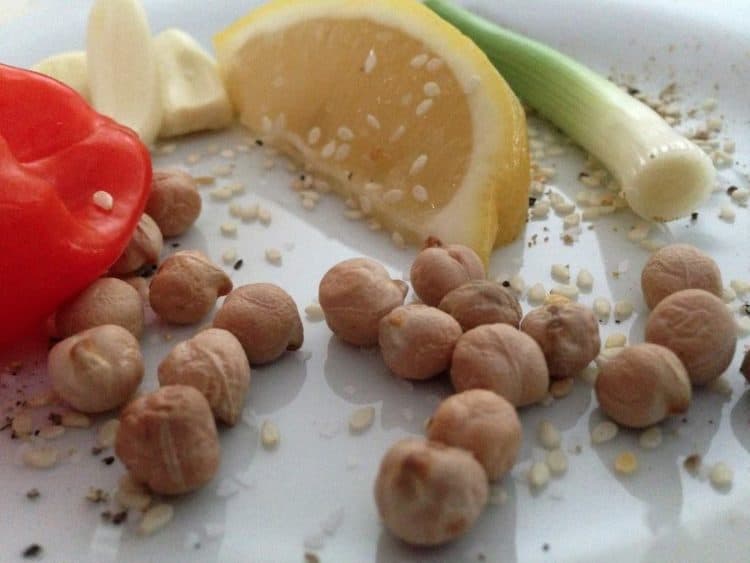 Chickpeas are a legume, and even our English bulldog puppy Ellie is aware that members of the legume familly have been getting a lot of press lately.  Their proported virtues are worthy of a diety in their own right.  An inexpensive yet excellent sourcs of protein and fiber, regular consumption of legumes can help lower blood pressure, lower cholesterol, reduce the risk of colon cancer, and help lower blood sugar levels in the estimated 26 millioin diabetics in the United States.
Aside from the nutritional benefits, hummus ranks very highly regarded in our household because of something just as important -our kids love it.  Given the choice of bottled and processed ranch dressing (another of their popular choices) I will serve them hummus as a dip every time.
So, what do you do with hummus?  I'm not aware of it's use as a skin or hair conditioner but it is up to task for serving as many other functions in food creation.  It's a natural choice for serving as a spread or dip with appetizers or snacks.  I love to use it in wraps and sandwiches instead of high-fat, high caloric mayonaise and salad dressings.  And let's face it – hummus can be pretty.  It's easy to dress up with some colorful peppers, some chopped up parsley, bright carrots or almost anything else that can be paired and combined.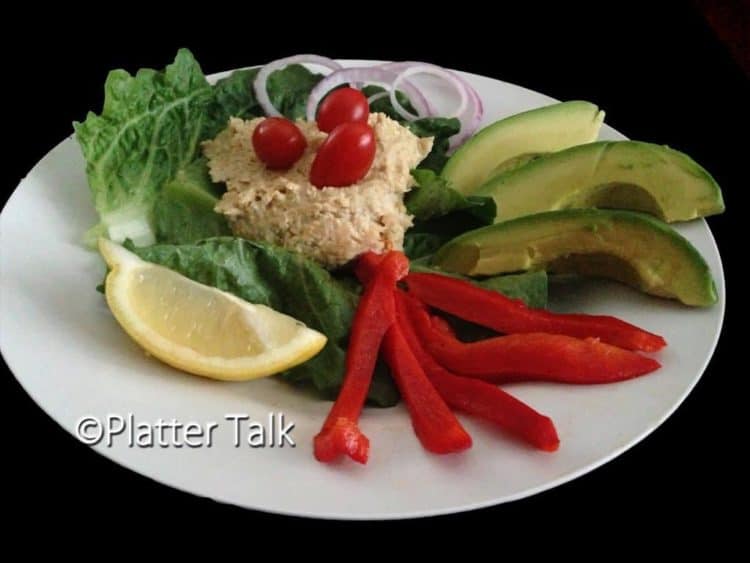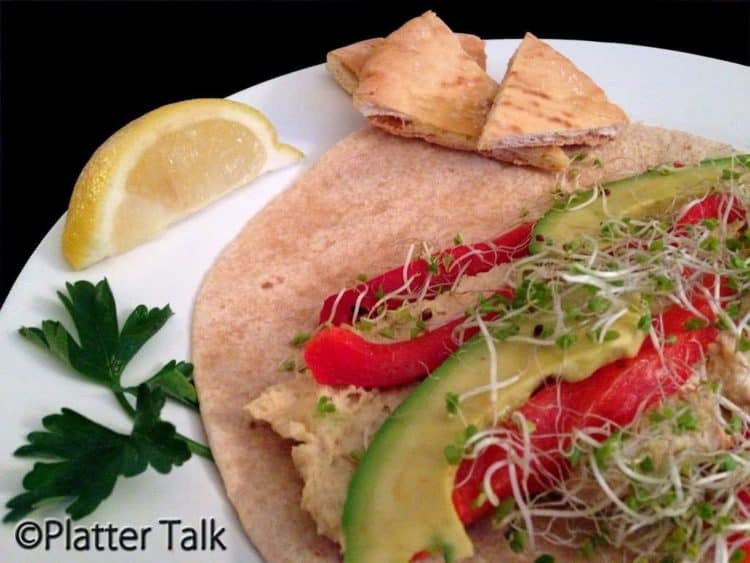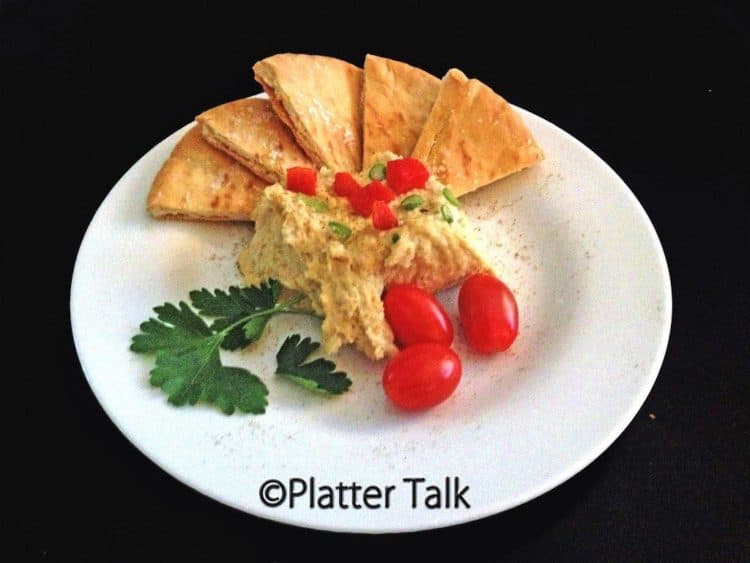 In the first of these three photos, I have a hummus, roasted red pepper, and avocado salad.  The center photo shows a wrap, complimented with sprouts, roasted pepper, and avocado.  The third photo above shows roasted pita wedges, topped with olive oil and kosher salt, and hummus.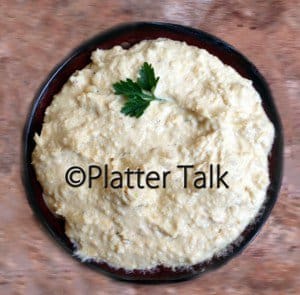 Take a look at this post where I talk about a method for even creamier hummus.  It's worth a read!
For me, there is no recipe for hummus.  The important thing to remember is that as with so many other delicious foods, the people of the Middle East nailed it's name right on the head – it's all about chickpeas. Even without the tahini sauce (or for that matter sesamee seeds) the chickpeass serve as the almighty base to hummus.  Other ingrediants that are added  typically include olive oil, lemon juice, garlic, and salt and pepper.  If you're new to making  hummus, let me walk you through it just to provide a base.  Then, please modify the additional ingrediants by type or quantity to compliment your taste.  It's so easy to make and so good for you, you owe it to yourself and loved ones to give this a try!
Hummus
 Recipe
Ingrediants
Approximately 2 cups Garbonzo Beans (Chickpeas). Or 1 15 oz can, drained.(If you are being a purist here's a good link that provides a primer on soaking and cooking dried chickpeas.)
1/4 to 1/2 cup tahini paste
lemon juice from 1 large lemon
2 tablespoons olive oil
2-3 cloves garlic
2 teaspoons kosher salt'
1 tablespoon ground cumin
Instructions
In food processor, combine tahini paste, lemon juice, and olive oil and process for about a minute.
Scrape edges and bottom of food processor bowl to incorporate those parts and fold in with spatchula.
 Process another 30 seconds.
Add remaining ingredients and process for one minute.
Scrape bowl again, and continue  processing ingredients another two minutes.
 Add additional olive oil, or small amounts of water if mixture is too thick.
The finished hummus should be smooth, creamy, and easy to spread.
Tips
After the above mixture is prepared, be creative and add some additional ingredients.  Those that add color and flavor are always good (such as roasted peppers, fresh ground peppercorn, parsley or pine nuts.) These may be best incorporated by manually folding into the hummus to preserve distinguishable bits and pieces.  As always, adjust to taste, and most of all have fun making this delicious hummus and take some time to enjoy your creation!
Related Post