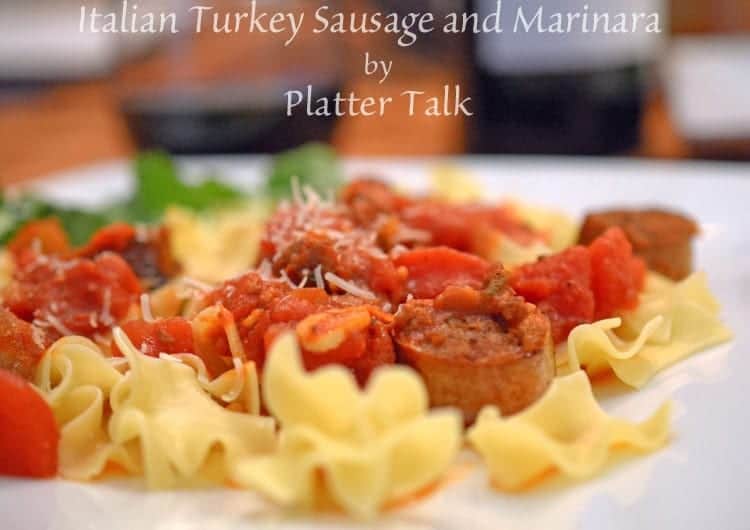 This past weekend was one of "those" times when everyone in our family would have been just fine to have done without.  You know the type of experiences that I'm talking about.  Our house furnace deciding suddenly to not function properly (requiring three repair calls in one day), frozen pipes and drains at our cottage, all fortified by a record setting number of days at zero or below.  And wild kids.  Friends, we had it all this weekend.  Midway through the weekend,, there seemed to be a break in the action and it came in the form of this meal I threw together for Saturday night.  It was simple, it was delicious, it was Italian Turkey Sausage and Marinara.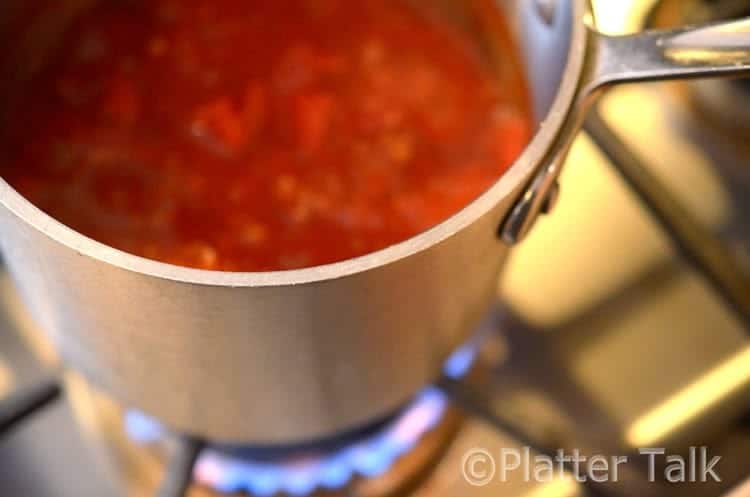 It all started this past Friday, the conclusion of a seemingly perfectly normal week.  We went to work, we returned home and performed our usual routines, and in our minds winter was a few more days closer to its conclusion.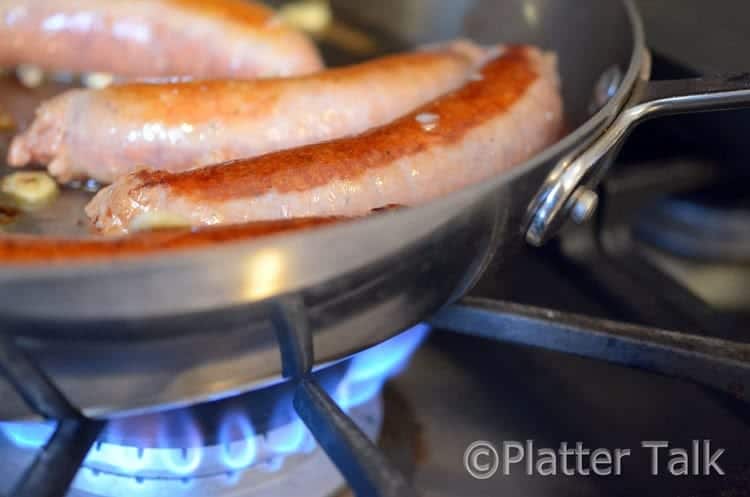 By late Friday afternoon, without our knowledge, the wheels of fate had already been in motion to help dissuade our love of the weekend at hand.  Scott returned home to a house of 54 degrees and the boys and I walked into a cottage where water stood in sinks with drains that refused to function and faucets showed a strong reluctance to flow with water when opened.   Indeed, thing seem to have taken a dramatic  turn in the wrong direction, from an unremarkable but pleasant week.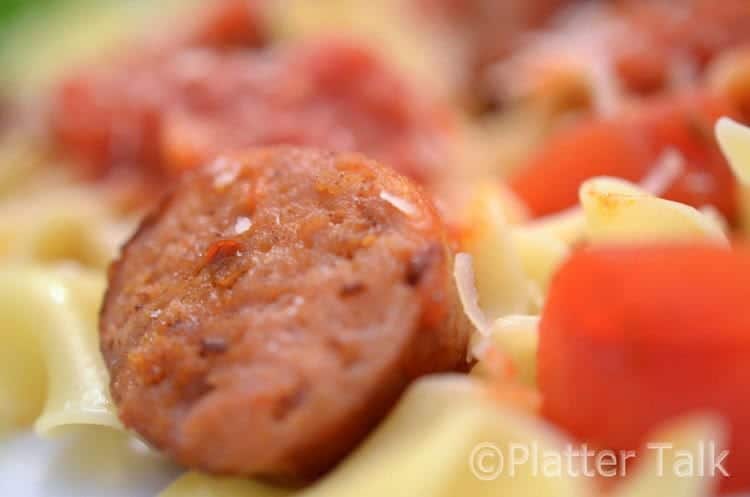 Scott spent the night in a cold house with running water while the boys and I hunkered down in a very cozy cottage that could only offer the outdoors, with a temperature of zero, for the moments when nature's call needed to be answered.   Hoping to awaken to fully running water and functional drains, we were disappointed to find that in spite of the warm 76 degrees of heat spewed from our pellet stove, the plumbing situation had not changed.  Reluctantly, we locked the place up and trudged through the snow to our pilot and made the hour long trek back to civilization.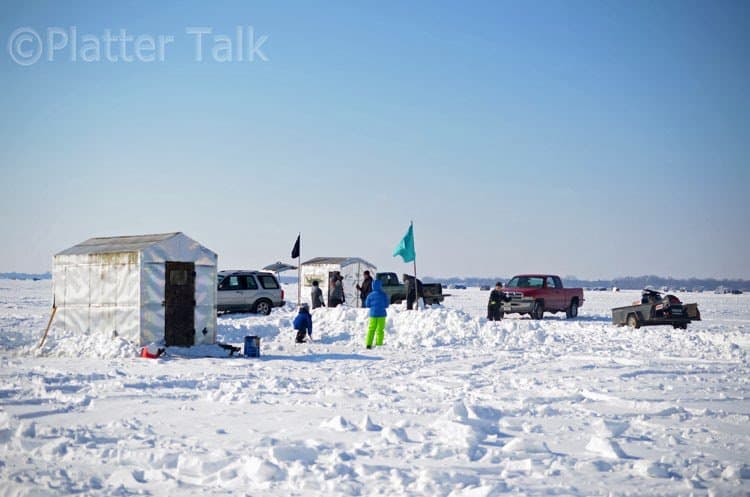 To help break the sullen tone and add a little fun to the trip back, the boys and I made a pit stop on the northern shore of Lake Winnebago, where the annual Sturgeon Fest was just staring to get in motion.  Thousands of people were expected to occupy our state's largest lake and cut holes through its twenty inches of ice in hopes of spearing a prize surgeon in the crystal clear waters.  I was a bit outside of my comfort zone driving out on the frozen waters, yet the the thought of being atop the lake in our SUV and the visual perspective it offered of the safe and familiar shores was a fun and exhilarating experience to both the boys and myself.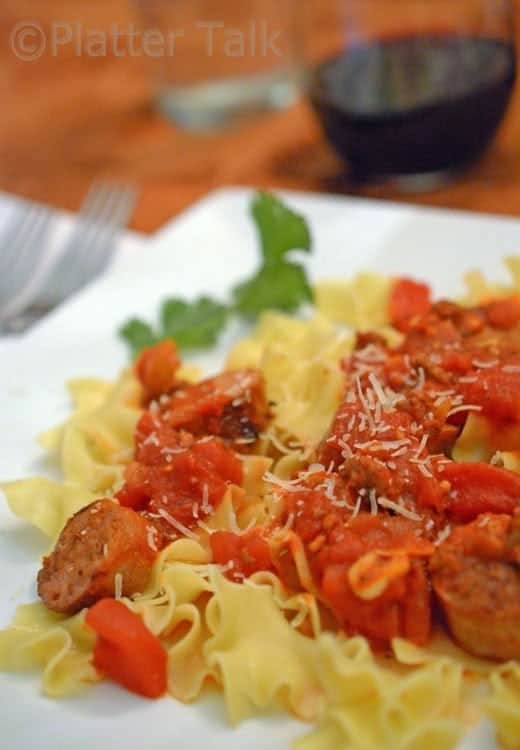 Arriving home, we were all relieved that the temperature of our house was now in the mid-60's.  Scott had played host to the furnace folks no fewer than three times over the previous 24 hours.  Maybe things were starting to look up.  Prior to arriving at the house, one of our ten year-olds (Isaiah) made a comment that had some resonance with me by saying, "Dad, you haven't done a post in a while."  He was right.  With a few recipes in the hopper and still returning (mentally) from our annual pilgrimage to Costa Rica, it had been a few weeks since I had fired up the burners in earnest and put something together for Platter Talk.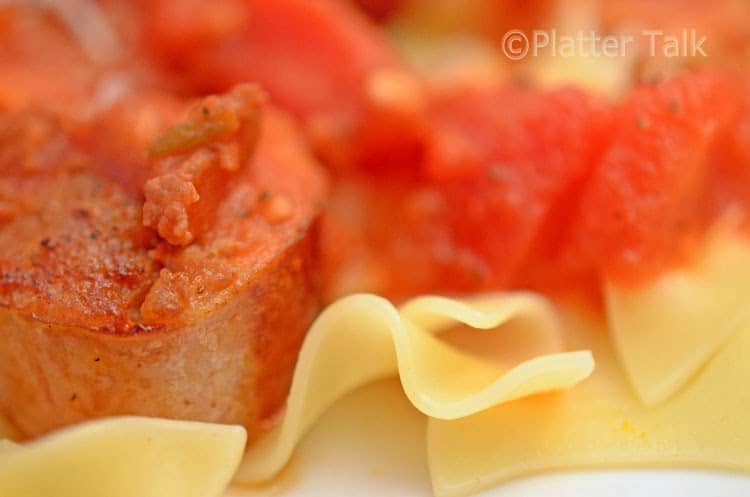 Kids have to be fed, as do their parents.  Rummaging through the refrigerator and a brief tour of the pantry helped inspire this meal.  With the addition of some leftover marinara, fortified with a few more tomatoes, the Italian turkey sausage and egg noodles provided for a fast, inexpensive, and good tasting winter meal.   As a side note, the package of meat claimed to contain 70% less fat than a comparable serving of pork sausage.  As it turned out, there was little if any taste sacrificed for this more heart healthy alternative.   The Malbec that Scott picked up a few days earlier helped seal the meal.   I'm not typically a fan of the red wine from Argentina but the 2010 Conquista Reserve that we drank with this dinner provided a great pairing.   Conquista purports to be the single most popular Malbec sold in the U.S.  It's the Malbec that Scott first fell in love with, and at less than $10 per bottle it's not too difficult to understand part of the reason behind its popularity.  Nonetheless, I was never a fan.  This bottle of Reserve Conquista for about twice the price of the regular bottle was different, and in my opinion, noticeably better.  Our psyches entered Saturday evening on a much warmer and less stressful path compared to that of the day's start.  An unexpected visit from a good friend and his son later in the evening, with a little more wine and a roaring blaze in the fireplace, all helped to erase the cold inconvenience of earlier and when we awoke Sunday morning it was clear that the weekend's landing was going to be decidedly better than its takeoff.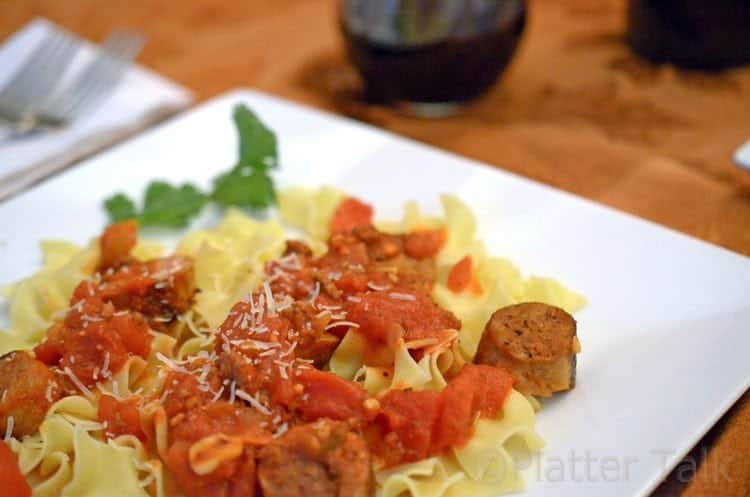 Be Sure and Follow Platter Talk on Facebook and Never Miss  A Great Recipe!
Click Here to "Like" on Facebook!
Never miss another great Platter Talk Recipe
Click Here For Your Free and Secure Email Subscription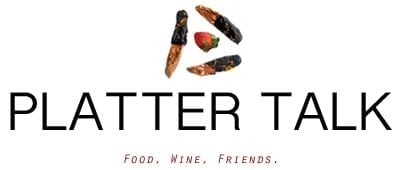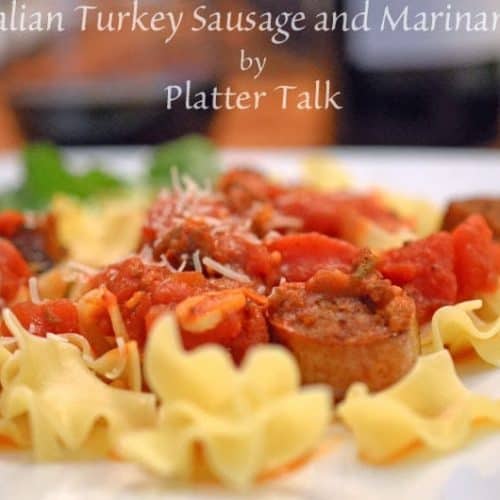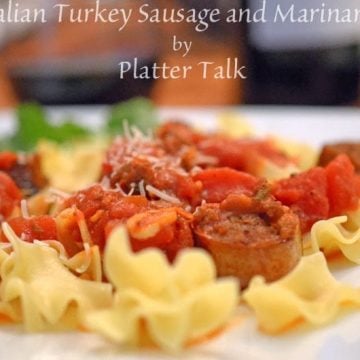 Italian Turkey Sausage and Marinara
A Platter Talk Exclusive
Print
Pin
Rate
Ingredients
1

package Italian

turkey sausage

1

tablespoon

olive oil

egg noodles or pasta of choice
for the marinara
1 14

oz.

cans diced tomatoes

1 14

oz

can stewed tomatoes

2

tablespoons

olive oil

2

cloves

garlic

sliced thinly

¼

small white onion

diced

2

teaspoons

oregano or Italian seasoning

1

teaspoon

salt

optional

1

teaspoon

sugar

optional

1

tablespoon

anchovy paste

¼

cup

red wine
Instructions
Over medium heat, add olive oil to large saute pan

Add sausage and saute until cooked throughout.

Allow to cool slightly then cut into ½ inch pieces
for the marinara
Using small sauce pan, add olive oil over medium heat.

Saute garlic and onions until soft and translucent.

Add diced and stewed tomatoes and remaining ingredients.

Continue to cook over medium heat and reduce to desired consistency, stirring occasionally.

Prepare egg noodles or pasta of choice as directed.

Place sausage on noodles/pasta and top with marinara.

Serve immediately.
Notes
For a marinara from scratch that takes a bit more time but is very delicious, take a look at our Basil Marinara Recipe, it would be a great compliment to this dish.
Consider sauteing a couple of cloves of sliced, fresh garlic with the sausage.
Warm the dinner plates in oven prior to plating food.
Serve with freshly grated Parmesan cheese
Adding a beef bone (or pork bone) to your pot of marinara will add flavor and texture, giving it a character at an entirely different level. Allow the bone to simmer within the marinara for several hours to get the maximum taste benefit.
Nutrition
Calories:
362
kcal
|
Carbohydrates:
36
g
|
Protein:
21
g
|
Fat:
14
g
|
Saturated Fat:
3
g
|
Cholesterol:
59
mg
|
Sodium:
1038
mg
|
Potassium:
668
mg
|
Fiber:
4
g
|
Sugar:
7
g
|
Vitamin A:
320
IU
|
Vitamin C:
16
mg
|
Calcium:
102
mg
|
Iron:
4
mg