Johnsonville Back to School Breakfast Croisausages are easy to make, fun to eat, and nutritiously satisfying to help give kids and parents a great start to their day. We put these together for our friends over at The Daily Meal, who asked us for some back to school ideas featuring Johnsonville Breakfast Sausage Links. Being big fans of Johnsonville and their products, we were all to happy to come up with this idea and we think you and your family will love it.
Johnsonville Back to School Breakfast Croisausages
What kid wouldn't like the taste of a savory Johnsonville Sausage Breakfast Link, wrapped in cheese and then finished off  on the inside of a soft, warm crescent roll? What parent wouldn't like the same thing?  We can't think of many. In fact, with these Johnsonville Back to School Breakfast Croisausages, we quickly and effectively ruled out this question within our family of six kids and two parents. It was unanimous across the breakfast table: full love.
We knew these Johnsonville Back to School Breakfast Croisausages were going to be delicious and we wanted to have some fun with the recipe. With that in mind, we mixed things up a bit between a couple of variations, namely with and without a fried egg on the inside. Both are equally delicious. These heat up well the next morning too. You can pop them in a microwave but they're better after a few minutes in a hot oven.
With just a few ingredients, these Johnsonville Back to School Breakfast Croisausages go together in a snap. They're not only perfect for savoring at the breakfast table, they are great for an on-the-go breakfast or at the bus stop. Pick up some Johnsonville Breakfast Sausage Links, put these together and let us know what you think, we love hearing from our readers!   -Dan
 We've featured other Johnsonville products in the past. Be sure and check out our Brat Bites.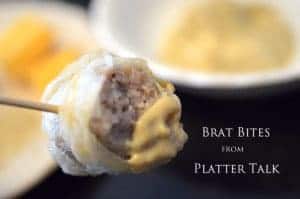 You'll think you're in heaven, or maybe right here in the heart of Wisconsin which just happens to be where the rural hamlet of Johnsonville is located and where Ralph Stayer, a small town local butcher, along with his wife Alice, started what became the biggest sausage company in the world.
Never Miss Another Platter Talk Recipe
Johnsonville Back to School Breakfast Croisausages
A Platter Talk Exclusive
Author:
Dan from Platter Talk
Ingredients
8 Johnsonville Breakfast Sausage Links
1 tablespoon olive oil
4 slices cheese "singles"
1 tube refrigerated crescent rolls
eggs (optional)
Instructions
Preheat oven to 350 degrees F.
Heat olive oil in large skillet over medium heat.
Add Johnsonville Breakfast Sausage Links, pan fry for about 3 minutes until browned. Remove from heat and set aside.
Break open tube of crescent rolls and break apart each triangle.
Cut each slice of cheese in half, layer each crescent sheet with 2 halves of cheese slices.
Place one Johnsonville Breakfast Sausage Link crosswise, on wide end of each sheet.
Roll crescent sheets and place on greased baking sheet.
Bake for 12-15 minutes until golden brown.
for optional egg version
Fry an egg, yolk broken.
Place egg over cheese (on crescent roll sheet.)
Place Johnsonville Breakfast Sausage Link as described above.
Continue with instructions as listed above.