Eggs and Kale Bruschetta
We put these together this first weekend of the new year at our small cottage on a small lake in the middle of Nowhere, Wisconsin.  The boys had every intention of doing some ice fishing but the slushy temps on Saturday kept them indoors watching movies, playing checkers and the board game of sequence.  On Sunday, it snowed most of the day and still we stayed in doors repeating much of the previous day of games, eating and cooking.   Lots of cooking, actually.  The first thing out of our little kitchen on Sunday morning was bright, flavorful, and full of health:  Eggs and Kale Bruschetta.
Eggs and Kale Bruschetta
Unless you've been living under a rock for the past several years, I'm sure it's of no news to you that kale ranks among the most super of super foods.   This nutrient-dense veggie packs more iron, ounce per ounce, than beef.  It is great in salads, soups, and as shown with this post, and on the breakfast table in the form of an Eggs and Kale Bruschetta.
Did our boys eat this for breakfast with the dads?  No.  Did I encourage them to try it?  Yes.  Did they learn about kale and it's nutritional prowess?  You betchya, as they like to say here in Wisconsin.   Not the most kid-friendly breakfast, it nonetheless exposed our boys to thinking a tad outside the box when thinking of new ways to include healthier food options with mealtime.
The soft and chewy baguette, slathered in olive oil and fresh crushed garlic gives this kale and egg a perfect base for both flavor and texture.  Add some diced Roma tomato, fresh ground peppercorn and a sprinkle of Parmesana cheese and you have yourself a colorful and healthy start to your day.   I hope you try this Eggs and Kale Bruschetta soon!  -Dan
 Never Miss Another Platter Talk Recipe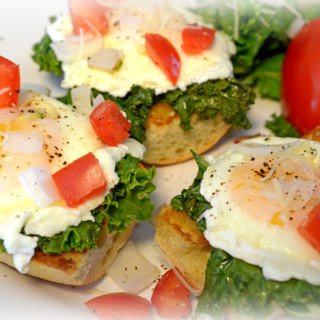 Kale and Egg Bruschetta
A Platter Talk Exclusive
Print
Pin
Rate
Ingredients
1

cup

kale leaves

washed, rinsed and stems removed

3

eggs

3

slices

of baguette

5 inches in length

1

Roma tomato

seeded and coarsely diced

2

cloves

garlic

1/2

small onion

coarsely diced

3

tablespoons

olive oil

divided

grated Parmesan cheese

kosher salt

fresh ground black peppercorn
Instructions
Heat 2 tablespoon olive oil in large skillet over medium temperature, add kale, onion and garlic. Stir and saute until soft and tender, about 3-4 minutes. Set aside.

Poach eggs in small saute pan over medium heat.

While eggs are poaching, brush remaining olive oil on baguette slices and under oven broiler.

Place baguettes on serving plate, top with kale then place an egg on each slice of bruchetta.

Top with onion, garlic and diced tomatoes.

Salt and pepper to taste, garnish with Parmesan cheese.