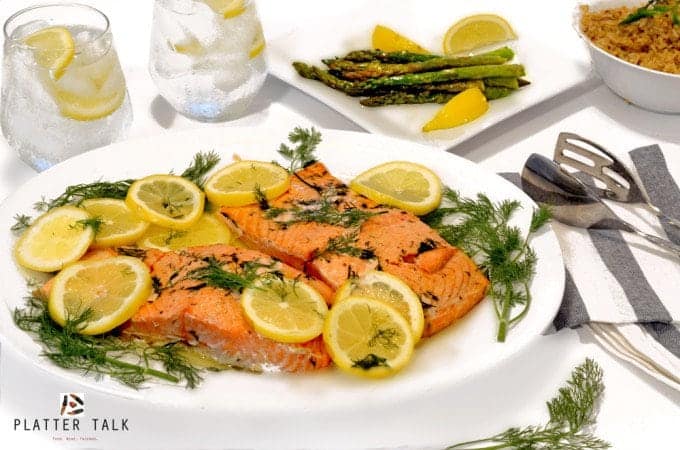 Lemon Dill Oven Roasted Salmon Recipe – This recipe features ease, health and good taste. It's the total package for an affordable, easy-to-make dinner entrée that is also good for you.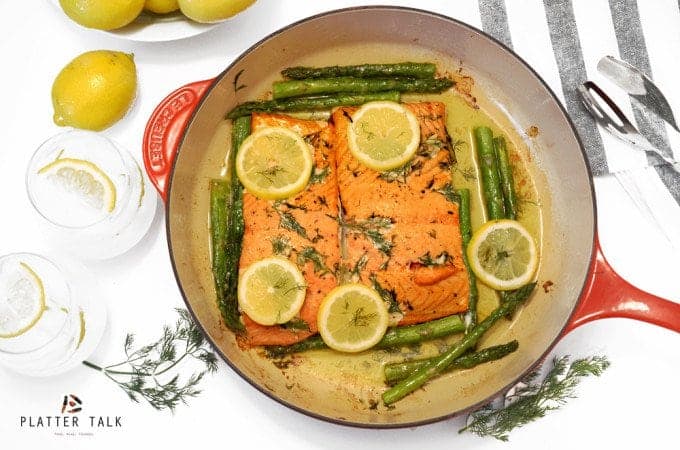 Lemon Dill Oven Roasted Salmon Recipe
We found this Lemon Dill Oven Roasted Salmon Recipe in the New York Times. There, it was described as both astonishingly easy and elegant. I am here to vouch for both of those attributes. We used a combination of lemons, dill and butter to help flavor this salmon but you can be creative with your herbs, fat and aromatics.  Thyme, basil, cilantro and mint all work well with variations of olive oil or peanut oil. Some reviewers added shallots for their mellow aromatic properties.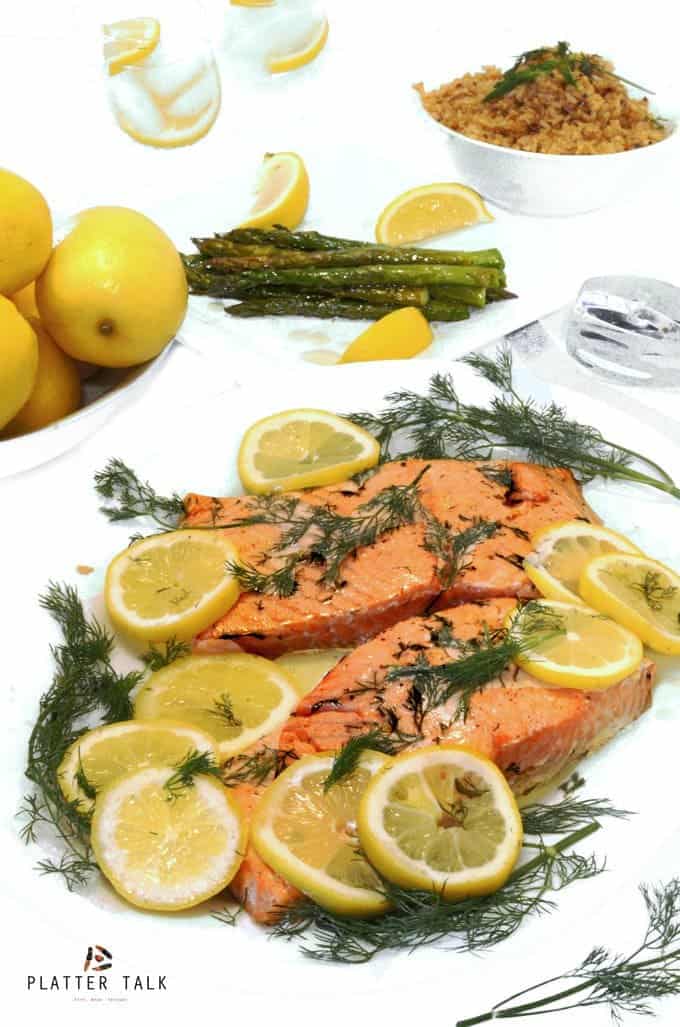 Lemon Dill Oven Roasted Salmon Recipe Highlights
Easy to make

Melt a bit of butter in an oven-proof pan, along with herbs of your choice

Add that salmon after a few minutes

Remove skin and flip

Roast a few minutes more and enjoy

Healthy

Salmon is loaded with heart-healthy omega-3 fatty acids, protein, and other nutrients.

Versatile

Great for a quick casual dinner at home or an impressive meal made for guests.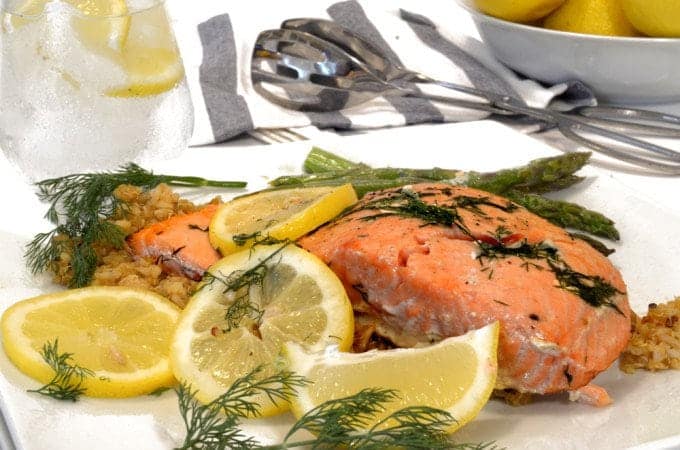 ©Platter Talk
If you or someone in your family is not the biggest of seafood lovers but you want to incorporate more of it into you diet, salmon is a great place to start. It can be grilled, pan sautéed, poached and as we show you in this post today, even roasted.  It happens to be one of our favorite foods from the ocean and we are happy to add this Lemon Dill Oven Roasted Salmon Recipe to the rest of our salmon recipes.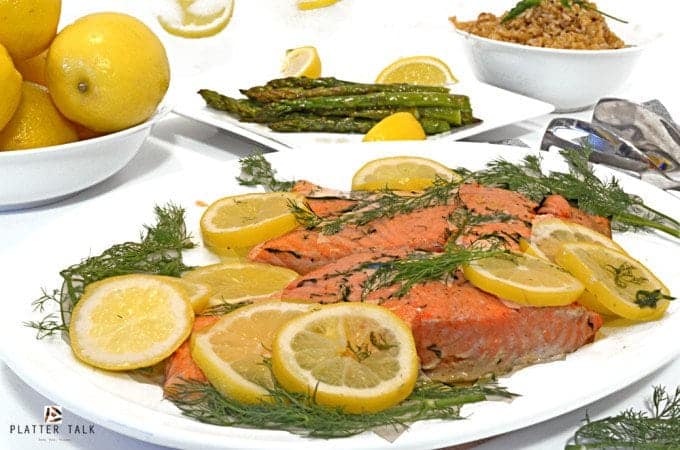 Never Miss Another Platter Talk Recipe
Click Here For Your Free and Secure Email Subscription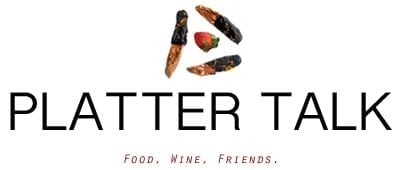 Lemon Dill Oven Roasted Salmon Recipe
Recipe from The New York Times
Ingredients
4

tablespoons

1/2 stick butter

4

tablespoons

minced chervil

parsley or dill

1

salmon fillet

1 1/2 to 2 pounds

Salt and freshly ground black pepper to taste

Lemon wedges
Instructions
Preheat the oven to 475 degrees. Place the butter and half the herb in a roasting pan just large enough to fit the salmon and place it in the oven. Heat about 5 minutes, until the butter melts and the herb begins to sizzle.

Add the salmon to the pan, skin side up. Roast 4 minutes. Remove from the oven, then peel the skin off. (If the skin does not lift right off, cook 2 minutes longer.) Sprinkle with salt and pepper and turn the fillet over. Sprinkle with salt and pepper again.

Roast 3 to 5 minutes more, depending on the thickness of the fillet and the degree of doneness you prefer. Cut into serving portions, spoon a little of the butter over each and garnish with the remaining herb. Serve with lemon wedges.