I have met few public figures who possess greater personal charisma than Patricia Wells. During our visit before her book signing and luncheon, she talked with me about her grandfather's homestead, mere miles away from our very own cottage on a small lake, in the middle of Nowhere, Wisconsin. When I asked her how a Wisconsin girl ended up becoming close friends and associates with the likes of the late Julia Child and teaching cooking classes in Paris and Provence, her eyes glittered and in her patient and affable style and she explained to me, that with each opportunity with which she was presented, she simply said, "Yes, yes, and yes!" Until she arrived in Paris.
| | |
| --- | --- |
| | |
Indeed. Yet to be clear, there were a few pivotal stops along the way: Writer and editor positions at The New York Times and The Washington Post, her twenty-five year-plus stent during which Wells was the global restaurant critic for the International Herald Tribune, and her tenure as restaurant critic (the only American and only women, ever) for L'Expresse, the weekly major French magazine.
Sunday afternoon's event featuring the famed culinarian was held at the beautiful Paine Art Center and Gardens in Oshkosh, Wisconsin – only an hour or so from Patricia's native Milwaukee. The Paine, as it's referred to locally, is a large and historic estate with art galleries and display gardens. One of it's central missions is to inspire and enhance the lives of others, through creativity and art. Sunday's event featuring one of the world's most highly acclaimed chefs, food critic, educator, and author, was a solid fit for just such an endeavor.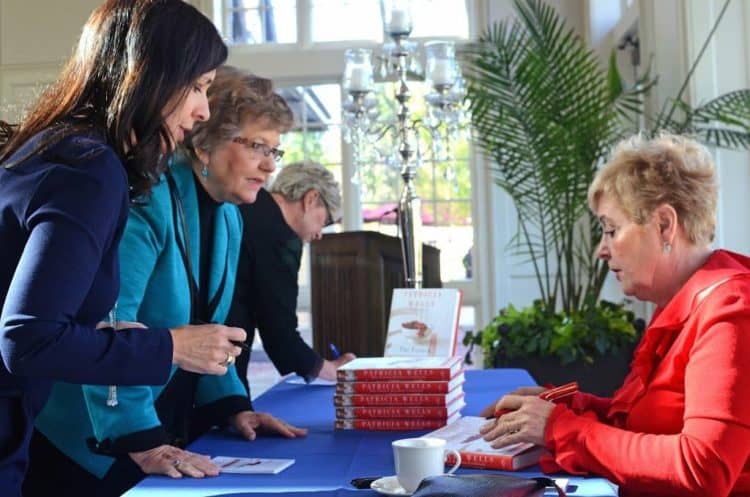 After personally greeting dozens of the guests and signing a boat load of books, Patricia welcomed everyone. Within mere seconds every soul present was transported, momentarily, to a vineyard near Provence, where once had stood a grove of olive trees decimated by a freeze, was now land that played host to grapes planted in the 1950's, on the property she calls home. From these grapes, Patricia brought several cases of wine. Once again the crowd was absolutely wowed, with flavor and character.
The spacious conservatory of the Paine provided a perfect setting for this Sunday afternoon book signing and luncheon. The blazing autumn-colored leaves of the surrounding hardwood trees provided a beautiful background through the room's expansive windows. On the inside, the season was echoed by the luncheon's first course prepared by Chef Peter, a Spicy Thai Pumpkin Soup with Crab and Cilantro.
At this juncture of this post, it is a very good time to make one thing crystal clear. Patricia Wells was not the only person here to receive wide adulation from those in attendance. Chef Peter Kuenzi, the man behind the highly successful Zuppas Market, Cafe and Catering, just up the pike in Neenah, is also the man who earned this incredible honor – to personally prepare and serve – from her own just released cookbook, one of the undisputed food and culinary experts of our time. Let me just say, once again, Peter did not simply oversee the production of the fare, he produced it. He put it together and he was on it. I saw it all. If you are reading this, I urge you to click here and read more about Peter and what he does in the kitchen. I can also say with authority that you have not heard about the last of this talented chef, here on Platter Talk.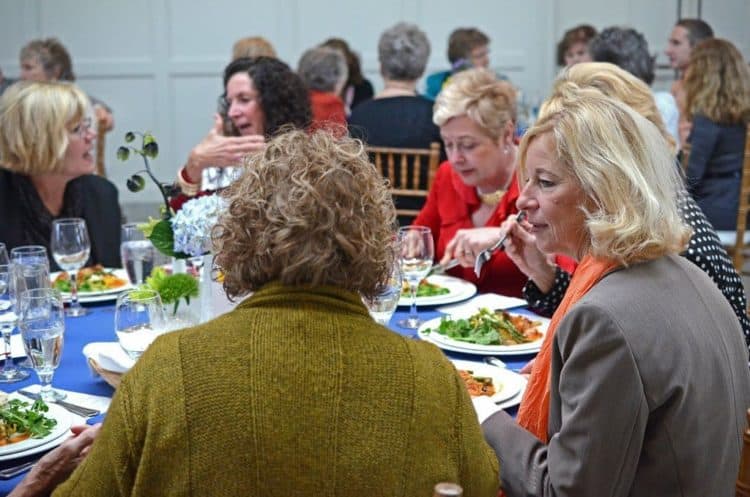 Playing nicely into the seasonal theme, and directly from Patricia Well's latest cookbook, The French Kitchen Cookbook, came the second course: Pear, Fennel, Belgian Endive and Curried Walnut Salad. Chef Peter beautifully constructed this salad and the smiles and energetic banter among the guests continued to grow.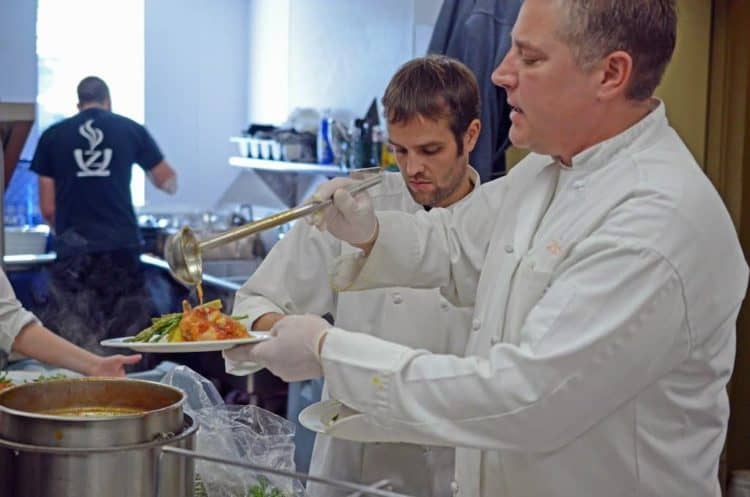 I once heard of chicken fricassee, being described as the original French comfort food. Often thought of as being between a saute and a stew, I've also been told there are as many variations of this as there are grandmothers. I find it hard to believe that there are many grandmothers who put this together quite as elegantly and utterly delectable in appearance as Chef Peter. For the main and third course, he served Fricassee of Chicken with Fennel, Capers, Artichokes and Tomatoes served with Grilled Polenta with Tomato and Onion sauce. It was every bit as incredible as it looks and sounds. As with all of the other courses, this came from The French Kitchen Cookbook, the very recently published cookbook by Patricia Wells.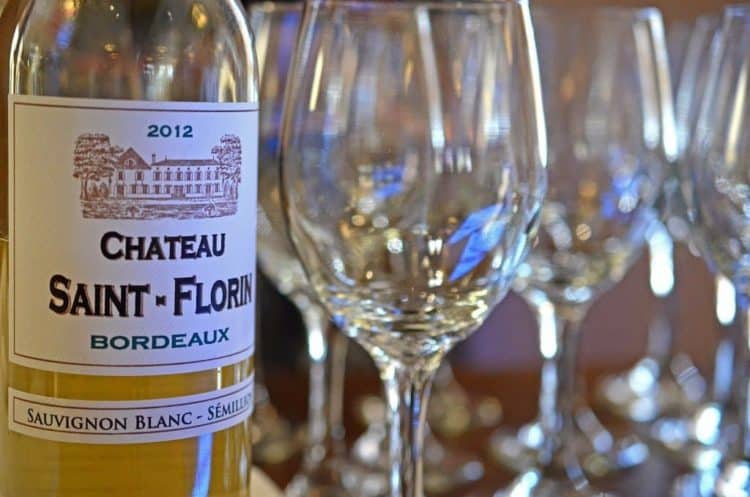 I really cannot imagine that there was much hunger among those gathered by the time the fourth and final course was served: Intense Chocolate Custards with Nibs. Nonetheless, I don't think anyone passed it up. In the very unlikely event that they did, then they are to be pittied. I am a self-professed chocolateholic and my life would be less complete had I said no this dreamy dessert. A perfect cap to the luncheon.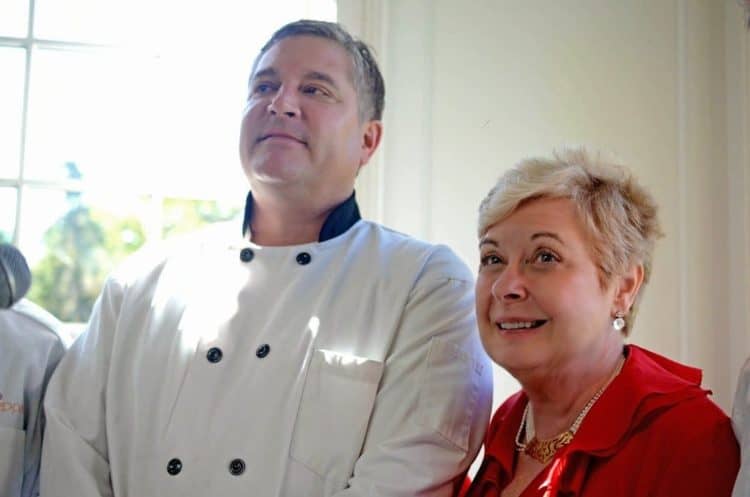 Surely Chef Peter won't forget the day he was applauded by Patricia Wells. Nor is it likely that any of us will who were fortunate to be in attendance. The entire afternoon was a graphic and tangible example of when fine culture and fine art are mixed with community, and in this case thanks to the guest of honor Patricia Wells, the world.
Of course, everyone who came to this event did so for the purpose of meeting a famous culinary figure, taking home a signed cookbook of hers, and enjoying a fantastic meal – all in the beautiful mileau of The Paine's conservatory. But something else transpired here. After an engaging welcoming from Patricia Wells, in which she addressed the crowd and spoke at some length of her life in France and the story behind her vineyards in Provence, she personally interacted with nearly every individual present, posed for a plethora of photographs and signed even more books. Soon after her welcoming, everyone present performed an act that is even more foreign to the vast majority of the United States citizenry than the French language itself. We all sat for a four-course meal. We relaxed. We laughed. We sipped a little wine and we talked about food. And life. I found a wonderful little piece, Anatomy of the French four-course meal, take a look here and see if it resonates with you.
My appreciation for French cooking was renewed, and my admiration of this girl from Wisconsin greatly enhanced. You can learn more about Patricia, her cookbooks and her cooking classes by visiting her website, patriciawells.com. I've already chosen my first recipe from her new cookbook to feature here on Platter Talk. I can tell you in advance, it is going to be formidable!