This Marghertia Omelette is a close relative to the margherita pizza, recently featured here. Like it's pizza cousin, this recipe contains oven-roasted cherry tomatoes, bringing out their natural sweetness. This margherita omelette also features strips of fried salami, a perfect salty counterpart.
Why You're Going to Love this Margherita Omelette
It's an almost instant mood elevator. Featuring a colorful and engaging flavor that can't be ignored, this margherita omelette will make you sing.


It's easy and versatile, perfect for breakfast, lunch or dinner.


It won't break the bank. Where else can you get a meal like this for just a couple of bucks?
When I arrived home, planning to put this dish together, I wasn't in the brightest of moods. I'd had a long day of work and after a quick stop at the grocery store and gas station, I found a load of laundry that needed folding and another that needed to be put in the dryer.
Some days the chores of necessity and daily life are easy to dampen your spirits. More times than not, after a day like today, I find relief in the kitchen.
"Soon, the crackling of the browning salami is keeping time to Adam Levine and without even realizing it, I join in."
Some tunes were turned on. Next,the the oven and then I started to prep my ingredients and stage my photo set. Soon, the crackling of the browning salami is keeping time to Adam Levine and without even realizing it, I join in. Suddenly, I'm seeing things in a refreshing and reinvigorating light.
Did I mention that just a few hours earlier, my day seemed to be ending on a not-so-great note?
Shades of tomato red, basil green, and fresh mozzarella white were all coming together. I was tempted to don some sunglasses. Suddenly, life is good.
It gets even better, quickly. I had never fried salami. Fun! I had ever tasted roasted tomatoes in an omelette. Fun! I had never had a margherita omelette for dinner. Delicious! This meal is full of color, flavor, nutrition, and great taste. Give it a try and see what it does for your day.
 Never Miss Another Platter Talk Recipe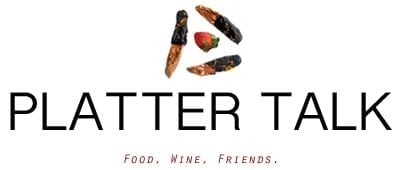 Margherita Omelette with Salami and Chili Sriracha
Adapted from Saveur
Ingredients
6

cherry tomatoes

sliced in half

2

tbsp.

olive oil

divided

Kosher salt and freshly ground black pepper

to taste

2

oz.

thinly sliced salami

cut into ¼" strips

2

tbsp.

unsalted butter

6

eggs

1

oz.

fresh mozzarella

torn into ½" pieces

6

basil leaves

thinly sliced

Srirach chili sauce for garnish

optional
Instructions
Heat oven to 375°.

Mix tomatoes, 1 t tbsp oil, salt, and pepper on a rimmed baking sheet; bake, stirring occasionally, until slightly dry and caramelized, 12-15 minutes. Set tomatoes aside to cool.

Heat remaining oil and salami in a 12" nonstick skillet over medium-high heat; cook, stirring occasionally, until browned and crisp, 5 minutes. Using a slotted spoon, transfer salami to paper towels to drain.

Wipe out skillet and add butter; return skillet to medium heat.

Whisk eggs, salt, and pepper in a bowl and add to skillet; cook, stirring occasionally, until large curds form, 3-4 minutes, then gently stir until eggs are almost set.

Using a rubber spatula, pat eggs into an even layer.

Add tomatoes, salami, cheese, and half the basil

Slide half the omelette onto a plate and using spatula, fold remaining omelet over the filling; garnish with remaining basil.

Drizzle sriracha chili sauce over omelette and savor the flavor.