O

.k., we're taking a brief departure here and breaking away from the typical food blog.  This piece isn't going to offer any recipes, it's not going to give wine and food paring ideas, nor will it discuss the variations of individual ingredients or offer a personal bias for or against incorporating them into a particular dish.  What this post is going to touch upon is a part of our everyday life, part of who we are, and certainly part of our food culture.  This post is about a well known eating establishment within our community but it could be situated in any town, and I'm sure that anyone reading this can think of a similar story in or near their neck of the woods.  This is a story of excellence, of service to community, and it's a part of this blog because it all centers around my favorite f

our

letter word – food.
Almost anyone who lives in the fox river valley area of Wisconsin has had some type of association with Marks East Side Restaurant in Appleton.  Chances are good that they have dined here and if they haven't then the odds are very good that they know of someone who has patronized this eatery at one time or another.  After over 30 years of being in the community, it's not an overstatement to say that Marks East Side has become a part of the community.  We took a couple of hours on a Thursday night not long ago to visit and enjoy a bottle of wine and a fantastic meal.  After dinner, we sat down with Mark Dougherty and talked about his life work here and how it all began.
For Mark, it all started back in 1967 when he was a third-grader.  That's when his father purchased an existing restaurant and named it Chef Bill's.  One of his chores as a young man was to clean the bar every Saturday morning.    Back then, the place was smaller and offered a simpler menu.  Mark's father, Chef Bill, used a handsaw and wood block to fashion his own cuts of beef in the kitchen.
Fast-forward 30-some years and that third-grader in now an accomplished restauranteur in his own right.    Having assumed sole-ownership in 1987 after running the establishment since 1982 at the age of 21, Mark and his staff of over 40 employees have built a business that serves in excess of 500 dinners on any given Friday night.  Like his father, Mark still plays an active part in cutting the meat and fish served by his restaurant.   On the evening we were there, he and his staff had recently finished preparing for the next day's business by processing over 200 lbs of haddock, 30-40 lbs of salmon, 60 lbs of perch, and 10 lbs of pike.  And that doesn't include the fluke!  Suffice it to say, Marks East Side kitchen could satisfy even the appetite of a beluga whale on any given Friday night.
Almost 50 people are on staff at Marks East Side, and judging from our excellent service they play an integral role in the success of the business.   The competency of the staff is in no small part due to Mark's insight into successful management of such a restaurant.  Meeting weekly as a group, he goes over menu changes, revisits old standards, discusses specials and even passes around samples of menu items to help reinforce familiarity among those serving.  Mark pointed out that he will sometimes ask for a willing staff member to uncork a bottle of wine, and then select an individual who did not volunteer to do the honors, on the theory they may feel unsure of their finesse and thus he uses this time to provide a learning opportunity for all.
Near the conclusion of our conversation, Mark emphasized that after 30 years he continues to look forward to going to his job every day.  He's proud of the support his establishement has been able to lend to community orgnizations such as the United Way, the Humane Society, local school organizations, and the ongoing charitiable events hosted for various indivudals for one reason or another, the types of events that are not uncommon in closely knit and caring communities all across America.  When asked what he would choose as a final meal for himself, if he had to ever make such a decision, Mark pondered for a moment or two and then decisively chose a pork hock and sauerkraut.  I think I've just added another item to my bucket list.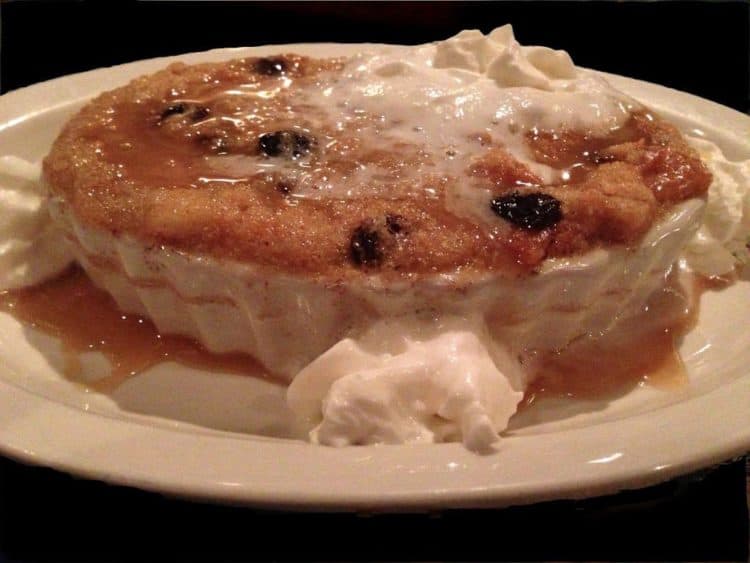 We ended our night with a glass of Pinot Noir and an order of Mark's Jameson Whiskey bread pudding.  Having dinner at Marks East Side and spending an hour or so visiting with the man behind the story provided for an enjoyable and inspiring Thursday evening.  We will be back and I hope if you're in the area you will give this place a visit.  And be sure to mention that the guys from Platter Talk sent you.