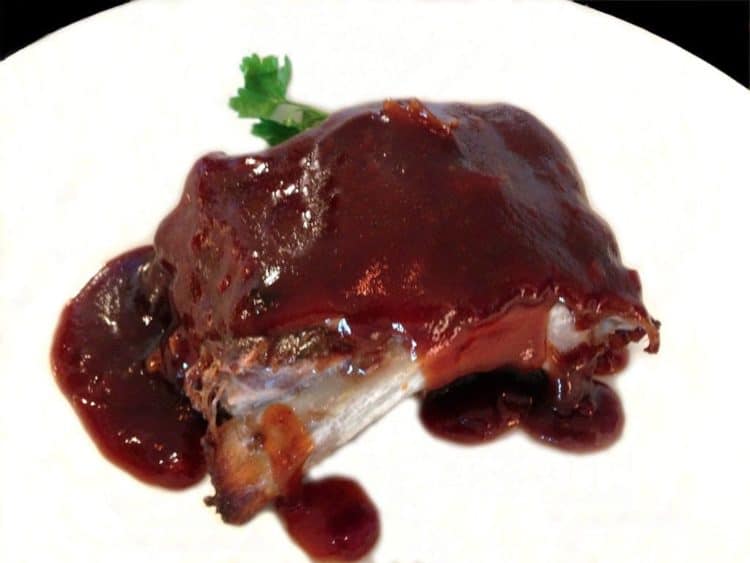 This was a birthday weekend in our family and that usually means food and family, lots of both. This go-round was no exception and I wanted to try something a little different but had to be mindful of the tastes of the attendees and most important, the palate of the boy being honored, our son Joe who just crossed the double-digit milestone and turned the big 1-0. Although I was tempted to do an outdoor barbecue of some type at the cottage, I was happy I opted against this idea as we experienced nearly every climate condition known, including hail, brief interludes of pounding rain, and even a little bit of snow – all interspersed with a mix of almost warm sunshine and clouds throughout the day. Yes, Saturday was one of the days where it would have been easy to ask myself again, "Why am I living here?" Thankfully I didn't have the time to query myself as I started cooking from the minute I rose and didn't finish till all were served, about 12 hours later that same day.
Baby back ribs were the the featured item on our birthday party menu for Saturday evening and they went over well with party goers of all ages and sizes. There were 18 people who showed up at our little cottage and as you may have guessed, there was more than ribs being served for our Saturday celebration.
There was salsa, there was guacamole, there was hummus, there was smoked salmon, there was cheese, cheese, and some cheese too. Scott managed to put a little chicken on the grill, in between cloud-bursts, and I made some baked beans and a new salad to hold finish it all off.
The minute my beans came out of the oven, I was ready to put these baby backs in the oven, but first there was a fair amount of prep work to do for them. I started the sauce on the stove top while the beans were finishing up in the oven. In essence, this is the recipe I put together for the barbecue sauce.
Barbecue Sauce for Baby Back Ribs
Recipe
Ingredients
3 cups apple cider vinegar, 5% acidity
1 lb. minus 1 cup brown sugar
1 12 oz can tomato paste
1/4 cup dark molases
1/4 cup bourbon whiskey
1/8 cup mustard
1 finely diced chili pepper
fresh ground pepper to taste
Instructions
In a large sauce man, over medium heat, combine all ingredients and stir thoroughly until mixed completely. Bring to boil and then reduce heat to low simmer for at least one hour and allow all the ingredients to slowly become better acquainted.
Tips
Simmering longer will only bring these new friends even closer and provide for a more structured and tightly-knit flavor. Also, it will send a clear aromatic signal that something seriously delicious is being created in your kitchen.
As with all recipes, this is a guide. Don't hesitate to make adjustments to your tastes and preferences.
If your sauce appears too thin, mix a few tablespoons of cornstarch in a half cup of cold water. Incorporate this mixture into the sauce. It will gradually thicken the sauce up and add a velvety sheen to the sauce when served over the ribs.
If you've got a few extra aromatics around, throw them into the pot. I was making salsa during this process and diced up some extra onion from that recipe and tossed it in with this. Use your imagination and the flavors will flow.
Other examples of flavor enhancers to this sauce can include a half cup of strong coffee, a few tablespoons of pickle juice, some flecks of red hot pepper, or some ground fresh ginger.
What makes a sauce a sauce? I was brought up to believe that sauces were put on this earth to help other things look and taste better. To this end, taste and consistency are two of the major players of any sauce. Both are contributing factors to its character and ultimately determine how well it does or does not cut the mustard, no pun intended here of course. A sauce should stick to the back of a spoon, as shown in this photo below. This is a good indication that it will have enough structure to cling to whatever main ingredient it is being paired with, for today's party it is going to be five racks of beautiful baby back ribs.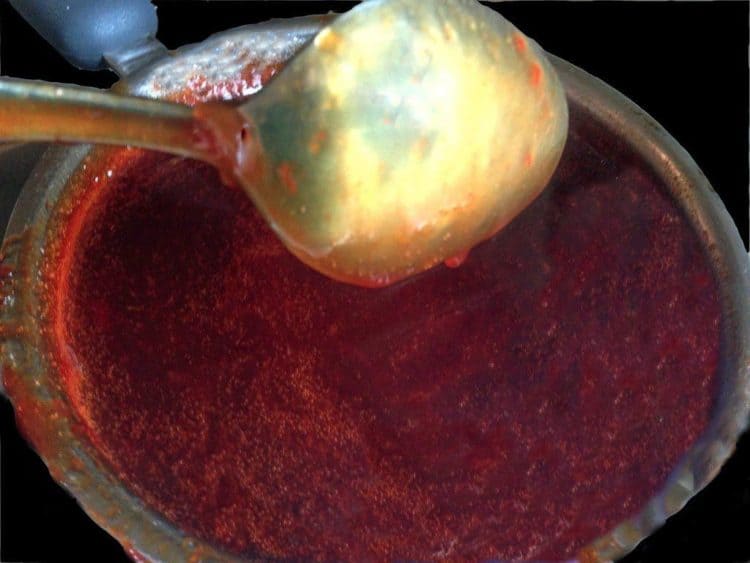 Rib Preparation
Rib's have two sides to them. A bone side, and a meat side. The bone side is covered with a thin and white fibrous membrane that should be removed prior to basting the rib. The ribs I picked up were scored down the center, making it fairly easy to slip a finger beneath the membrane, pull it up, and then peel it off the rack.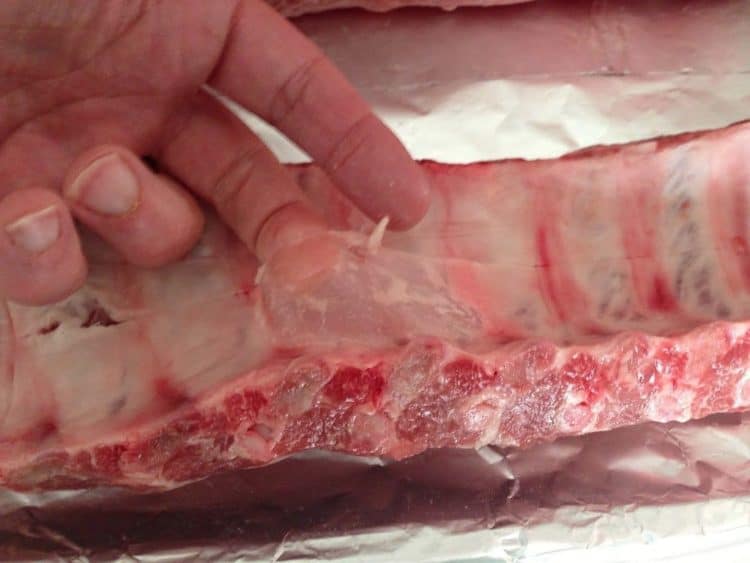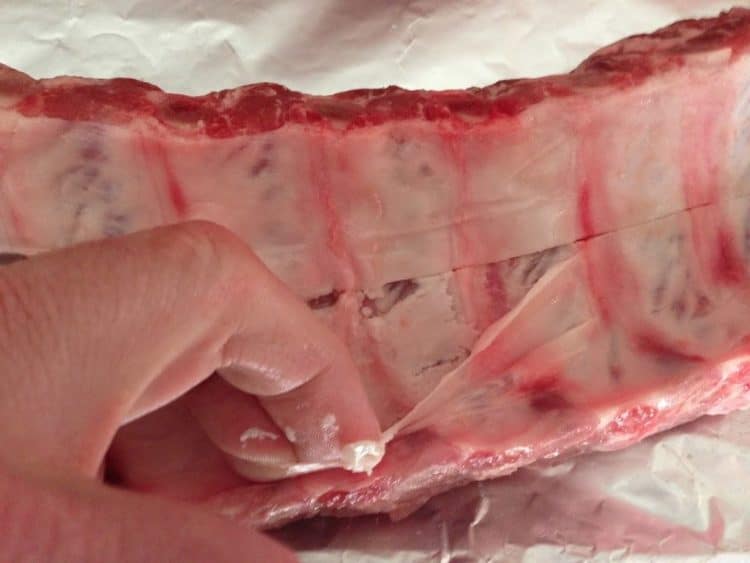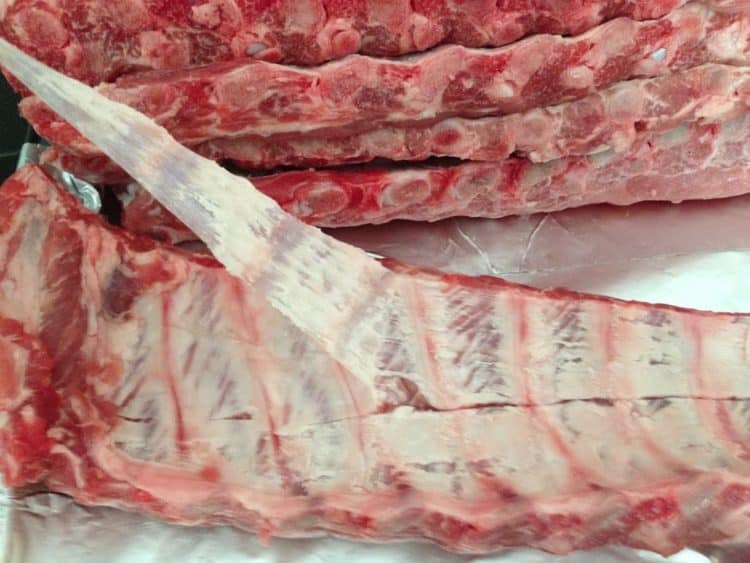 Many meat departments will remove this membrane for you. Make sure you ask before they pack them up for you, it will save you the trouble of having to do it yourself.
Low. Slow. These two words are among the most important for making ribs in the oven. These are going to be baked at a low temperature, 350 degrees F., and baked over a period of 3 to 5 hours.
Oven-Baked Baby Back Ribs
Recipe
Ingredients
Baby back ribs, a good estimate is one rack will be enough for 2 adults
Barbecue sauce, commercial or your own creation!
Apple jelly, one small jar
Garlic powder
Onion powder
Kosher salt
Fresh ground peppercorn
Instructions
Preheat oven to 350 degrees F.
Remove the membrane of the bone side of the ribs as shown above. Line a baking sheet with tin foil and place the ribs on the foil. Coat both sides of ribs with apple jelly, generously sprinkle dry ingredients over both sides. The ribs will be baked meat side up. Using about half of the prepared sauce, generously coat the bone side of the rack, turn rib over and do the same thing to the meat side. Place another piece of foil (shiny side up) over the rack of ribs and crinkle sides of top and bottom layers of foil to create a sealed compartment for the ribs. Place ribs in oven and allow to bake. These ribs are ready to eat when the meat falls of the bone. Divide ribs into serving-size portions, pour remaining sauce over ribs, and forget about using your fork to eat these babies. They are going to show you what finger looking good is all about.