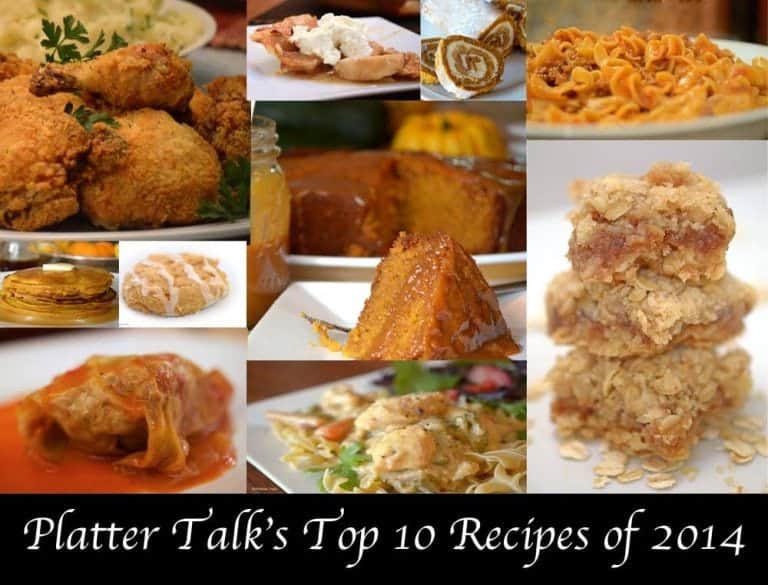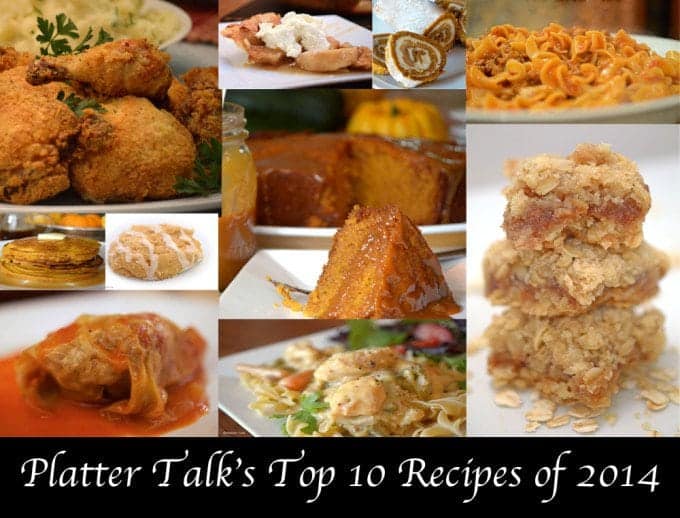 We added nearly 170 new recipes to Platter Talk over this past year and every single one of them represents just one small bite of our passion for food.  We love to prepare it, talk about it, and of course eat it!  We're excited to see and taste what 2015 has in store for us but before we cross into the new year, we want to pay homage and recap with our readers some of our most viewed dishes from 2014.
Whoever said that simple is best would be all over this gem of a dish.   Our Homemade Beef-a-Roni is a recipe that was a part of Scott's childhood.  It's now a part of our kids' lives and don't let the simple sounding nature of this one fool you.  It's easy to make but even easier to enjoy, for kids of all ages and their parents too.
Sometimes when we put something new together, we're not really sure what to expect with the finished dish.  Such was the case with these Pumpkin Pancakes with Apple Cider Syrup.  Light, airy, and a mellow pumpkin flavor are all attributes of this one that sent it to number 9 of the top most viewed Platter Talk recipes for 2014.   Give these a try and the reasons will be both apparent and unforgettable.
We tend to make a lot of pies, here on Platter Talk.  They're fun, they're easy, and they're an excellent use of the honey crisp apples we are blessed to having growing in our backyard.  This Open Face Apple Pie features a bottom-only crust topped with some great tasting apples and a little sugar and spice; all further evidence that simple is best, making this our 8th most popular recipe of the year here on Platter Talk.
Our kids can't look at this Pumpkin Cake Roll and ask, "Can we make this again, today?!"  Clearly, they are not alone in their sentiment.   This rolled pumpkin cake, filled with a butter and cream cheese swirl, took the number 7 spot on our most viewed posts this year.  Not too shabby for a measly little pumpkin!
Most people enjoy enjoy a soft cookie, fresh and warm from the oven.  A lot of people liked this one, our Old-Fashioned Soft Pumpkin Cookies, number 6 on our list of most viewed recipes for 2014.  Once again, easy to make and easy to eat.  They're not just for Halloween!
Pumpkin isn't the only recurring theme, among our most viewed recipes in 2014.   Easy is arguably number one on our list of what people drool over and subsequently view.    This Slow Cooker Creamy Chicken boasts a prep time of 8 minutes, and requires even less time to be devoured at your dinner table.   It's number 5 on our list of most viewed recipes and like every other one featured here, it's one I can't forget.
If we were asked to do a feature on chicken every day of the week, I think it is something we would consider in a heart beat.  Chicken ranks among our favorite foods (out of many favorite foods!) and this Oven-Fried Buttermilk Chicken is perfect rationale for our affinity of all things chicken.  It is the 4th most viewed recipe for 2014 on our site and it is every bit as mouthwatering as depicted in this photo.
Growing up, we called this Pigs in The Blanket.  A thousand miles away in Detroit where Scott was growing up, they called it by it's real name, Golumpki.  This authentic version came from Scott's mom.  Years earlier it was handed down by her mother, decades after it had been passed down to her from generations of Polish predecessors.  Words can't accurately portray how wonderfully savory this dish is.   It holds the honor of being the 3rd most viewed of our posts during 2014, making it a must try.
This recipes combines savory oatmeal with sweet apple butter to create a soft and chewy treat that's as easy on the eyes as it is on the palate.  Our Oatmeal & Apple Butter Bars hold the number 2 spot for most views of 2014.  These are fast to put together and fast to disappear.
This Slow Cooker Sticky Caramel Pumpkin Cake could arguably be classified as the eighth wonder of the world.  How could something this simple, this decadent, and this perfectly delicious come from a slow cooker?   It seems that over 111,000 readers and almost 77,000 (thousand) pinners wondered the same thing.   The viral nature and popularity of this recipe eclipsed all contenders, making it our number 1 post for 2014.
We hope you've enjoyed this round up from 2014 and we can't wait for you to see what we have in store for the new year.  You will be the second to know, we promise!   Until then, have a safe and delicious holiday season and all the best to you in 2015.  Dan and Scott, the guys from Platter Talk.