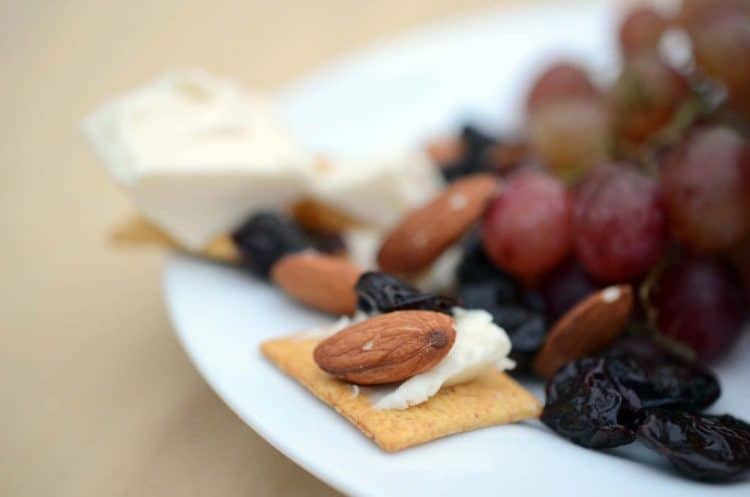 We all know it's back to school time.  For many of us that means packing up lunches for the kiddos.  You know the routine, PB & J, carrot sticks, maybe some applesauce and a cookie.  Yum.  Right?  What about your lunch?  What about your better half's lunch?  Too often it's the fat and sodium-laden fare from the greasy spoon across the street, the sub loaded with enough mayo to do a facial for Godzilla, and way more calories than one of the returning NFL Qback's could expend in double-overtime.   You see where I'm going with this?  Oh, and none of that even addresses the cost.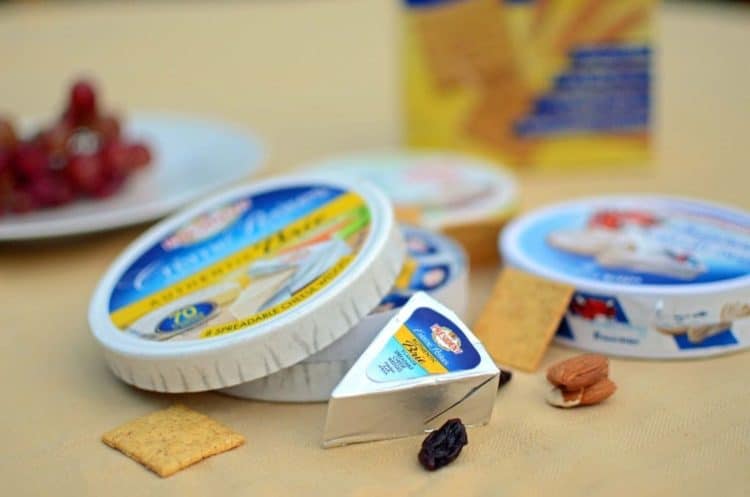 I've mentioned a time or two in the past what a lucky guy I am.  Want to know one more of those reasons?  It's because my partner in life and beyond is one smart cookie.  He's the guy who came up with this concept for us a few months ago after being inspired from an in-flight menu.  We were taking our boys on a family vacation and at one point the flight attendants were pacing the aisles, hawking their in-flight fare.  You may be familiar with the choices, vintage sandwiches, maybe some cookiettes, possibly a salad of some sort, and a snack box.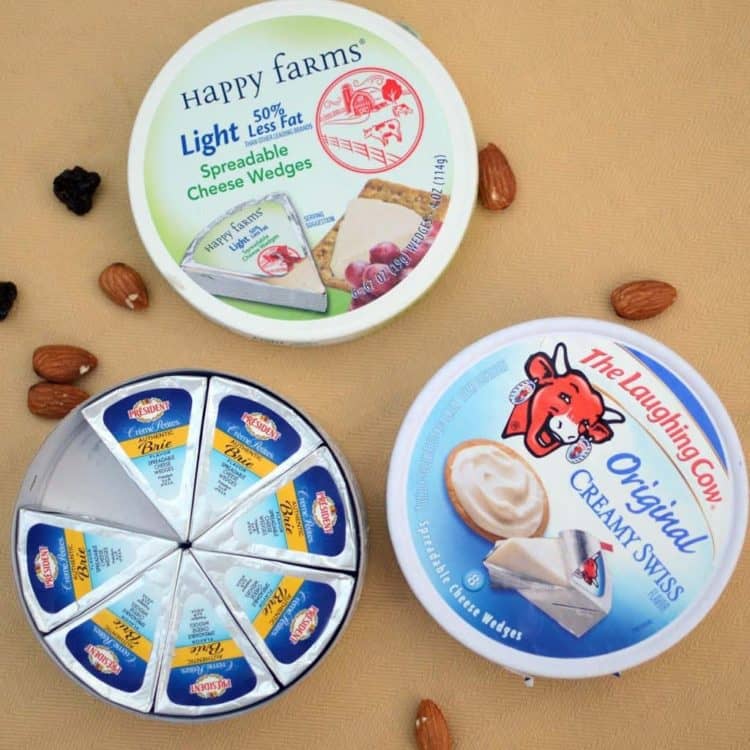 Wait, what is this snack box you may ask?  Well it seemed like the best choice.  A box filled with little treats.  It had cheese, crackers, fruit, and nuts.  It was delicious and was exactly what we needed to hold us over until we landed in the adventure land of Costa Rica    The airlines know they are on to something good as well, surely that is just one reason they have incorporated it into their nickle 'n dime show.  Twelve dollars, which is what the airline charged, seems a bit hefty.  It seemed even more hefty when Scott figured out we can do it for about a buck eighty, or for those of you with a more refined vernacular, one dollar and eighty cents, $1.80.  Say it any way you want, it's a heck of a nutritional punch for under $2.00.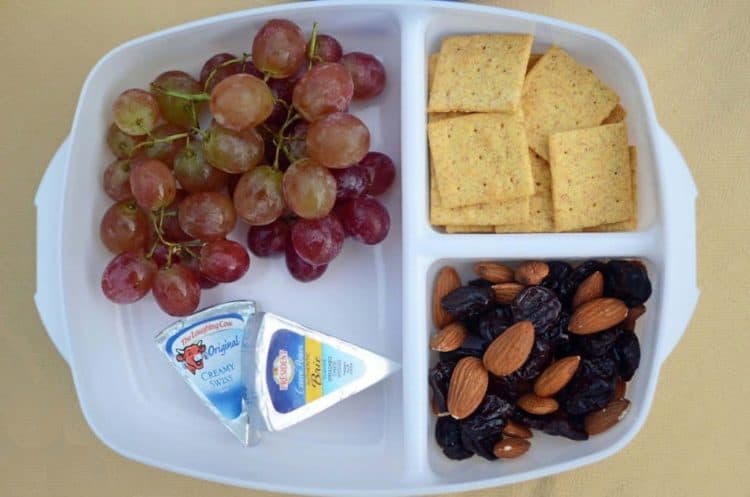 These power lunches are great in so many ways.  They are compact containers of balanced nutrition, offering a little bit of everything so you don't feel deprived.  Do they require more calories to consume than they provide (like I once heard a diet of celery does,)?  No, of course not.  Here's a reminder for us that could afford to drop a few pounds:  It takes energy (in the form of calories) to burn fat.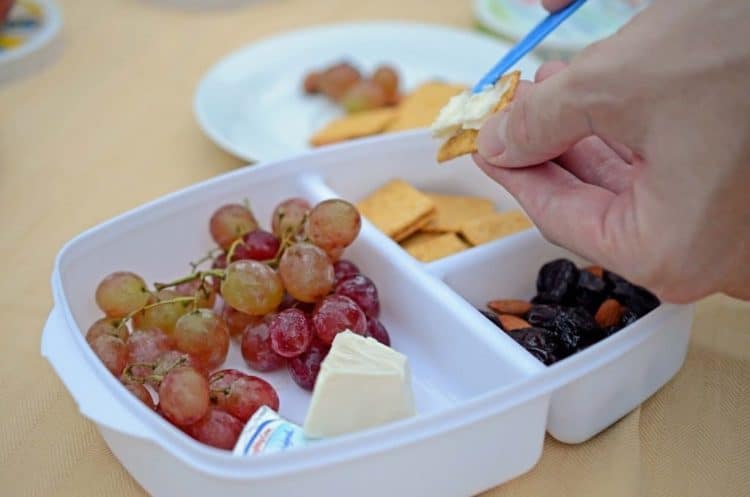 That being said, if you are looking to drop a few pounds it's important that your caloric intake is less than your calories burned for the day.  This lunch box provides a moderation to this end.  It's not necessarily a low fat option, but here's the kicker:   Much of the fat in this lunch comes from the almonds.  And what do we know about almonds?  For the most part only good things, including the fact they are high in mononsaturated fats, the "good" fat found in other hearth healthy foods such as olive oils and avocados.  Take a look at this little primer on almonds and their nutritional benefits including their relatively high content of monounsaturated fat.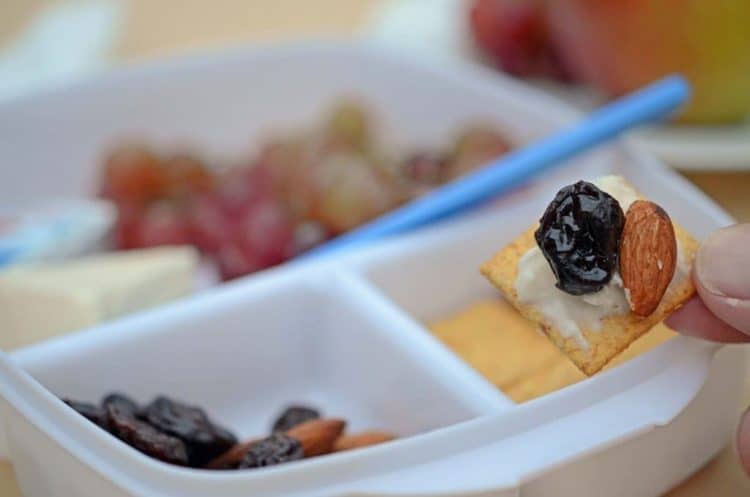 Let's talk nutrition, just for a few sentences.  Balanced nutrition is more than a buzz word.  It means a lot of things to different people.  To me one of the things it refers to is maintaining a proportional balance of carbohydrates, of protein, and of the F word, fats.   Different experts agree on different values for these numbers, but roughly it is suggested that 45-65% of your daily calories come from carbs and no more than 35% of your caloric intake comes from fat.  Protein is a bit of a wild card to this regard.  Most sources will tell you that at a minimum, we should consume 0.8 grams of protein per kilogram (2.2 lbs) of our (ideal) body weight.  This value can fluctuate quite a bit depending on you.   Are you an athlete?  Are you chronically ill?  Are you very young or very old?   These factors and other can influence the recommended daily protein for all of us.   As Scott packs a "snack box" (which really serves as a lunch for us,) it's numbers and nutritional ratios come in pretty well.  It costs us about 435 calories which breaks down to roughly 55% carbohydrates, 11% protein,  and 34% fat.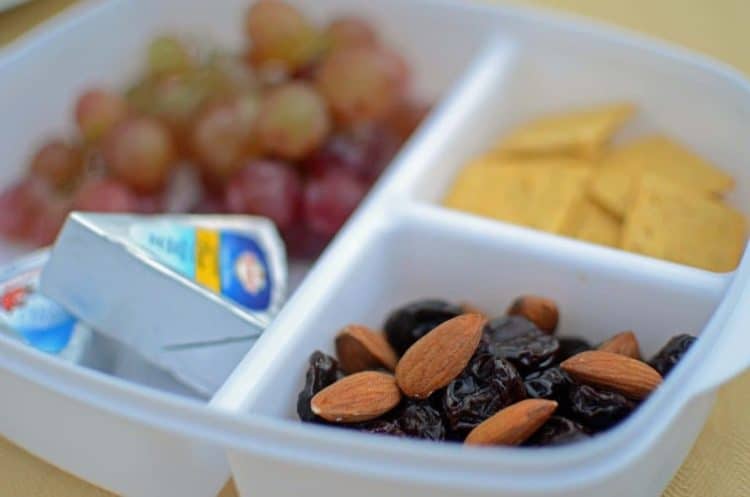 The bottom line of this post is that these little containers which we have dubbed snack boxes in our household are actually nutritionally balanced lunches that are relatively healthy, very good tasting, and undeniably economical.  The beauty of this idea is that it can be configured to your nutritional needs and goals and your own personal likes.  We use a combination of grapes, dried cherries, some snack crackers, almonds, and a couple of different cheeses.  You can pick and choose any of these components and add or substitute others, to your preference.  As always, try to have some nutritional familiarity with what you eat.  Chances are that with better awareness you will be more empowered to make better choices and ultimately function at your best.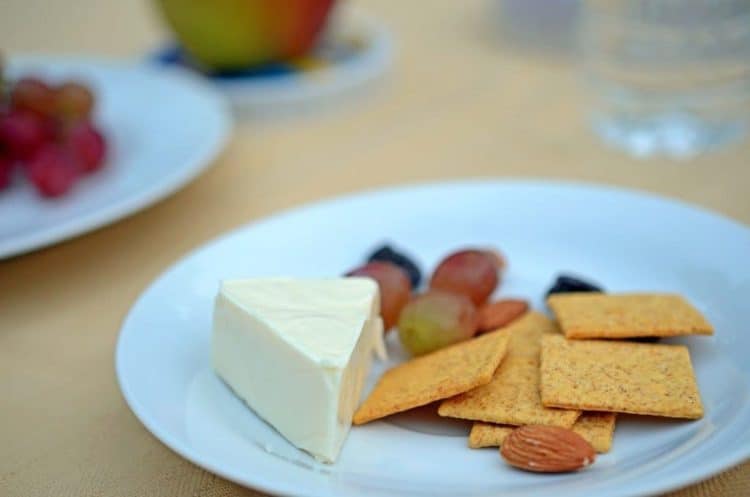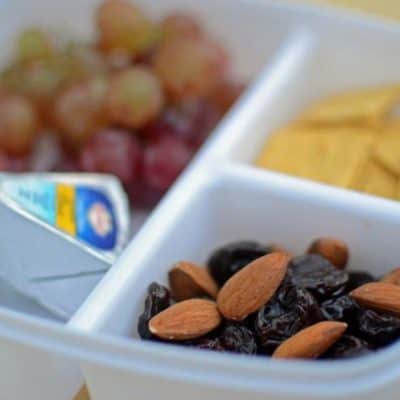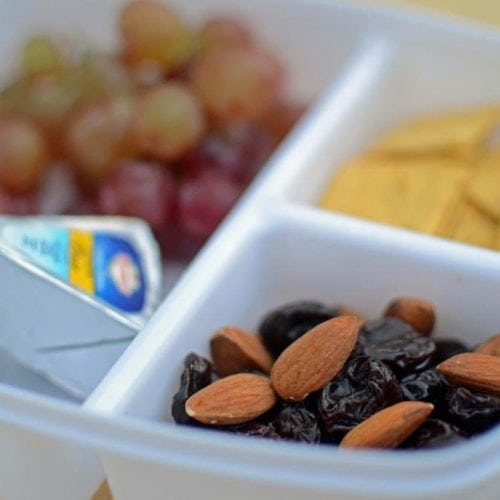 Power Lunch
Healthy and power packing lunch for folks on the go at home, work, or school.
Print
Pin
Rate
Ingredients
16

snack crackers

2

pre-packaged wedges of cheese

we use one light and one regular Brie

1/2

oz

almonds

8

1/4

cup

dried cherries

1/3

cup

grapes
Instructions
Place all ingredients into a sealable container
Notes
Brush up on your math and your own personal nutritional awareness!
Each gram of carbohydrates has 4 calories.
Each gram of protein has 4 calories.
Each gram of fat has 9 calories. To figure the percentage of calories of any of these nutrients in your diet, divide the number of calories derived from a particular nutrient, by the total number of calories.
Example: A certain food has 900 calories and contains 10 grams of fat. To figure out the percentage of fat calories: Multiply 9(calories) x 10(grams) = 90 calories from fat
Divide 90(calories from fat) by 900(total calories) = 0.1, or 10%
In this example, 10% of the calories are derived from fat.
Nutrition
Calories:
480
kcal
|
Carbohydrates:
55
g
|
Protein:
16
g
|
Fat:
23
g
|
Saturated Fat:
8
g
|
Cholesterol:
40
mg
|
Sodium:
477
mg
|
Potassium:
257
mg
|
Fiber:
7
g
|
Sugar:
28
g
|
Vitamin A:
1313
IU
|
Vitamin C:
2
mg
|
Calcium:
156
mg
|
Iron:
2
mg