This shop has been compensated by Collective Bias, Inc. and its advertiser. All opinions are mine alone. #Bananamazing #CollectiveBias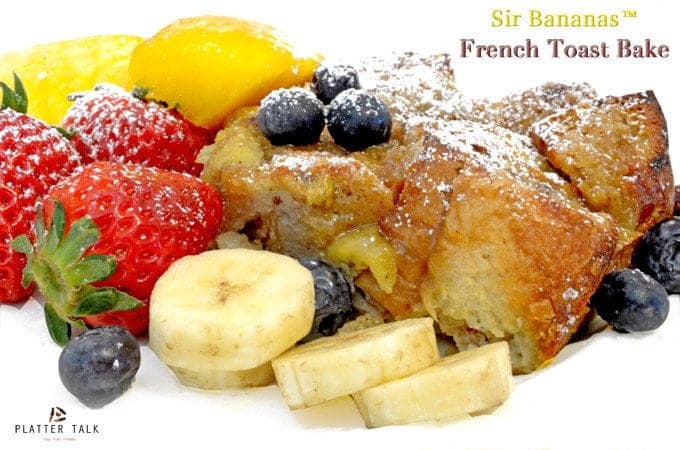 Sir Bananas™ French Toast Bake Recipe –  For those of you that know me, I like to joke around.  I have been called silly, comical, bananas, if you will.  Well, on this Sunday morning, while at our cottage in the middle of Nowhere, Wisconsin I am really going bananas.  If I have piqued your interest,  read on and I will explain my newest creation, Sir Bananas™ French Toast Bake Recipe.
Sir Bananas™ French Toast Bake Recipe
Our kids love bananas.  Not only does the whole family eat them, I use them to to make a variety of things, from smoothies to my famous banana bread.  It is not uncommon to find a bunch on our counter at home, as well as overripe bananas in our freezer.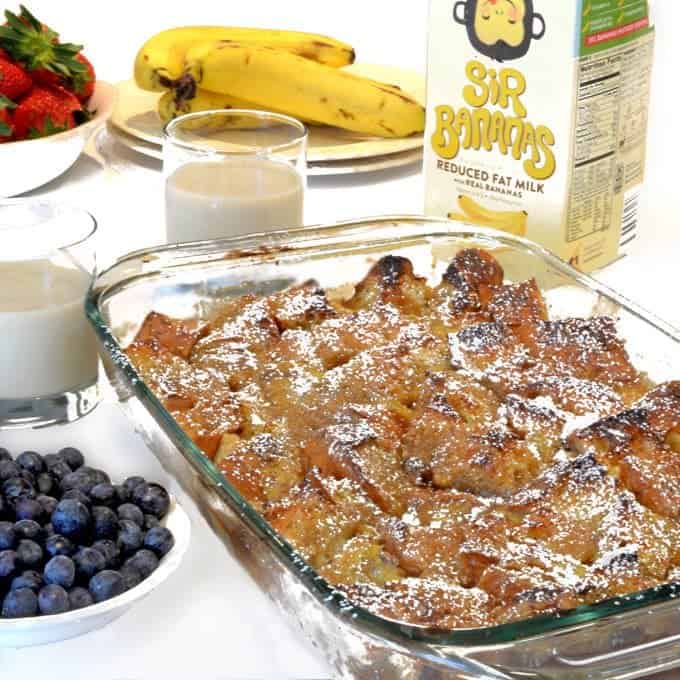 Thus, while Dan and I were shopping at our local Walmart, we ran across something that made me ever so excited, Sir Bananas™ Bananamilk.
Made with real bananas and 2% milk, I knew immediately that a carton of this heavenly creation would be coming home with me and finding it's way into some new recipe.
How we made this Sir Bananas™ French Toast Bake Recipe (full recipe at end of post)
Take a loaf of French bread and cut into cubes.

Slice a couple of bananas and evenly distribute on the bottom of a casserole dish and drizzle brown sugar and butter mixture over them, reserving about a 1/4 of it.

Whisk eggs, ripe bananas, and Sir Bananas™ Bananamilk togeterh

Pour mixture over cubed bread.

Drizzle remaining brown sugar and butter mixture over top.

Bake, and enjoy!
This Sir Bananas™ Bananamilk is bananas. Finally! The goodness of milk and the taste of bananas have been combined into a delicious, creamy, and healthy drink that kids love and moms, and dads, love serving. It's a combination that the world has been waiting for, so it's no wonder we're going bananas. With 8 Essential Nutrients, and a Delicious creamy taste, I knew that I could substitute Sir Bananas™ into my recipes instead of milk to give my dishes a heightened banana flavor. Did I mention that it is also a good source of protein, calcium and potassium?  The kids don't have to know that last part.  But as a dad, it sure is nice to sneak in some nutrition any where that you can.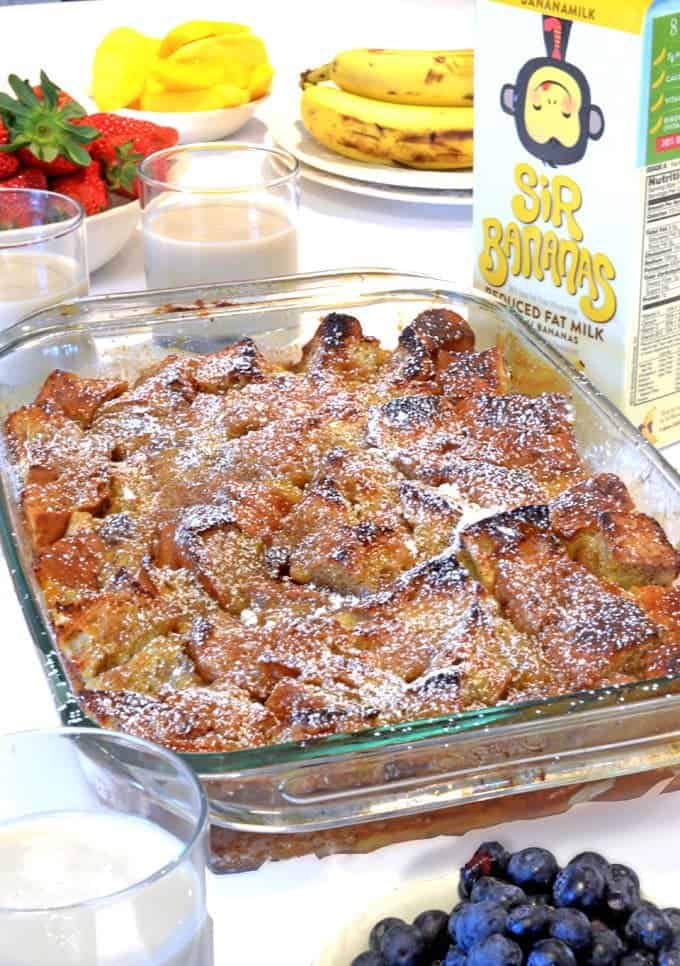 I took one of our popular recipes on the site, French toast casserole, and reinvented it using Sir Bananas™ Bananamilk.  My goal was to let the banana flavor be the main star.  However, I needed to make certain that the dish was sweet enough.
After checking the cupboards at the cottage, I noticed that we were out of syrup.  By making a simple caramel syrup using melted butter and brown sugar, I was able to get that balanced sweetness that I needed.  The combination is a winner. Our Sir Bananas™ French Toast Bake Recipe will make your family go bananas, all pun intended :).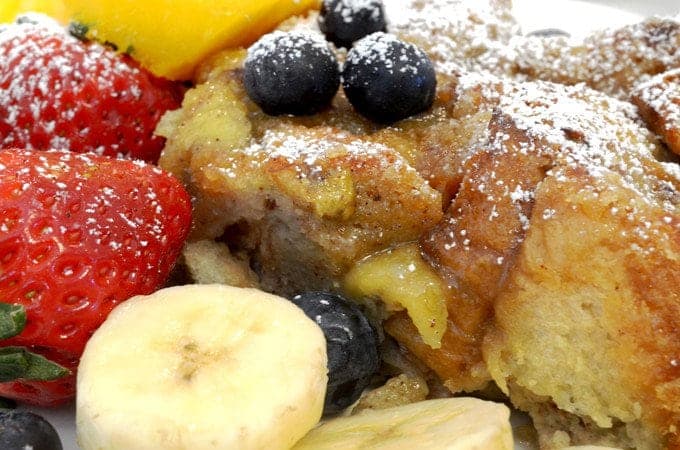 Do your family a favor and give this Sir Bananas™ French Toast Bake Recipe a try.  I think it would be great not only for a Saturday morning treat for you and kids, but also a wonderful addition to your Sunday brunch table.
If you are looking for more fun, kid friendly recipes and uses for this wonderful drink, might I recommend checking out Sir Bananas™ website?  Nutrition can be not only and delicious and Sir Bananas™ Bananamilk proves that.  Enjoy!  -Scott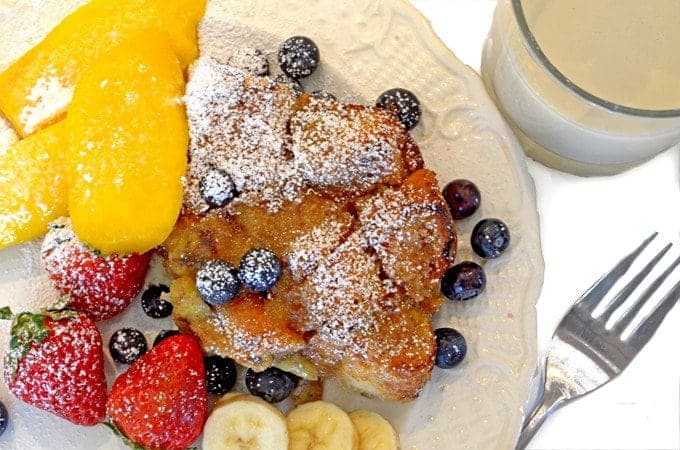 Never Miss Another Platter Talk Recipe
Sir Bananas™ French Toast Bake Recipe
Ingredients
For the French Toast

5-6

cups

Bread

cut into 1 inch cubes

5

eggs

2

cups

Sir Bananas 2% Bananamilk

1

tsp

vanilla

1 1/2

TBS

ground cinnamon

3

TBS

sugar

2

overripe bananas mashed

For the caramel sauce

1

stick butter

1

cup

brown sugar

1

tsp

vanilla

2

bananas sliced in circles
Instructions
Preheat oven to 425 degrees

Grease a 9X11 pan

Cut bread into 1 inch cubes and set aside. I used a loaf of french bread.

In a large mixing bowl whisk eggs, Sir Bananas bananamilk, vanilla, cinnamon and sugar together.

Add the two overripe mashed bananas and stir until incorporated into egg mixture.

Slice 2 ripe bananas and layer in the bottom of the 9 X 11 pan. They can be randomly placed in the pan.

In a sauce pan, over medium heat, melt butter and add brown sugar and vanilla.

Stir and cook until mixture becomes thick and begins to bubble.

Pour 1/2 of the caramel mixture over bananas in the bottom of the pan.

Place the diced bread on top of the caramel and banana mixture.

Pour egg mixture over the top of the bread.

Press bread down so that it can absorb the liquid.

Pour the remaining caramel over the bread.

Cook for approximately 30 minutes.