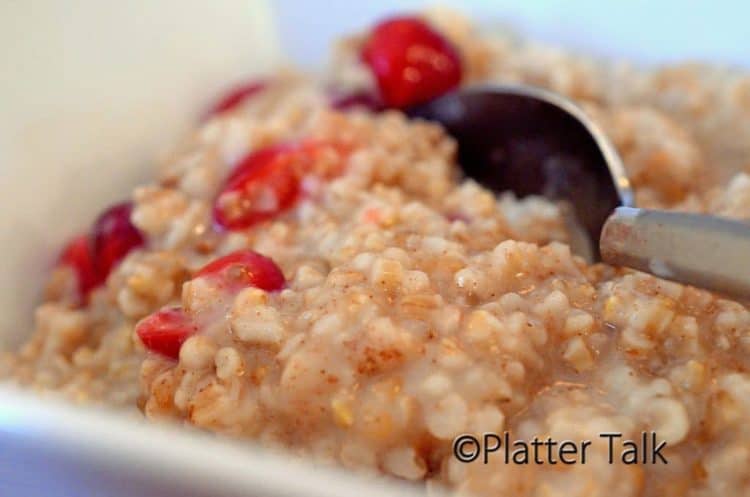 By the time you see this post, the l-tryptophan from the day's turkey overdose is likely kicking in and I hope you are kicking back and basking in a warm and cozy post postprandial bliss.   I'm pretty certain that breakfast options for Black Friday are almost at the very bottom of your concerns, right now.  Nonetheless, breakfast does need to go on.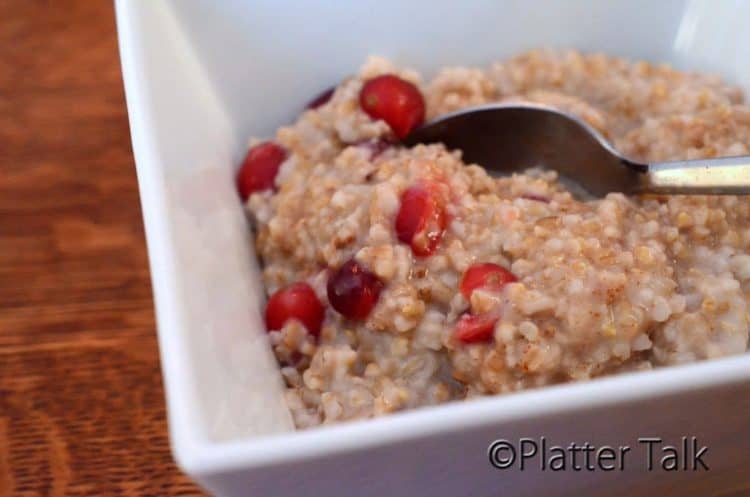 With all the talk and preparation surrounding the Thanksgiving holiday, our pantry and refrigerator have been fortified with even more food than usual – echoing just one more thing to be thankful for during this holiday season.  It's a busy time for most of us; many have a long holiday weekend filled with family, food and of course shopping.  This breakfast idea features seasonally fresh cranberries mixed into some hot and fortifying steel cut oats.  Some of you may not be familiar with these whole grain groats (the inner portion of the oat kernel) which have been cut into pieces.  Nutritionally they are identical to old-fashioned rolled oats, differing only in the way they are cut, instead of rolled flat into flakes.  Eating either old-fashioned or steel cut oats on a regular basis offer the same health benefits of potentially decreasing your risk of cardiovascular disease, diabetes, hypertension and obesity.  On top of all this, with a little sweet added and some fresh seasonal fruit, they are warm, delicious and very satisfying.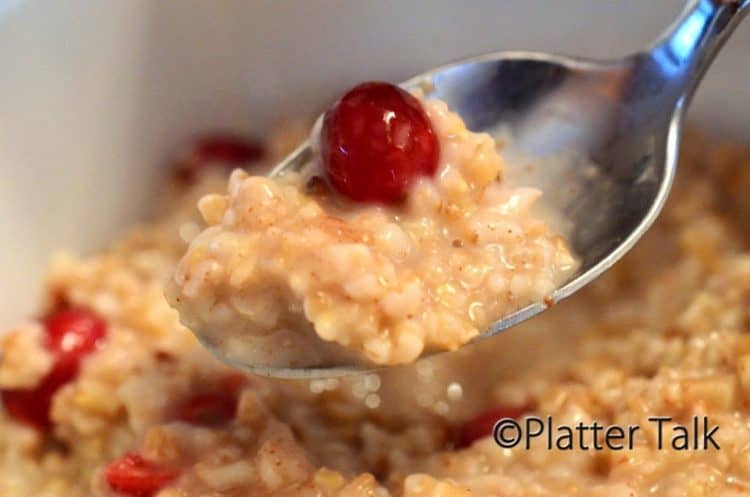 Be Sure and Follow Platter Talk on Facebook and Never Miss  A Great Recipe!
Steel Cut Oats with Fresh Cranberries
Recipe
Ingredients
1 cup steel cut oats
pinch of salt
3 cups water
1/2 cup fresh cranberries
cinnamon to taste
brown sugar to taste
Instructions
Bring water and salt to a boil.
 Add oats, reduce heat to low, cook covered for 20 minute, stirring occasionally.
Add cranberries for last five minutes of cooking
Cover and remove from heat and let stand a few minutes.
Add cinnamon and brown sugar to taste.