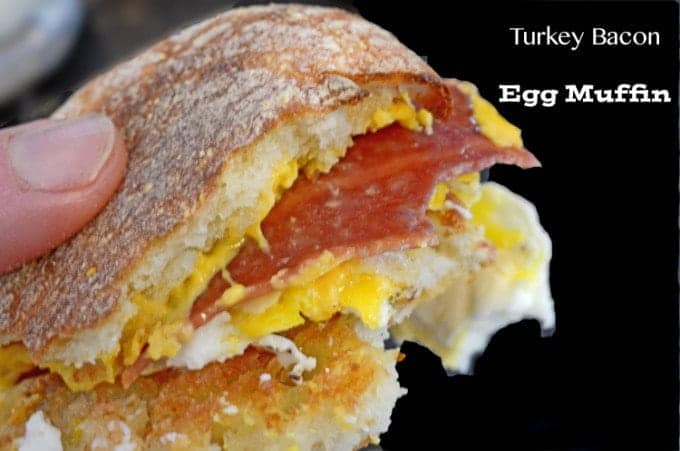 Turkey Bacon Egg Muffins – Our family spends a lot of time at our weekend (and sometimes weekday) cottage, way out in the middle of Nowhere, Wisconsin. It's a place where you can hear the fish jump at night in the summer, and where board games and movies rule in the winter.
No matter what time of year though, there is always good food to be had. Our boys call these Sy Lake Muffins, but for the purpose of this post, we'll call them Turkey Bacon Egg Muffins. Either name, they're a hit. Every. Single. Time.
Turkey Bacon Egg Muffins
Indeed, no matter the season, there is always food and fun at our little oasis in God's country. This particular morning, like many, I put together a favorite breakfast for our family, Turkey Bacon Egg Muffins.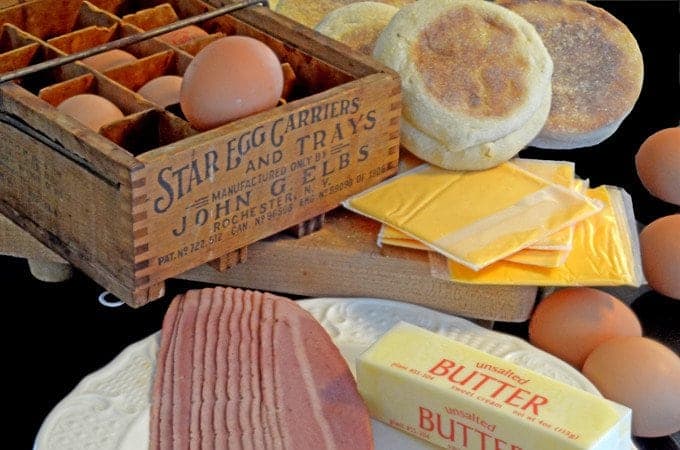 These Turkey Bacon Egg Muffins make for an easy, fast, and nutritious meal – better than anything you'll find form an overpriced and over-processed fast food menu!
Instructions at a Glance
(full recipe below)
Bake turkey bacon at 375 degrees F for 10 minutes, then cut in half.

Over low heat, fry a couple of eggs, slowly. Use rubber spatula shape the eggs to break the yoke.


Flip each egg and place 2 halves of bacon on each egg.

Cover with a slice of cheese

Prepare muffins before making eggs

Keep muffins warm in oven while doing the other steps. This allows you to server a bigger batch at one time, allowing the whole family to eat together.
Final Step: Put it all together and enjoy these Turkey Bacon Egg Muffins!
Have an easy and delicious breakfast idea that your family loves? Please leave a comment below and share it with us. We hope you'll try these Turkey Bacon Egg Muffins!  As always, be sure to let us know how you like them.  – Dan
---
!Food Hack!
Make your bacon in the oven!  For a bit more on this process, we've done a food flash on this technique before.  Click here to see how we do it.
Turkey Bacon Egg Muffins
A Platter Talk Exclusive
Ingredients
6

slices

turkey bacon

6

English muffins

3

tablespoons

butter

olive oil

6

eggs

6

cheese slices
Instructions
Preheat oven to 375° F.

Place turkey bacon, single file, on cookie sheet and back in oven for 10 minutes.

Reduce oven heat to 150-200° F, keep bacon warm until ready to use.

Toast and butter English muffins, place on oven-safe plate, top with foil and place in oven to keep warm.

In large skillet, pour a little olive oil and heat on medium-low setting.

Make eggs, 2 or 3 at a time. Use rubber spatula to break oaks, flip each egg when ready.

Remove bacon from oven. Cut each slice in half with kitchen scissors. Place two (2) halves of bacon on each egg, top with cheese.

Remove muffins from oven and place egg on each muffin. Keep first batch of finished muffins in oven and covered with foil until all are finished and ready to serve.