Jalapeno-Shrimp Dip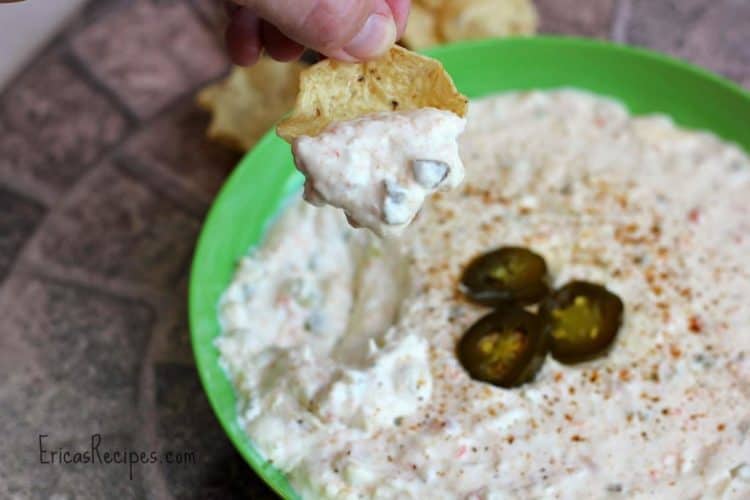 With this Guess Who's Coming to Dinner post, I'm honored to introduce to you Erica Schwarz,  PhD, the lady behind Erica's Recipes.  I've followed Erica's Recipes for sometime now and am always impressed by the diversity of her creations.  Often oriented toward good health, they are always fun and delicious looking recipes.  Please give her Facebook Page a visit and be sure to "Like" that too.

Before Erica shows us this Warm Jalapeno-Shrimp Dip, I wanted to get to know her a bit more.  She was kind enough to indulge me for a  minute or two with these questions.
Platter Talk:  Erica, where or who does your kitchen inspiration come from?
Erica:             My inspiration has always come from what I see other home cooks making in their own kitchens. For example, I have never been turned on by foods in magazines that have been "styled" to perfection. Give me a cookbook put together by a local church, charity, or woman's club any day.Platter Talk:  Favorite food?
Erica:            My favorite food is actually something I have never made! Baked stuffed lobster! The lobster is split and stuffed with a buttery Ritz cracker filling and baked. And plenty of drawn butter to go with it of course!Platter Talk:   Food you just can't consider eating, under any circumstances?
Erica:              Blue cheese or any of its relatives. I love cheese, but I won't touch the stinky ones.Platter Talk:    What's the very first thing you remember cooking or baking?
Erica:                The first thing I ever made Tuna Noodle Casserole, and I still make it every couple weeks for my family to this day!Platter Talk:    What is the best thing you've ever made?
Erica:                Oooooh, that's a tough one. I think my all-time favorite is Macaroni and Cheese. This one took me years to get just right, but eventually I did and my family loves it. That and my ribs 🙂
Now, let's get to the good stuff, Warm Jalapeno-Shrimp Dip, from Erica's Recipes.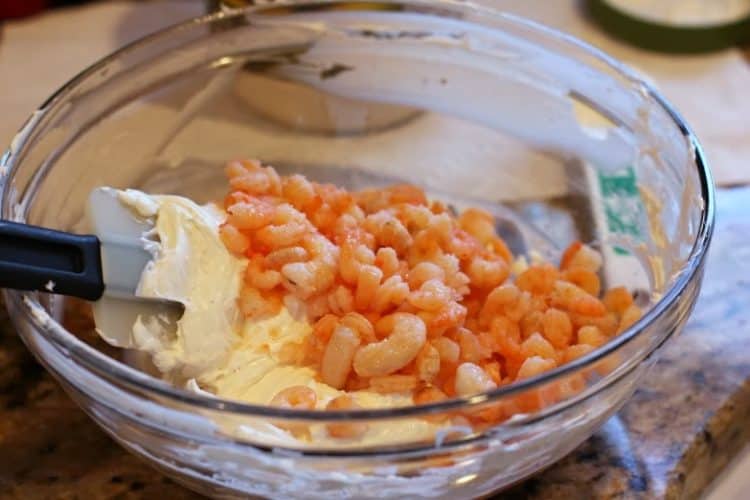 I was asked by Dan from Platter Talk to do a guest post so of course I said yes! I love Platter Talk's dishes and can tell we share very similar tastes. And with the Superbowl around the corner, it seemed only fitting to make football food!
This is a very easy, just-throw-it together and nuke, delicious dip. It's also perfect to bring to a party because it can be assembled in advanced, and then just zapped quickly in the microwave at the destination. If you are afraid of the heat from jalapenos, another option I have also done is use pepperoncini or banana peppers in place of the jalapenos – the result will be much milder but also delicious. But I love jalapenos. And seafood. And they go together so well in this dip.
This dip is also less damaging on the hips and the wallet YAY! First, using Neufchatel and light mayo saves calories, fat, and saturated fat. Second, this dip is reminiscent of a warm crab dip, but canned shrimp costs a fraction compared to fresh lump crab (as a rule, canned crab is never a good idea). Lastly, this recipe uses pantry ingredients that keep a long time – I keep them on hand, then just whip them together when I have a sudden need to serve someone dip.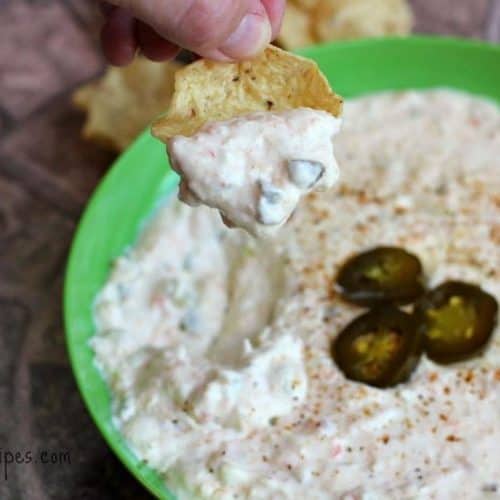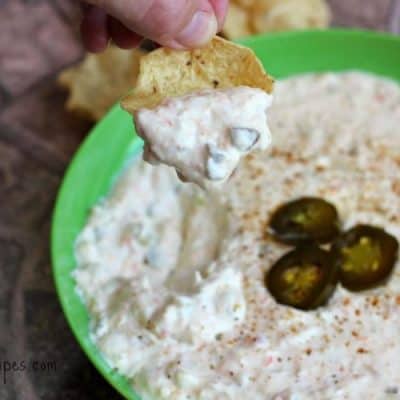 Warm Jalapeno-Shrimp Dip
Guest Post from Erica's Recipes

Print
Pin
Rate
Ingredients
8

oz

Neufchatel cream cheese

room temperature

2

tbsp

light mayonnaise

1

4 oz can

can tiny shrimp

drained

1/4

cup

very finely diced onion

1/4

cup

finely chopped pickled jalapeno peppers

adjust to taste

1/4

tsp

garlic powder

1/4

tsp

Old Bay seasoning

1

pinch

kosher salt

3

tbsp

jalapeno juice

(from the jalapeno jar)

1

bag

Tortilla chips
Instructions
Mix all ingredients together, except the juice, until well combined.

Use the juice to adjust the consistency and thin the mixture out a bit.

Put the prepared dip into a microwave safe serving dish and zap for 2 minutes, stirring once.

Dust with a little more Old Bay.

Serve warm with tortilla chips.
Nutrition
Calories:
270
kcal
|
Carbohydrates:
26
g
|
Protein:
5
g
|
Fat:
16
g
|
Saturated Fat:
4
g
|
Cholesterol:
21
mg
|
Sodium:
289
mg
|
Potassium:
126
mg
|
Fiber:
2
g
|
Sugar:
1
g
|
Vitamin A:
240
IU
|
Calcium:
101
mg
|
Iron:
0.9
mg
Be sure and Keep up with Erica's Work!   
Visit Erica's Recipes by clicking here
Follow Erica on her Facebook page by clicking here, please give her a Like and share her work with your friends!