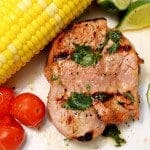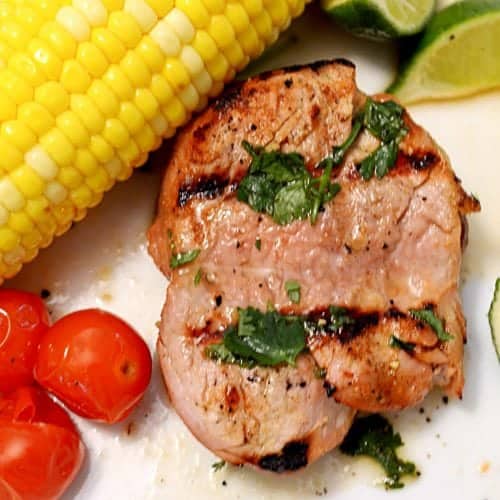 Print Recipe
Alton Brown's Grilled Pork Tenderloin on Platter Talk
This grilled pork recipe is adapted from Alton Brown.

1

whole pork tenderloin

approximately 1 pound

1

lime

zest finely grated

1/2

cup

freshly squeezed lime juice

1/4

cup

honey

1 1/2

teaspoons

kosher salt

1/2

teaspoon

garlic powder

1

chipotle chile pepper in adobo sauce

1

teaspoon

vegetable oil

1

tablespoon

chopped fresh cilantro leaves

Read more at: https://www.foodnetwork.com/recipes/alton-brown/grilled-pork-tenderloin-recipe.html?oc=linkback
Place the lime zest, lime juice, honey, salt, and garlic powder in a small, lidded jar and shake to combine. Pour half of the marinade mixture into a 1-gallon resealable bag, add the chipotle pepper, and move around to combine. Add the pork tenderloin to the bag and seal, removing as much air as possible and place in a container to catch any leaks. Marinate in the refrigerator for 6 to 24 hours, rotating the bag halfway through the time. Place the remaining marinade in a covered container and refrigerate until ready to use.

Remove the tenderloin from the bag and allow to sit at room temperature while preparing the grill. Remove the reserved marinade from the refrigerator.

Brush the grill with vegetable oil then heat grill to medium high setting.

Remove the tenderloin from the bag, cut into 3 inch slices, then butterfly those in half.

Place butterflied portions in the center of grate. Discard bag with marinade. Cover and cook for 3-5 minutes, turn 90 degrees to mark, and cook for another 3-5 minutes. Flip pieces on opposite side and repeat process.

The pork should reach an internal temperature of 140 degrees F.

Remove the tenderloin from the grill and place on a large piece of heavy-duty aluminum foil folded at the edges to create a basket, and pour on the reserved marinade. Wrap tightly and rest for 10 minutes. Garnish with cilantro and serve.
Calories:
623
kcal
|
Carbohydrates:
19
g
|
Protein:
93
g
|
Fat:
17
g
|
Saturated Fat:
6
g
|
Cholesterol:
294
mg
|
Sodium:
1109
mg
|
Potassium:
1810
mg
|
Fiber:
0
g
|
Sugar:
17
g
|
Vitamin C:
4.9
mg
|
Calcium:
33
mg
|
Iron:
4.6
mg