Mushroom and Sausage Pasta
on Jun 11, 2013, Updated Jul 24, 2020
Sausage and Mushroom Pasta is a simple recipe that makes for a special meal. Try this wonderful dish tonight!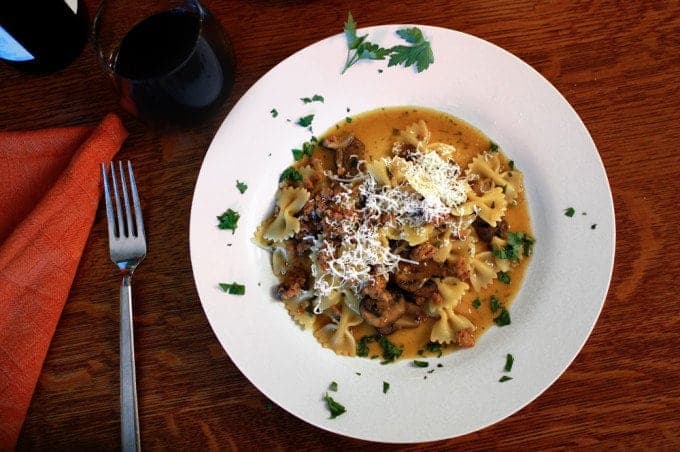 About this dinner recipe
Who among us has never had a less than an optimal day? Surely, we can all name a few of these which thankfully we somehow or another always seem to make it beyond. For me, some recent examples would be having my truck towed in the middle of a blizzard on the evening of my birthday, breaking a tooth while biting into an English muffin (of all things!), and discovering a leak in the ceiling of our just remodeled cottage.
Yes, most of us learn to accept the bad days in stride and move on in some fashion. A few days ago I was sorry to hear that Scott had a rotten day at work. It was his coping method however that really caught my attention. He decided to cook. Now, I don't like to wish ill will upon anyone in any way, but if this is what Scott is driven to create on the heel of a bad day, well…we can't expect the sun to always shine now, can we?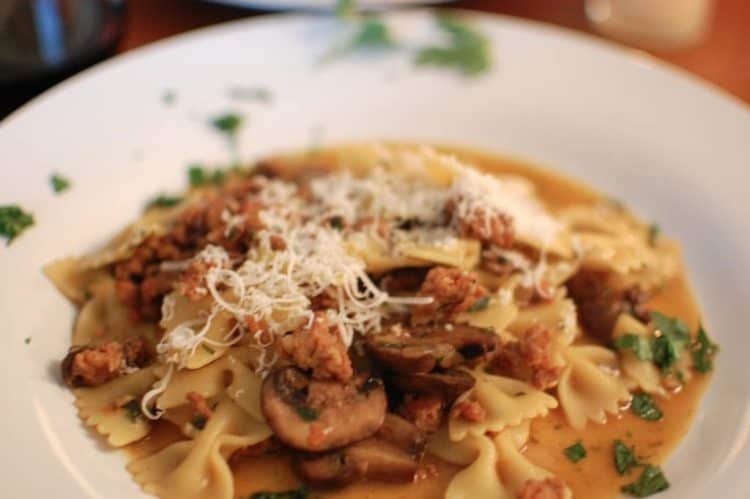 A few weeks ago we were privileged to attend a dinner party at the home or our Italian friend, Paola. Featured was a gnocchi extravaganza. Among the three toppings she prepared for the gnocchi she taught us to make, was a version of this sauce which was arguably the favorite of everyone in attendance. (I loved them all but gravitated, by nature, to the creamy Gorgonzola.)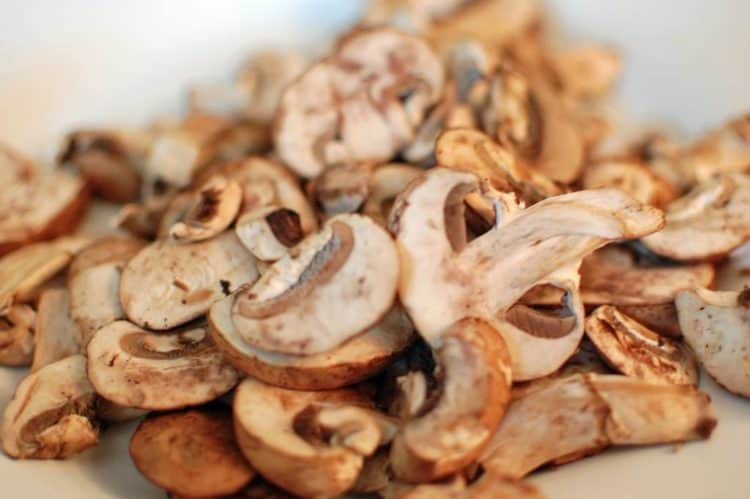 Several weeks had passed since our dinner at our friend's, yet every few days Scott would mutter some interjection about really wanting to make "that" sausage and mushroom topping from Paola's. Clearly, he was having a tough time getting that delicious meal out of his head. Who can forget a favorite movie, a favorite book, or a treasured gift received from a loved one or best friend? I suppose a titillating culinary experience is no different.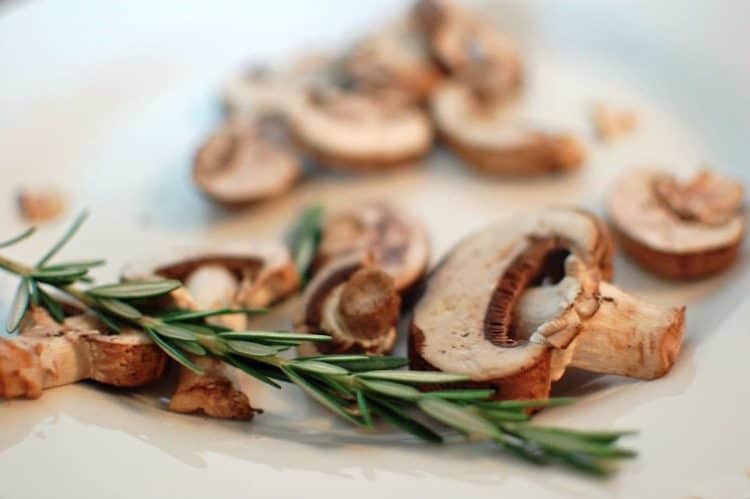 As the herbs in our kitchen started to show up on the cutting board, and one of the 8″ Henckels began chopping, I flitted around the periphery of our kitchen working my newly cleaned and re-calibrated Nikon D40, allowing the chef du jour to blow off whatever transgressions his day had laid out to him earlier in the day.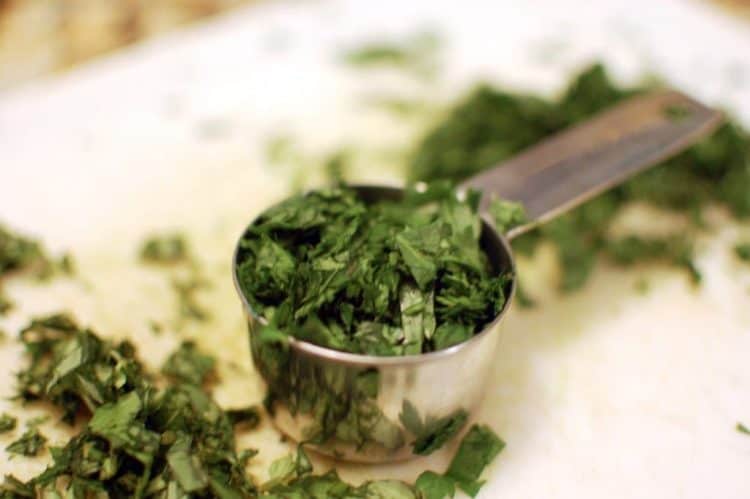 In a very short time, once again, our kitchen began to assume the aroma of something really, really good coming from the atop the stove. Although not particularly chatty, the man behind the food graciously allowed me to step in and get a shot, here and there, once again demonstrating a patience that has always eluded me.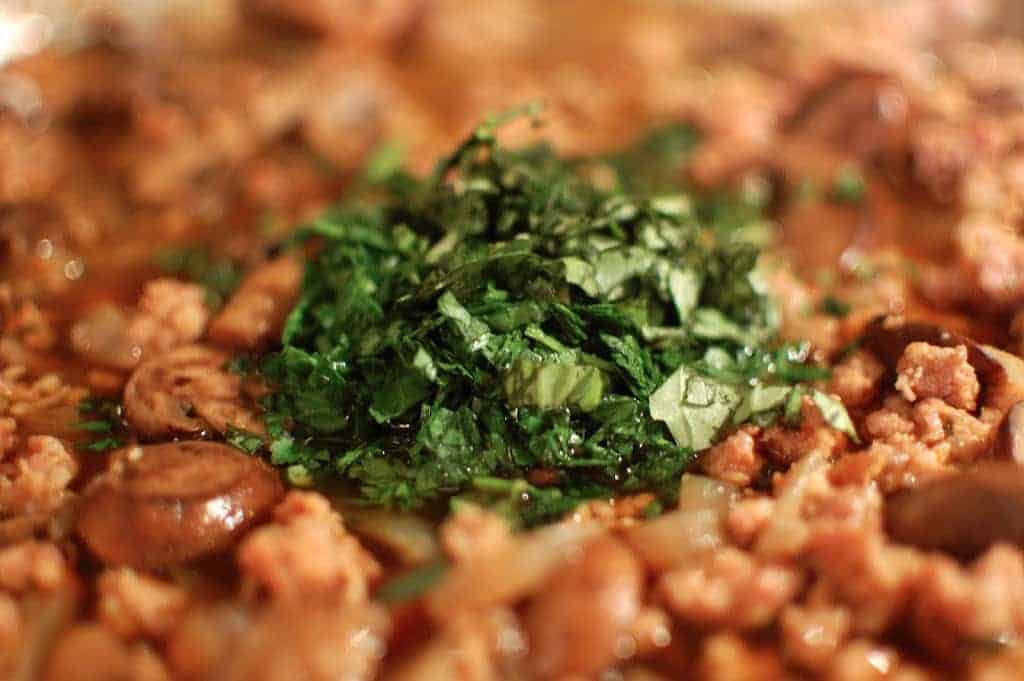 We didn't make the pasta for this sausage and mushroom pasta recipe, which will come at some future time. The sauce however was all Scott's. It proved a solid creation, was beautiful to both eye and palate, and at the meal's conclusion both of us could honestly reflect on what a great day it had been.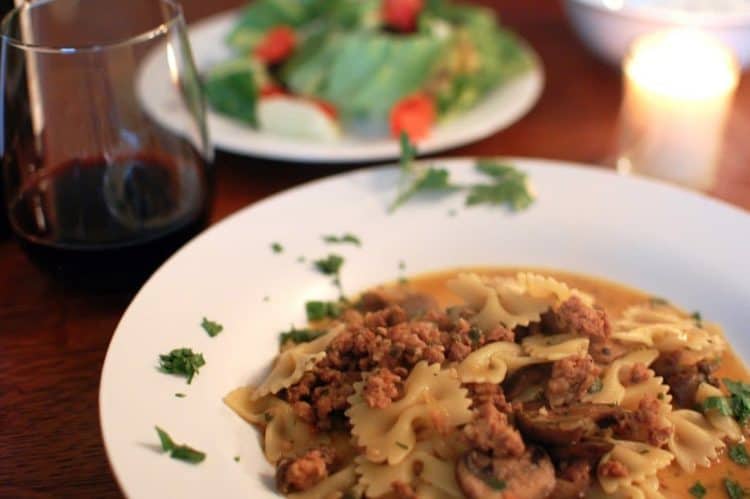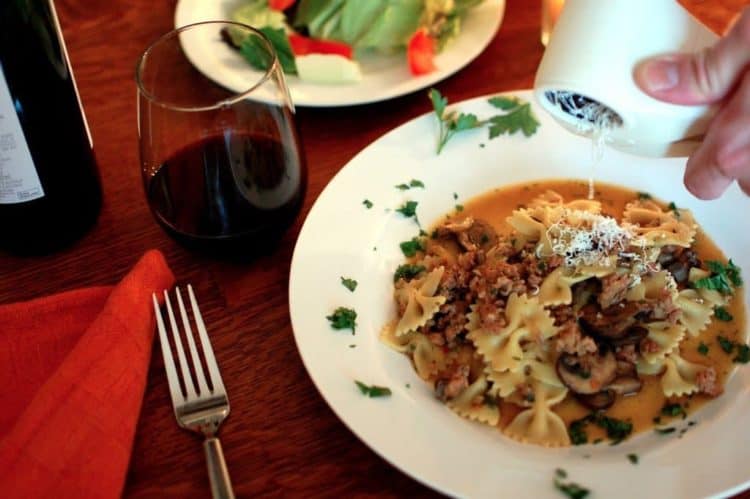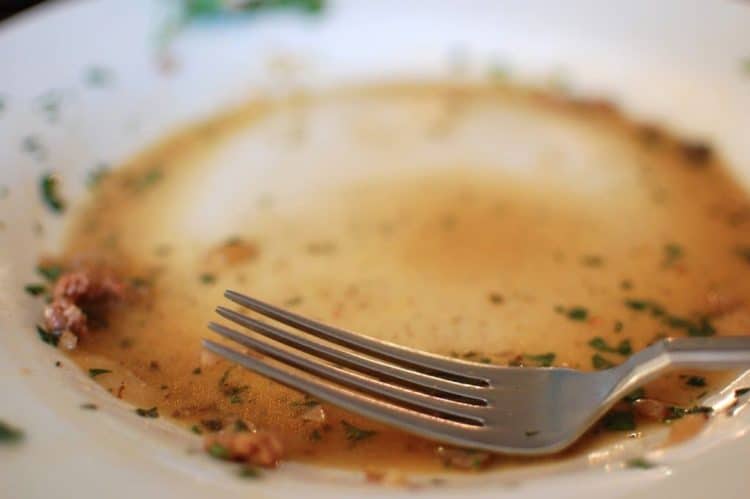 Other easy pasta recipes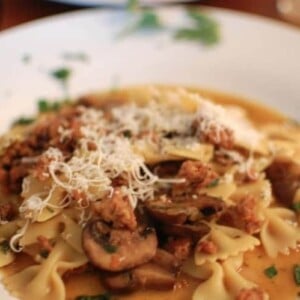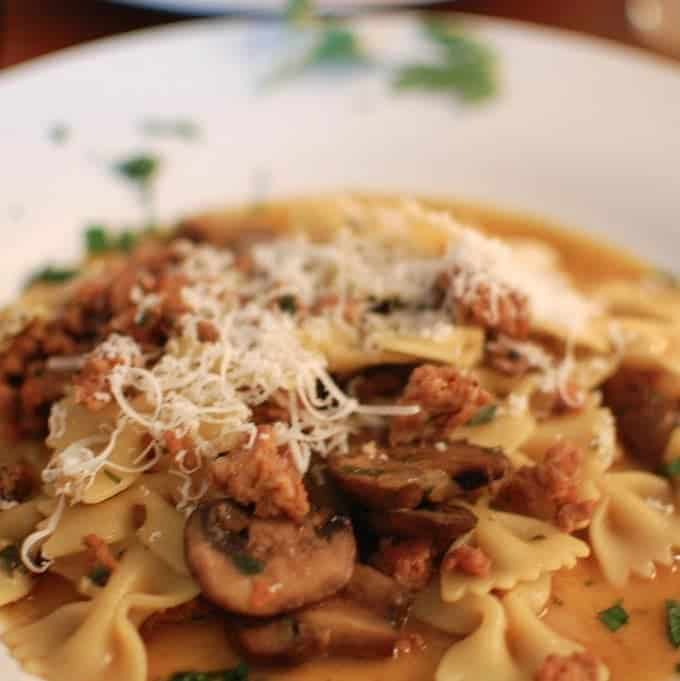 Sausage and Mushroom Pasta
This sausage and mushroom pasta dish is a simple recipe that makes for a special meal. Try this recipe today!

Ingredients
1

lb

Italian ground sausage

1

lb

Cremini or Portobello mushrooms cleaned and quartered or halved

1/8

tsp

crushed red pepper flakes

1/2

tsp

fresh chopped Sage

1/2

tsp

fresh chopped Rosemary

1/8

cup

chopped fresh Basil

1/2

cup

fresh chopped Italian Parsley leaves

5

cloves

of garlic chopped

1/2

tsp

salt

1/4

tsp

pepper

4

tbs

olive oil

1

med onion

1

cup

dry white wine

2

cups

vegetable stock

1/2

cup

Parmesan cheese

bow tie or cork screw pasta
Instructions
In a large saute pan heat 2 tablespoons of olive oil over medium heat. Add the sausage and separate into smalls pieces and cook until browned. Remove meat from pan onto a plate covered with paper towel to absorb the grease from the meat.

In the saute pan used for the meat, add the red pepper flakes, garlic, onion, salt, pepper, sage and rosemary. Cook until onions are soft.

To the onion mixture in the pan, add 2 more tablespoons of olive oil. Turn up the heat to high and add the mushrooms. Stir the mushrooms constantly until the mushrooms soften and turn brown.

Add the sausage back to the pan. Stir to combine the mixture.

Add the white wine. Scrape the bottom of the pan to get all of the browned bits loosened. Bring this to a boil and cook until wine is reduced by half.

Add the vegetable stock, basil and half of the parsley. Stir and bring to a boil, then turn down and simmer for 10 to 12 minutes.

Put on a pot of water to boil to cook the pasta. Cook pasta according to package. When pasta is done, drain the pasta and return to the pot. Add the sauce to the pasta and cook on low for about 4 minutes stirring to cover all of the pasta. Remove from heat and add the Parmesan cheese.

Garnish with the rest of the parsley.

Enjoy.
Nutrition
Calories:
597
kcal
,
Carbohydrates:
45
g
,
Protein:
24
g
,
Fat:
33
g
,
Saturated Fat:
10
g
,
Cholesterol:
60
mg
,
Sodium:
1135
mg
,
Potassium:
640
mg
,
Fiber:
3
g
,
Sugar:
5
g
,
Vitamin A:
749
IU
,
Vitamin C:
11
mg
,
Calcium:
137
mg
,
Iron:
2
mg
Nutrition information is automatically calculated, so should only be used as an approximation.