Baked Eggplant with Basil Marinara
on Aug 26, 2013, Updated Apr 07, 2020
Baked eggplant with basil marinara is one of our many healthy eggplant recipes.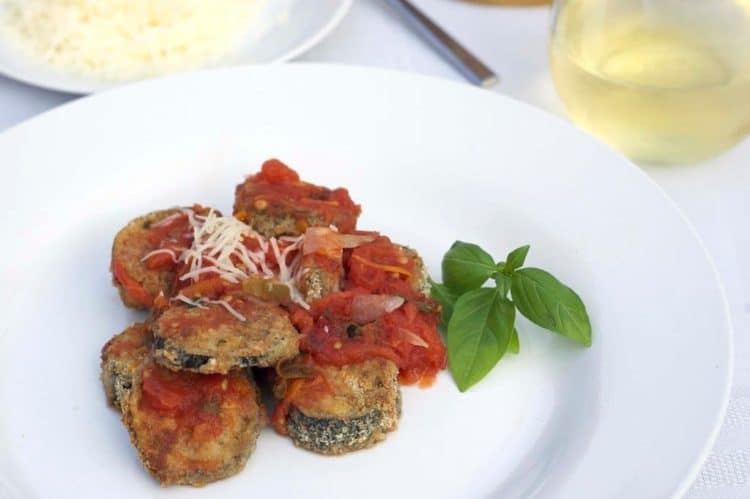 Here in the mid-west August is not just the pinnacle of summer, it is also the season of freshness. Our gardens are maturing, the farmer's market are in their full glory, and road-side stands are featuring their own wares, fresh from the fields. I love to cook throughout the year but the reasons I just cited make late summer one of my favorite times of the year to heat the kitchen up.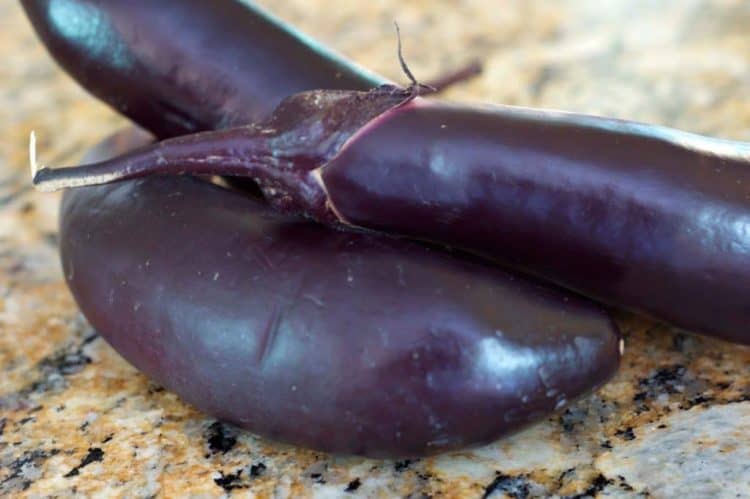 You may recall that with a previous post , I mentioned discovering the bounties of a local produce farm, Oakridge Farms, just two short miles from our home in Neenah, Wisconsin. While I was picking up some tomatoes for that post, I was captivated by the bins of other freshly picked goods: cucumbers, melons, beets, onions, garlic, and eggplant.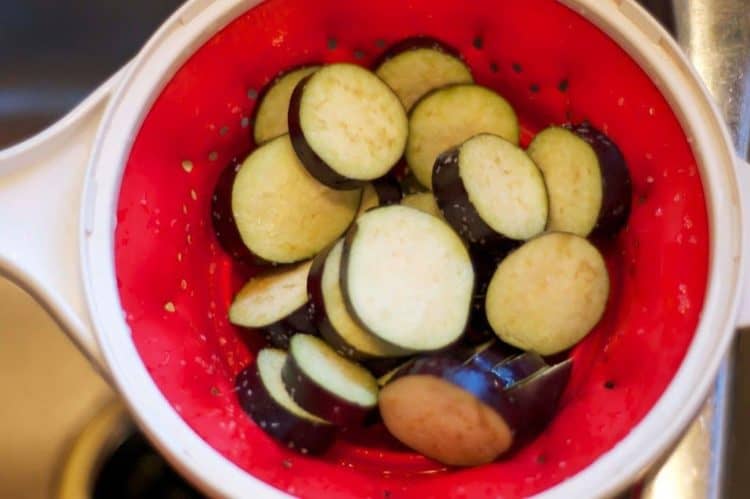 The eggplant in particular caught my eyes, for a couple of reasons. First of all, these fresh eggplant were different in appearance from what I normally see in the grocery store. They are shaped more like a zucchini, thinner and maybe a bit longer than the store bought ones. Second, my colleague Paula had mentioned a tasty dish she had recently whipped up for her husband which used eggplant. When this lady mentions food, I listen intently. She knows her way around a kitchen. I learned this first hand back in March when she and her family welcomed me over to their home while they put together some homemade and authentic Polish sausage which subsequently became a post here on Platter Talk.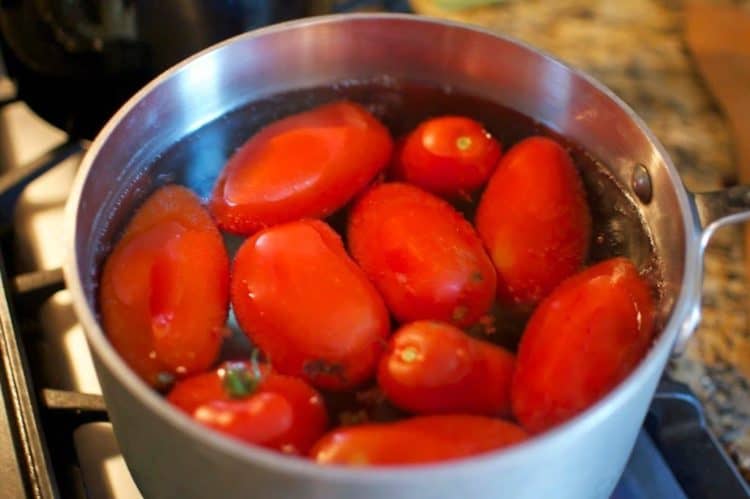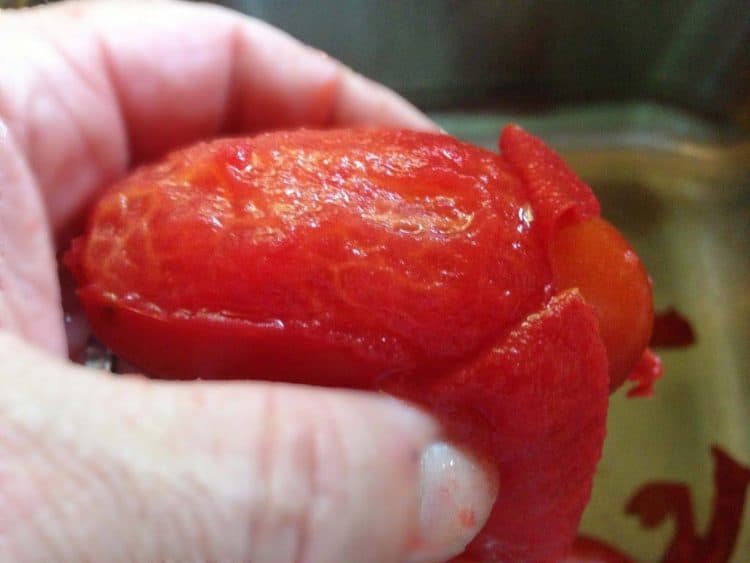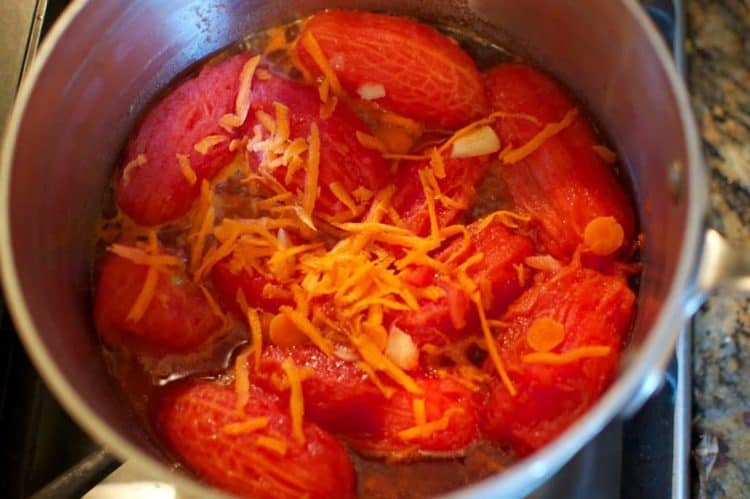 With an idea from a tried and true culinary friend and some exquisite produce from the local produce farm of Oakridge Farms, I set out into some unknown territory.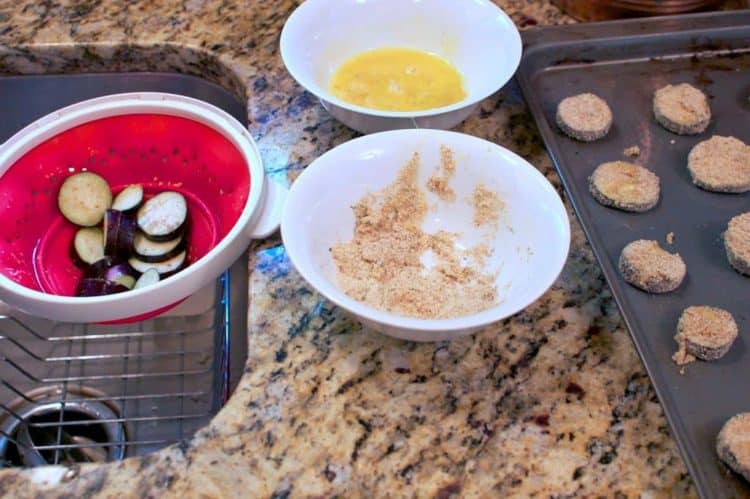 I've made a conventional Eggplant Parmesan several times. It's always a special dish, something we don't have every day. The recipe that I embarked upon with this post has similar characteristics to Eggplant Parmesan but obvious and distinct differences as well. Namely, it's not baked as one unit. Instead the eggplant is prepared separately, in the oven. Additionally, a sauce or marinara is ladled atop the baked eggplant, almost what you would do with a traditional spaghetti dinner.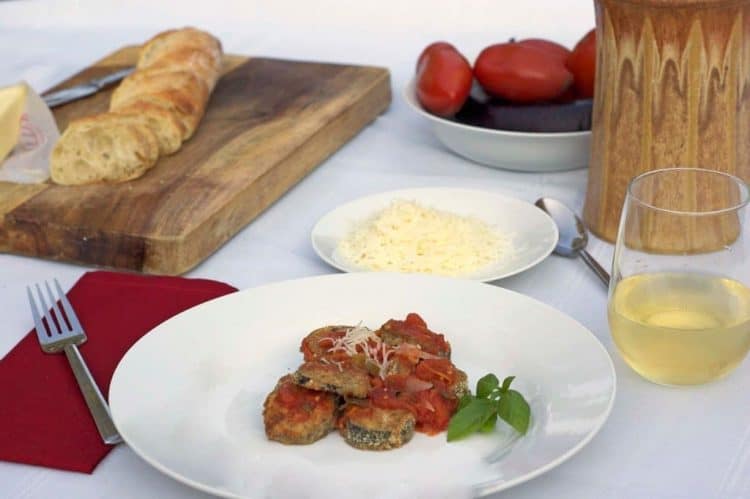 If you are disinclined in making the marinara, you can easily use your favorite commercially prepared sauce. As long as as there are fresh tomatoes (and even in the absence of such) it would be very contrary to myself to not throw together my own fresh sauce. It's truly easy. I: can flavor it to my individual preference and with fresh ingredients I know there are no chemicals or preservatives disguising themselves as healthy options.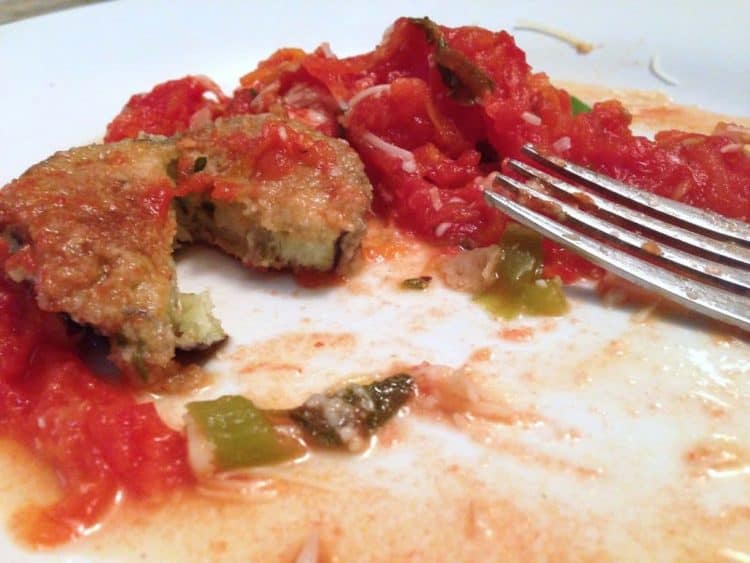 I threw this together and was a bit surprised. I did not expect it to be as delicious as it turned out. The eggplant was near crispy, yet maintained a pleasing and distinct flavor of freshness. The marinara is different each time I make it. In retrospect, with the plump, meaty, and succulent farm-fresh Roma tomatoes, it was all but guaranteed to be a winner of a sauce. Perhaps the best indication though came from Scott. His palate is fine and although he conceded his expectations were not high, he named this as one of the best-tasting dishes I've ever made for him. It's simple. It's fresh. It's healthy. You have to give this one a try!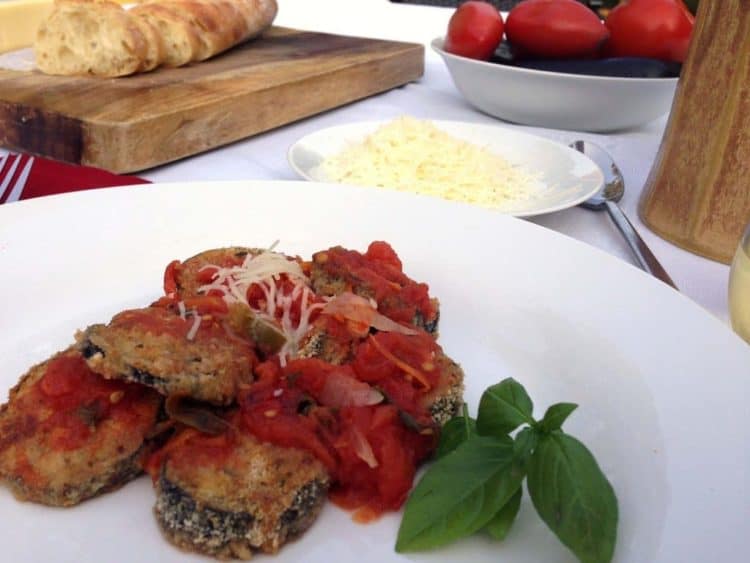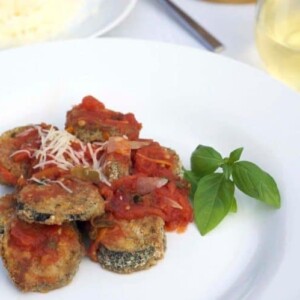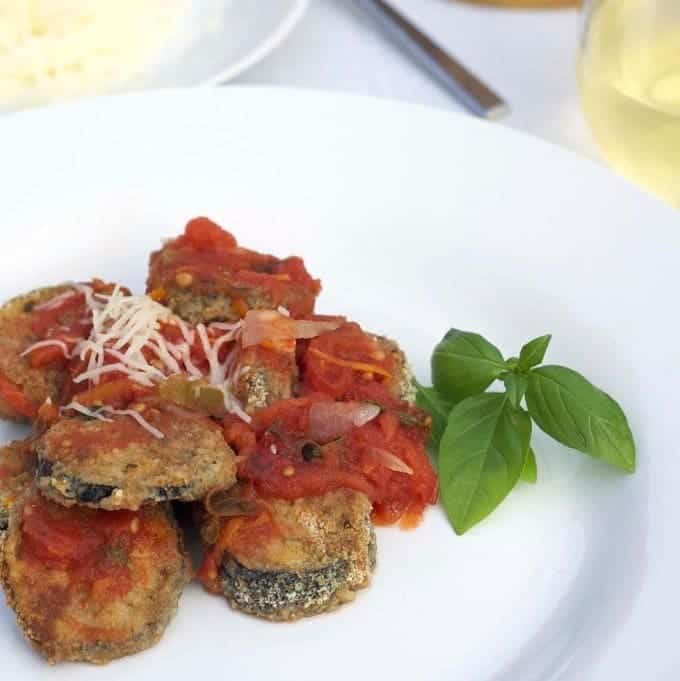 Baked Eggplant with Basil Marinara
A Platter Talk Exclusive
Ingredients
f!or the marinara
2-3

lbs

Roma tomatoes

1/3

cup

shredded carrot

1/2

white onion

,

dicded

1/2

bell pepper

,

green or red, diced

1/3

cup

dry red wine

1/3

cup

fresh basil

,

coarsely chopped

1

tablespoon

fresh oregano leaves

,

finely chopped

3

garlic cloves

,

thinly sliced or coarsely chopped

1

tablespoon

sugar

2

teaspoons

kosher salt

fresh ground peppercorn to taste

2

tablespoons

olive oil
for the eggplant
2

medium size eggplants

2

cups

Italian flavored bread crumbs

2

egg

,

lightly beaten (optional - can use just egg whites also)

1

tablespoon

kosher salt

1

tablespoon

olive oil.
Instructions
for the marinara
Fill large sauce pan with water, leaving room for tomatoes, and bring to boil.

Wash tomatoes and using a paring knife, score a small "X" on the skin of each one.

Place tomatoes in boiling water for 3-4 minutes, depending on their size. Remove from water when skins begin to shrink back or split.

Place tomatoes in colander and rinse with cold water.

Skins can be readily peeled and discarded.

Place peeled tomatoes in large sauce pan over medium heat and stir in wine, sugar, and salt and then cover pan.

Place olive oil in large skillet over medium heat. Add onions and peppers and saute until translucent.

Add sauteed vegetables, garlic, basil, and oregano to tomatoes and simmer in covered sauce pan over medium heat. Reduce heat to low, stirring occasionally until read to serve or store for future use.
for the eggplant
Preheat oven to 400 degrees F.

Wash eggplants and then slice into 1/4 inch slices

Place sliced eggplants into colander

and sprinkle salt over the slices

Allow to drain for 15 minutes.

Brush baking sheet with olive oil being sure to coat entire surface.

Pat slices dry with paper towel if they are wet.

Dredge slices in egg white and breadcrumbs and place on baking sheet.

Bake for 15 minutes, remove from oven and flip each slice. Return to eggplant to oven and bake an additional 15 minutes or until brown and desired level of crispness is achieved.

Serve immediately and top with marinara.

Garnish with fresh sweet basil.
Notes
Experience and conventional wisdom tell us that any tomato based sauce will have a more developed flavor if allowed to slowly cook over several hours, or perhaps is prepared a day ahead and allowed to meld while sealed and stored in a refrigerator. I made this just a couple of hours before it was served and it was still wonderful.
Marinara freezes well. Carefully sealed and stored in the freezer, your tomato sauce can add a taste of freshness well into the sub-zero days of winter.
Use your imagination to flavor the sauce. If you are out of fresh herbs, don't be afraid to add some dried Italian seasoning or herbs from your spice cupboard.
Nutrition
Calories:
485
kcal
,
Carbohydrates:
70
g
,
Protein:
15
g
,
Fat:
16
g
,
Saturated Fat:
3
g
,
Cholesterol:
82
mg
,
Sodium:
3359
mg
,
Potassium:
1308
mg
,
Fiber:
13
g
,
Sugar:
22
g
,
Vitamin A:
4435
IU
,
Vitamin C:
58
mg
,
Calcium:
189
mg
,
Iron:
5
mg
Nutrition information is automatically calculated, so should only be used as an approximation.