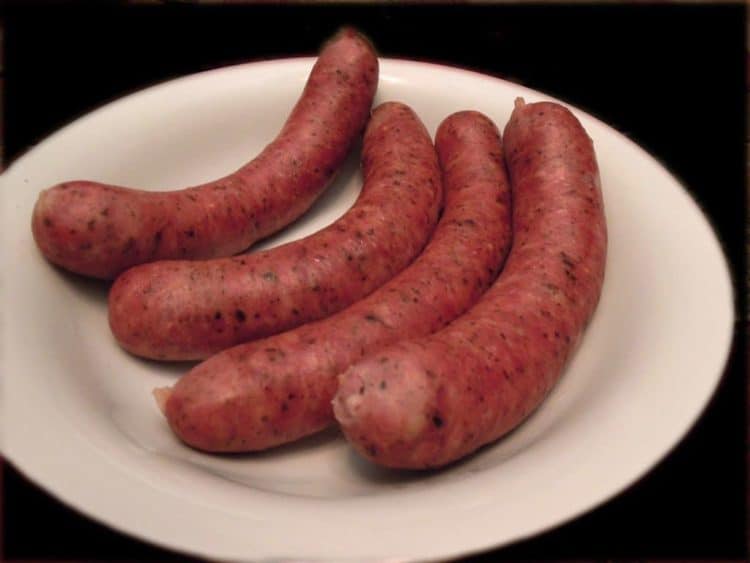 W
hen Paula and Al Podlecki's grandparents immigrated to the U.S. from Poland around the dawn of the 20th century, among the treasures of their rich heritage they carried with them was the family tradition of making Polish Sausage. A century later this tradition continues by their descendants and I had the privilege of spending a couple of hours with their clan recently, during their annual sausage-making weekend.
This new generation of Poles grew up helping their parents and grandparents make the sausage from meat that came from a nearby Chicago butcher shop. Life went on and with growing families and jobs of their own, the 2nd and 3rd generations decided they wanted to resume this tradition, however one minor obstacle presented - they had no recipe to follow. Somehow it had never been written down from so many years before.
Fraught with resolve, Paula and Al and their respective siblings reached out to old-timers in their old Chicago neighborhoods and gradually reconstructed the recipe until all agreed, it was a very close match to what they remembered.
To hear it from the Podleckis, both of their respective grandparents made this sausage, most often for holidays - predominant among them Easter. Polish sausage was long considered the traditional dish for Easter Sunday. Paula's sister recalls as a little girl, she would attend church on Holy Saturday for the "Blessing of the Baskets." It was for this occasion that bushel baskets chocked full of Easter fare would be blessed by the parish priest. As the family told it, each and every item was brought in, from the salt and pepper shakers that were going to be used, to the butter, whole hams, indeed anything that was going to be present on the table for Easter Sunday. Further more, each item carried a specific significance. They go on to explain how the bread signified "this", and the ham signified "that", and so on and so on.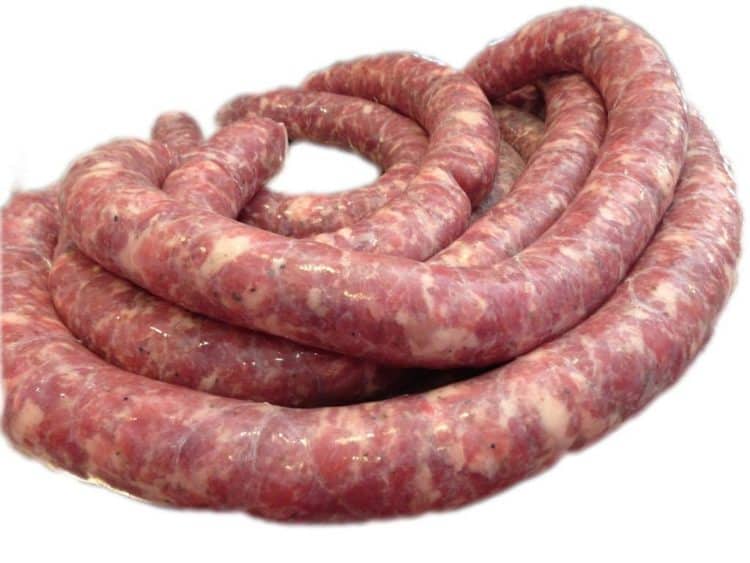 The stories of the recipe's origins diverged to childhood memories of the family receiving letters from their homeland, written in Polish. As the number of years living in the new country passed, the number of individuals that could read their native language diminished and families would gather around the table to hear news from Poland, only after someone could be found who was capable of still reading the Polish language. As this conversation continued, talk quickly turned to what the family should plan to make for this Easter holiday.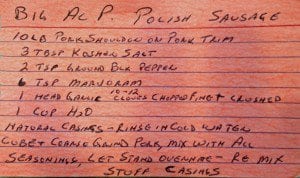 This is the recipe used by Paula and Al Podlecki. As you can see, Al has ensured that it is carefully written out to guide future generations in a family recipe steeped in decades and even centuries of tradition

.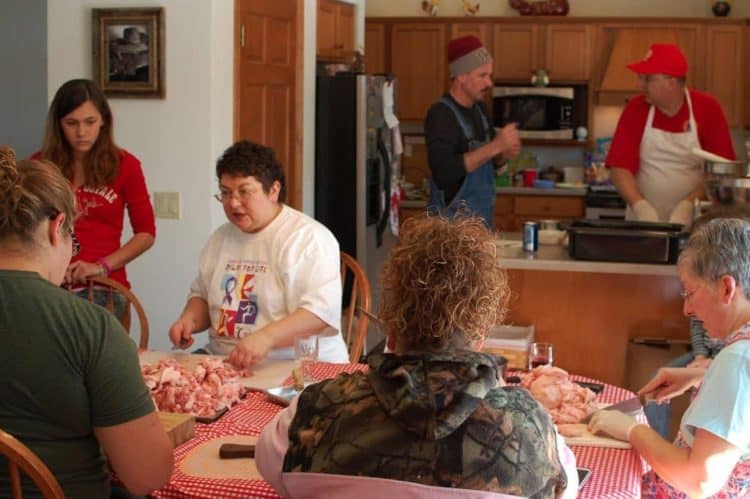 It takes the better part of a weekend to trim the fat from
100
lbs of pork. Of course, some of the fat is left for flavor and overall enhancement. These folks estimated that approximately 30 lbs. would be trimmed. Imagine how long that would take one of us to accomplish on a treadmill!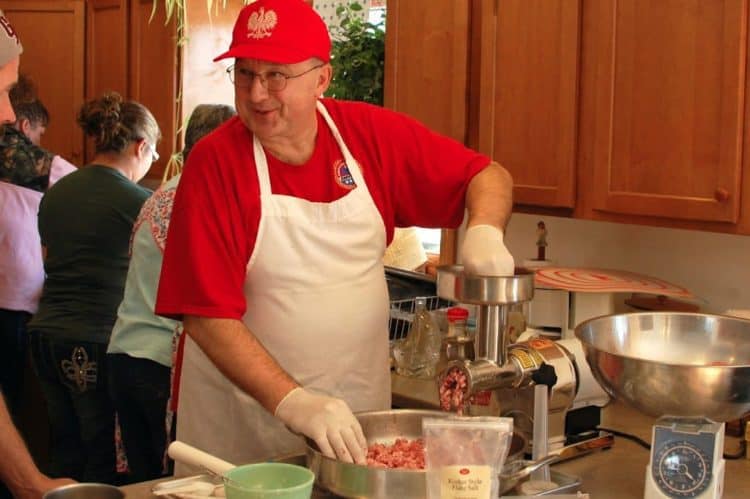 As in the old days, making sausage is a family affair. This table full diligently processed their meat while telling stories, laughing, and of course making good humor while taking frequent jabs at one another. Throughout the process, Al mans the grinder and adds each ingredient per his recipe.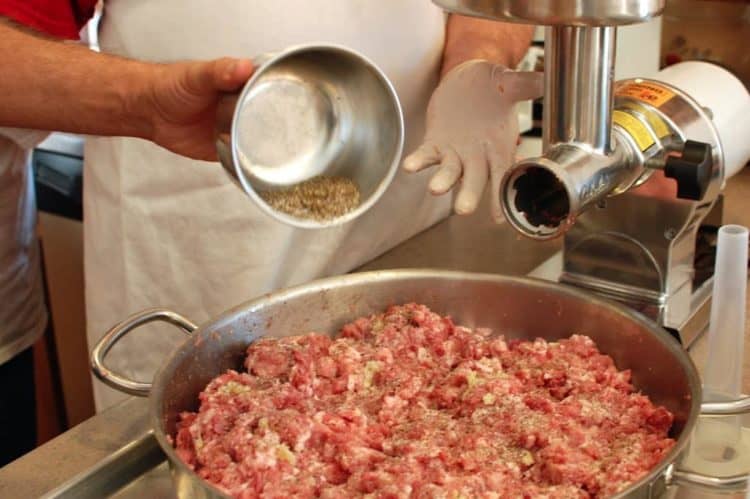 Marjoram is added to the mix, and as with all good methods, adjustments are made relative to proportion, based on Al's recipe. Obviously this mixture can't be tasted, thus an alternative but key sense comes into play with this recipe.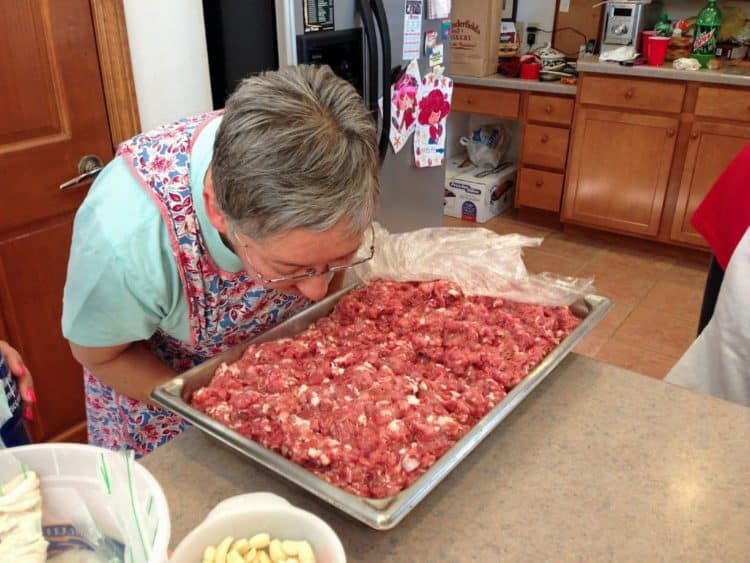 Paula reiterates, "It's all in the smell." Helpful was the fact that the recipe contains only a few ingredients, Principle among them marjoram, garlic, and kosher salt.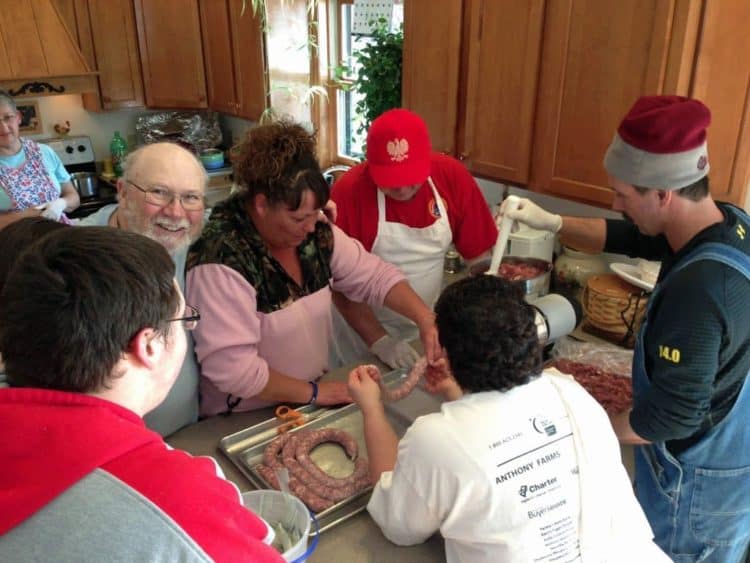 The moment of truth... The pork mixture is carefully guided and filled in the natural casings, starting out with a few trial runs to coordinate the finesse of the group. As you can see, success was achieved and a beautiful kielbasa is born.
Never one to be wasteful, some of the trimmings are made into cracklings. I admit, I had to taste one. I also will admit - it was tasty!!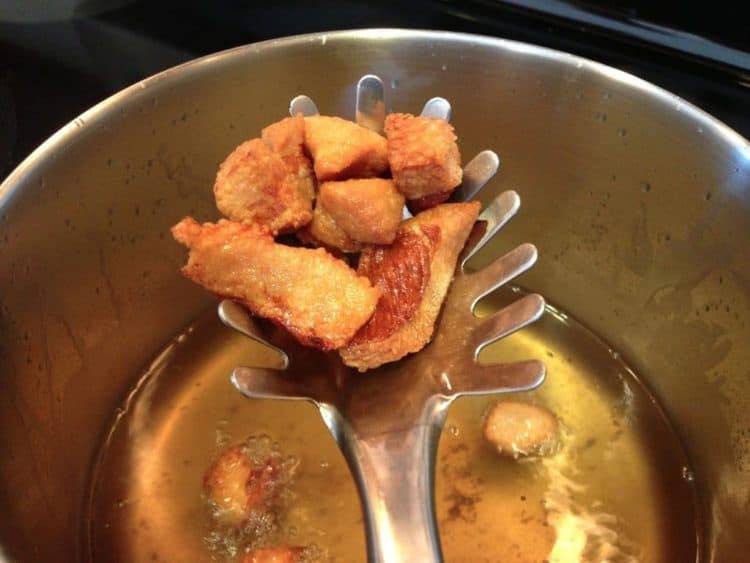 Clearly, those that paved the way to the new country from Poland so many years a

go

would be pleased to see their lineage carrying on this age old art of marriage between food and famil

y.
I'm interested in knowing what food traditions have followed your family through the years. Feel free to comment or
email
me if you have a food story that has become a part of your family's heritage.
See more of our authentic Polish recipes, including: