Our crusty bread recipe is so simple (and relatively fast) to put together, anyone can make this artisan bread at home.
Bread making was my kitchen weakness until this simple bread recipe came along.  Read on, and I will show you step by step exactly how to make it!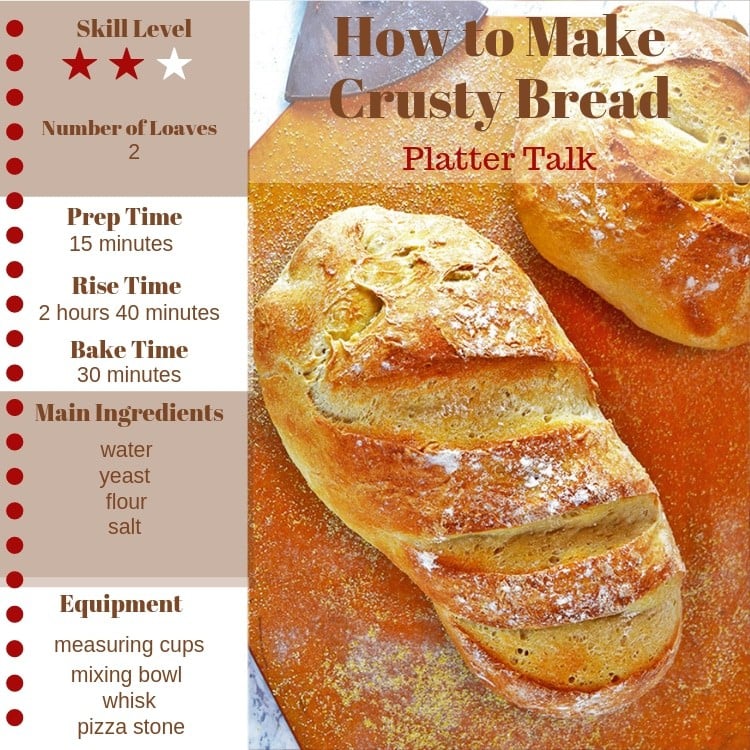 ---
Crusty Bread Recipe

I grew up in a big Mennonite farm family where my mom typically made cakes, pies, and bread every day as just a small part of her daily routine.
I took too many of those skills for granted.
Then, I grew up and tried to grow a huge garden, like my mom. Not so easy.
I tried to iron my clothes, like my mom. Not so easy.
Possibly the world's easiest artisan bread

And I tried to make my bread, like my mom.
Again and again and again and always not so easy.
Until this homemade crusty bread recipe came along, I'm not kidding.
This no-knead artisan bread is nearly fail-proof.
How to Make Homemade Crusty Bread
Part of the ease of making this rustic bread recipe is the shortlist of ingredients.
Aside from water, there are only three others:
It doesn't get much simpler than that. No buttermilk, no scalded milk, no unusual ingredients. And, no kneading!
This homemade crusty bread recipe uses an age-old method of creating a perfectly crunchy and crusty outside.
Placing some hot water in a hot pan (heated in the oven) creates a steam bath that encases the dough and ensures you get a crisp finish.
Another secret to ensuring a crisp crust on the bottom: place the dough on a hot stone when it goes in the oven.
There are two easy ways of doing this, once the dough is ready to bake.
You can dust a

pizza peel

with corn flour and allow the loaf(s) to rest there (in the final raising stage). Once it's ready to bake, simply place the pizza peel on the hot baking stone and the unbaked bread will slide off nicely.
Another method of easily transferring the unbaked bread to a hot baking stone is to allow the loaf(s) to rest on a sheet of parchment paper (in the final raising stage.) When the dough is ready for the oven, simply transfer the parchment paper directly to the hot stone, and you will achieve the same crispy crust on the bottom.
Either of these methods works well for creating a crisp bottom to a pizza crust recipe as well.
I've broken down the process to make this artisan bread into a bunch steps for you.
It looks like there are a lot of steps, but I promise, every one of them is super simple.
Adding ingredients, stirring, baking, things like that. As I found out, making this rustic bread at home is not rocket science!
Instructions for making Artisan Bread

Start with some lukewarm water (100° F).
Add some active dry yeast.

If you're not sure if your yeast is good, proof it first.

Add some flour.

All purpose flour works fine but bread flour will give you a chewier crumb because of it's high protein content.

Use a wire whisk to stir the water, yeast, and flour mixture.
Add some salt to the bread dough.

Salt does a whole lot more thank just add flavor to homemade bread. King Arthur Flour does a great of breaking down the details of salt's important role in successful breadmaking.

Stir the bread dough again, cover it with a kitchen towel and allow it to rise for two hours.

Set in a warm place if possible, away from chilly air or where there is a cold draft. Sunny windowsills are great places for bread dough to rise.

After the dough has risen, apply a light dusting of flour over it and divide into two loaves.

The dough will be wet! This is normal. If you need to add a little more flour to the dough to work with it and shape it, that's ok!

Lightly dust a pizza peel with some cornmeal.
Continue to shape the bread loaves on the pizza peel and apply a light dusting of flour.
Score the top of the bread before baking.

This will help guide the direction of the bread expansion as it bakes.
Cover the loaves with a kitchen towel and let them rise again, for 40 minutes.

Prepare a steam bath with some hot water from the stove top and place it on the oven rack directly under where the bread will go immediately after the bread is placed in the oven.
Baking on a hot pizza stone will give you a beautifully crispy bottom to each loaf of this artisan bread.
This homemade crusty bread can be made in about 3 hours, start to finish, with only about 10 minutes of that time involving actively preparing the recipe.
The majority of the time involves rising and baking.
Important Notice: This bread dough is very wet, and you may find it difficult to work with and shape. It's supposed to be this way.
Thus, you can make delicious bread with the perfect crust when entertaining, and your guests will think you slaved for hours in preparing it.
As a bonus, the dough refrigerates nicely, up to a week or two so you can bake it when you like.
One more thing, if you've never had toast from homemade bread, you don't know what you're missing.
I kid you not.
Give this homemade crusty bread recipe a try soon, even if you have no confidence in your bread making ability.
This simple bread recipe is a game-changer, and I'm living proof.   It's not my mom's recipe, but it's not bad.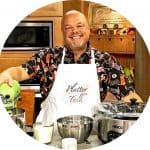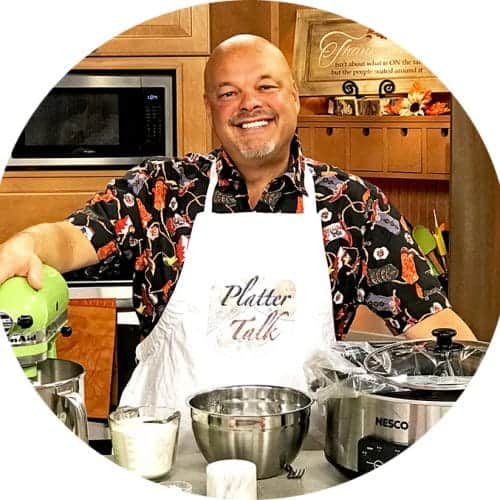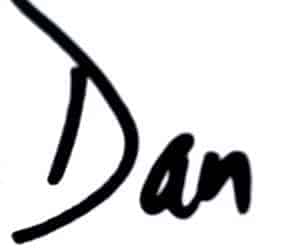 ---
FAQ for making Artisan Bread
Does water temperature matter when it comes to breadmaking?
Warm water will shorten the time for the dry yeast to activate and do its thing.
Cold water will delay the time for the yeast to activate, but eventually, it will "wake up!"
Hot water will kill the yeast, and your bread will be a flop.
It doesn't matter if you use warm or cold water for making bread, see what happened when this baker put this theory to test!
How do I store Homemade Bread?

If unsliced, store unwrapped at room temperature.
After they are sliced, store loaves of bread in closed paper bags.
For soft-crust bread, store in sealed, air-tight bags (or foil) at room temperature.
See All of Our Bread Recipes Here!
If you've tried this recipe for Homemade Bread or any other recipe on Platter Talk, please let us know your thoughts in the comments below, we love hearing from you! You can also FOLLOW US on FACEBOOK, INSTAGRAM, and PINTEREST to see more delicious food and what we have cooking.
Homemade Crusty Bread Recipe
Fast and simple to make, this homemade crusty bread recipe is perfect for the novice baker or the award-winning bread smith. Try this simple bread recipe today!

Ingredients
3 1/4

cups

water

lukewarm, about 100° F.

1.5

tbsp

dry active yeast

6 1/2

cups

flour

bread flour if you have it.

1.5

tbsp

kosher salt
Instructions
Combine water and yeast and stir until the yeast is dissolved. Add flour and salt and mix until thoroughly combined.


Allow dough to rise for 2 hours at room temperature, covered with a kitchen towel.


Apply light dusting of flour over dough and divide it in half and shape into 2 loaves, rounding the top. If you only want to make one loaf of bread at this time, store the unused dough in the refrigerator, covered, for up to 2 weeks until ready to use.


Place unbaked loaf(s) on pizza peel that is lightly dusted with cornmeal. Apply light dusting of flour over top and cut three slashes into top of dough, using a searrated knife. Cover dough with kitchen towel and allow to rest for 40 minutes.


Preheat oven to 450° F with baking stone on center wrack. When bread is ready to go in the oven, slide the dough off pizza peel onto hot stone. Place 1 cup hot water into oven broiler (or other oven safe pan), on bottom wrack of oven. Quickly close oven door to created a steam bath within the oven. This will help produce a crisp outer crust.

Bake for 30 minutes and allow to cool slightly before slicking. Enjoy!

Nutrition
Calories:
125
kcal
|
Carbohydrates:
26
g
|
Protein:
3
g
|
Sodium:
438
mg
|
Potassium:
43
mg
|
Fiber:
1
g
|
Calcium:
6
mg
|
Iron:
1.6
mg
Updated from the original post of April 6, 2017