Air Fryer Turkey Burgers (The BEST and most JUICY)
on Apr 06, 2023, Updated Jun 11, 2023
Air fryer turkey burgers are a great way to enjoy a juicy burger without the extra calories and fat of beef burgers. In fact, these are one of our favorite air fryer recipes!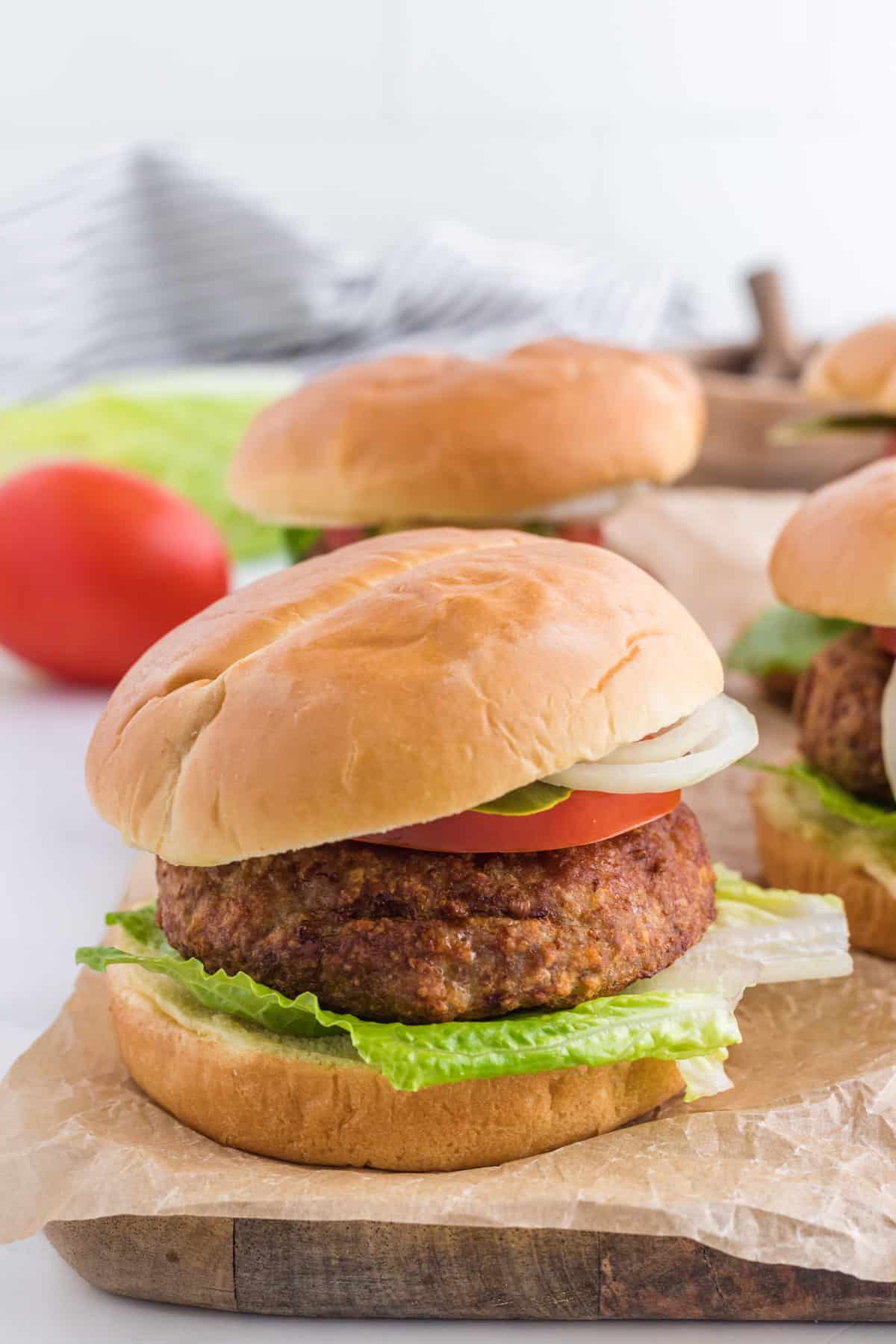 If you want to sink your teeth into a juicy and flavorful burger that won't leave you feeling guilty, then this easy family meal is a must-read.
Packed with simple ingredients and cooked to perfection in these turkey burgers are an easy and delicious way to satisfy your cravings. So what are you waiting for?
About these
Air fryer turkey burgers are a great way to enjoy a classic burger with a healthier twist. These burgers are made with ground turkey meat that is seasoned with your favorite herbs and spices, then cooked to juicy perfection. They're the perfect thing to pair with air fryer sweet potato fries or these air fryer carrot fries.
With a crispy exterior and a tender, moist interior, air fryer turkey burgers are delicious and easy meal that can be customized to suit your taste buds.
Make your own homemade air fryer turkey burgers or buy some frozen turkey burger patties from the grocery store. Either way, these juicy turkey burgers are an easy way to get a healthy meal for those busy weeknights we all have.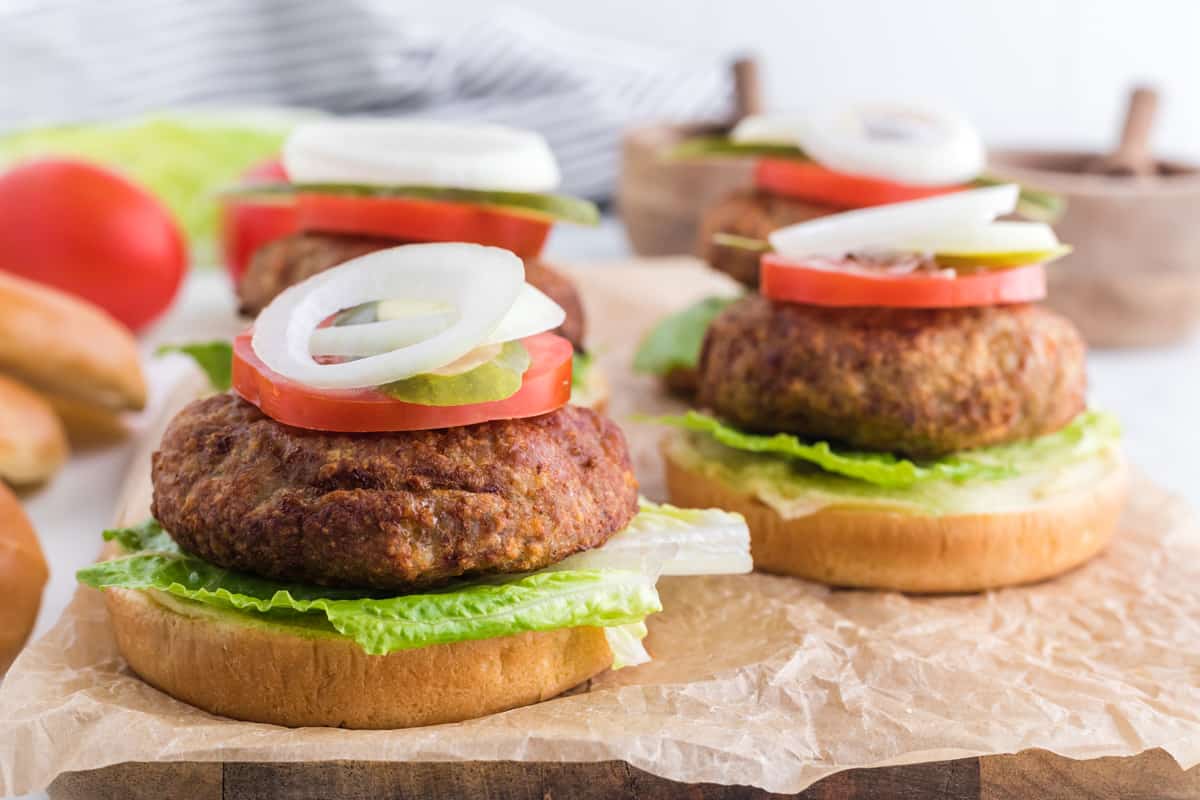 What's in them
This recipe uses a mixture of ground turkey and common ingredients that you probably already have in your pantry.
Add toppings like lettuce, tomatoes, onions, mustard, and ketchup for extra taste and flavor! With a focus on moistness and flavor, these simple ingredients come together to create a tasty and healthy burger.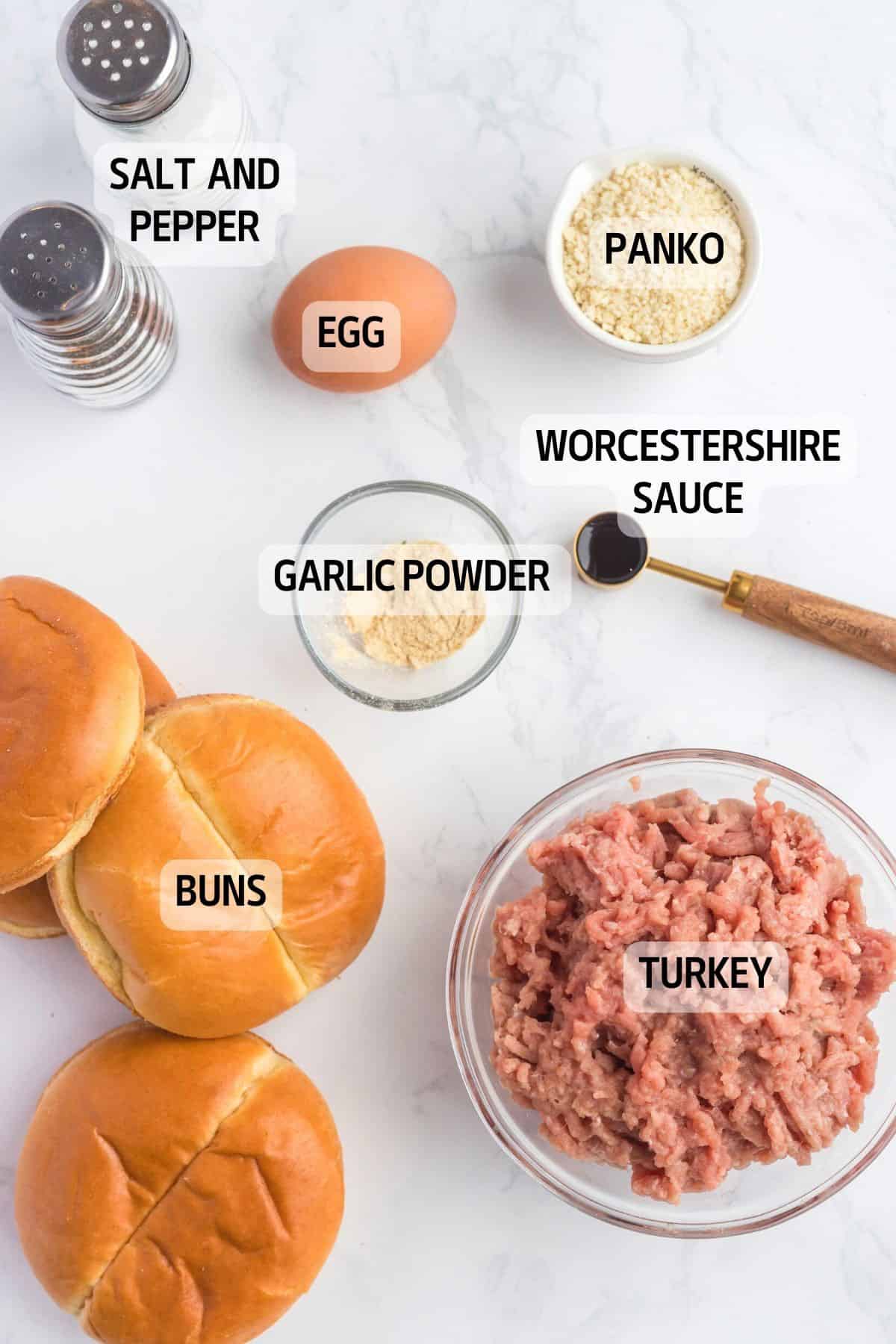 Fresh ground turkey: The star of the dish, ground turkey is a leaner and healthier alternative to ground beef. Make sure to use high-quality ground turkey to get the best results.
Panko breadcrumbs: Breadcrumbs help to bind the turkey mixture and give the burgers a crispy exterior. Panko breadcrumbs work particularly well in air fryer cooking because they create a light and crunchy texture.
Egg: Adding an egg to the mixture helps to bind the burgers together and keep them moist. Make sure to beat the egg well before adding it to the mixture.
Worcestershire sauce: This sauce adds a savory and umami flavor to the burgers. You can use soy sauce as a substitute if you don't have Worcestershire sauce.
Garlic powder: Garlic powder adds a delicious flavor to the burgers and pairs well with the Worcestershire sauce. If you prefer fresh garlic, you can use minced garlic instead.
Salt and pepper: These common seasonings are important to enhance the flavor of the burgers. Be careful not to overdo it on the salt, as ground turkey is already saltier than ground beef.
Hamburger buns: Choose your favorite bun to serve your turkey burgers on, or even enjoy them as a lettuce wrap for a low-carb option. Toasting the buns before assembling the burger can add an extra layer of flavor and texture.
Toppings: The topping options are endless, but classic options include lettuce, tomatoes, onions, mustard, and ketchup. Don't be afraid to experiment with your favorite toppings to create your favorite yummy burger!
Expert Tip: When selecting high quality ground turkey meat, look for a package that indicates the percentage of lean meat. Ground turkey labeled as "lean" or "extra lean" typically has less fat and calories. Make sure to check the expiration date on the package and give it a good sniff to ensure it smells fresh. You can also look for turkey meat that is labeled as organic or free-range for higher quality and potentially better taste.
How to make air fryer turkey burgers
(See the recipe card below as well.)
Aside from an air fryer and the ingredients, you only need a large bowl, measuring cups, and spoons to make these healthy turkey burgers.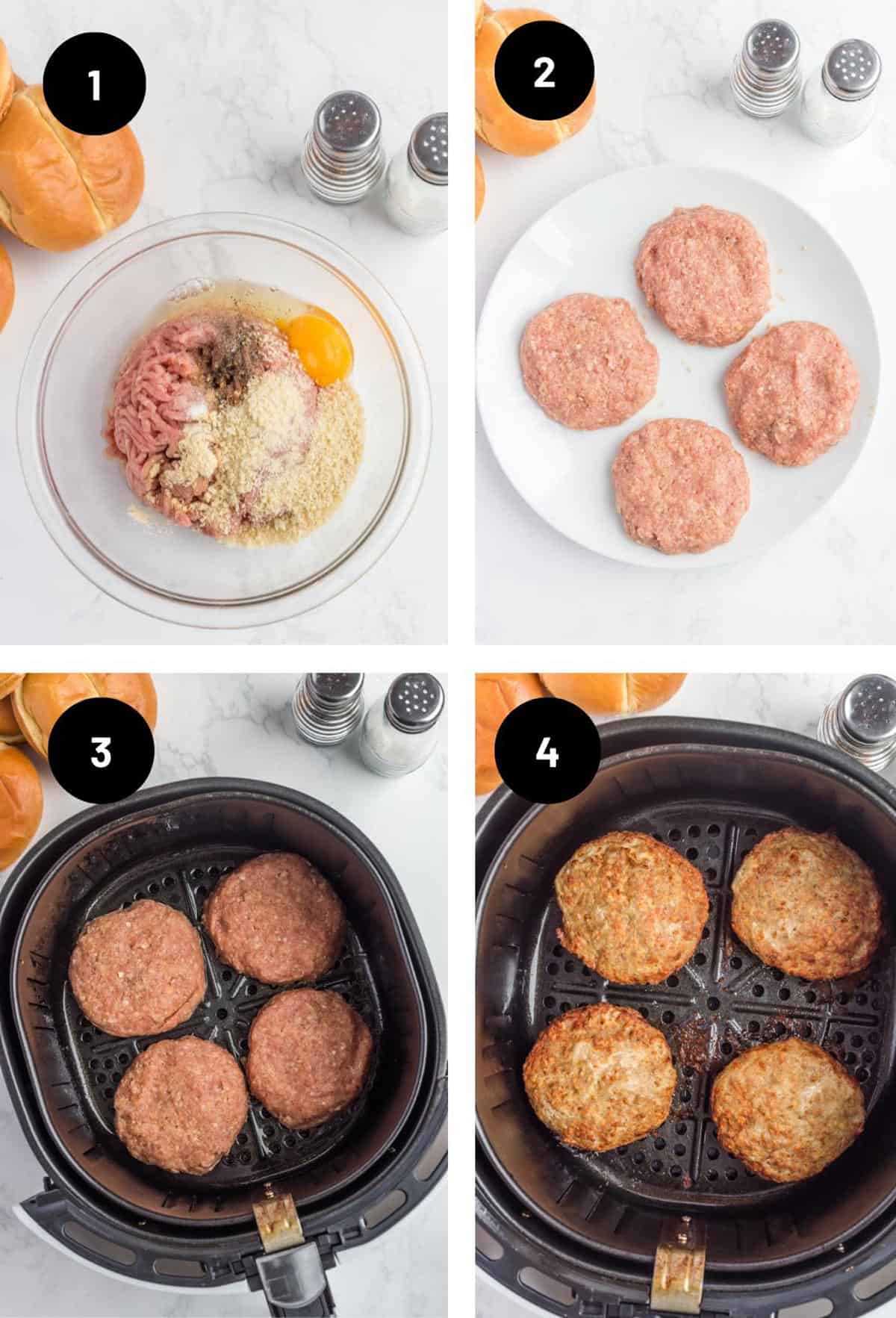 Start by combining everything in a large mixing bowl.
Shape the mixture into 3/4 inch patties and then place patties on a plate and chill in the fridge for about a half hour. Cover them with some plastic wrap to keep them from drying out. While the patties are chilling, you can spray your air fryer basket or rack with non-stick cooking spray.
Preheat your unit for at least five minutes, then place the patties in the basket or rack of your air fryer in a single layer.
Cook these at 360° for 8 minutes and then flip them. Continue to cook for another 7 or 8 minutes until they reach an internal temperature of 165°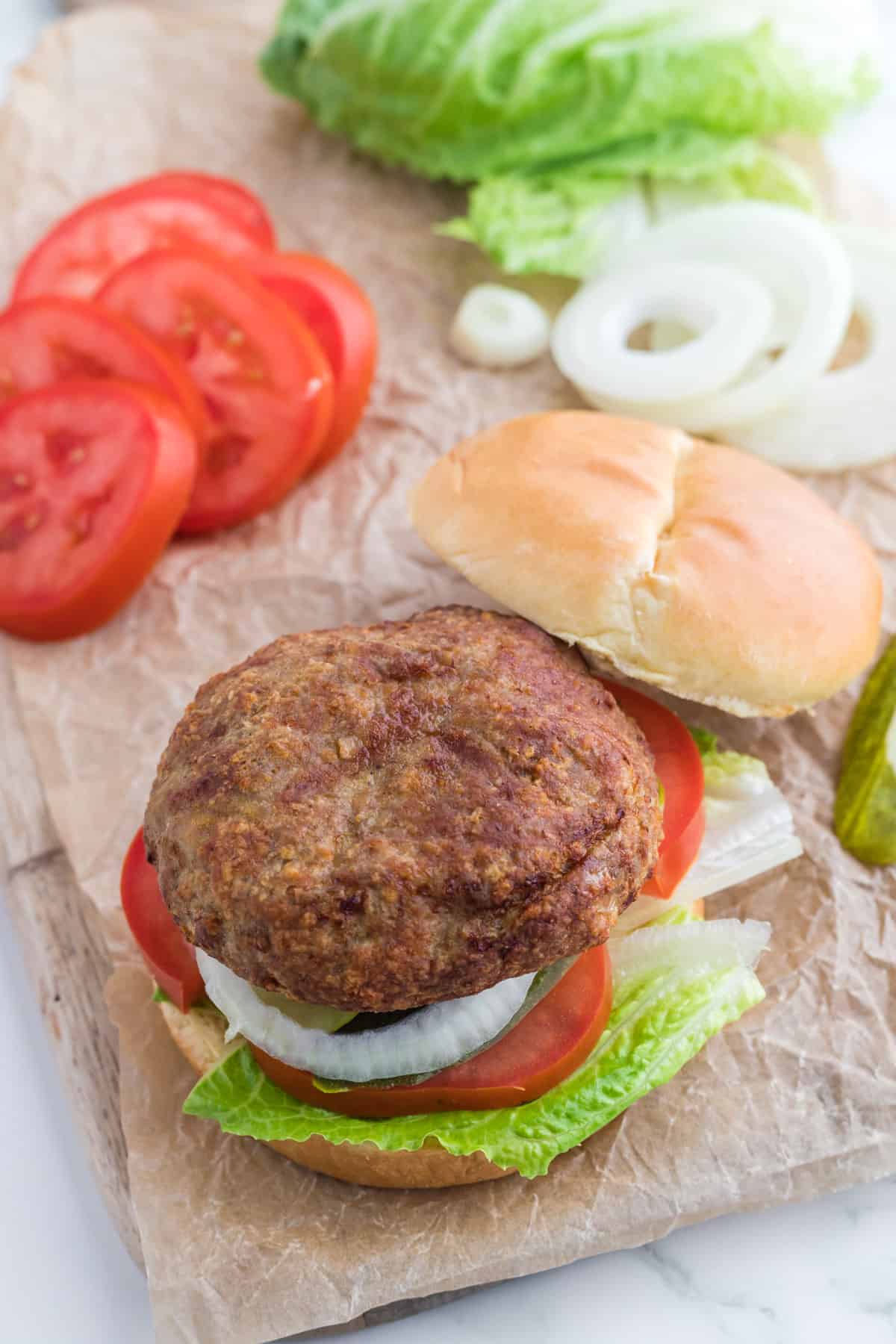 Substitutions and variations
Instead of bread crumbs, use crushed potato chips or cornflakes for a crunchy texture.
Add Italian herbs or Italian seasoning for a great option to give your homemade turkey burgers an Italian flair.
If you're looking for keto diet ideas, serve these juicy air fryer turkey burgers on a bed of crisp lettuce instead of a bun for a low-carb option.
Make homemade sweet potato fries or potato wedges in the air fryer to serve alongside your burgers.
Use soy sauce instead of Worcestershire sauce for a different flavor.
Mix ground beef and ground turkey together for a flavorful burger.
Use different toppings, such as fresh red pepper or your favorite BBQ sauce.
Experiment with different temperatures and cooking times to find your new favorite recipe.
Use an egg wash to make your burgers extra juicy.
Topping Ideas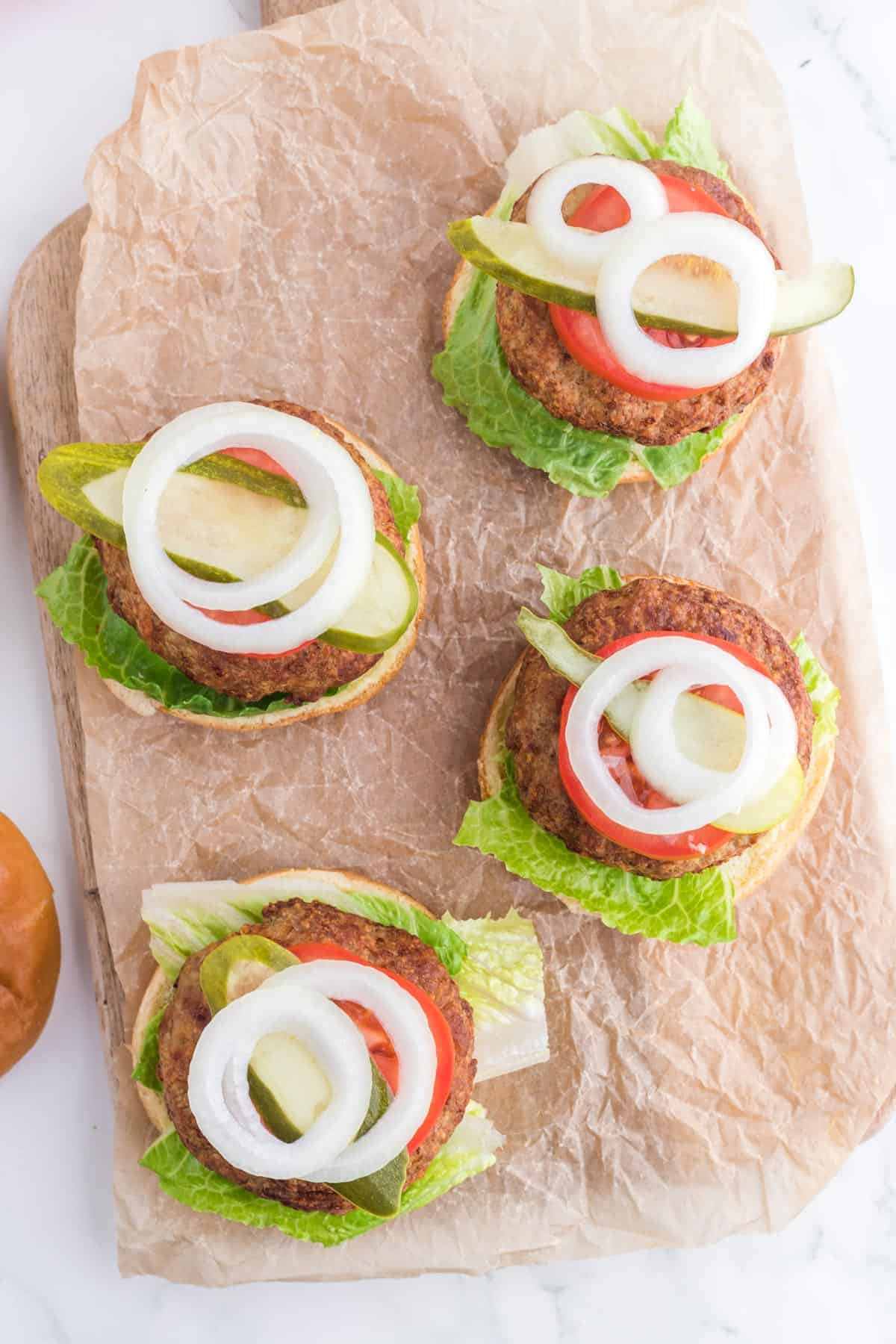 Some of my favorite burger toppings include
Red onion
Cheddar cheese
Feta cheese
BBQ sauce
Meal prep option
You can make the turkey burger patties ahead of time and freeze them for later use. This is a great meal prep option for busy weeknights.
After forming the patties, place them on a baking sheet lined with parchment paper and freeze until solid.
Then, transfer the frozen patties to an airtight container or freezer bag and store them in the freezer for up to 3 months.
When ready to use, thaw the patties in the refrigerator overnight before air frying or cooking on a skillet.
How to make them juicy
One of my secrets to making the juiciest turkey burgers is not to overcook them. Use a meat thermometer to ensure that the internal temperature of the turkey burger patties reaches 165°F (74°C).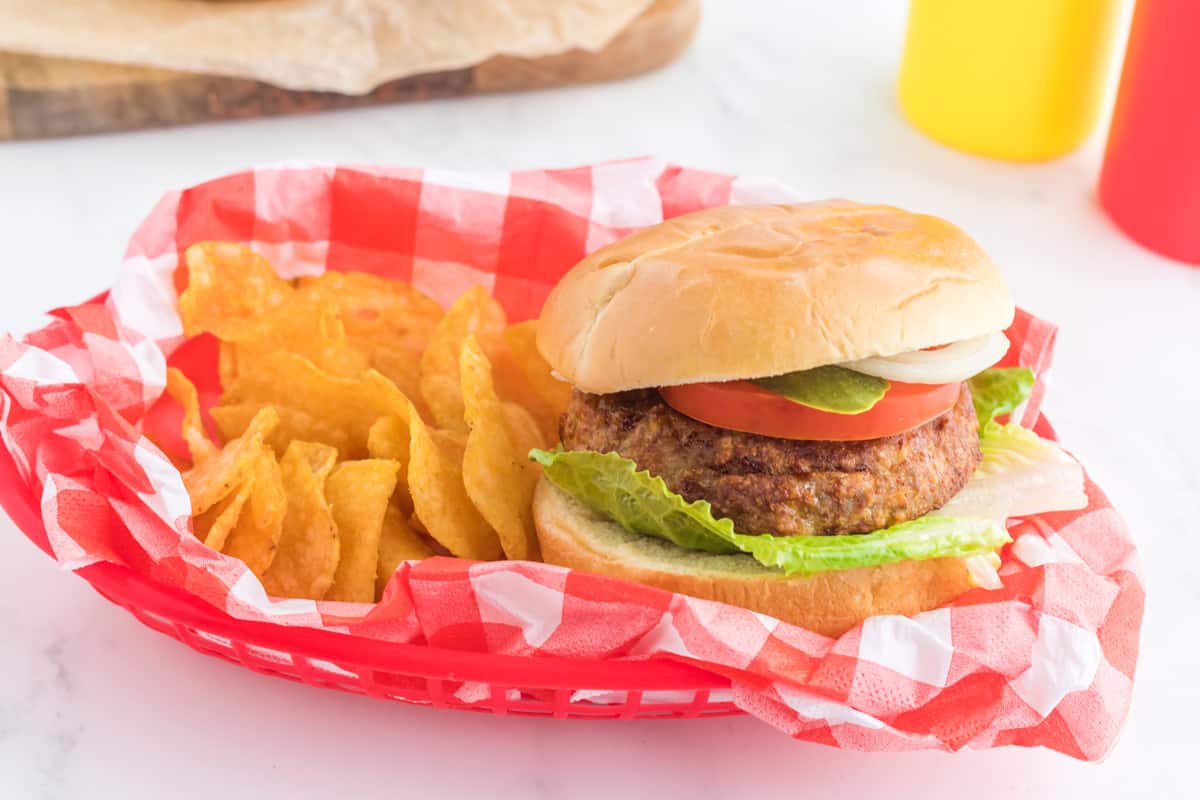 My secret ingredient when making these turkey burgers is a small amount of liquid, such as Worcestershire sauce or a tablespoon of water. Adding this to the meat mixture and keeping an eye on your cooking time is the best way to keep the burgers moist and juicy.
How to make frozen turkey patties in the air fryer
If you're short on time, you can also make frozen turkey burgers in the air fryer. To do this, just follow these simple steps.
Preheat your unit to 375°F (190°C) for 3-5 minutes.
Place the frozen turkey burger patties in a single layer in the air fryer basket (or rack) and cook for 10-12 minutes, flipping halfway through the cooking time.
Check the internal temperature of the turkey burger patties using a meat thermometer to ensure they reach 165°F (74°C) before serving. I recommend this instant-read thermometer. It's insanely fast and accurate to 1/2 of a degree, plus it comes with an awesome 5-year warranty.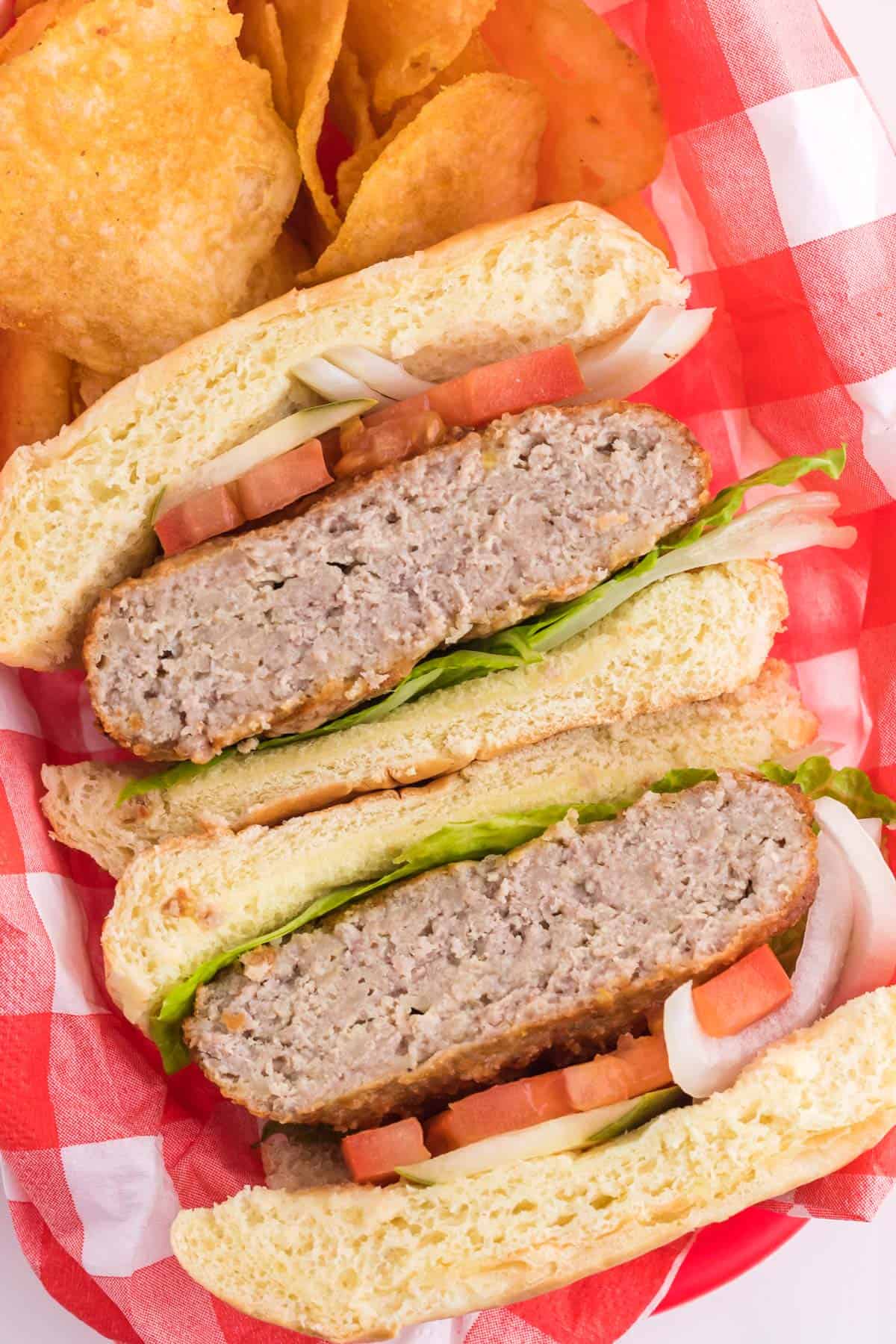 Common questions
How long do frozen turkey burgers take in the air fryer?
Frozen turkey burgers in the air fryer will take about 15-18 minutes to cook at 365°. Be sure to flip them half way through so they cook evenly.
How do I know when turkey burgers are done?
You can use a meat thermometer to check the internal temperature of the burgers. They should reach 165 degrees F to be fully cooked.
Can I use ground chicken instead of ground turkey?
Absolutely! Ground chicken or beef are great options if you don't have ground turkey on hand.

If you're looking for another good recipe for ground chicken, take a look at this meatball sub casserole.
Leftovers
If you have any leftovers, you can store them in an airtight container in the refrigerator for up to 3-4 days. You can reheat them in the air fryer for a couple of minutes to make them crispy again.
You can also chop them up and use them as a protein source in salads, wraps, or sandwiches. Another option is to crumble them up and use them as a topping for pizza or pasta.
Air fryer turkey burgers are an easy, healthy, and delicious way to satisfy your burger cravings. Trust me, your taste buds and waistline will thank you. Cheers to easy recipes and juicy patties!
Similar recipes
If you're a fan of recipes using turkey, take a look at our oven-roasted turkey tenderloin with herbs or this easy air fryer turkey tenderloins.
👨‍🍳 Tried this Recipe? Please leave a ⭐⭐⭐⭐⭐ rating in the recipe card below and leave a comment. We love hearing from our readers!
⏩ Stay in touch with us on social media by following us on Facebook, Pinterest, Instagram, and YouTube!
📬Get our Recipes delivered to your inbox for FREE!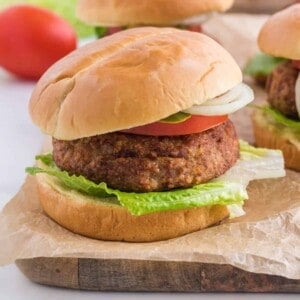 The BEST (and Most JUICY) Air Fryer Turkey Burgers
Air fryer turkey burgers are a delicious and healthier alternative to regular beef burgers. With the help of the air fryer, you can achieve juicy and flavorful patties with minimal effort and cleanup. Top them with your favorite toppings and serve them on a bun or lettuce wrap for an easy and satisfying meal.
Ingredients
Ingredients
1

lb

ground turkey

½

cup

panko breadcrumb

1

egg

1

teaspoon

Worcestershire sauce

1

teaspoon

garlic powder

½

teaspoon

salt

¼

teaspoon

black pepper

4

hamburger buns
Optional Toppings
Lettuce

Tomatoes

Onions

Mustard

Ketchup
Instructions
Instructions
In a medium bowl add the ground turkey, panko breadcrumb, egg, Worcestershire sauce, garlic powder, salt, and pepper. Mix together until all the ingredients are well combined.

Shape 4 burger patties with your hands, about 3/4 inch thick. Place in the fridge for 30 minutes

Spray the basket of the air fryer with oil. Place the patties in a single layer in the basket of the air fryer.

Preheat the air Fryer for 5 minutes

Cook for 8 minutes at 360 ˚F flip over and continue cooking for another 8 minutes.

Serve with buns with the topping of your choice.
Notes
My Top Tips for this Recipe:
Use high-quality ground turkey meat with a good ratio of fat to lean.
Mix in breadcrumbs, egg, and Worcestershire sauce to help retain moisture.
Avoid overworking the meat mixture to prevent tough and dry patties.
Preheat the air fryer and arrange the patties in a single layer for even cooking.
Use a meat thermometer to ensure the internal temperature reaches 165°F for safe consumption.
And remember: Different air fryers may, along with the size and thickness of the turkey burger patties, affect the cooking time, so adjust accordingly.
Nutrition
Calories:
298
kcal
,
Carbohydrates:
28
g
,
Protein:
34
g
,
Fat:
5
g
,
Saturated Fat:
1
g
,
Polyunsaturated Fat:
2
g
,
Monounsaturated Fat:
1
g
,
Trans Fat:
0.03
g
,
Cholesterol:
103
mg
,
Sodium:
652
mg
,
Potassium:
452
mg
,
Fiber:
1
g
,
Sugar:
4
g
,
Vitamin A:
135
IU
,
Vitamin C:
1
mg
,
Calcium:
90
mg
,
Iron:
3
mg
Nutrition information is automatically calculated, so should only be used as an approximation.