Turkey Tenderloin
on May 27, 2020, Updated Nov 27, 2020
Turkey tenderloin is a nutritious and tasty meal that you can season with fresh herbs and have it ready to eat in less than an hour. Even better, you can enjoy this turkey dinner for less than $10.00, leaving plenty of leftover change for dessert!
This is one of our favorite low-cost family meals. Read on and I'll show you step-by-step how to make turkey tenderloin, one of our most popular roasted recipes.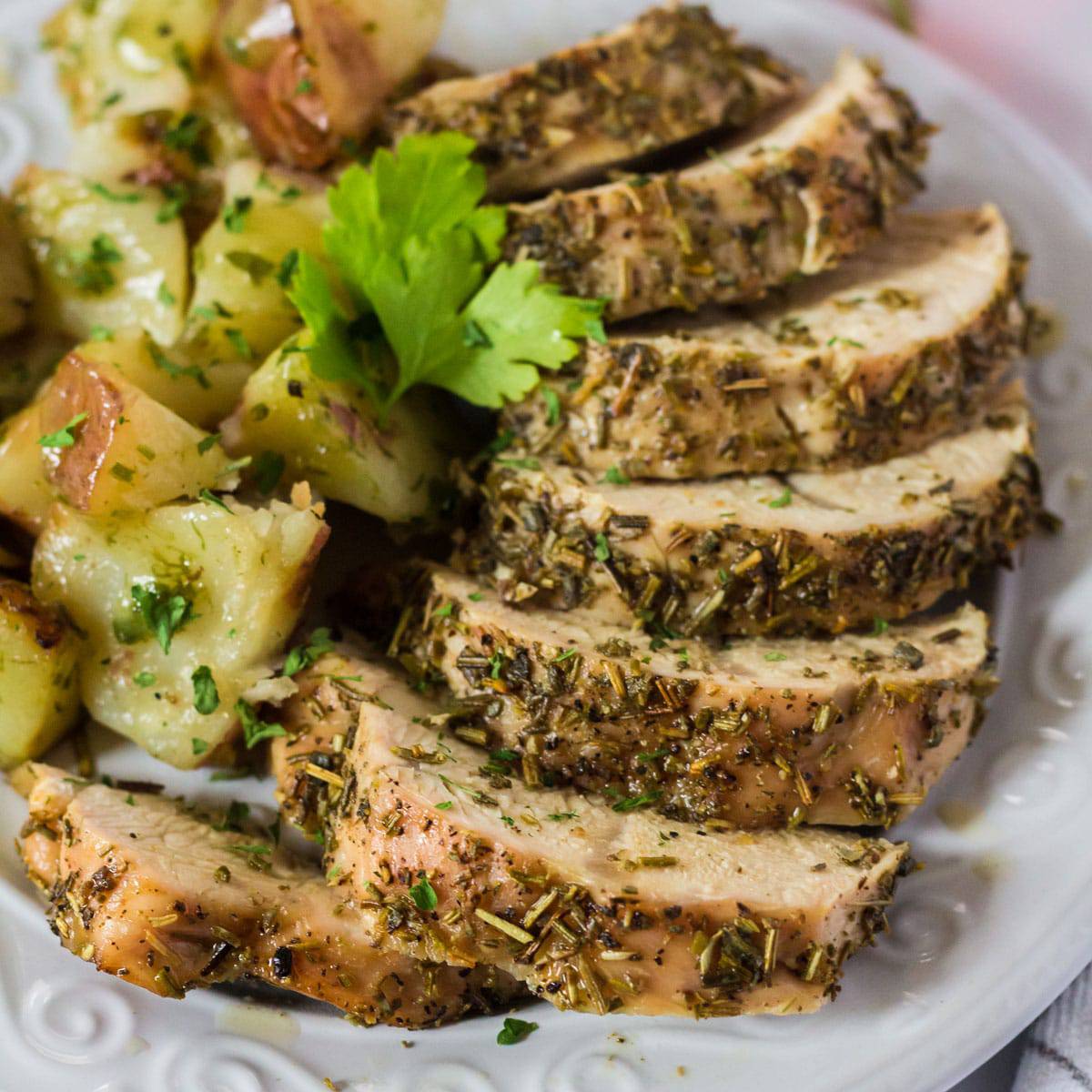 Jump to:
What is this?
Aside from delicious, it is the part of the meat that comes from between the turkey breasts. It has a richer flavor than chicken tenderloin and you can make it in tons of different recipes!
Baked
Grilled
Stuffed
Marinated
Because this part of the turkey is from underused muscle, it is super tender and perfect for the dinner table.
Scott makes recipes all the time, and so when he mentioned what he was making I didn't think much of it.
Until the aroma hit me. Suddenly, I became interested. It was a special sensation.
It was a holiday; it was savory, it was warm. It was coming from our oven, and it was this turkey tenderloin roast!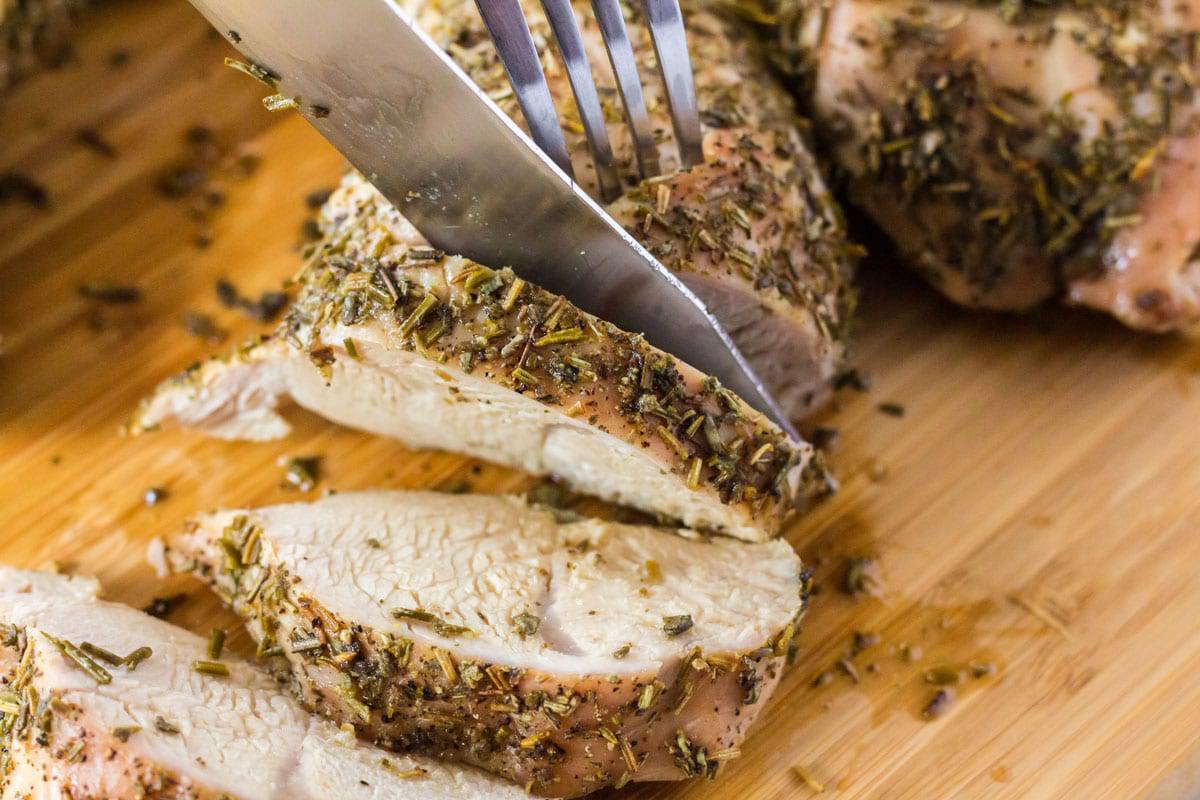 This recipe for turkey tenderloin that Scott put together is a good example that better eating doesn't have to come at the expense of good taste and satiety.
The main spices he used for this were rosemary and sage, but only because these were among the spices in our inventory. Thyme would have been a great fit, poultry seasoning would have been good, along with any variety or combination of savory flavors.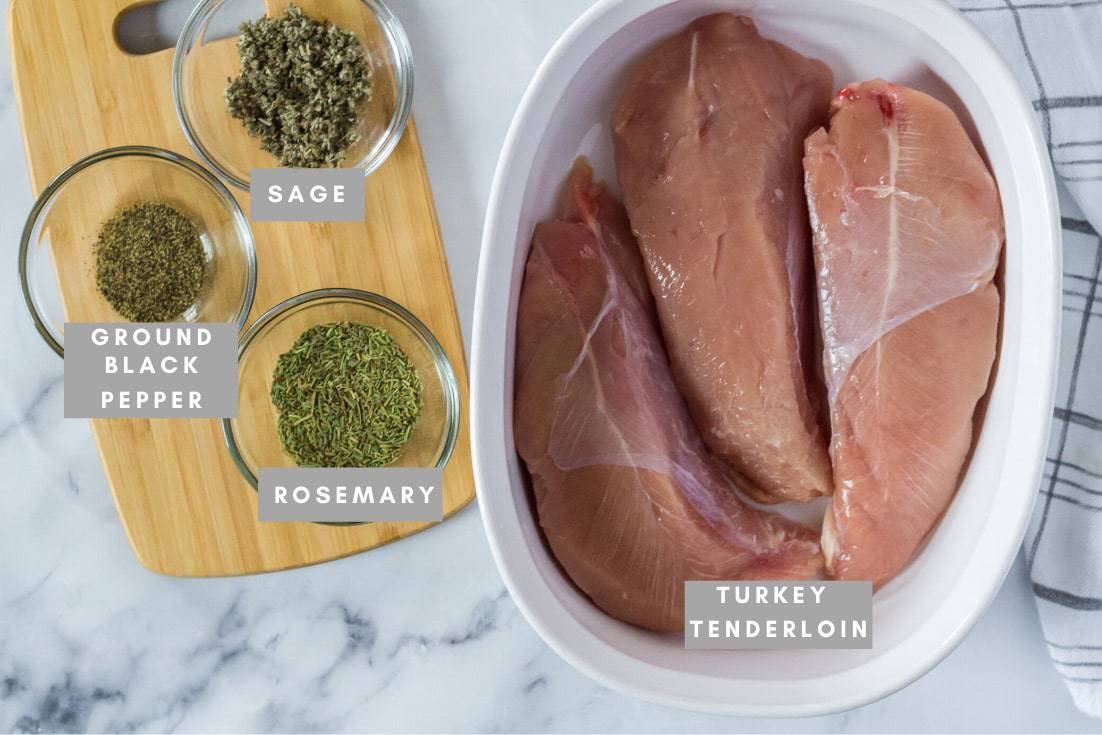 The point here, as Scott does so well time after time, is to use what you have. With a little imagination and a little hunger, it's amazing the things that will come to mind and ultimately end up on your dinner plate.
Besides using just a few ingredients for this family meal, you can have it ready to eat in under one hour! Ahhhhmazing!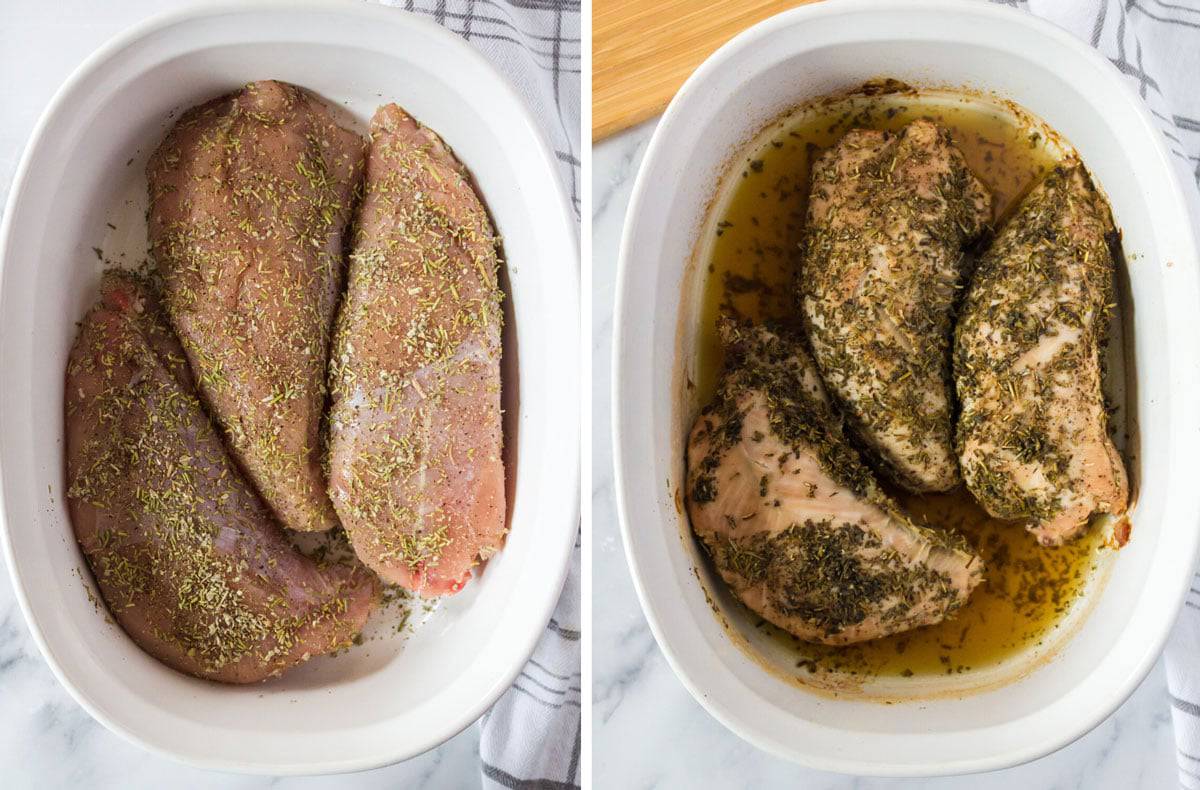 Recipe add-ons
Before placing this in the oven, consider the following flavor-enhancers for this turkey dinner:
Spread a fine layer of honey mustard over the surface prior to baking.
Sprinkle fresh lemon zest over the surface (with or without the honey mustard)
Let it bake in a cup of chicken broth.
Other herbs that bake well with this include:
Rosemary
Tarragon
Basil
Thyme

What to serve with Turkey Tenderloin
Make in the slow cooker.
Add a cup of chicken broth to your slow cooker.
Place the turkey tenderloin in the crock-pot.
Season with salt, pepper, and the suggested herbs listed above.
Cook on high for 2 hours or on low for 3-4 hours.
Allow tenderloin to rest for 15 minutes before carving.
Can I grill Turkey Tenderloin?
Grilled turkey is easy to make and just as delicious to eat! To make this version, you'll want to:
Place the seasoned turkey in a gallon-size zip lock bag.
Add a few tablespoons of olive oil and 1 tablespoon of water. Then, rotate the bag a few times until the tenderloin is coated in herb marinade.
Allow it to marinate in the refrigerator for a minimum of 2 hours.
When you're ready to grill it, drain and discard the marinade. Grill the turkey tenderloin for 8-10 minutes per side, until the internal temperature is 170° F.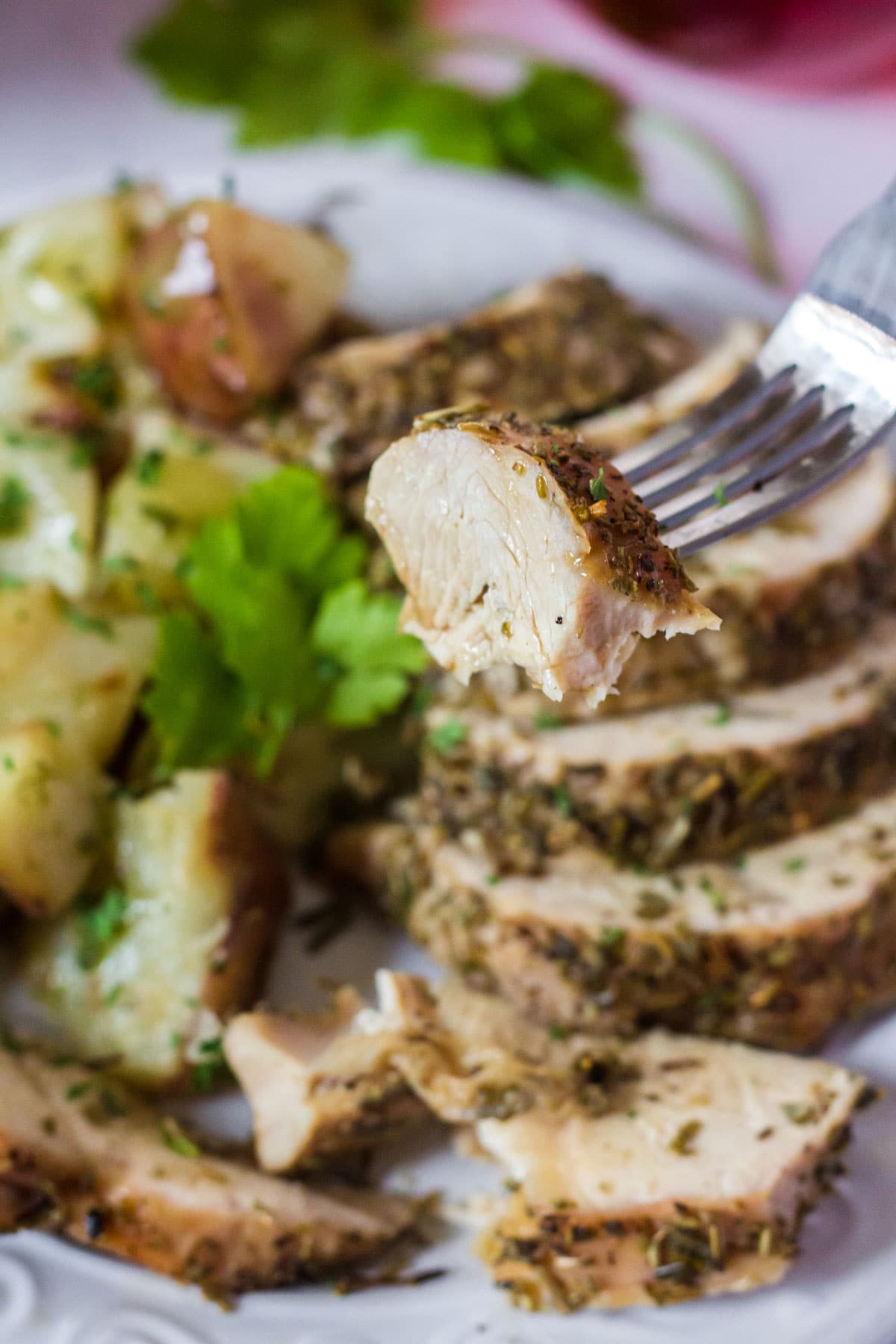 Be sure and try our 5-Minute Cranberry Relish Recipe with this turkey tenderloin!
Related recipes
👨‍🍳 Tried this Recipe? Please leave a ⭐⭐⭐⭐⭐ rating in the recipe card below and leave a comment. We love hearing from our readers!
⏩ Stay in touch with us on social media by following us on Facebook, Pinterest, Instagram, and YouTube!
📬Get our Recipes delivered to your inbox for FREE!

Don't miss all of our easy dinner recipes!
[cp_popup display="inline" style_id="41629" step_id = "1"][/cp_popup]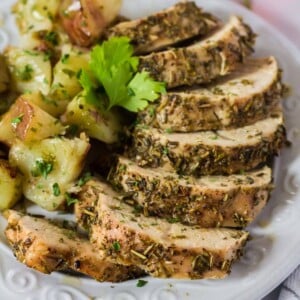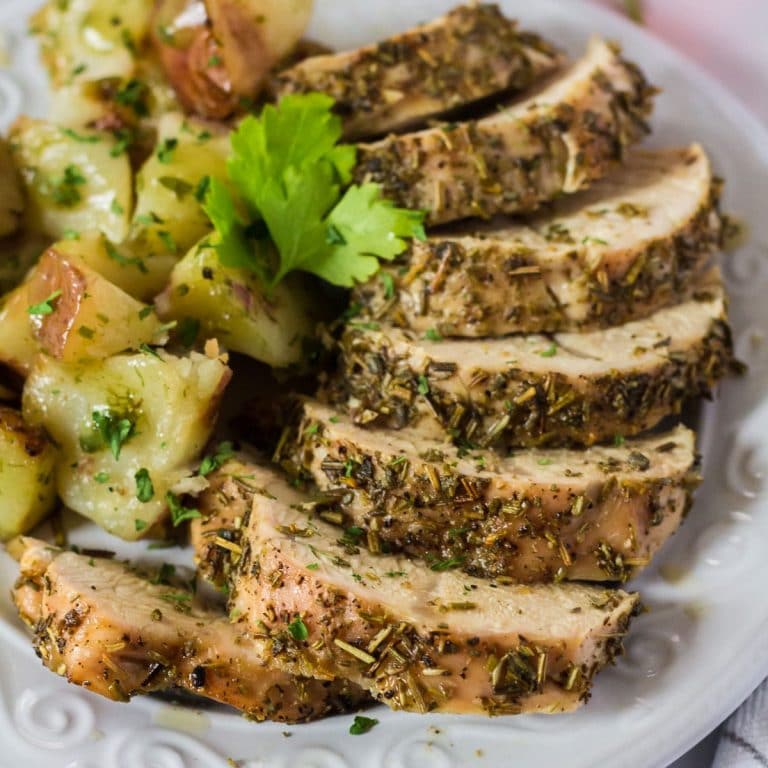 Roasted Turkey Tenderloin
A simple and inexpensive turkey dinner that anyone can make.
Ingredients
24

oz

Turkey tenderloin

1

tbsp

Dried sage

1

tbsp

Dried rosemary

Fresh ground pepper

,

to taste
Instructions
Preheat the oven to 350 and then season both sides of the tenderloin with dried sage, rosemary, salt and pepper, to taste.

Place the prepared turkey in a roasting pan and cover and then roast for approximately 40 minutes or until the juices run clear. Take out of roasting pan and place on cutting board.

Tent with aluminum foil and all the meat to rest for 5 to 10 minutes before slicing. Slice the tenderloin into 1 1/2 to 2-inch slices and serve.
Notes
Allow the meat to set for 15 minutes before carving. This will help it to reabsorb some of the flavorful juices.
Nutrition
Calories:
187
kcal
,
Carbohydrates:
1
g
,
Protein:
40
g
,
Fat:
2
g
,
Saturated Fat:
1
g
,
Cholesterol:
76
mg
,
Sodium:
114
mg
,
Fiber:
1
g
,
Sugar:
1
g
,
Vitamin A:
55
IU
,
Vitamin C:
1
mg
,
Calcium:
19
mg
,
Iron:
1
mg
Nutrition information is automatically calculated, so should only be used as an approximation.
Updated from the original post of May 10, 2014