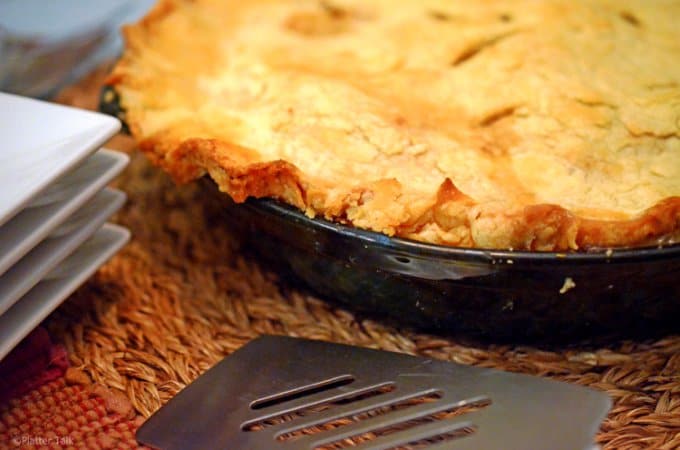 In our household of six boys, there is are a few things that go over very well, anytime.  Among them, snuggling with our little dog Buddy, playing minecraft until all hours of the night, and sitting down at the table to a serving of pot pie.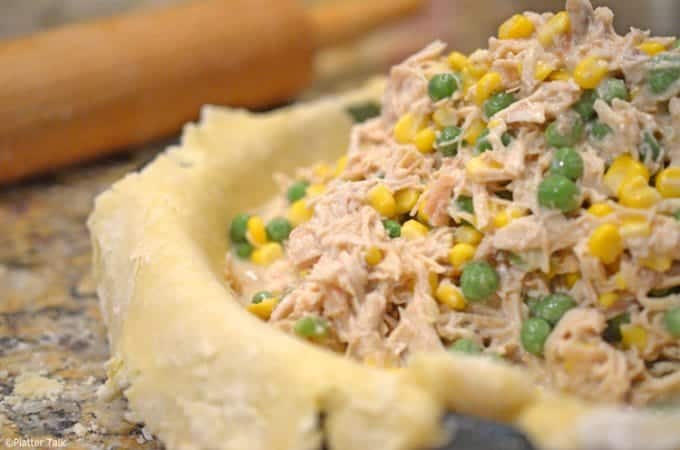 Sometimes I think that our guys could eat pot pie seven days a week.  O.K., maybe their dads could as well.  I grew up eating pot pie.  More times than not out of the freezer case (out of a matter of convenience, I'm certain) but sometimes out of my mom's oven.  There was never any comparison between the two.   She always made hers in a large, old oven safe bowl.  Back then as a kid that bowl seemed huge to me and I don't ever recall her using it for anything else.    My sister has that bowl now and every time I lay eyes on it my mind goes back 40-some years to the goodness that my mom poured into it.  Her pot pies were to die for, always chicken, and always from one of our own hens.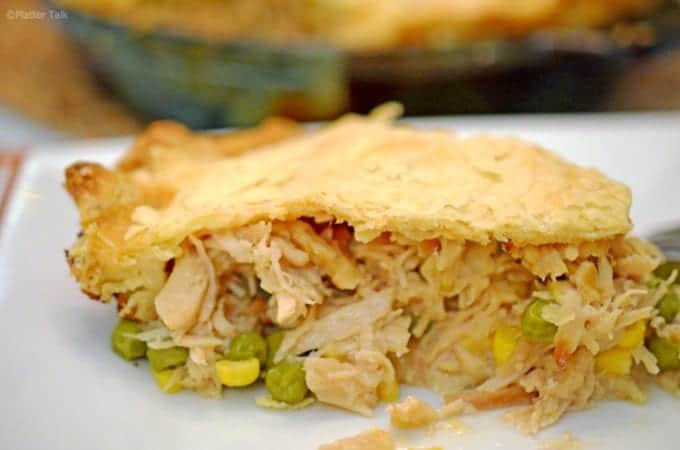 I'm happy to say that pot pies are a fairly regular food at our table.  I'm even happier to say that our boys have never seen a frozen one from the grocery store.  Yes, they were always fun to eat and yes they always tasted good back then.  Healthy, though?  Not so much.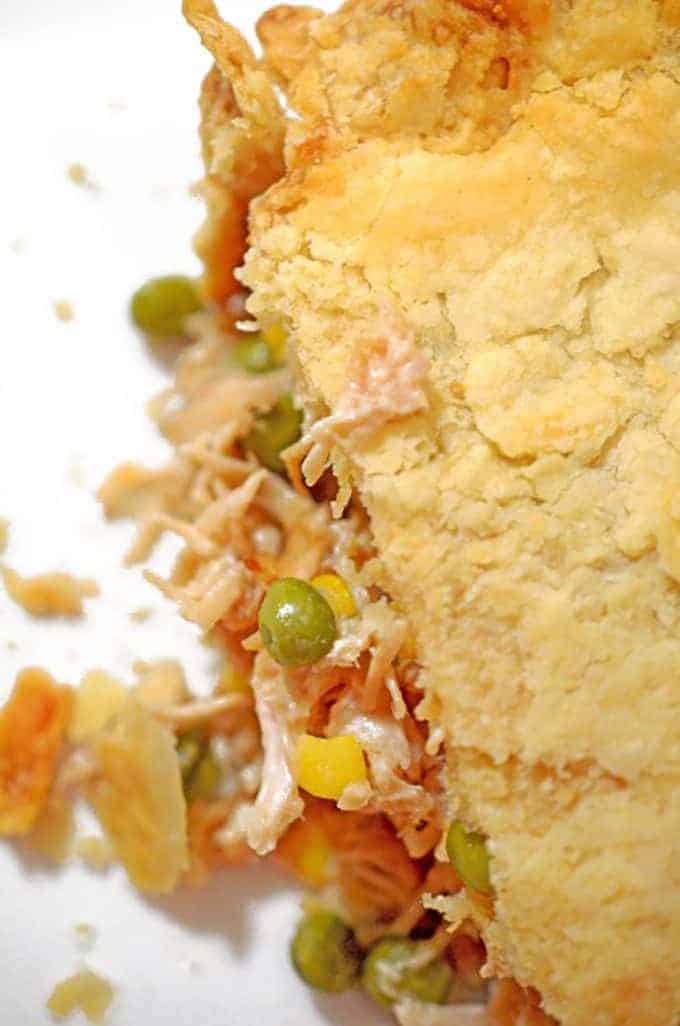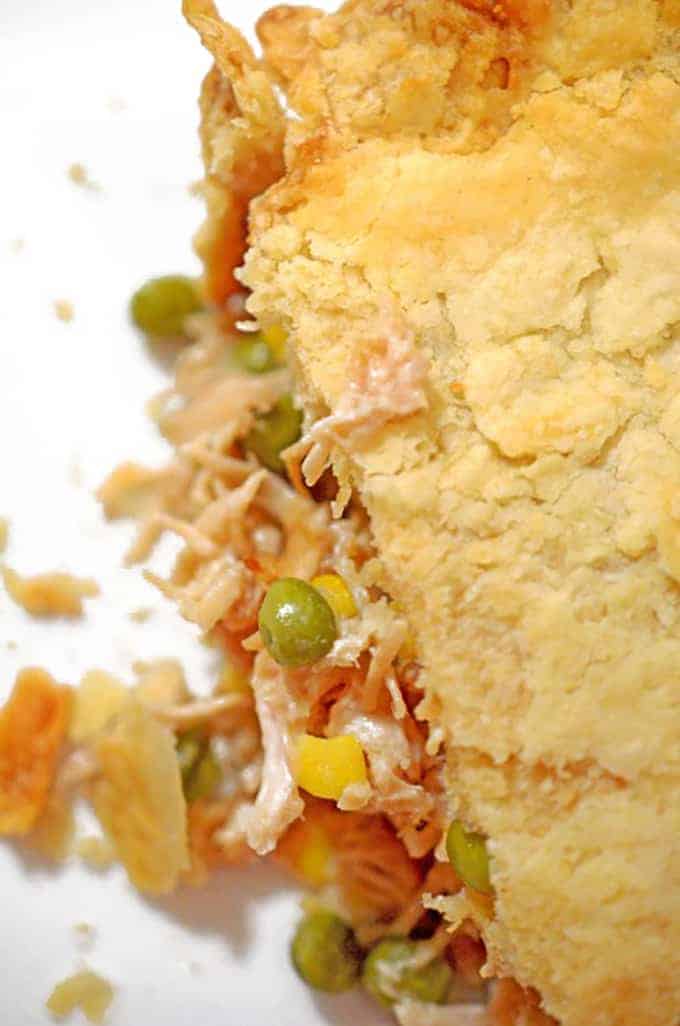 I don't mind throwing a crust together, in fact I always prefer that over buying a prepared one in the grocery store.  They don't take long to make and they are always better tasting.   Besides the taste, a great thing about pot pies for our family is the leftover factor.  They are the perfect vehicle for just about any leftover meat you can think of.  Beef, pork, chicken, and after this past Thanksgiving holiday – turkey.   I wish you could have joined us for this one, leftover turkey from Thanksgiving never tasted so good.  Speaking of Thanksgiving, have you stopped to give thanks for all the goodness in your life?   Put this pot pie together soon and you will have one more thing to add to the list.   -Dan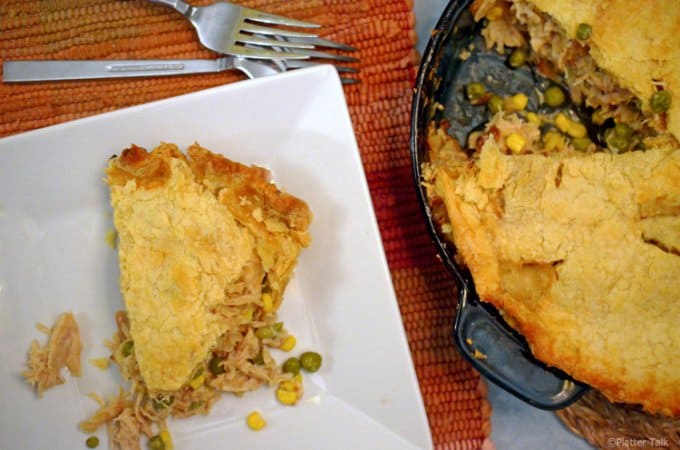 Never Miss Another Platter Talk Recipe
Turkey Pot Pie & Homemade Crust
A Platter Talk Exclusive
Ingredients
for the filling
1-2

cups

chicken broth

3-4

cups

turkey meat

1

cup

frozen peas

1

cup

frozen corn

1-2

tablespoons

flour
for the crust
3

cups

all-purpose flour

1

cup

shortening

1

teaspoon

salt

1/3

cup

ice water

2

eggs

one for dough and one for wash

1

tablespoon

vinegar
Instructions
Preheat oven to 400 degrees F.
for the filling
Use large sauce pan to heat broth and turkey, bring to simmer, reduce heat and cover and allow to cook for about an hour. Stir occasionally and shred meat with fork as it cooks.

Add peas and corn and stir well, allowing vegetables to unthaw and become warm but not over-cooked.

Stir in flour to thicken, if necessary. Adjust flour to broth ratio for desired consistency.
for the crust
Combine flour, salt and shortening in large mixing bowl and work together with a fork until pebbly consistency is reached.

In separate bowl combine egg and vinegar. Whisk together with fork then stir in ice water.

Pour egg mixture into flour mixture and rapidly stir together with fork until just combined using caution to not over-stir.

Apply light dusting of flour to clean hard surface and roll out one half of dough.

Using rolling pin, start on one side of rolled out portion and roll the dough on the pin.

Carefully place pin over edge of pie pan and slowly unroll into pan allowing an inch or so to hang over sides.

Place filling on bottom layer and roll out remaining dough and unroll on top of filling.

Pinch edges of top and bottom layers of dough together and fold down and out as you make your way around the pie.

Trim excess dough and crimp.

Use pastry brush to apply light egg wash on top layer.

Use small pairing knife to cut a few slit in top layer for ventilation.

Bake for 1 hour or until golden brown.