BEST Turkey Pot Pie Recipe With Leftover Turkey
on Nov 25, 2022, Updated Oct 18, 2023
Turkey pot pie is just one more reason why Thanksgiving is my favorite holiday. And if you are wondering what to do with leftover turkey, this delicious recipe is for you.
We like to make this easy turkey pot pie recipe with a homemade crust, but it's even faster if you want to use a store-bought crust.
Read on to see how we make one of our favorite turkey recipes!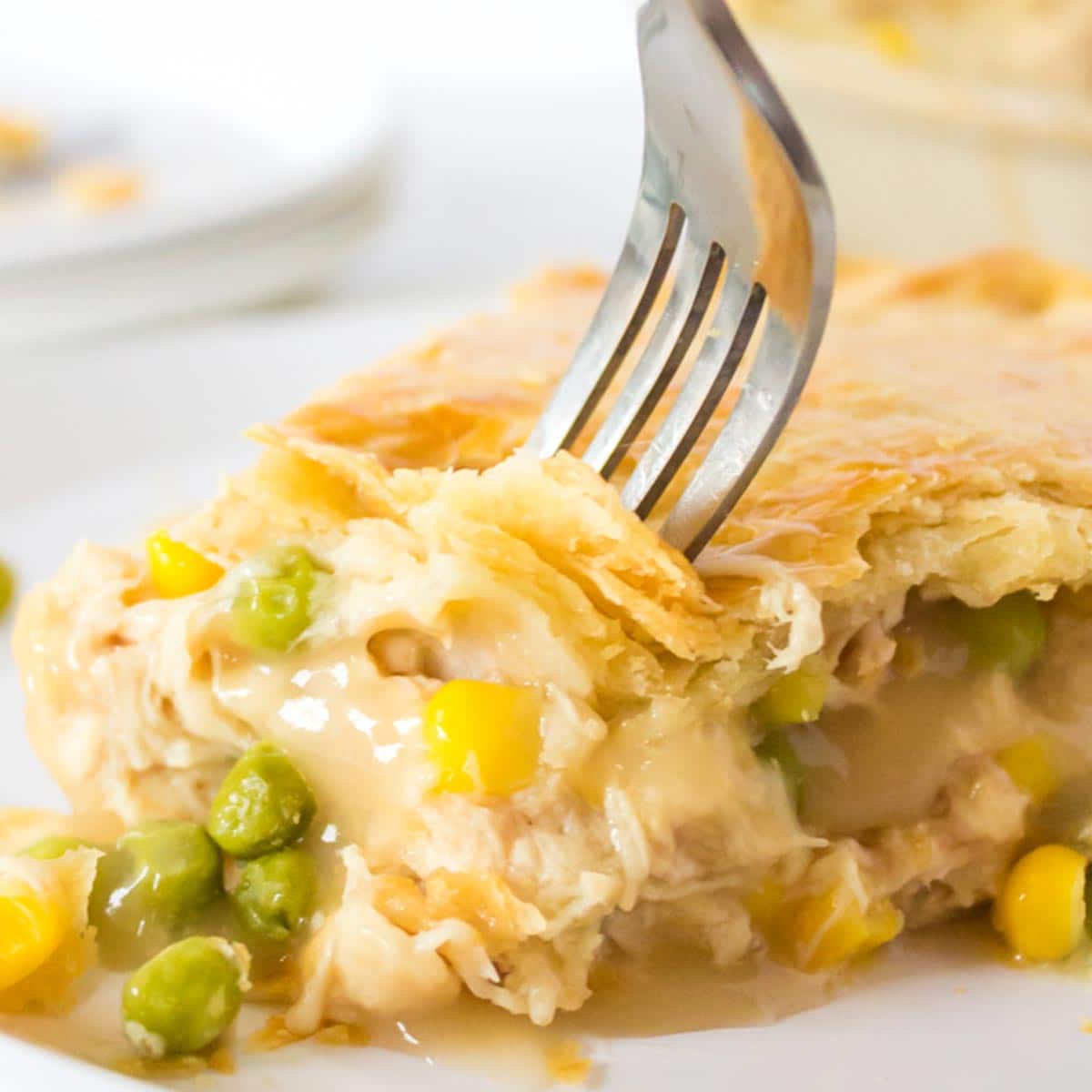 About this turkey pot pie recipe
I grew up eating this homemade comfort food.
More times than not, out of the freezer case (out of a matter of convenience, I'm certain) but sometimes out of my mom's oven.
There was never any comparison between the two. She always made hers in a large, old oven-safe bowl. Back then, as a kid, that bowl seemed huge to me, and I don't ever recall her using it for anything else.
My sister has that bowl now, and every time I lay eyes on it, my mind goes back 40-some years to the goodness my mom poured into it.
Her homemade pot pie was the best and always make from one of farm-raised turkeys or hens. Fast-forward about 50 years, and I am now making this for my own kids. I hope you will too.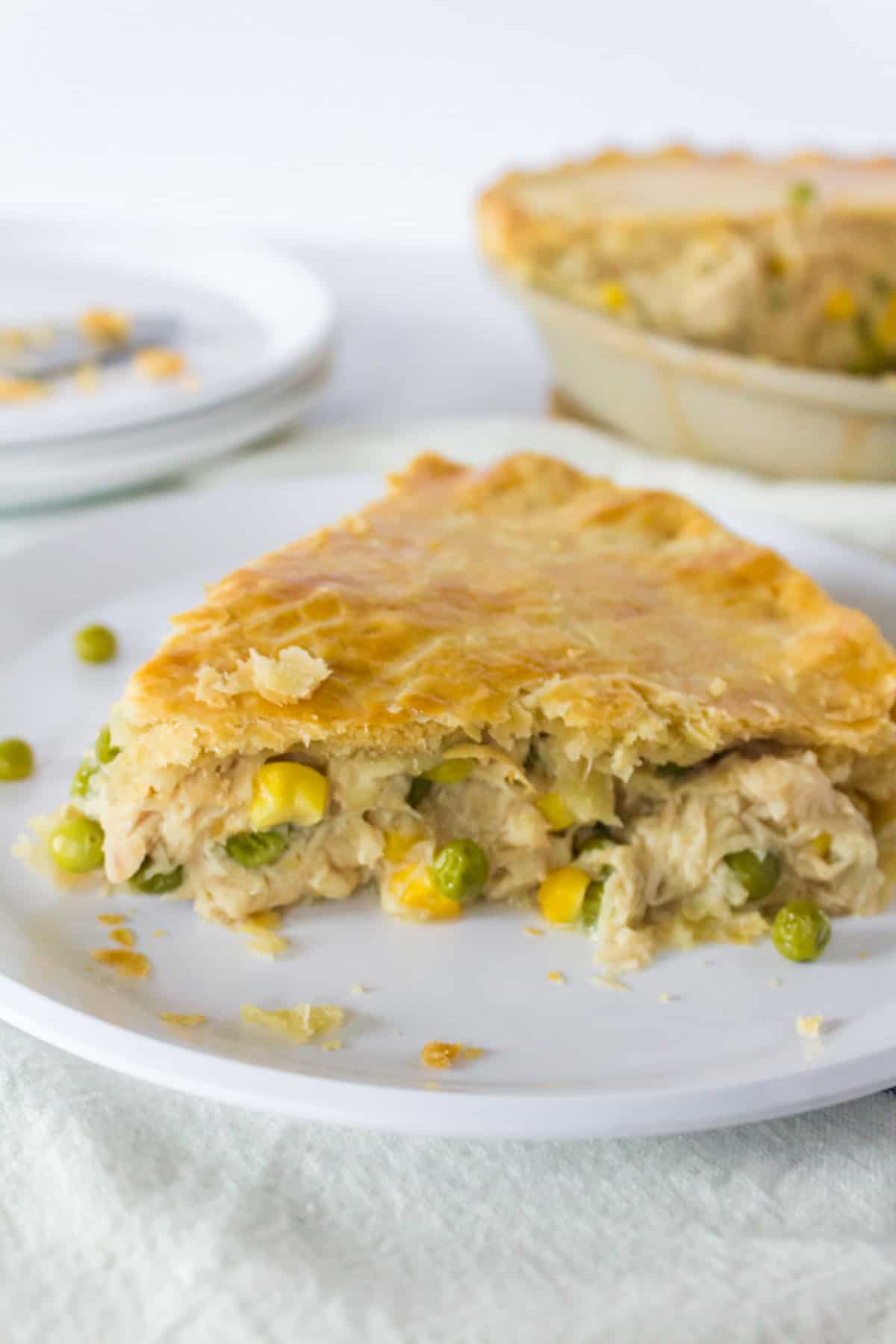 This is your answer if you've ever wondered what to do with leftover turkey.
Ingredients for the filling
Chicken broth
Leftover turkey
Frozen peas
Frozen corn
Flour
Pie crust

Store-bought or
Homemade pie crust
How to make it
(Full recipe can be found in the recipe card below.)
For this homemade recipe, I will show you step-by-step how to make a turkey pot pie. I will also show you how to make a homemade crust.
The good news is if you want to take the easy road and use a store-bought crust, go for it!
Remember, we never judge.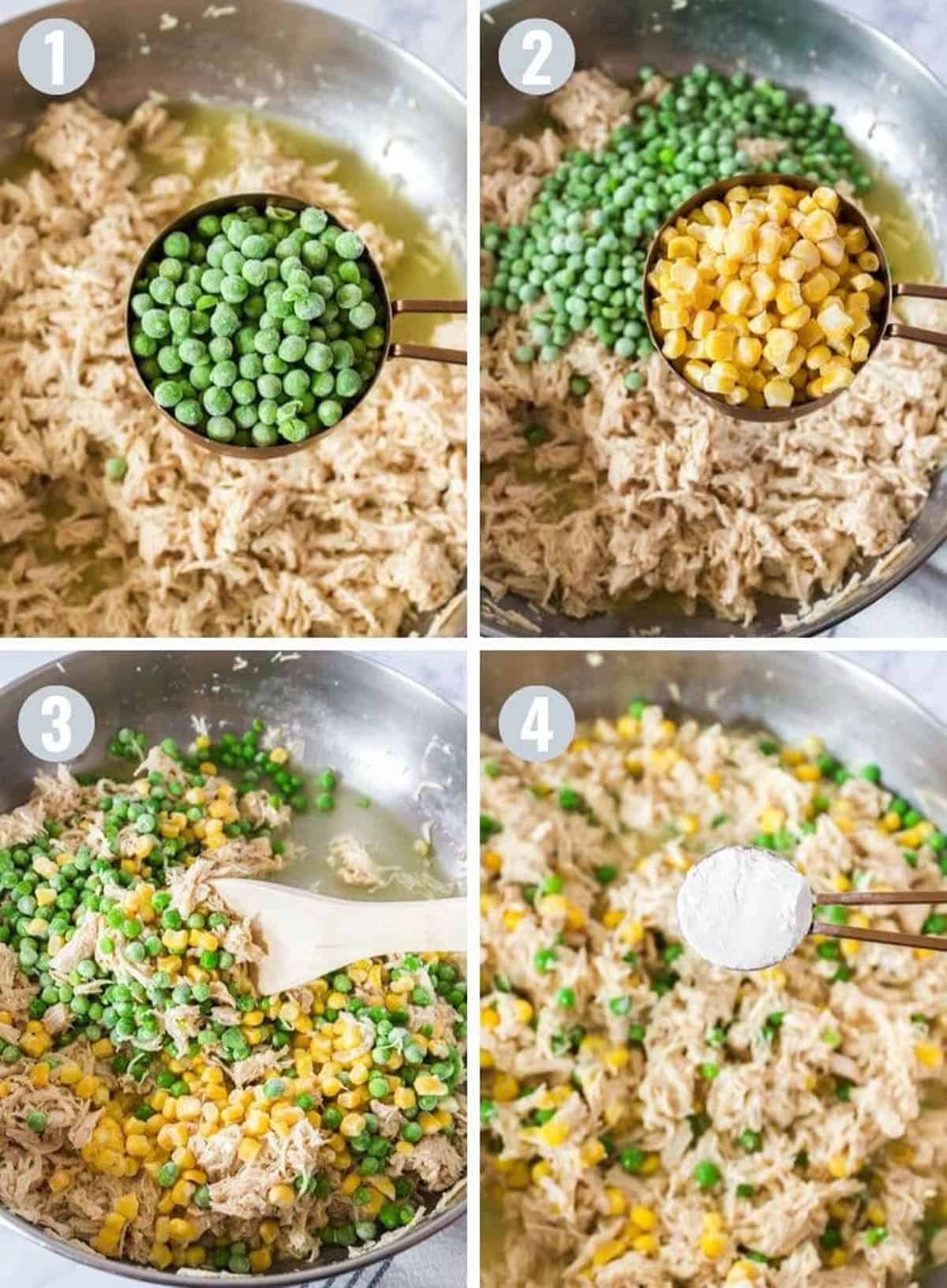 Start by mixing three to four cups of leftover turkey meat with some broth and then add some frozen peas.
Toss in a cup of frozen corn.
Mix it all.
Stir in just a little flour to help thicken things up.
At this point, you can put the whole thing together with a store-bought crust or put on your apron and make an easy homemade crust.
How to make a pie crust
Store-bought crusts are convenient and cheap. If you want to save time and mess, go that route.
If you're feeling slightly more adventurous, making a homemade pie crust is rewarding and fun!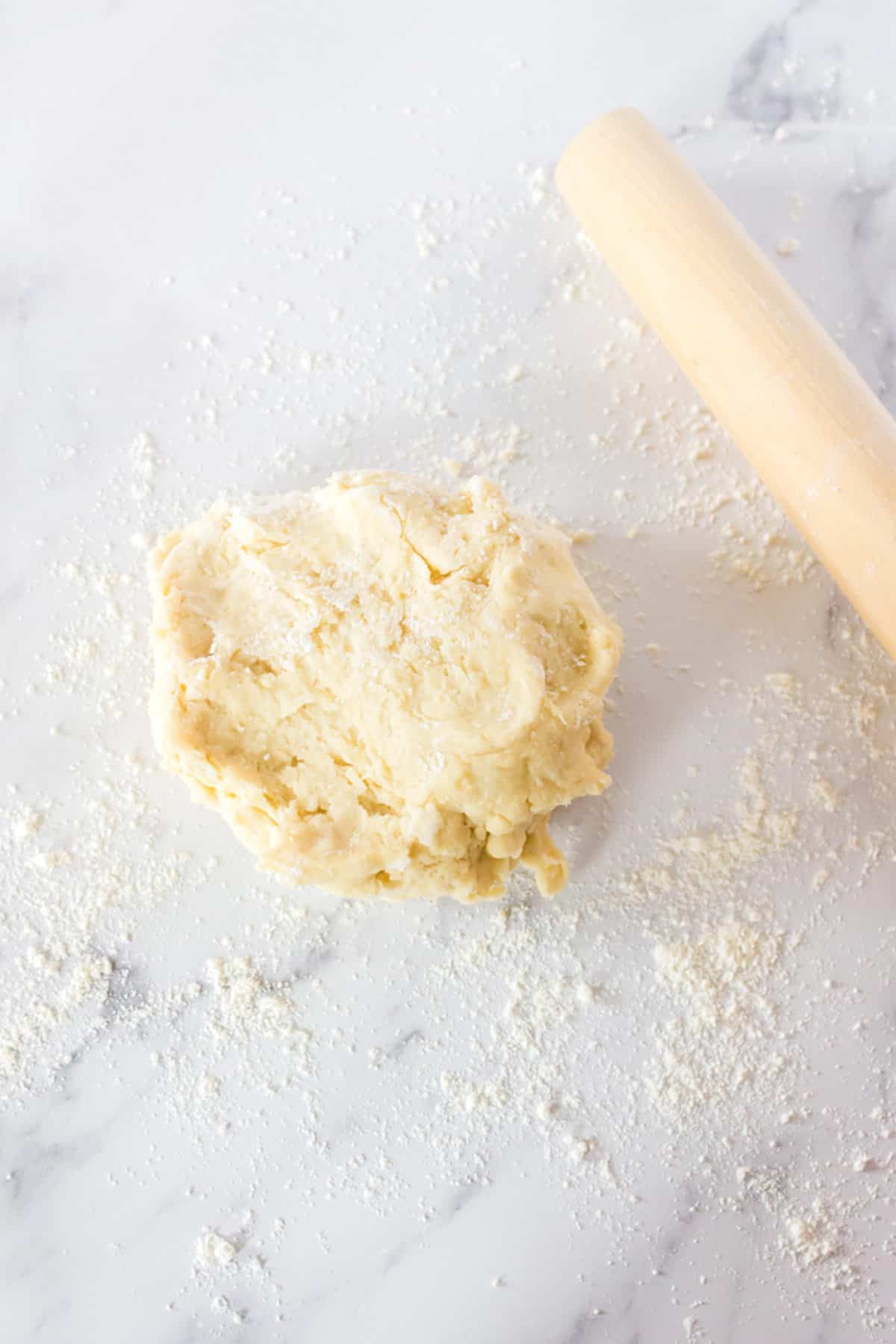 I don't mind throwing a homemade crust together; in fact, I always prefer that over buying a prepared one in the grocery store.
They don't take long to make, and they are always better tasting.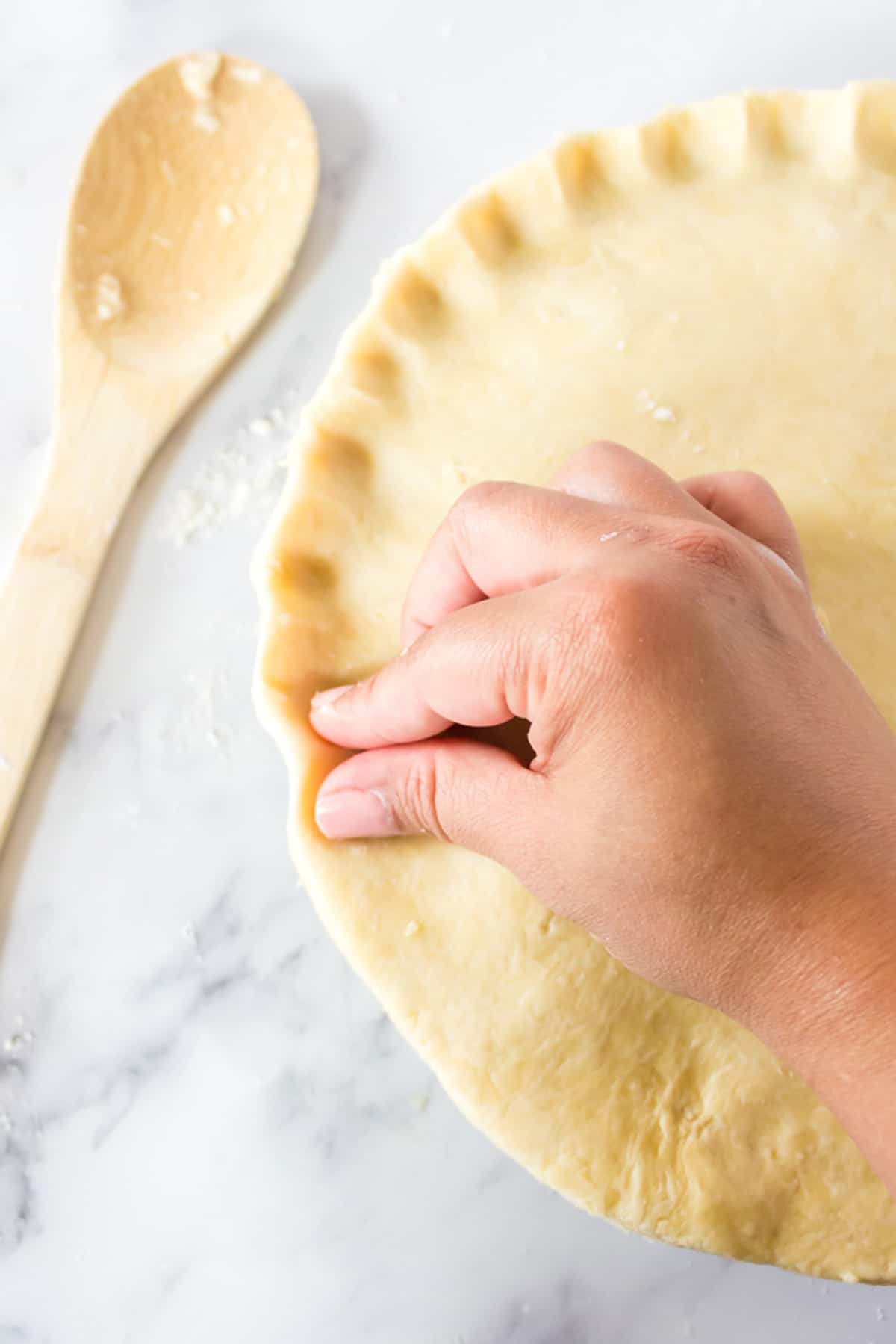 Ingredients for a homemade crust
3 cups all-purpose flour
1 cup shortening
1 teaspoon salt
1 egg (plus 1 egg for egg wash)
1/3 cup ice water
1 tablespoon vinegar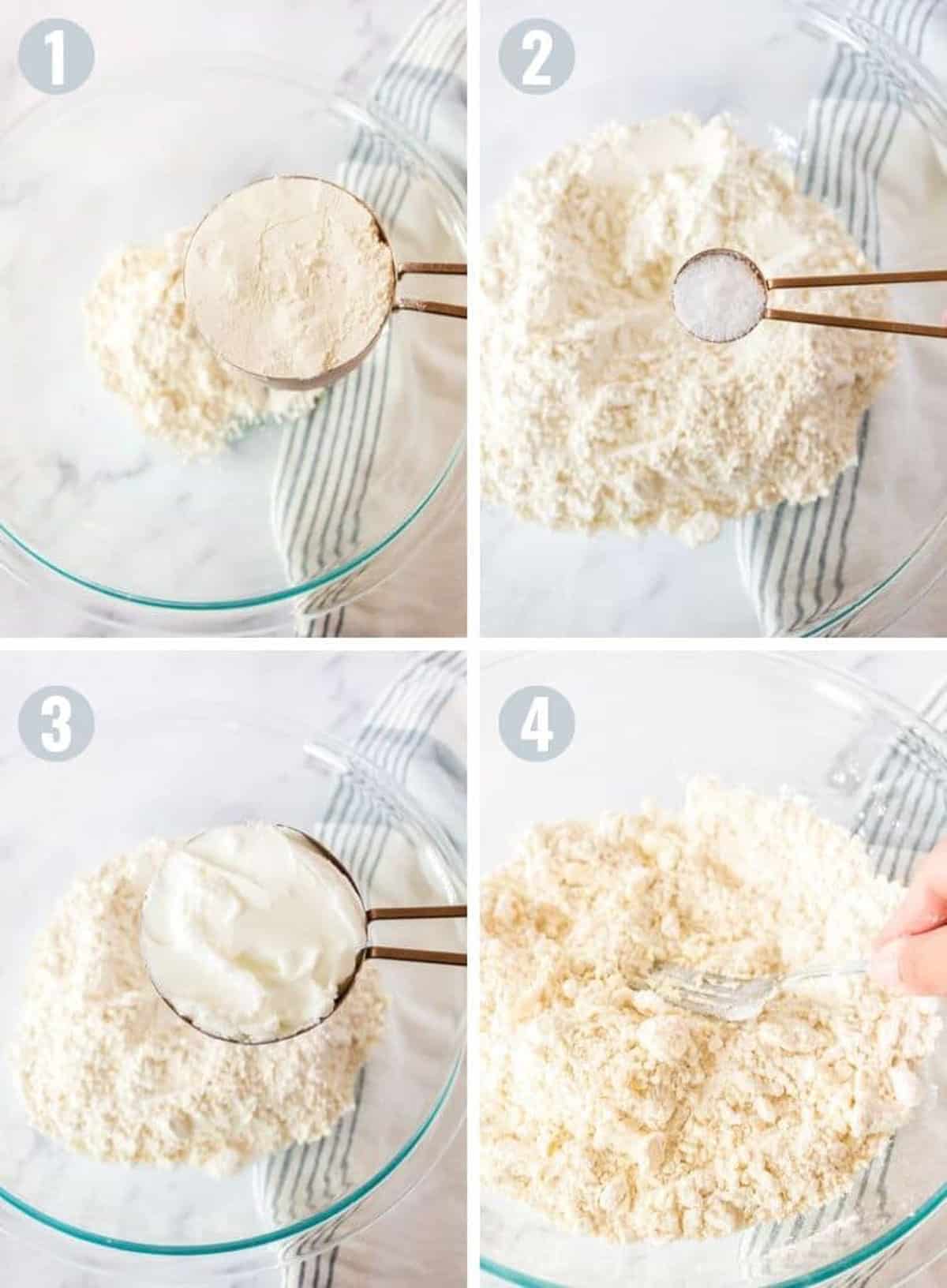 Start by measuring 3 cups of all-purpose flour.
Add a teaspoon of table salt.
Measure and add 1 cup of shortening.
Use a table fork to mash it into a crumbly consistency.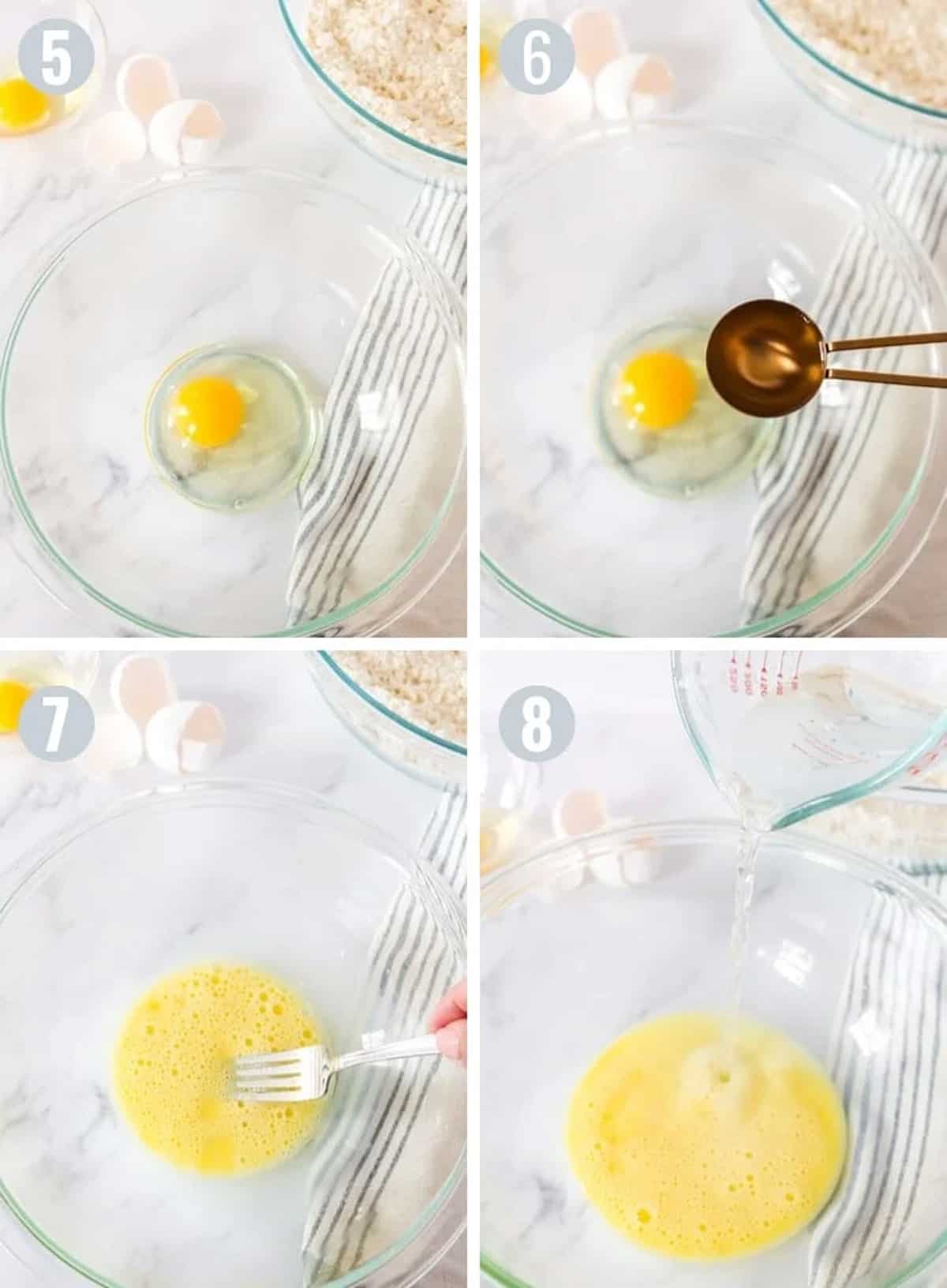 5. In a separate bowl, add one egg
6. Measure out a tablespoon of vinegar
7. Use a fork to beat the egg and vinegar together.
8. Measure and add 1/3 cup of ice water and mix it with the egg and vinegar. The ice water is the secret to making a flaky crust.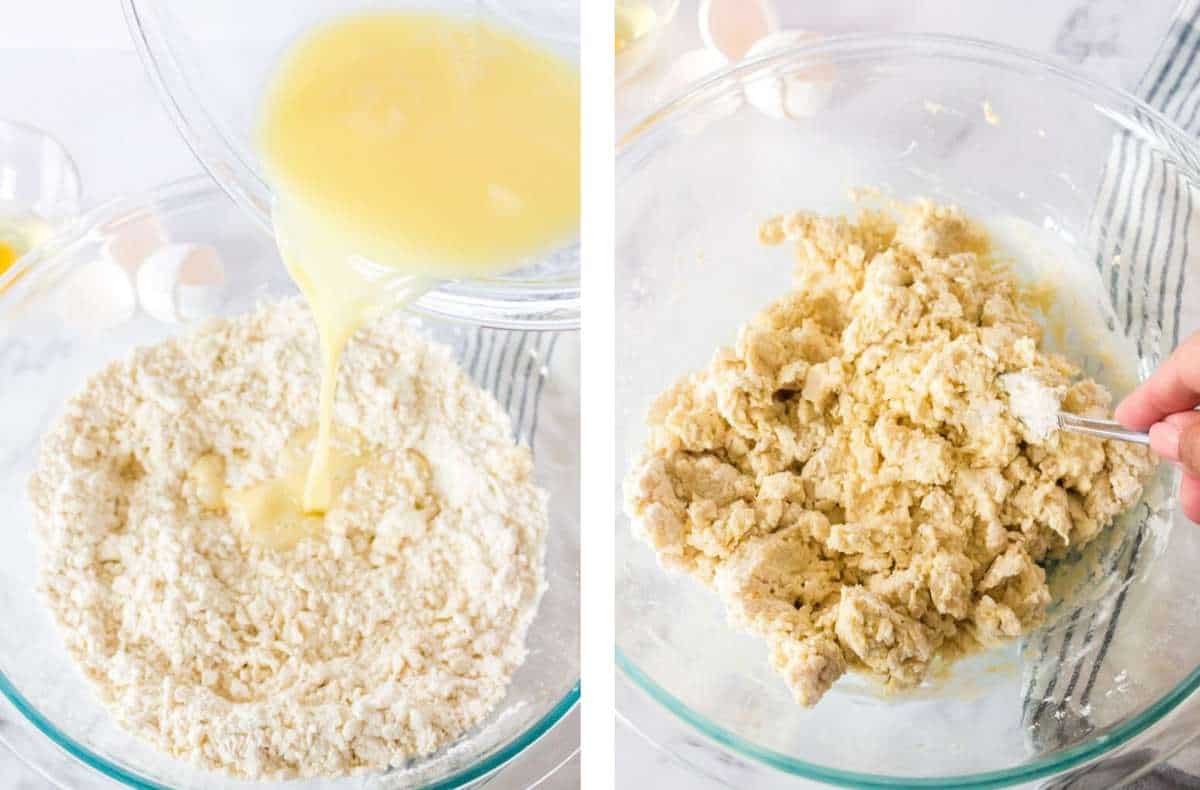 Now, you want to quickly add the egg and ice water mixture to the flour and shortening mixture.
Take a fork and mix it all together until it is just combined. Don't over-mix! This is where making a homemade crust starts to get fun!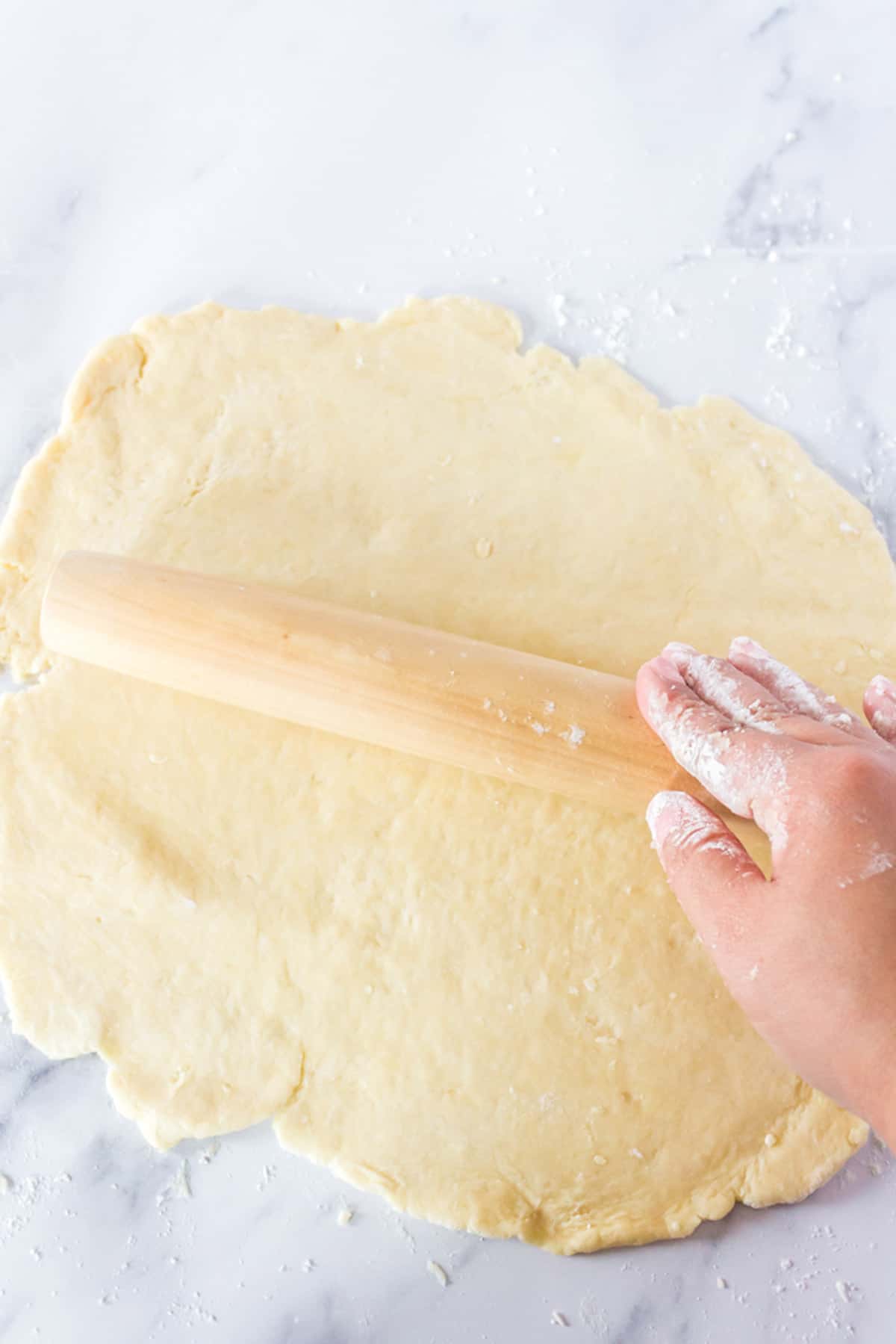 Divide the dough into two equal parts.
Start with one dough ball and roll it out on a lightly floured surface.
I used to watch with wide-eyed wonderment as my mom would do this. She made it look so easy!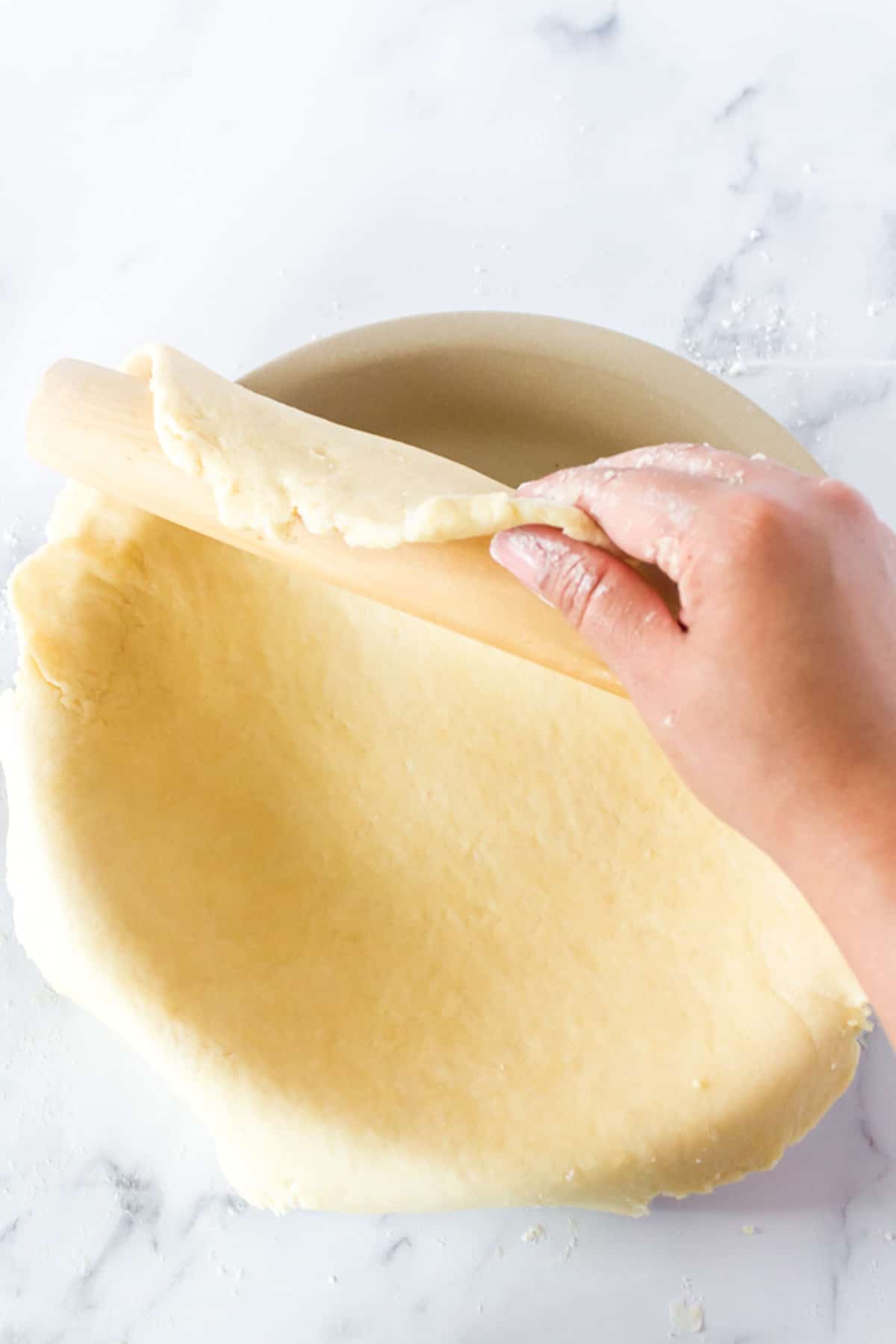 Starting at one end of the rolled-out dough, roll it up onto your rolling pin.
Place the rolling pin over the pie plate and unroll to dough over the plate for the bottom crust.
Use your fingers to shift and shimmy the dough so that there are no air gaps between the dough and the surface of the pie plate.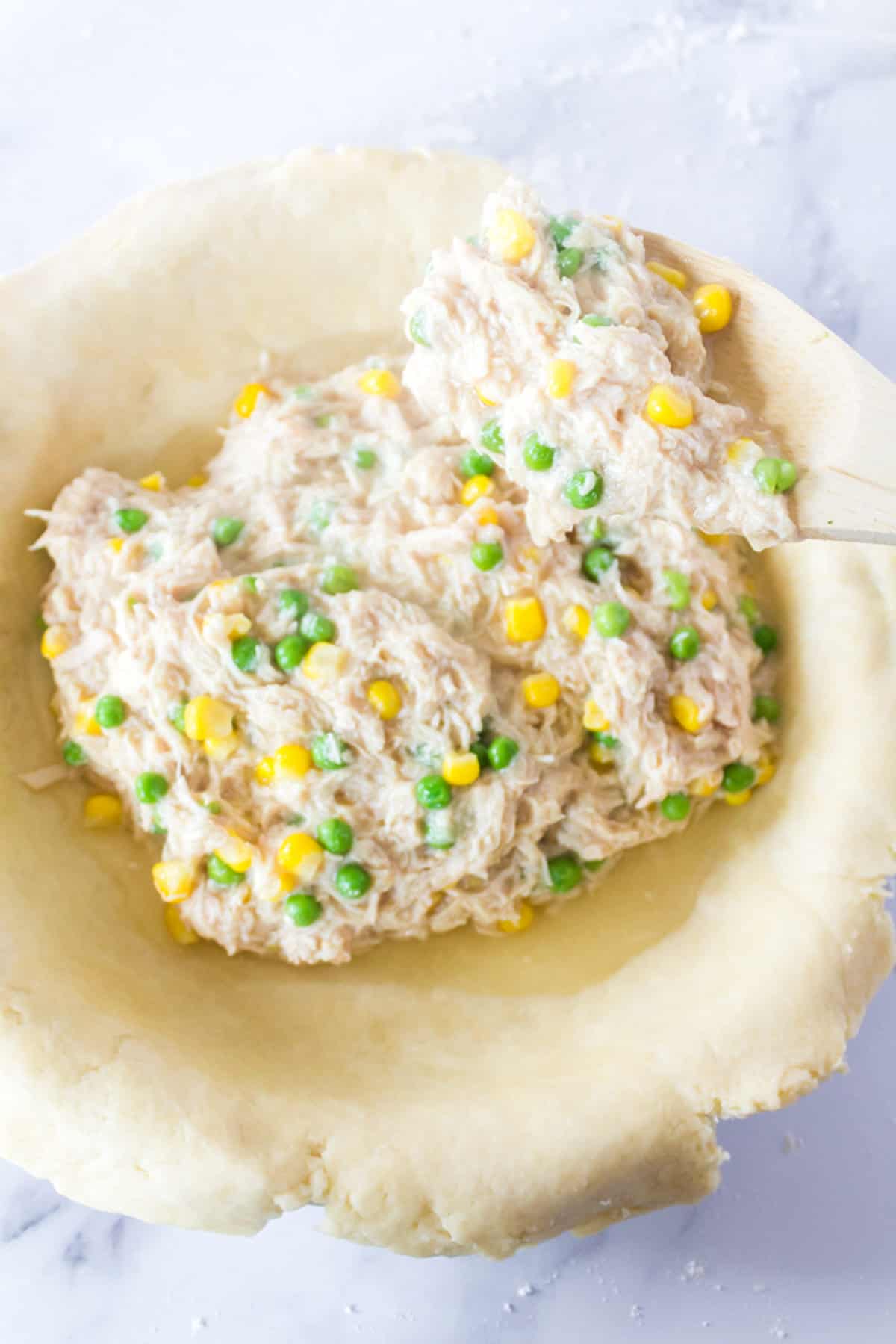 Now, fill the whole thing up! Spread the pot pie filling evenly throughout the pie dough-lined pie pan.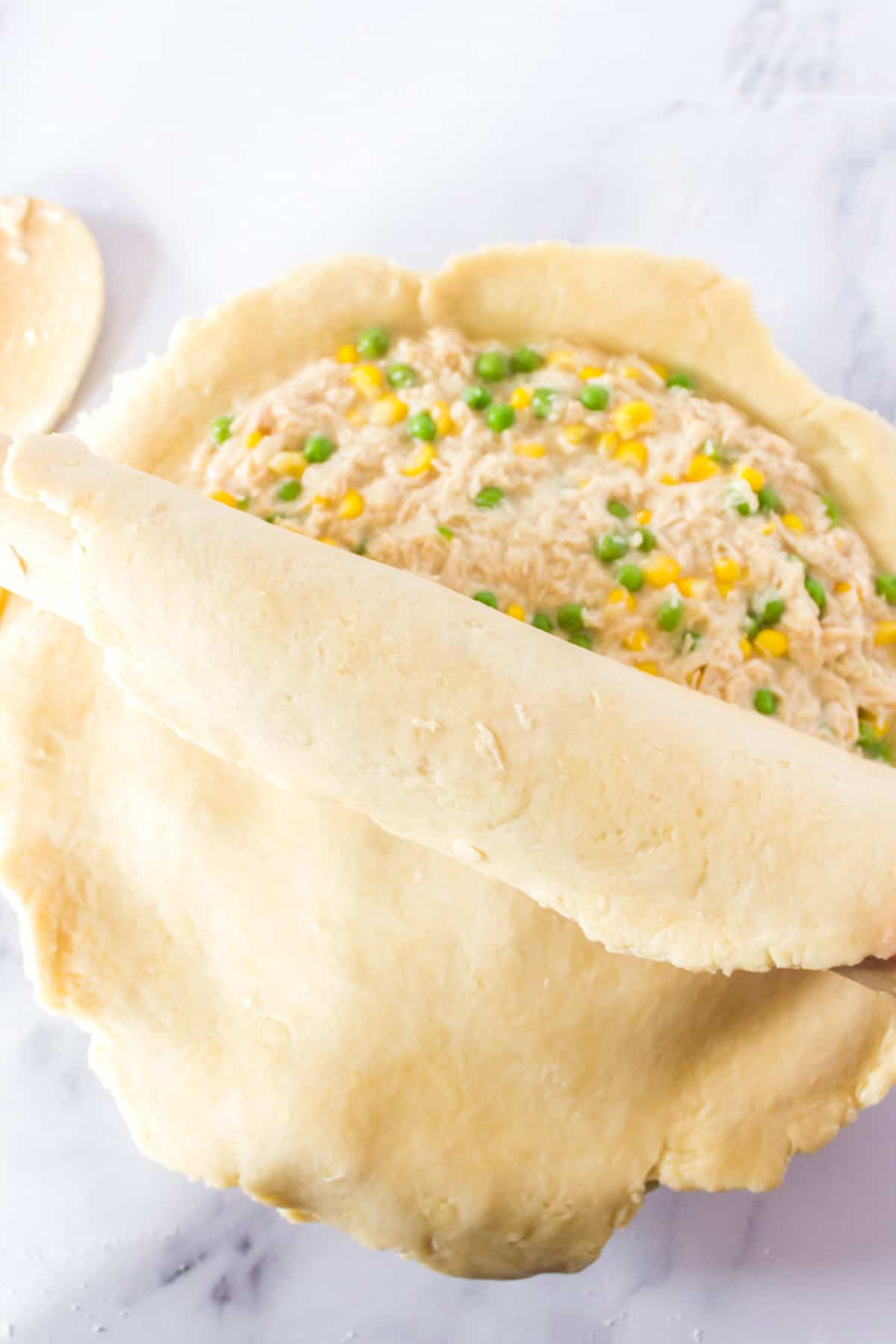 Next, put the top layer on the pot pie, using the same technique you did with the bottom layer.
Use kitchen scissors to trim edges of the crusts and then crimp away!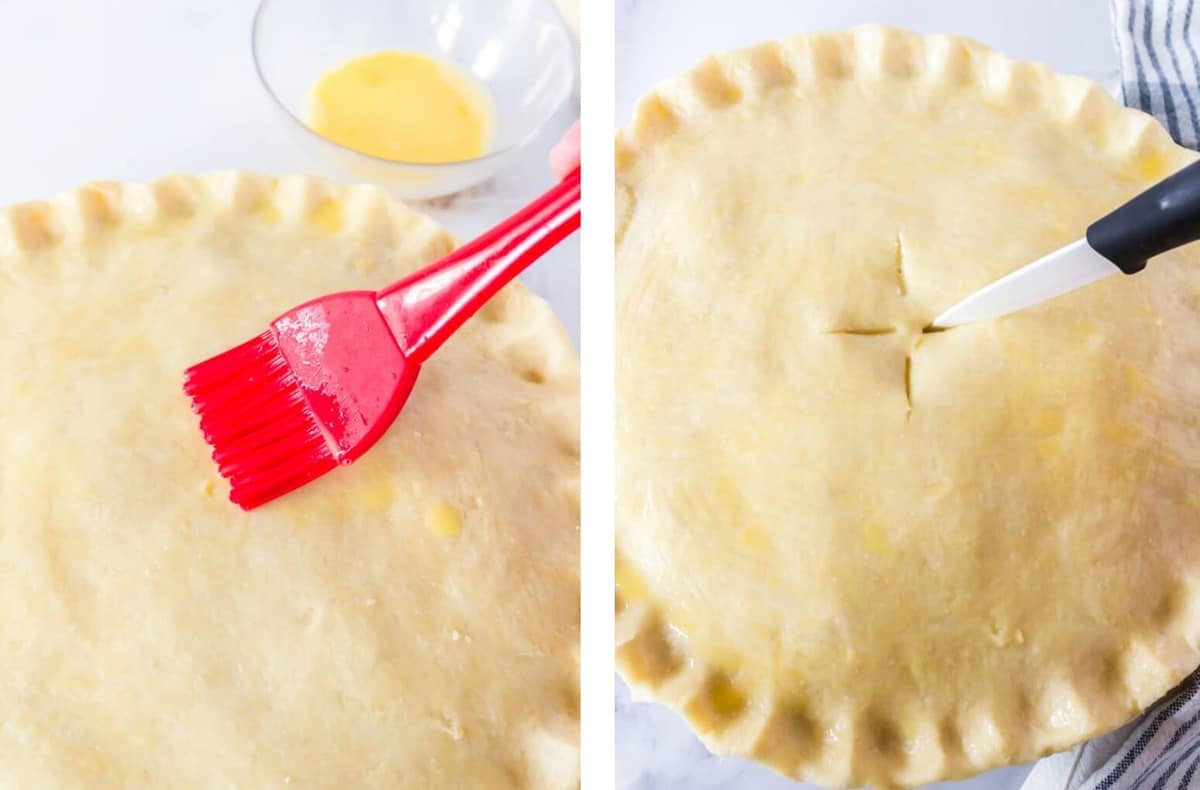 The last two steps of making this are also fun.
Beat an egg and use a pastry brush to give the top of the crust a nice egg wash. This will give it a beautiful golden brown crust as it bakes in the hot oven.
Finally, use a sharp knife and carve out a few ventilation slits for the top crust Be artistic if you like; cut out with a curvy que or any design you like.
This helps to keep the hot turkey pot pie from bubbling over all over the bottom of your oven.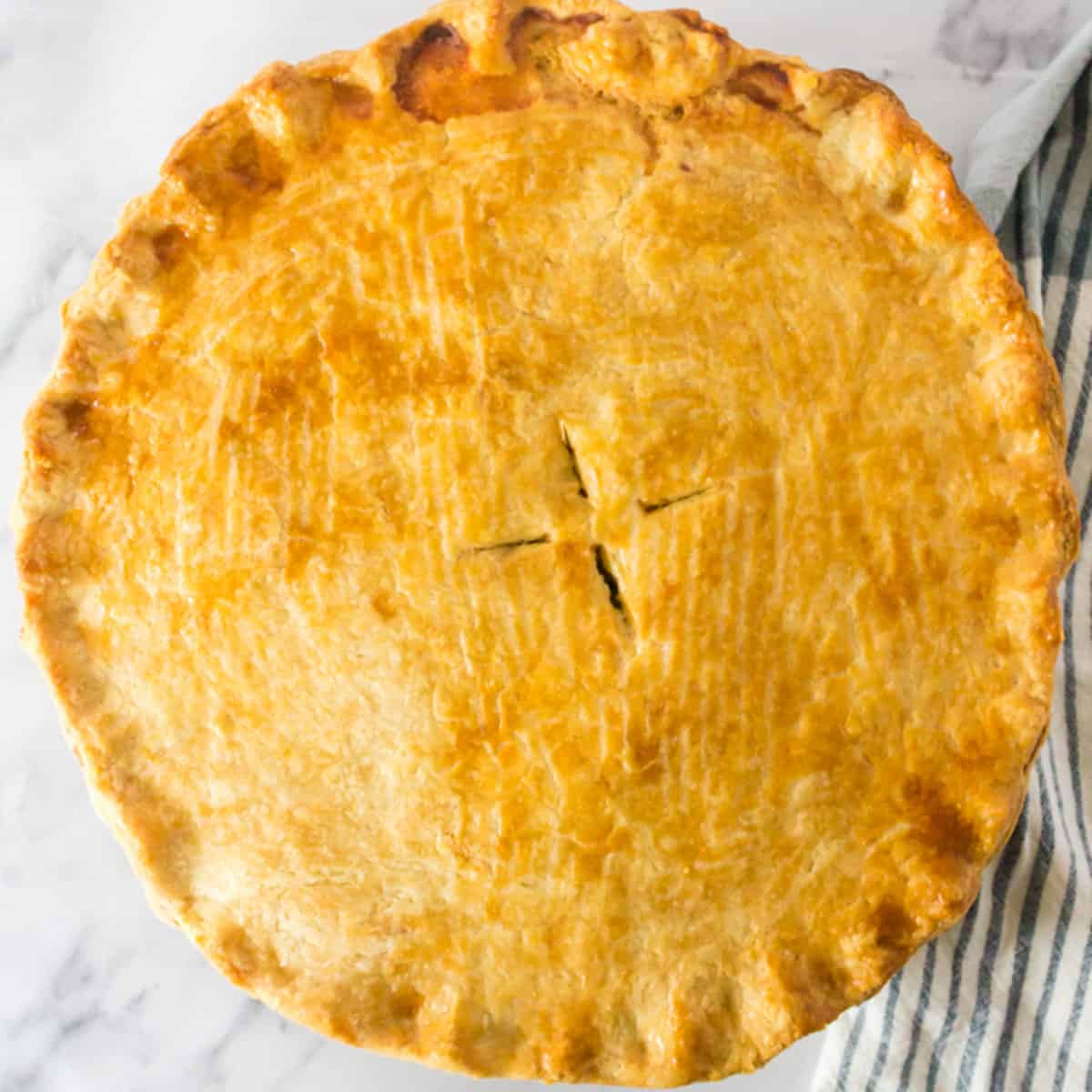 Bake your homemade pot pie in a hot oven at 400° F for an hour until it is golden brown. And then let it rest for 10 minutes or so. Then admire this work of art that you have put together!
Substitutions and variations
It's easy to take this turkey pot pie recipe and turn it into something else.
Chicken Pot Pie – We make easy chicken recipes all the time. This is an excellent way to use leftover chicken. It is also a delicious way to use rotisserie chicken.
Beef Pot Pie – If you are looking for a good leftover beef recipe, there is no better way to turn it into this easy comfort food recipe.
Use Puff Pastry – Use this for an easy and flaky pie crust when making this leftover turkey pot pie recipe.
Leftover Thanksgiving Pot Pie – My sister-in-law (the queen of pie recipes) layers all of her leftover Thanksgiving food to make this turkey pot pie.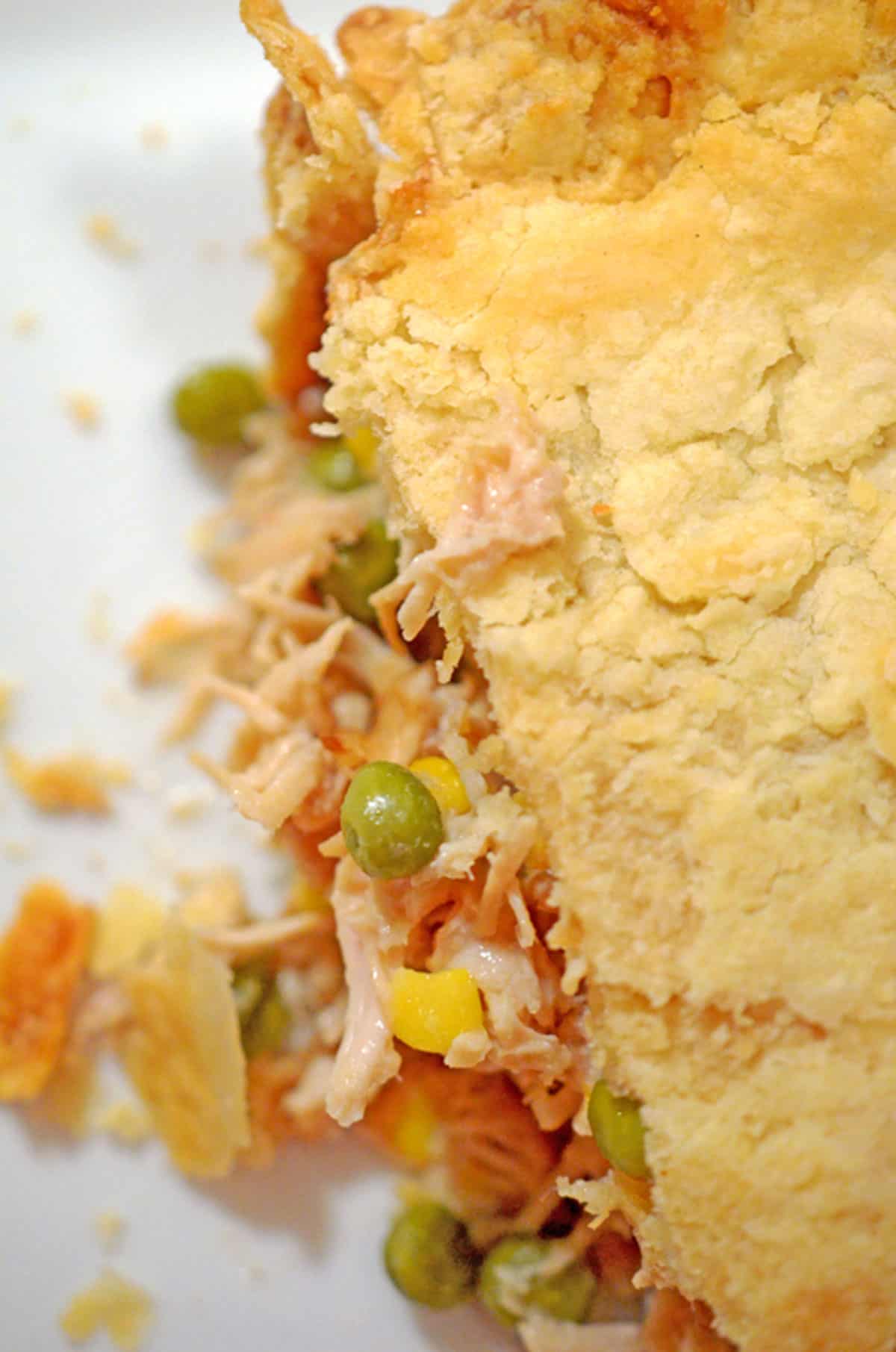 Helpful hints
Place pie dish on top of a sheet pan or baking sheet and line it with aluminum foil in case some of the contents bubble over while baking.
For a little added flavor, add some fresh thyme and/or poultry seasoning to the turkey mixture.
This is a great way to use dark meat, which adds a nice flavor boost of flavor to this savory pie.
If you are cooking for a crowd and need to make a big meal, you can use a 9-inch pie pan. Make sure you have enough pie crust dough to fill a 9-inch pie plate.
Common questions
How do you store this?
If you have any leftovers, keep them in an airtight container or covered with plastic wrap in your refrigerator for a day or two. To reheat it, place it in your oven for 15 minutes at a medium-high heat of 350°, covered with aluminum foil.
Can I make this using turkey breast?
Yes. You can make this comforting pot pie using any leftover cooked turkey meat.
What goes with turkey pot pie recipe?
We love to serve this family favorite with a side salad and a beverage of choice, usually a tall glass of iced water.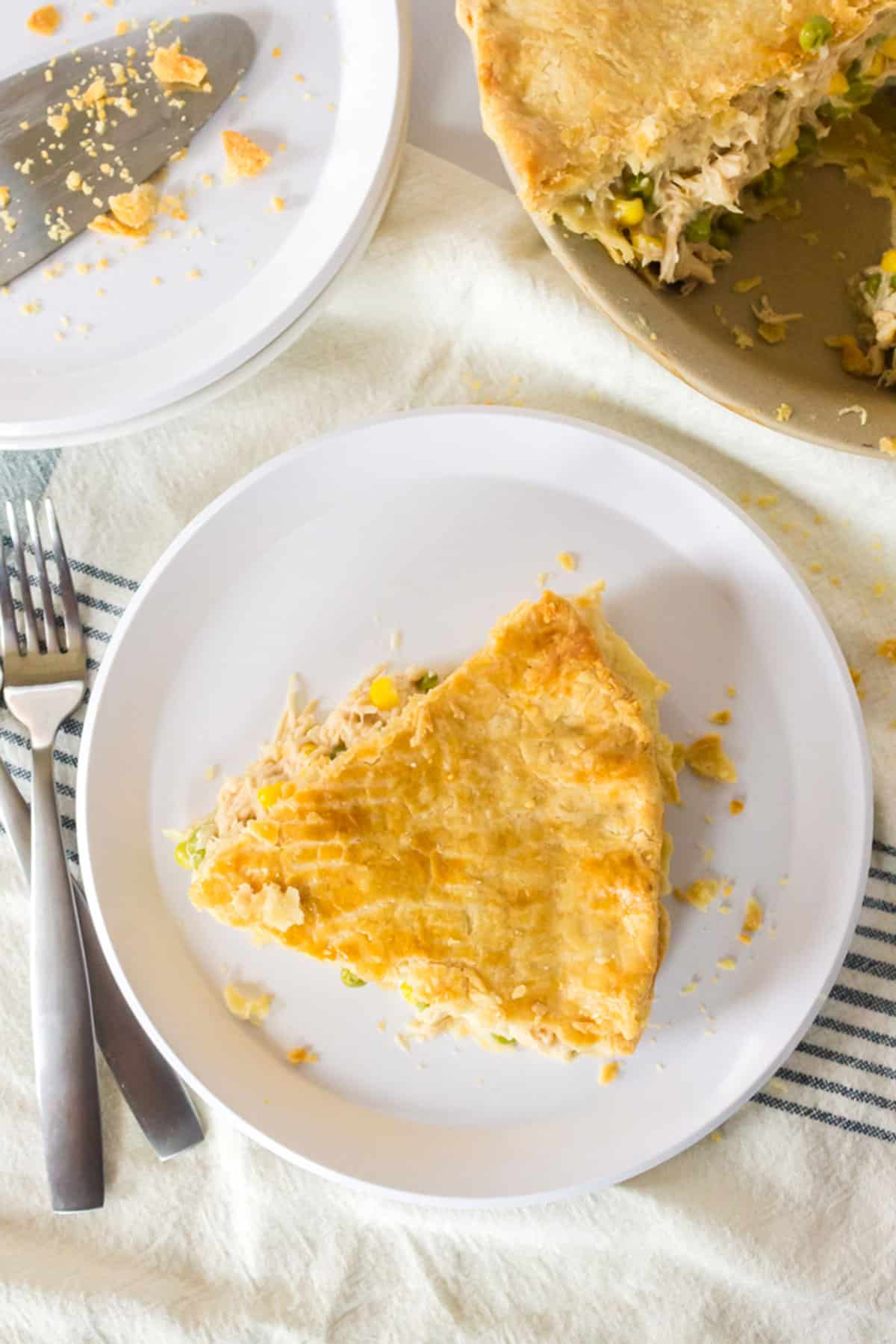 I'm happy to say homemade pot pies are fairly regular food at our table. I'm even happier that our boys have never seen a frozen one from the grocery store.
Besides the taste, a great thing about this family dinner is the leftover factor. It is the perfect way to use leftovers for just about any meat you can think of.
Beef, pork, chicken, and after this past Thanksgiving holiday – turkey.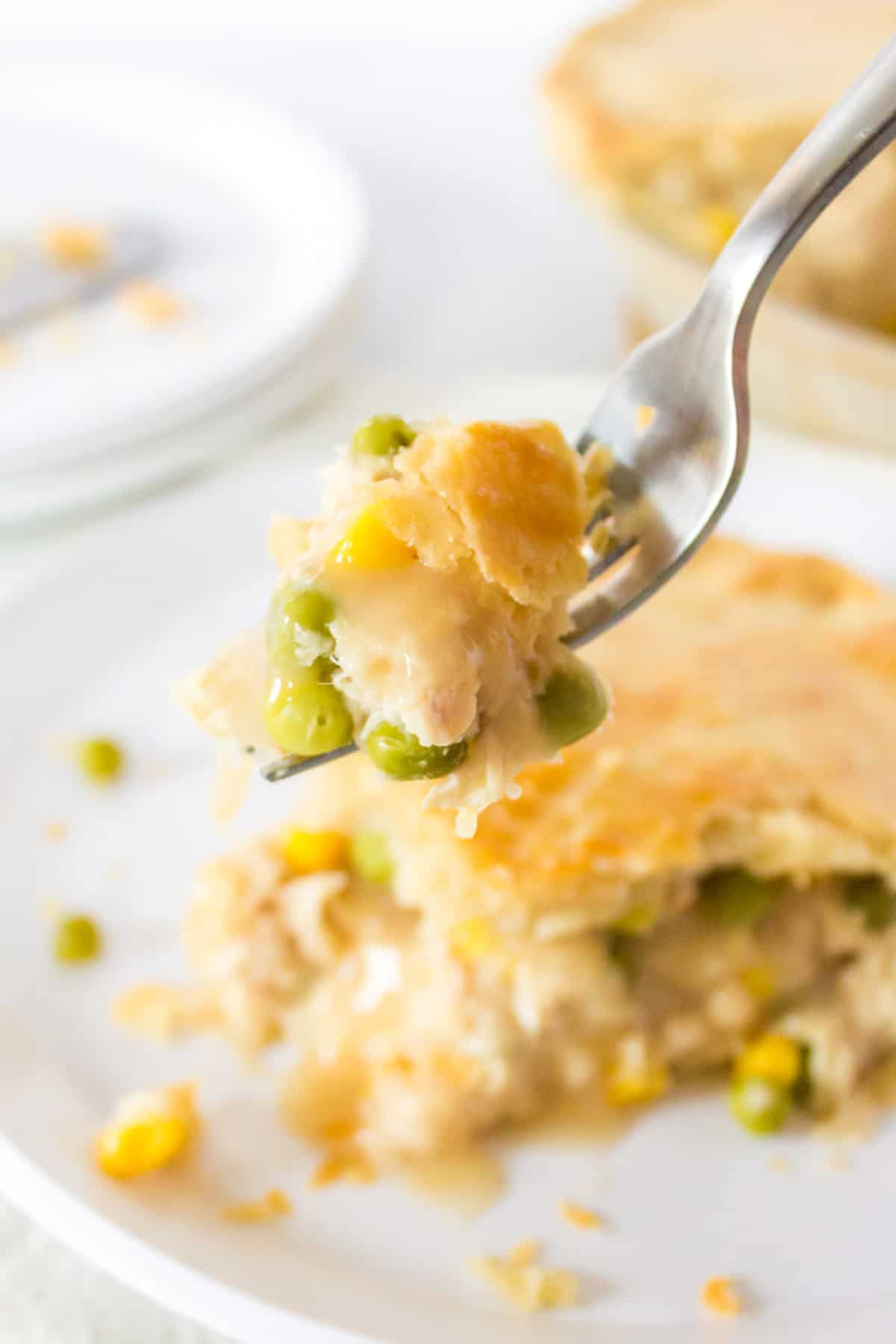 Speaking of Thanksgiving, have you stopped to give thanks for all the goodness in your life? Put this pot pie together soon, and you will have one more thing to add to the list.
👨‍🍳 Tried this Recipe? Please leave a ⭐⭐⭐⭐⭐ rating in the recipe card below and leave a comment. We love hearing from our readers!
⏩ Stay in touch with us on social media by following us on Facebook, Pinterest, Instagram, and YouTube!
📬Get our Recipes delivered to your inbox for FREE!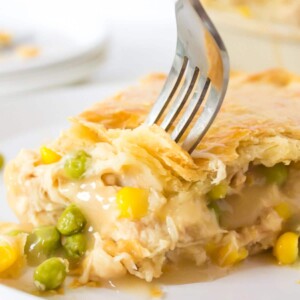 Turkey Pot Pie Recipe
If you are wondering what to do with leftover turkey, this is an easy recipe you need to try. Make a homemade buttery crust from scratch or use a store-bought crust for added convenience.
Ingredients
for the filling
1-2

cups

chicken broth

3-4

cups

turkey meat

1

cup

frozen peas

1

cup

frozen corn

1-2

tablespoons

flour
for the crust
3

cups

all-purpose flour

1

cup

shortening

1

teaspoon

salt

1/3

cup

ice water

2

eggs

,

one for dough and one for wash

1

tablespoon

vinegar
Instructions
Preheat oven to 400 degrees F.
for the filling
Use large sauce pan to heat broth and turkey, bring to simmer, reduce heat and cover and allow to cook for about an hour. Stir occasionally and shred meat with fork as it cooks.

Add peas and corn and stir well, allowing vegetables to unthaw and become warm but not over-cooked.

Stir in flour to thicken, if necessary. Adjust flour to broth ratio for desired consistency.
for the crust
Combine flour, salt and shortening in large mixing bowl and work together with a fork until pebbly consistency is reached.

In separate bowl combine egg and vinegar. Whisk together with fork then stir in ice water.

Pour egg mixture into flour mixture and rapidly stir together with fork until just combined using caution to not over-stir.

Apply light dusting of flour to clean hard surface and roll out one half of dough.

Using rolling pin, start on one side of rolled out portion and roll the dough on the pin.

Carefully place pin over edge of pie pan and slowly unroll into pan allowing an inch or so to hang over sides.

Place filling on bottom layer and roll out remaining dough and unroll on top of filling.

Pinch edges of top and bottom layers of dough together and fold down and out as you make your way around the pie.

Trim excess dough and crimp.

Use pastry brush to apply light egg wash on top layer.

Use small pairing knife to cut a few slits in top layer for ventilation.

Bake for 1 hour or until golden brown.
Notes
Top Tips for this Turkey Pot Pie Recipe
Use the leftover Thanksgiving food that you have on hand. Mixed vegetables, leftover gravy, leftover mashed potatoes, and more will all work.
Add some fresh herbs, like fresh thyme, and a teaspoon of poultry seasoning for added flavor. Sometimes I add black pepper and onion powder for an added flavor boost.
Be sure bake this on top of a baking sheet to make clean-up easier.
Nutrition
Calories:
512
kcal
,
Carbohydrates:
44
g
,
Protein:
20
g
,
Fat:
28
g
,
Saturated Fat:
7
g
,
Cholesterol:
76
mg
,
Sodium:
480
mg
,
Potassium:
317
mg
,
Fiber:
3
g
,
Sugar:
1
g
,
Vitamin A:
214
IU
,
Vitamin C:
11
mg
,
Calcium:
25
mg
,
Iron:
3
mg
Nutrition information is automatically calculated, so should only be used as an approximation.
Updated from the original post of December 6, 2014