Chicken Pot Pie with Sweet Potatoes
on Nov 15, 2014, Updated Dec 13, 2021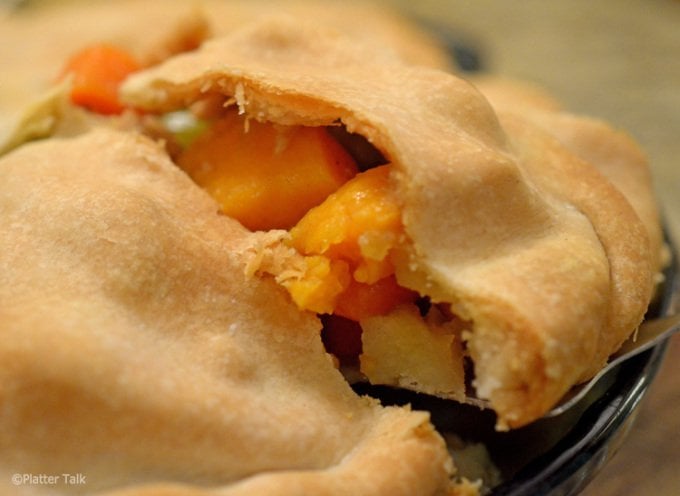 With the onset of the cold weather, my thoughts go to comfort. That means warm sweaters, fleece blankets and of course great comfort food.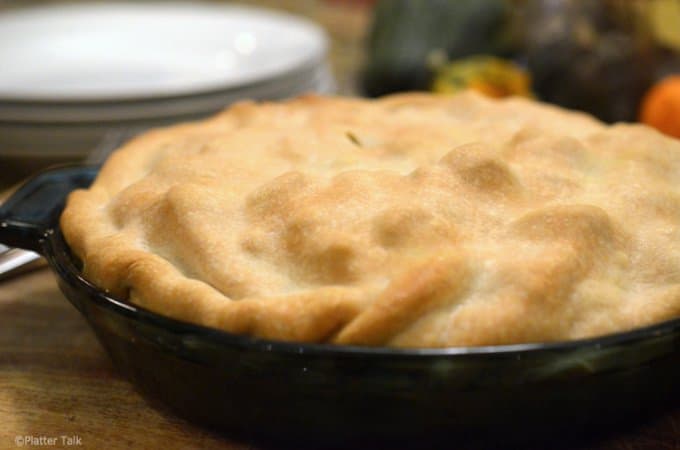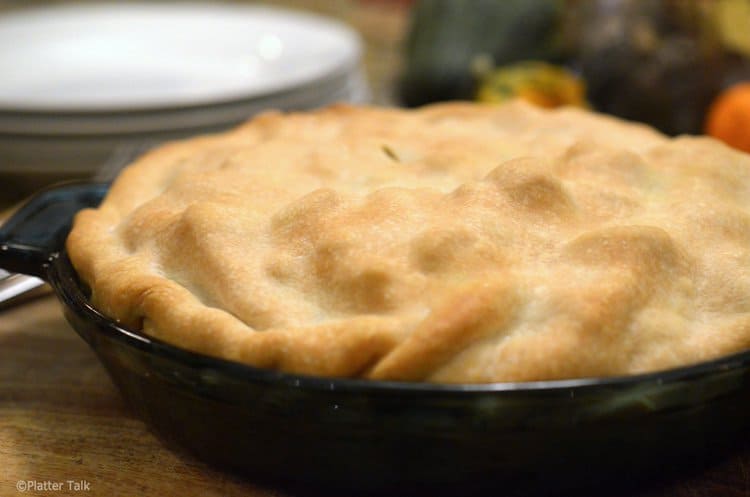 When I was growing up, my mom made a beef pot pie. Normally this was reserved for special occasions like Christmas and New Years. As I got older, I would also make this pie for special dinners. However, because of the work involved, I would only make it once in a while. I quickly understood why my mom made them so infrequently. So, I decided to modify the recipe and the creation of this chicken pot pie recipe was born. Not only did my family like it more, but it also took less time to make. This meant that I could prepare it more often for them and this, along with the great flavors, made it an instant winner.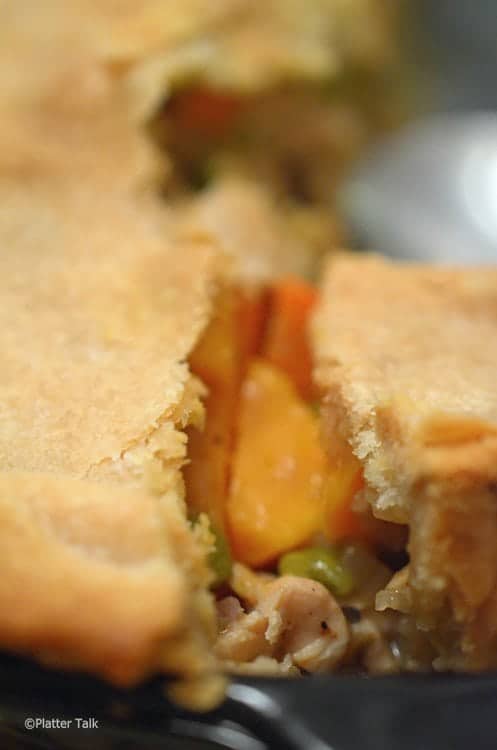 Not that long ago, I had an after hours work function that I had to attend. I wanted to do something special for Dan and the kids. You know, surprise them with a little comfort food. After a quick glance of what we had available in the pantry and refrigerator, this chicken pot pie came to mind. It is packed with big flavors and vegetables and simple to throw together. The debate that I always have with pot pies is whether the gravy should be in the pie or on top of the pie, when served. To me, the most obvious answer is to cook the gravy inside the pot pie so that all of your filling can absorb that wonderful flavor.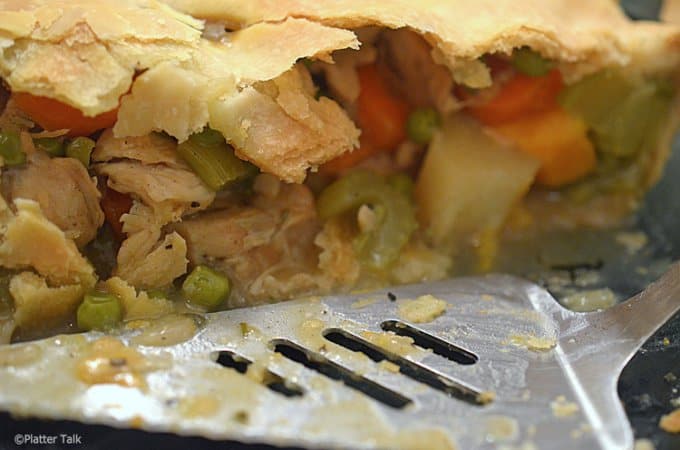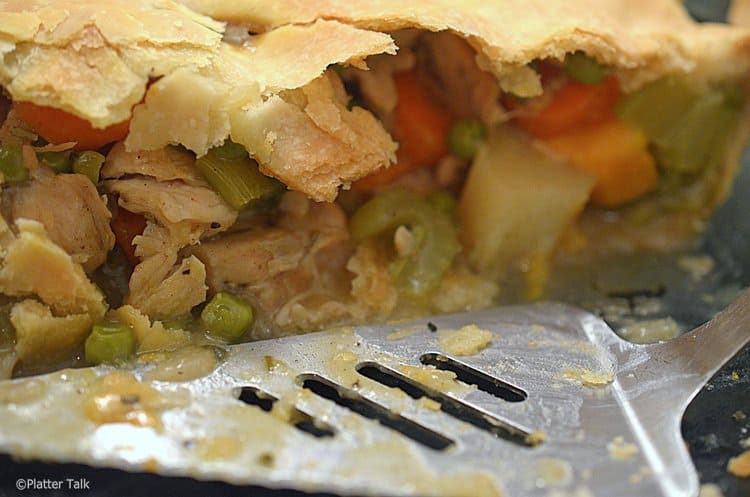 This recipe takes a few shortcuts. First, other than the pie pan to bake the pot pie in, you only use one pan. It is great for a quick clean up. Second, I take the liberty of using a prepackage pie crust. You know the kind that I am talking about? You usually use them for desert pies. They work great for this recipe as well. Not only does it save you time, the crust comes out consistently delicious. Now, I am not saying not to make your own crust if you have time. Dan makes one mean pie crust. Sometimes though, you just don't have the time. When that happens, pop into your refrigerated section of your grocer and try it.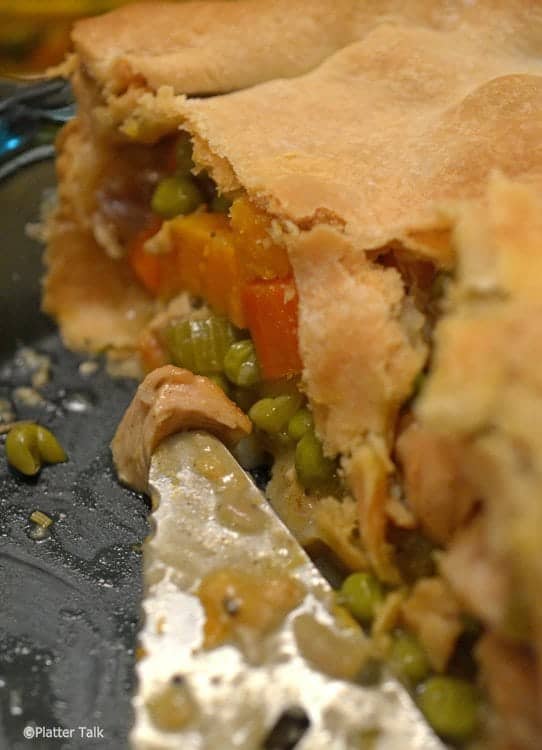 The nice thing about this recipe is that you can very easily make it your own. You can add whatever you have on hand. While looking through my refrigerator and pantry, I found the usual subjects: Carrots, celery, onion, potato, sweet potato, chicken broth, an opened bottle of white wine. All simple and delicious. Don't be afraid to add some frozen peas or carrots. How about a little squash or rutabaga? Get my point? I urge you to experiment and try different flavors. I am sure that your family and guests will love it.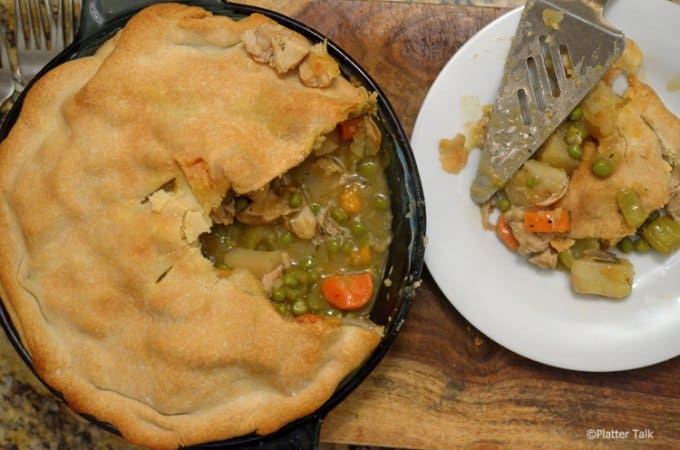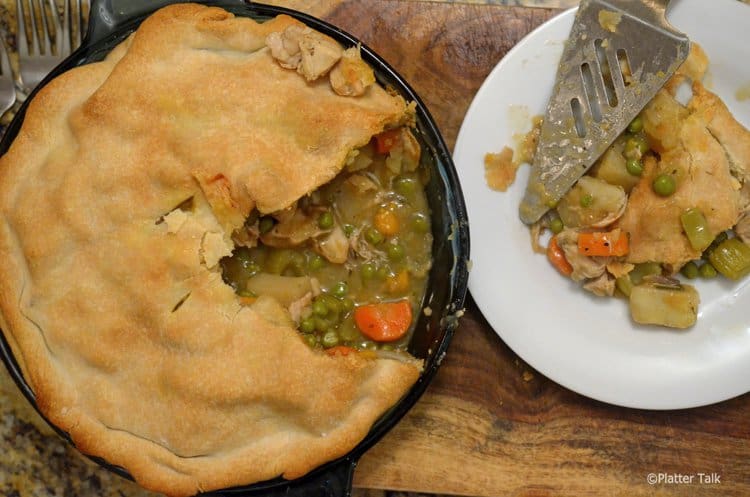 At the end of the day, Dan and the kids were not only surprised to have this treat waiting for them, I knew that I not only feed their hunger, I fed their souls with love and comfort. Give this one a try and stay warm. -Scott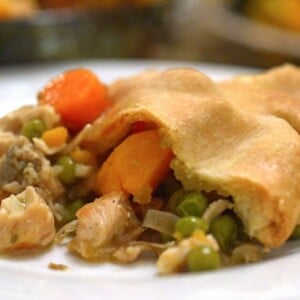 Sweet Potato and Chicken Pot Pie
A Platter Talk Exclusive
Ingredients
1

lb

boneless chicken tenderloins

1/2

red onion chopped

2

stalks celery chopped

3

carrots chopped

2

medium potatoes diced

,

approximately same size as celery and carrots

2

medium sweet potatoes diced

,

same size as other potatoes

1

cup

frozen vegetables of choice

,

peas, corn, etc.

4

TBS

Olive Oil

1/4-1/2

cup

white wine

1/4-1/2

cup

chicken broth

3

Cloves

garlic minced or chopped

1

TBS

Dried Rosemary

,

Adjust to your likings

1

TBS

Dried Thyme

,

Adjust to your likings

1

TBS

Dried Sage

,

Adjust to your likings

Salt and Pepper to taste

3

TBS

Butter

3

TBS

Flour

1

Prepackaged 9 inch pie crust top and bottom crust
Instructions
In a medium to large skillet add 3 tablespoons of olive oil.

Season your chicken with salt and pepper and add to the skillet, and cook until chicken is no longer pink

Remove chicken from pan and allow to cool.

Once cooled, dice chicken to roughly the same size as the other vegetables and then place to the side.

In the same skillet, add onions and garlic and cook over medium heat until the onions begin to become translucent. You may need to add an additional tablespoon of olive oil if the pan became dry from the chicken.

Add all of the fresh vegetables to the pan, carrots, potatoes, celery.

Add the rosemary, thyme, sage to the vegetables.

Add the white wine to the pan and stir the vegetables. Note, I would scrape the bottom of the pan to get all of those great flavors.

Cook until vegetables begin to soften.

Push the vegetables to the side of the pan to give you a little space to see the bottom of the skillet.

Add your butter to the open space of the pan and add your flour.

Cook your flour for a minute or so, just until the flour begins to brown. Stirring throughout this step.

Add the chicken broth a little at a time. The chicken broth will begin to thicken into a gravy. Continue to add the broth until you get the consistency that you desire. Add the reserved chicken and mix well.

I would recommend to taste your filling. At this time you can add some additional rosemary, sage, thyme or salt and pepper.

Take off of heat and allow to cool a bit.

Following the directions on the pie crust packaging, place the pie crust into a 9 inch pie pan.

Add the cooled pie filling to the pie pan.

Take a little water and moisten the edge of your pie crust. This will help the top crust adhere.

Place the top crust over the filling and begin to seal the edges of the crust together.

Cut 3 to 4 vent slots into the top crust. This will help the steam escape.

Bake at 375-400 until the crust becomes golden brown.

Allow to cool for approximately 15-20 minutes before cutting into the pie.

Enjoy!
Nutrition
Serving:
0
g
,
Calories:
748
kcal
,
Carbohydrates:
76
g
,
Protein:
26
g
,
Fat:
37
g
,
Saturated Fat:
12
g
,
Cholesterol:
64
mg
,
Sodium:
610
mg
,
Potassium:
1131
mg
,
Fiber:
9
g
,
Sugar:
7
g
,
Vitamin A:
16283
IU
,
Vitamin C:
31
mg
,
Calcium:
99
mg
,
Iron:
5
mg
Nutrition information is automatically calculated, so should only be used as an approximation.