BEST Crockpot Chicken Leg Quarters or Thighs (Easy Recipe)
on Jul 27, 2019, Updated Sep 25, 2023
These slow cooker chicken leg quarters cook all day while you do your own thing. Do whatever you want and come home to this delicious family dinner.
This easy recipe for slow chicken legs and thighs is one of our favorite low-cost family meals. It also happens to be one of our favorite ways to make chicken.
Read on, and I'll show you exactly how to make this delicious meal using simple ingredients.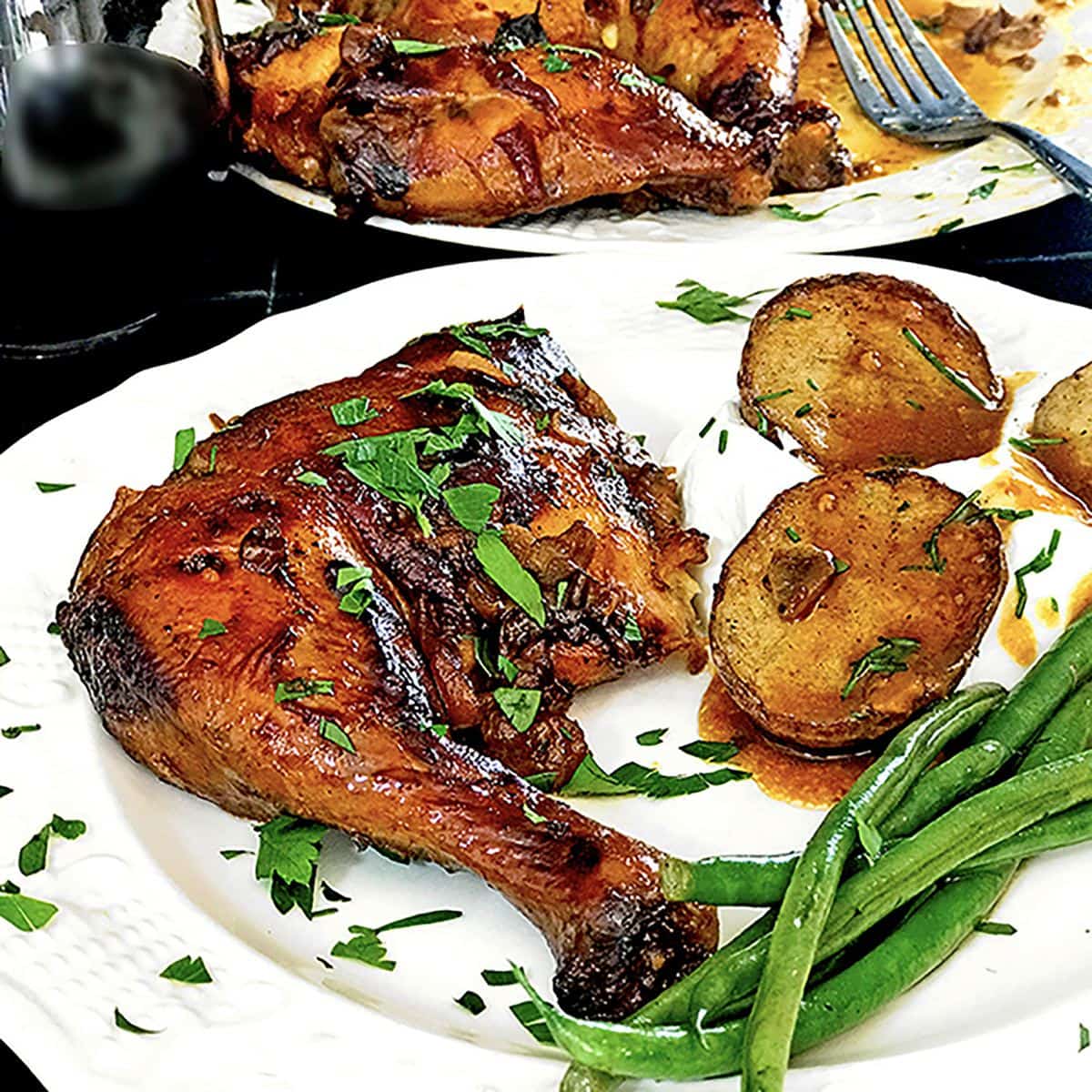 Make this easy dinner for about two dollars per serving.
About this meal
I credit my late dad for teaching me to appreciate good chicken. Recipes like roasted chicken quarters, NY fireman's chicken, and a good chicken salad. I love them all.
We put this latest crockpot chicken recipe together at our little weekend oasis located on a small lake in the middle of Nowhere, Wisconsin. It's a tranquil place to get off the grid, hit the nearby farmer's market, and make a lot of family recipes.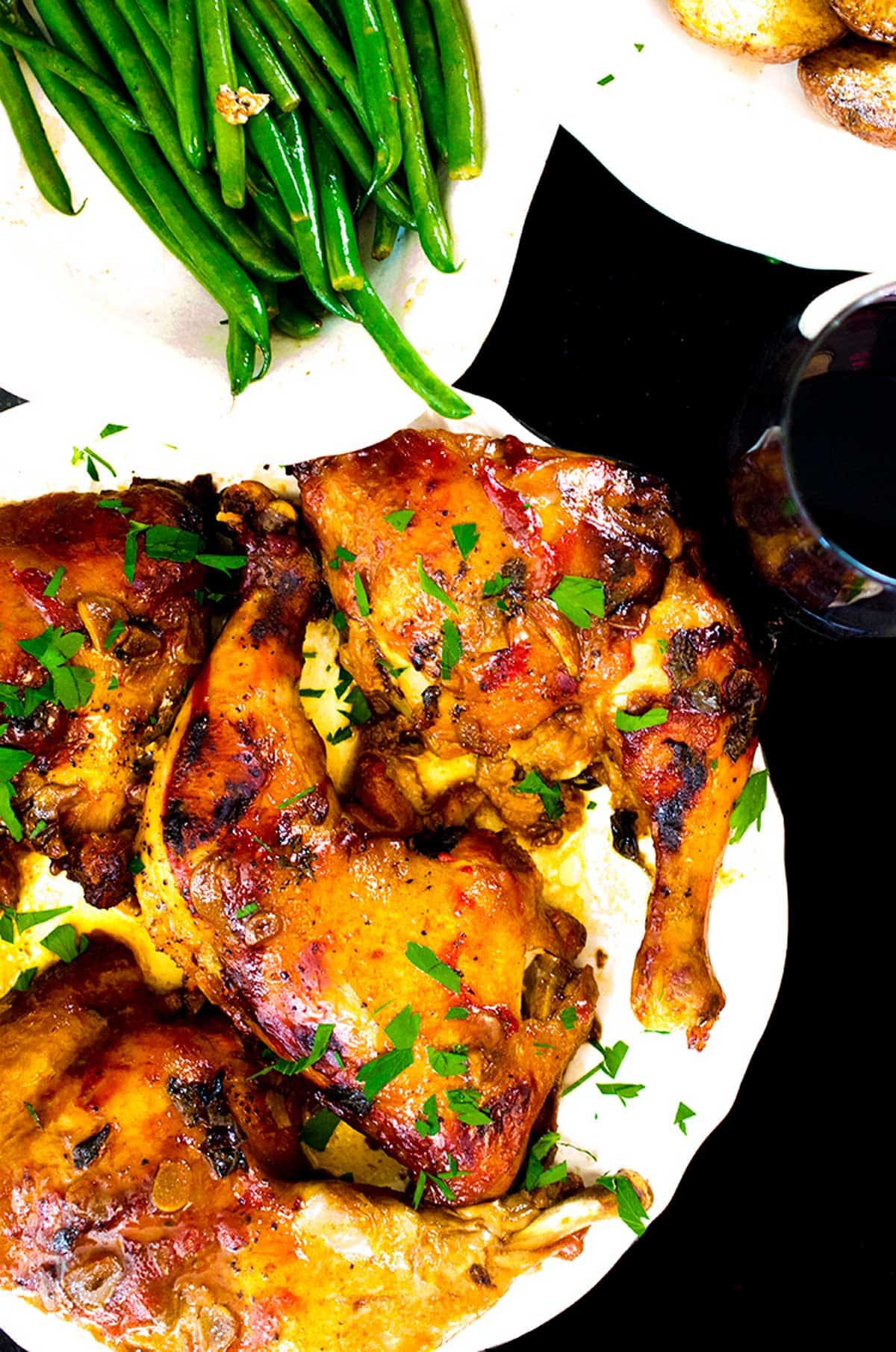 This crockpot chicken leg quarters recipe uses just a few ordinary ingredients you probably already have. It's one of our favorite ways to feed the entire family.
Like some of our other favorite recipes, this one is super simple.
I'm talking about great recipes like creamy slow cooker chicken breasts, slow cooker Mexican chicken soup, and even our crockpot roasted chicken which is a great way to cook whole chickens. These oven fried chicken thighs are another easy and delicious way to make chicken.
In town or in the country, this easy family dinner is perfect for wherever this may find you.
Ingredients for crockpot chicken leg quarters
Chicken leg quarters or thighs (bone-in and skin-on): This is the base for this juicy and flavorful meal with bone-in, skin-on chicken leg quarters or thighs! The skin locks in moisture while the bones enhance the flavor of your dish.
Honey: This adds some sweetness to your savory meal with the natural goodness of honey. It's the perfect way to balance out the savory flavors and add a touch of indulgence.
Garlic: This is an easy way to spice up your dish with the pungent and aromatic flavor of garlic. This versatile ingredient brings a depth of flavor to any dish, and its health benefits make it a must-have in any kitchen.
Barbecue Sauce: Adds smoky and tangy flavor to your chicken with barbecue sauce. Use you favorite bbq sauce or make your own.
Soy Sauce: For a slight Asian twist, this will add some umami to your meal with the salty and savory taste of soy sauce. This ingredient is a staple in Asian cuisine and is perfect for adding depth and complexity to your dish.
Ketchup: A staple in our house, this will bring a touch of sweetness and tanginess to your meal.
Oregano: Add some earthy and herbaceous notes to your dish with oregano. You can use fresh or dried, whatever you have on hand.
Salt and Pepper: Add some of both to bring out the most flavor in these crock pot chicken legs.
Recipe Tip
Add some chopped-up fresh Italian parsley (the kind with flat leaves) when you serve this. This garnish adds a flash of beautiful green color, dresses up this busy weeknight dinner, and makes it seem a little more special!
How to make it
This recipe works best in a larger crockpot. You'll need to be able to fit a couple of whole chicken legs in it.
Otherwise, you can use chicken thighs for this slow cooker chicken recipe. It only has a few steps, making it one of the easiest family dinners you'll ever find!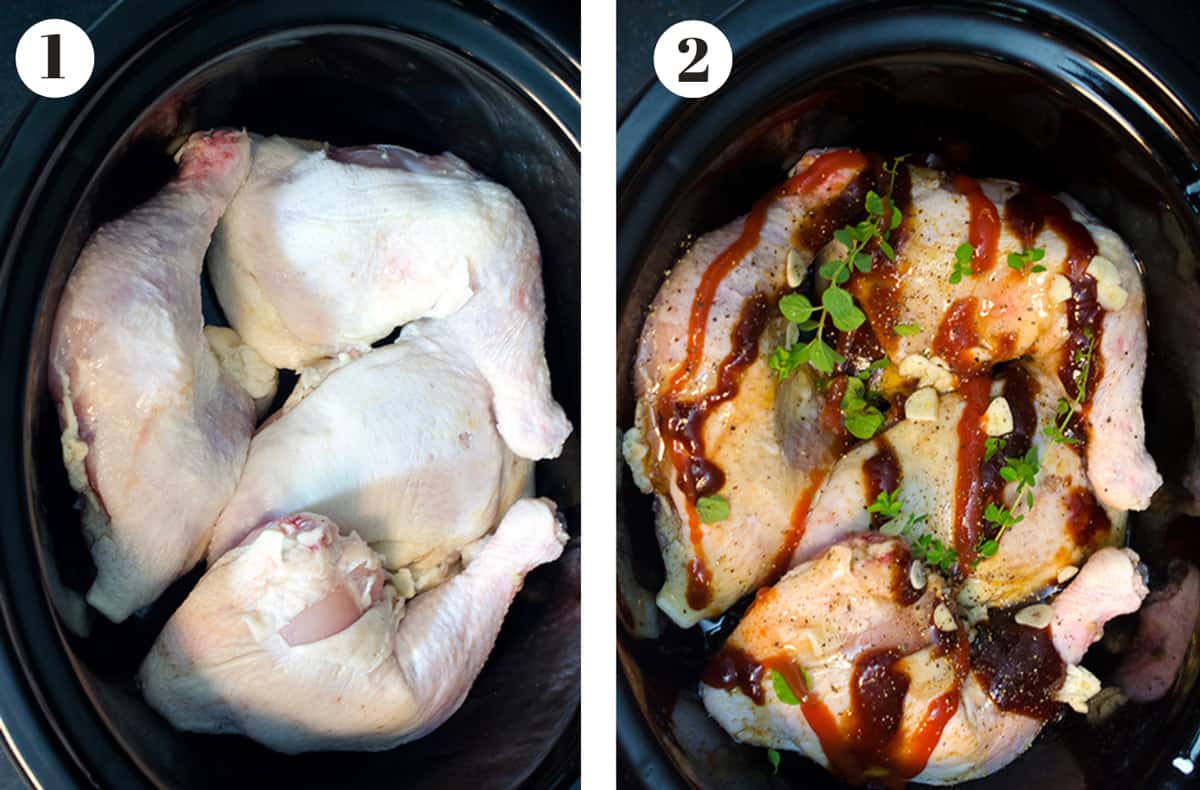 Place the pieces in your crockpot, skin-side up.
Add the remaining ingredients. Place the cover on your slower cooker and select low setting for 6 to 7 hours.
How simple is that?!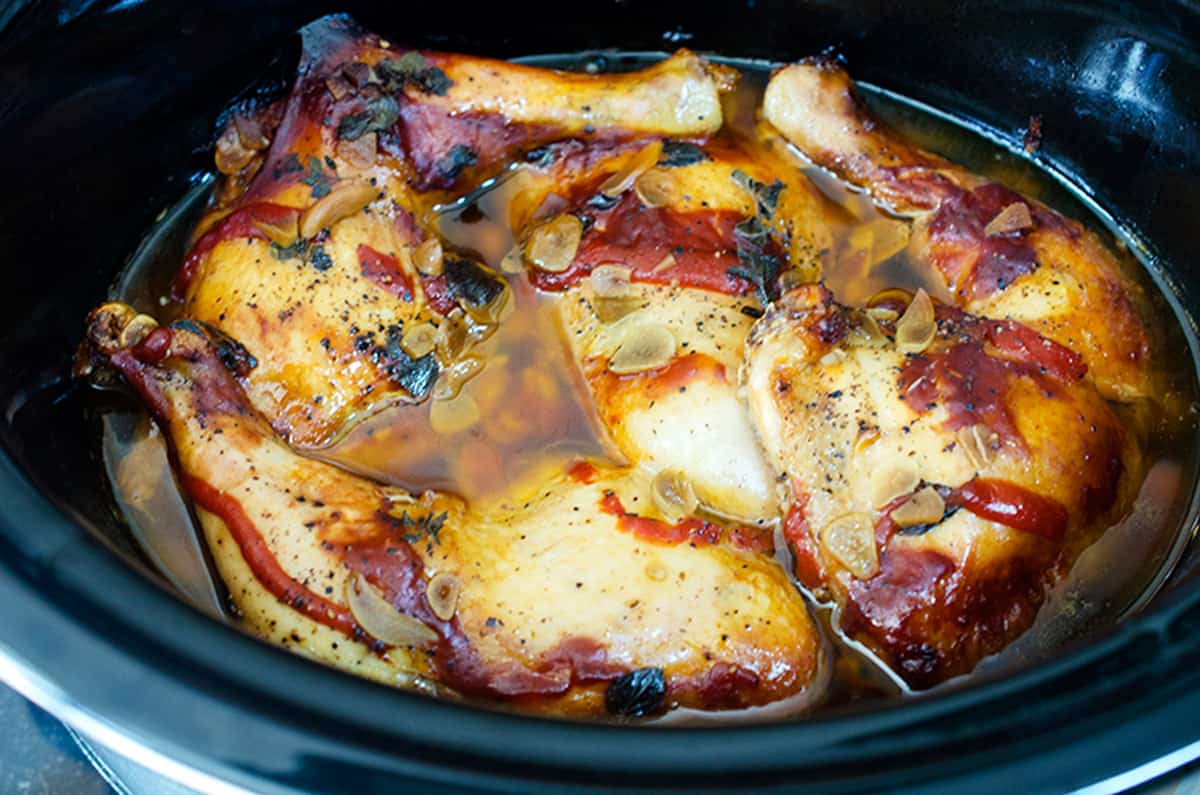 Once this is finished cooking, you're going to place each piece on a sheet pan and brown it under your oven broiler for just a couple of minutes. Doing this will give it a nice caramelized finish and taste.
Water is cooked out during the process, so reducing the quantity of barbecue sauce and honey will help reduce the amount of liquid when the meat is finished cooking.
You can also reduce the extra liquid by just removing the cover toward the end and allowing it to evaporate. In cooking, this is called "reduction." The reduction will often add a ton of flavor as the tasty ingredients are no longer diluted with water.
I suggest you save the liquid and make some delicious crockpot chicken gravy. I'll show you how to do that as well!
Crock pot chicken gravy
I grew up loving gravy, and that is one thing that hasn't changed. I will actively seek the chance to make gravy anytime in the kitchen.
My all-time favorite is this rich roasted turkey gravy, but our southern gravy recipe with giblets is pretty darn delicious too!
While the pieces in the oven are browning, you can make good use of the leftover liquid. It's time to make a flavorful slow cooker chicken gravy with the juices.
Your mom would be so proud of you for not wasting a drop of this recipe!
Turn the crockpot to a high setting which will help reduce the liquid.
Then, put a tablespoon or two of flour in a small fine-mesh strainer.
Then, use your finger to tap-tap-tap a little flour into the liquid, a little at a time, while continuously stirring with a fork. This will give you a nice gravy with no lumps!
Expert Tips: If you're wondering how to make good gravy, learn how to Make a Roux. You can use this same technique for other sauces and easy family meals, like our best mac and cheese recipe!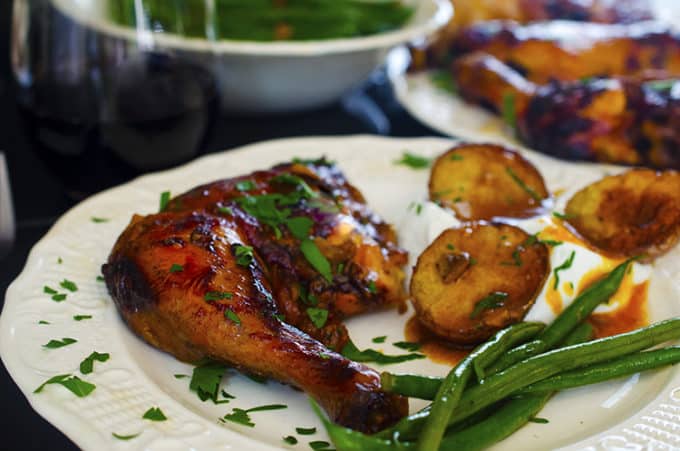 We love to serve this easy family dinner with green beans and crispy potatoes.
Food Safety Tip: Chicken should have an internal temperature of 165° F before eating it. I love this instant-read thermometer, and it is the one I always recommend using.
Common questions
How do you make this as a make-ahead meal?

If you want to assemble and freeze the ingredients for this slow cooker meal, it's easy to do. Simply put them in a freezer bag and be sure to freeze them flat, allowing for even defrosting.

Allow them to thaw and defrost for 24 hours before cooking and follow the recipe card below.
Can you make this using boneless chicken?
You can use this recipe using boneless breasts or thighs.
Can you make this as a make keto-friendly crock pot recipe?
Absolutely. Just be sure that you are using keto-friendly barbecue sauce and keto-friendly ketchup.
What to do with the leftover chicken
If you're wondering how to use leftover chicken, there are many great ways to use it. Here are some of our favorites.
👨‍🍳 Tried this Recipe? Please leave a ⭐⭐⭐⭐⭐ rating in the recipe card below and leave a comment. We love hearing from our readers!
⏩ Stay in touch with us on social media by following us on Facebook, Pinterest, Instagram, and YouTube!
📬Get our Recipes delivered to your inbox for FREE!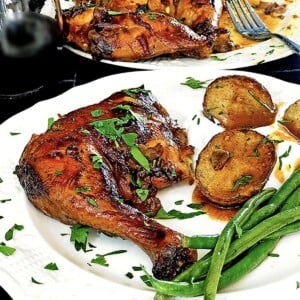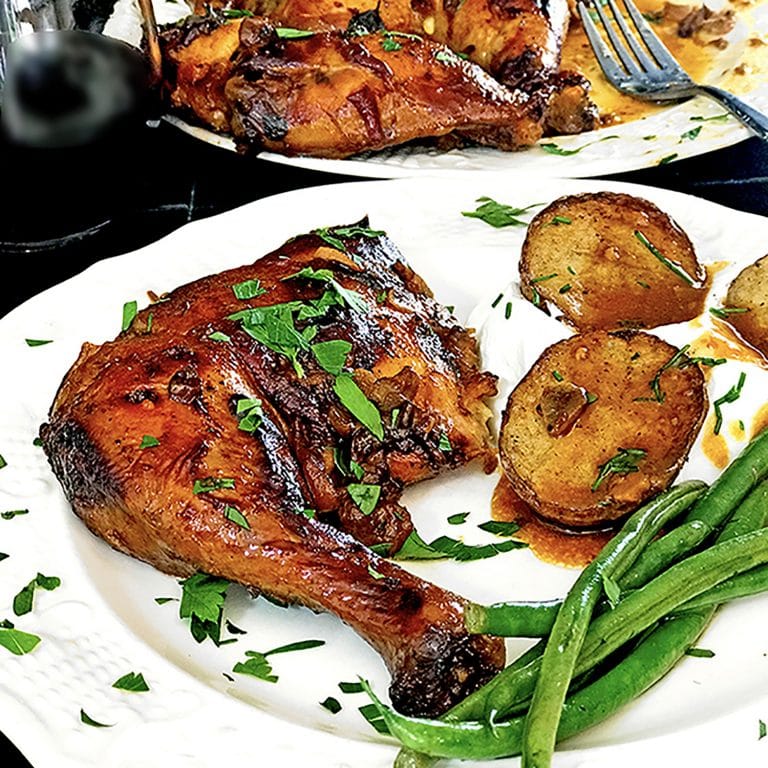 Honey Garlic Crockpot Chicken Leg Quarters
This recipe for slow cooker chicken quarters takes minutes to prep and is made using one pot – your crock pot!
Ingredients
4

Chicken leg quarters

,

Bone-in, skin on.

2

tbsp

Barbecue Sauce

,

Spicey flavored.

2

tbsp

Honey

5

cloves

Garlic

,

Minced

2

tbsp

Ketchup

2

tbsp

Low Sodium Soy Sauce

Salt and Pepper

,

To taste.
Instructions
Place chicken quarters, skin side up, in a single layer of your crock pot. Add remaining ingredients, cover, and cook on low for 6-7 hours.
Notes
Top Tips for the best crockpot chicken leg quarters:
Leave the chicken skin on for a juicer result.
Be sure your chicken is cooked to an internal temperature of 165°.
When the chicken thighs are done, brown it for a minute or two, under your oven broiler.
Nutrition
Calories:
382
kcal
,
Carbohydrates:
16
g
,
Protein:
24
g
,
Fat:
24
g
,
Saturated Fat:
6
g
,
Cholesterol:
141
mg
,
Sodium:
543
mg
,
Potassium:
372
mg
,
Fiber:
0
g
,
Sugar:
13
g
,
Vitamin A:
175
IU
,
Vitamin C:
1.5
mg
,
Calcium:
21
mg
,
Iron:
1.2
mg
Nutrition information is automatically calculated, so should only be used as an approximation.
Updated from the original post of September 27, 2018.
Popular Crock Pot Recipes