This cucumber salsa recipe is a great way to take the heat out of your summer using fresh vegetables from your garden or local farmers market.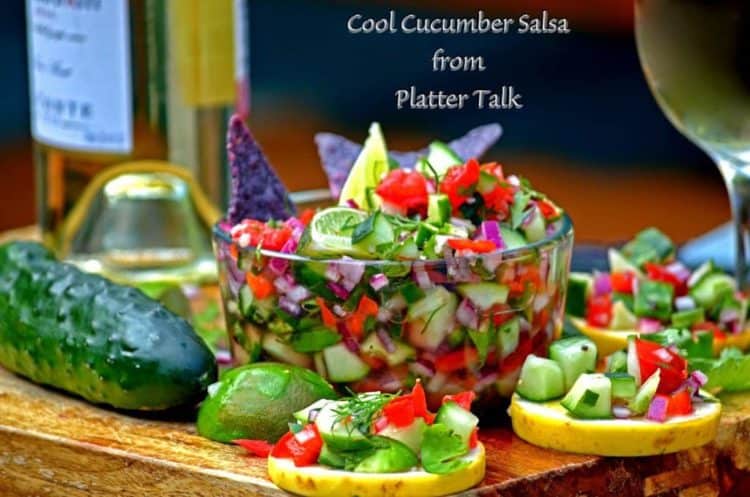 We've been doing some snacking the last couple of days, here on Platter Talk.  To be a bit more specific, we've been snacking around summer, or perhaps it's more accurate to say that we have been snacking on summer.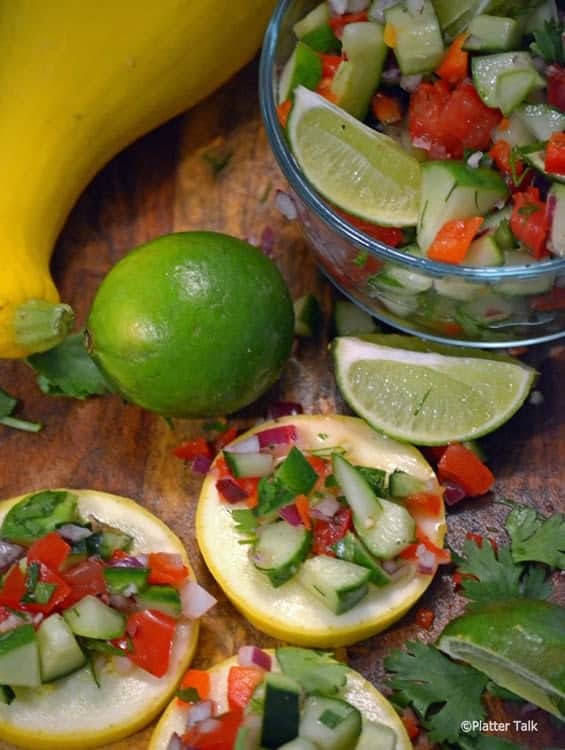 As I put this cucumber salsa recipe together Sunday evening, it dawned on me that in essence, this particular "snack" is comprised of summer in a bowl.  Once again, to be more specific – a vegetable garden in a bowl.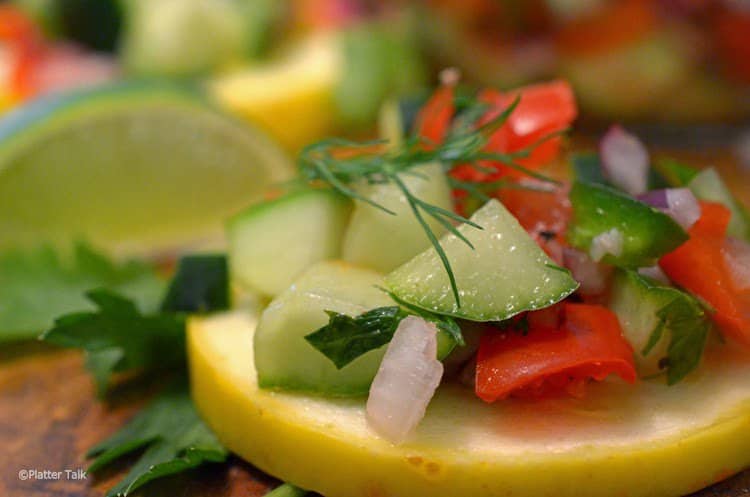 You can probably discern from the above photo that when serving this salsa we decided to forgo the traditional tortilla chips in lieu of, you guessed it – more vegetables, in the form of luscious summery slices of yellow squash, fresh from the farmer's market that we visited on Saturday.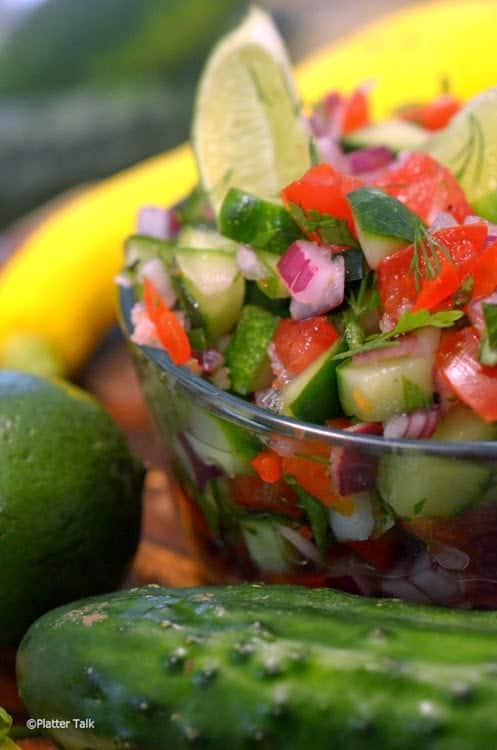 In case there is any doubt, this cool cucumber salsa need not be relegated as merely a snack.  It makes an excellent accompaniment or side note to a host of grilled mains including fish, chicken or pork.

If you're a fan of summer salsa, be sure and check out our Grilled Corn and Black Bean Salsa.  It's sure to knock your socks off, or summer flip flops…
For certain, the beautiful thing about this salsa, besides it's appearance, taste, and aroma, is that it's strong enough to stand on it's own as a fresh and healthy snack and yet versatile enough to go along with any of the previously mentioned main events – and others, I'm sure.    Grab a cucumber or two, then a handful of fresh garden friends.   Mix them together n a bowl, give them a little seasoning and a light bath in some fresh lime juice.  You're going to love what you taste.   Happy snacking, happy summer.   -Dan
Take a look at The Guys from Platter Talk preparing this on live televsision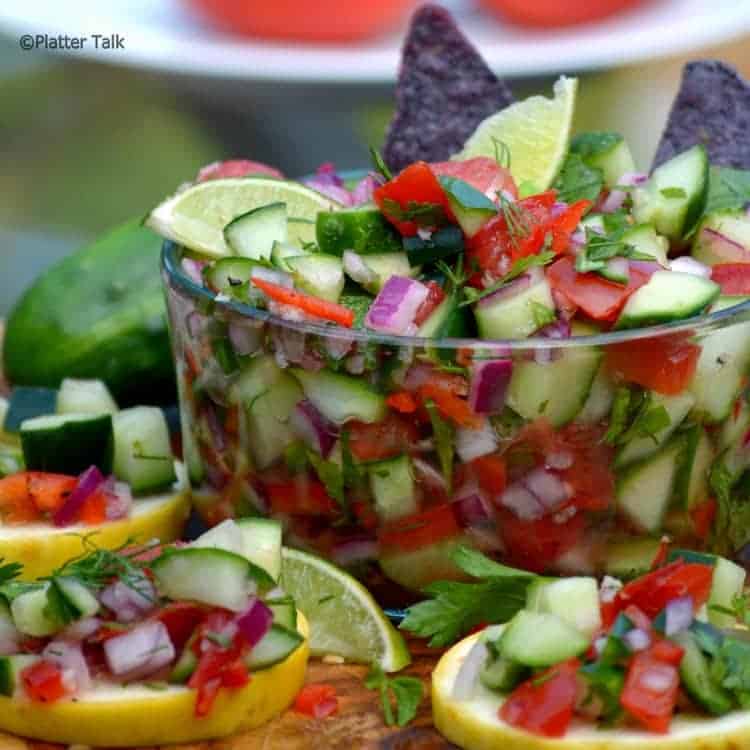 Never Miss Another Platter Talk Recipe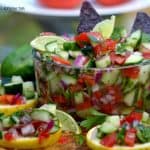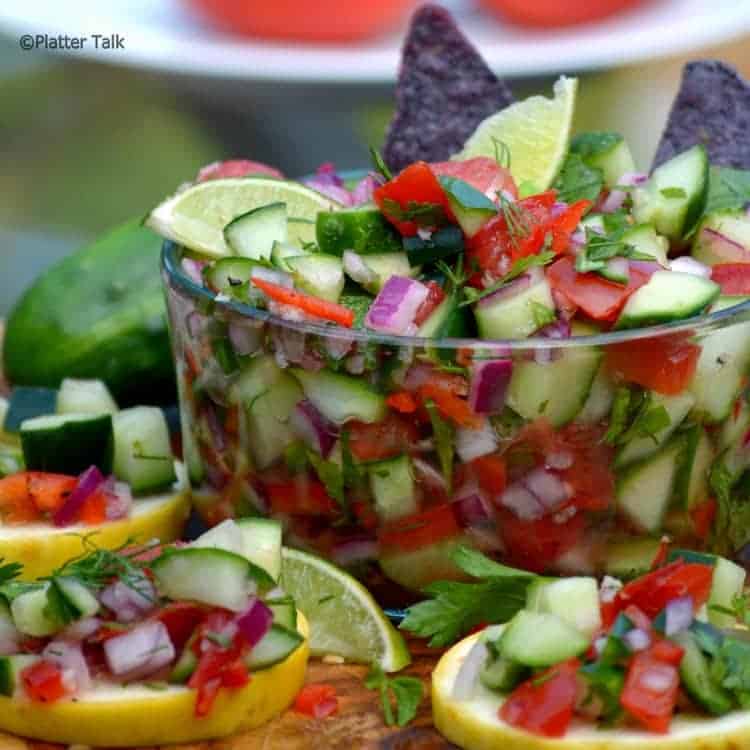 Cool Cucumber Salsa
adapted from allrecipes.com
Ingredients
2-3

medium size cucumbers

seeded and diced

2

medium size tomatoes

seeded and diced

1/2

red bell pepper

seeded and diced

1

small red onion

diced

2

tablespoons

each

parsley and cilantro leaves, chopped

juice from 1 lime and zest from 1 lime

chopped dill weed to taste

about 1 tablespoon

1

jalapeno pepper

seeded and diced

1

garlic clove

crushed

salt and pepper to taste
Instructions
In medium bowl, combine all ingredients until thoroughly mixed.

Cover and refrigerate for 1 hour.
Recipe Notes
Peel the cucumbers if you prefer. We opted to leave the peels on for added crunch, color, and nutrition. (The peel of cucumbers is loaded with vitamin K and insoluble fiber,) both of which are important components to sound health and wellness.
In lieu of chips, serve this salsa on chopped slices of fresh garden produce such as zucchini or other summer squash, and garden fresh cucumbers.
The salsa makes a great accompaniment to grilled pork, steak, or chicken.

Related articles across the web