Zucchini Cheese and Salsa Bake
on Sep 16, 2014, Updated Jan 01, 2021
This Zucchini Cheese and Salsa Bake is baked in a mixture of tomato salsa and savory Parmesan cheese, making for a low carb dinner that is full of health and flavor.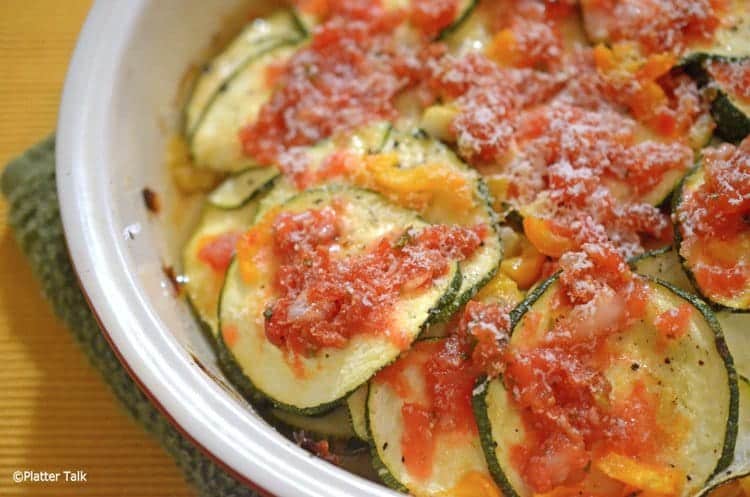 Growing up, zucchini was a four letter word in my vocabulary. Needless to say I ate very little squash and required a fair amount of remedial arithmetic in school. Thankfully, I have learned to really appreciate zucchini and several of its garden-grown relatives. As far as my math skills, let's just say I haven't given up.
What is it?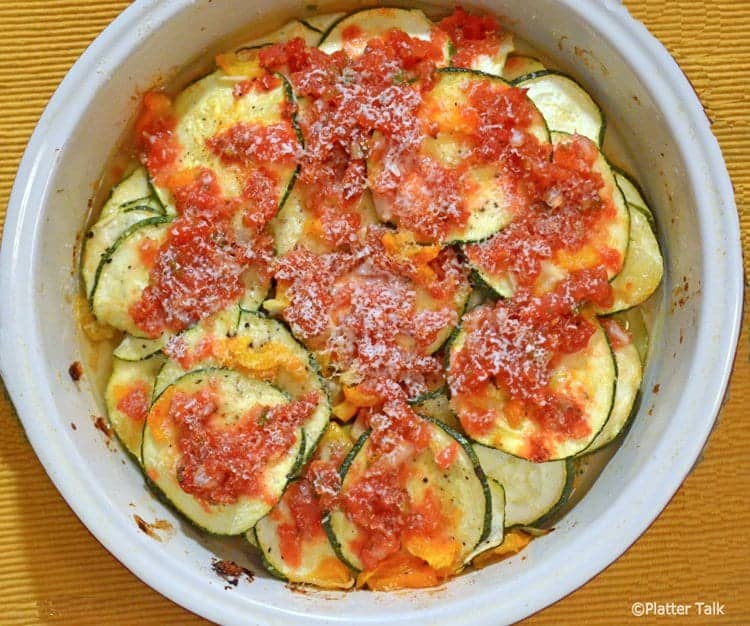 We've had a wonderful summer here in Wisconsin. The weather wasn't that great (this is Wisconsin after all,) we hung around the cottage with the boys and our two dogs a lot (there are more undesirable places to spend a summer,) and we got to know many of the vendors at our favorite farmer's market on a first name basis.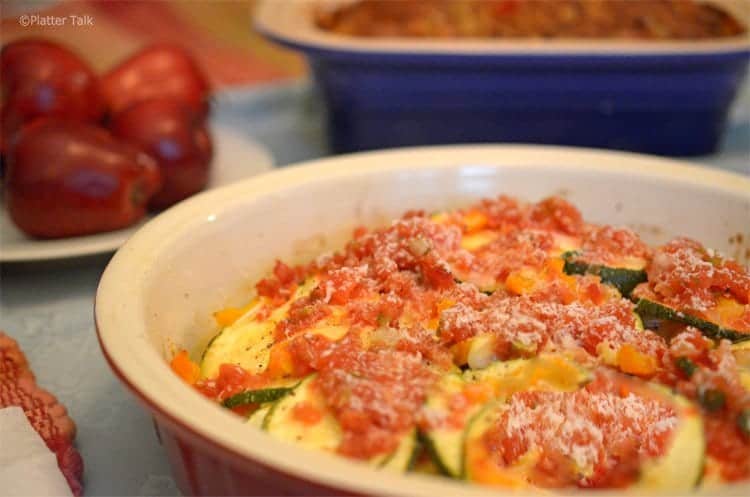 I think that zucchin has gotten somewhat of a bad rep in the world of produce. Many people think of this as something that is only suitable for a sweet bread, laden with chocolate chips. We love zucchini bread, but it is so much more versatile than just that.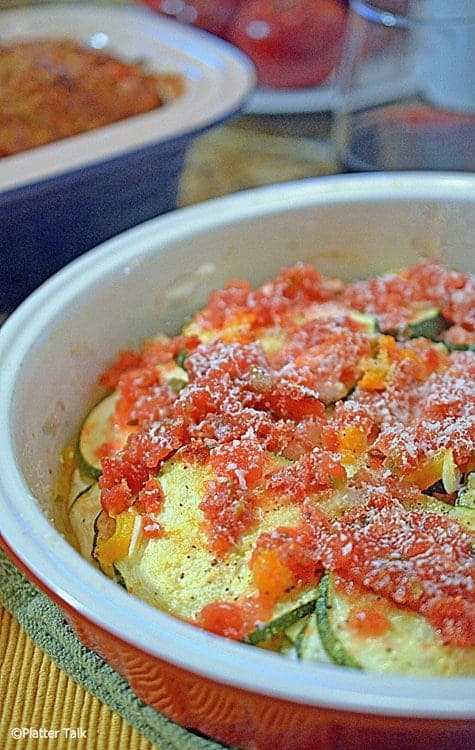 Last month we used this all too often under-appreciated vegetable for some incredible zucchini tots. The kids loved them, the dads loved them, and I have no doubt the dogs would have loved them, had we been a bit more generous with their snacks.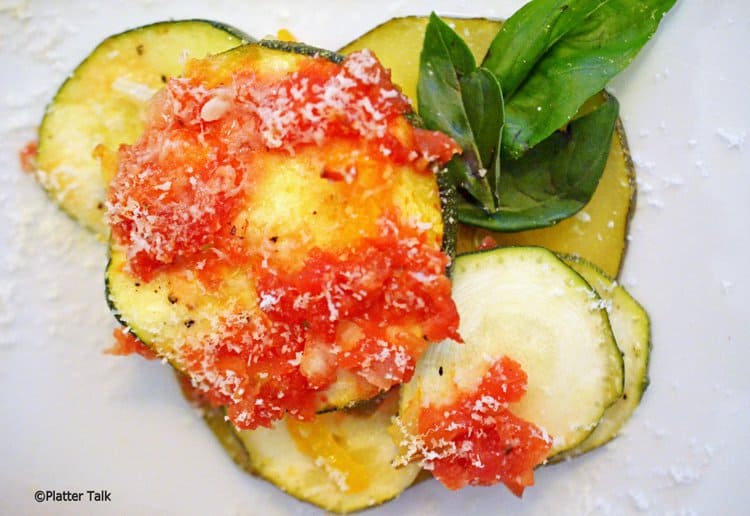 There is nothing special about this little side dish, other than its fresh and delicious taste, its beautiful and summery appearance, and its ease to throw together. Just like spending a summer close to home this zucchini can initially seem pretty boring and not at all interesting. I learned quite a few years ago that boring can be good. Our past summer and this side dish are prefect examples of this sentiment. Trot on down to your local farmers market to pick up some zucchini, accept the offers of zucchini to you by your friends and neighbor. Get your zucchini on and remember, boring is good. Happy fall. -Dan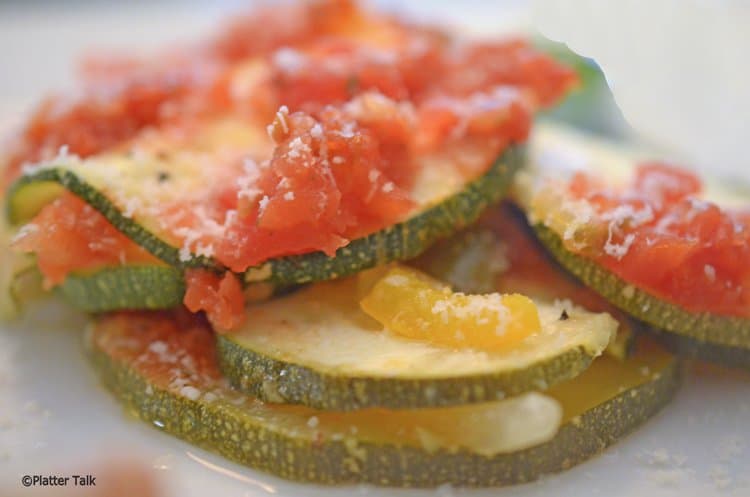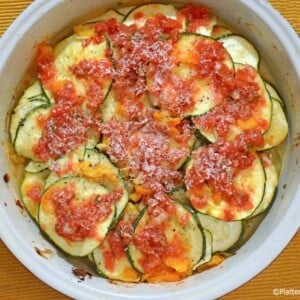 Zucchini cheese and Salsa Parmesan Bake
A Platter Talk Exclusive
Ingredients
1

large zucchini

,

thinly sliced

1

cup

fresh tomato salsa

1

tablespoon

olive oil

1

small white onion

,

diced

1

small sweet bell pepper

,

diced

1/4

cup

fresh and grated Parmesan cheese

salt and pepper to taste
Instructions
Pre-heat oven to 350 degrees.

Prepare shallow baking dish with non-stick cooking spray.

Over medium heat, saute onion and bell pepper in olive oil until soft and tender, about five minutes.

Place single layer of zucchini slices in bottom of dish.

Sprinkle lightly with onion and peppers

Top with thin layer of salsa.

Sprinkle cheese on top of salsa.

Repeat process again and again.

Salt and pepper to taste

Bake uncovered for 20 to 30 minutes until zucchini is soft and tender.
Nutrition
Calories:
36
kcal
,
Carbohydrates:
0
g
,
Protein:
1
g
,
Fat:
3
g
,
Saturated Fat:
1
g
,
Cholesterol:
2
mg
,
Sodium:
66
mg
,
Sugar:
0
g
,
Vitamin A:
35
IU
,
Calcium:
49
mg
,
Iron:
0
mg
Nutrition information is automatically calculated, so should only be used as an approximation.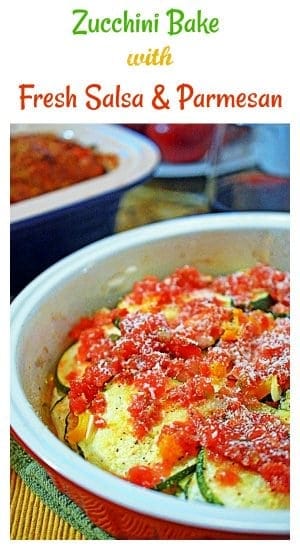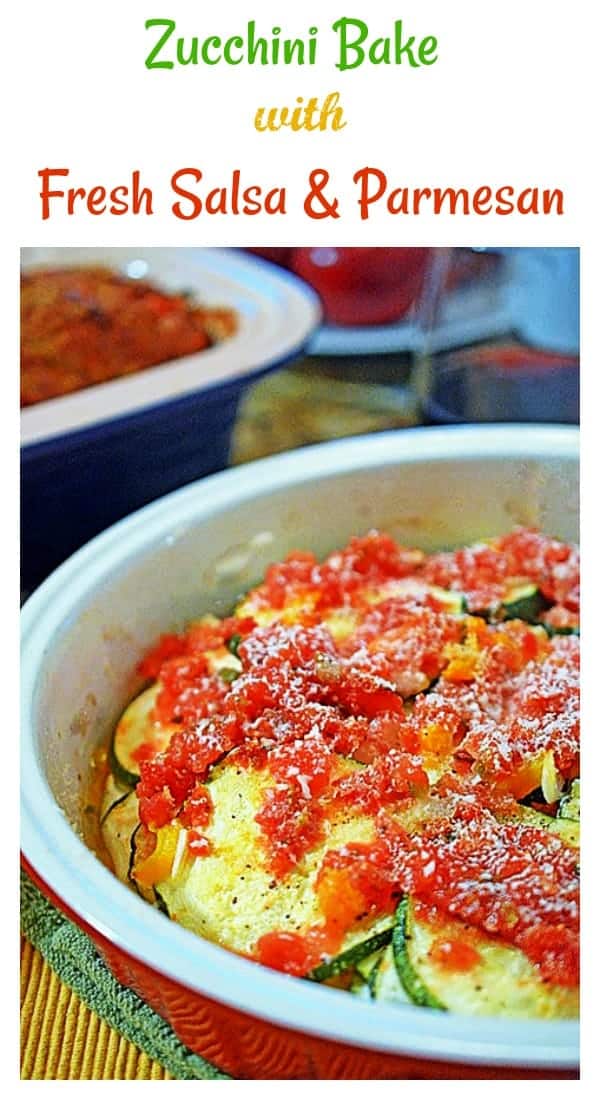 8 Summer Cooking Ideas for Zucchini: From Roasted to Raw