Cauliflower Pork Fried Rice Grain-Free Recipe
on Aug 07, 2015, Updated Jul 20, 2020
Cauliflower Fried Rice with pork is a low-carb spin on one of the most popular of Asian recipes.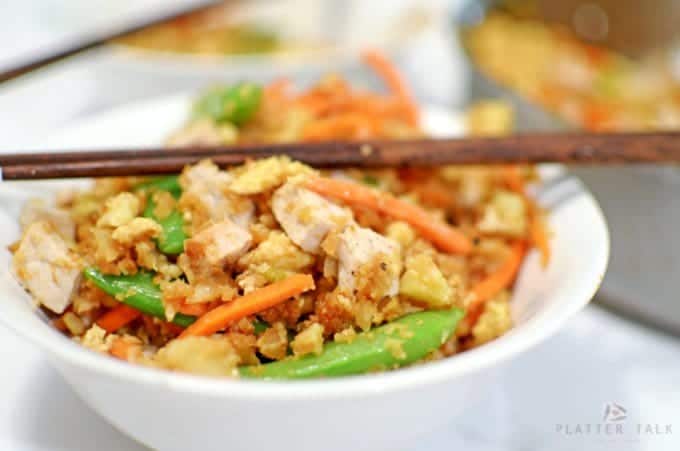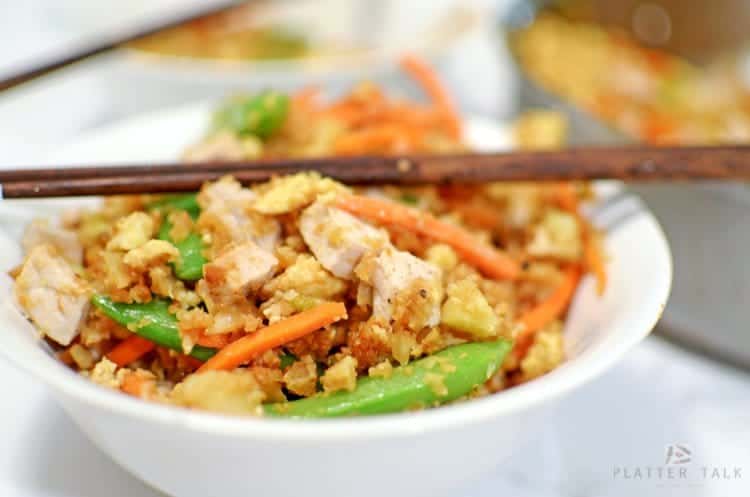 Cauliflower Pork Fried Rice. A few weeks ago I decided that I was going to dust off the scale in the bathroom and see where I was for my weight. While I knew that my pants were feeling a little snug, I was not ready of what I saw. Innocently I stepped on the scale and looked down but I was sure that what I was seeing couldn't have been right. So I did what anyone else would do, I stepped off of the scale and stepped right back on.
Note from Dan: Actually, what Scott did was yell out to anyone who happened to be within earshot, "Is this scale right? This scale can't be right! Does anyone know if this scale works?!"
Unfortunately, it was exactly the same as before. My conclusion was that the scale was broken. I couldn't have gained 20 pounds. So I screamed from the bathroom and asked if anyone knew if the scale was broken. The response that I received was laughter from Dan and all of the kids. So even though New Years is months away, I made the resolution to start eating better and exercising more. Needing some new quick, easy and healthy meals to the kitchen I went and Cauliflower Pork Fried Rice was born.
Cauliflower Pork Fried Rice
While visiting with my friend Jodie, she mentioned to me that she substitutes cauliflower instead of rice all the time. She continued to explain that she uses her food processor to chop a head of cauliflower into the size of rice grains. This concept intrigued me. Both Dan and I love Chinese food. However, it's not always the healthiest of meals. I decided to try make it more healthy by using her method and giving cauliflower a chance, in lieu of rice. This Cauliflower Pork Fried Rice was starting to sound better and better.
Well just like she said, I placed the cauliflower into our food processor, pulsed it several times and sure enough, little grains of cauliflower appeared. The cauliflower "rice" went into a heavy skillet that had some olive oil, garlic and chopped scallions waiting. Quickly the faux rice took on some color and started to brown a bit. I added some low sodium soy sauce, some shredded carrots and some fresh pea pods. Pushing the mixture to the side I added a few eggs and scrambled them up and incorporated into the mixture. Lastly, some lean diced thin cut pork chops were added. Before I could count to one in Mandarin, there we had it: Cauliflower Fried Pork Fried Rice.
Even though I was a little skeptical at first, after the first bite of this Cauliflower Pork Fried Rice, I was a believer. It did not taste like a plate of cauliflower. It tasted like pork fried rice. I think that I can even fool the kids with this. They will never know that they are eating cauliflower. This is definitely going into our meal rotation and I hope it goes into yours as well. Bon apetite, or as this say in Chinese, 请享用. -Scott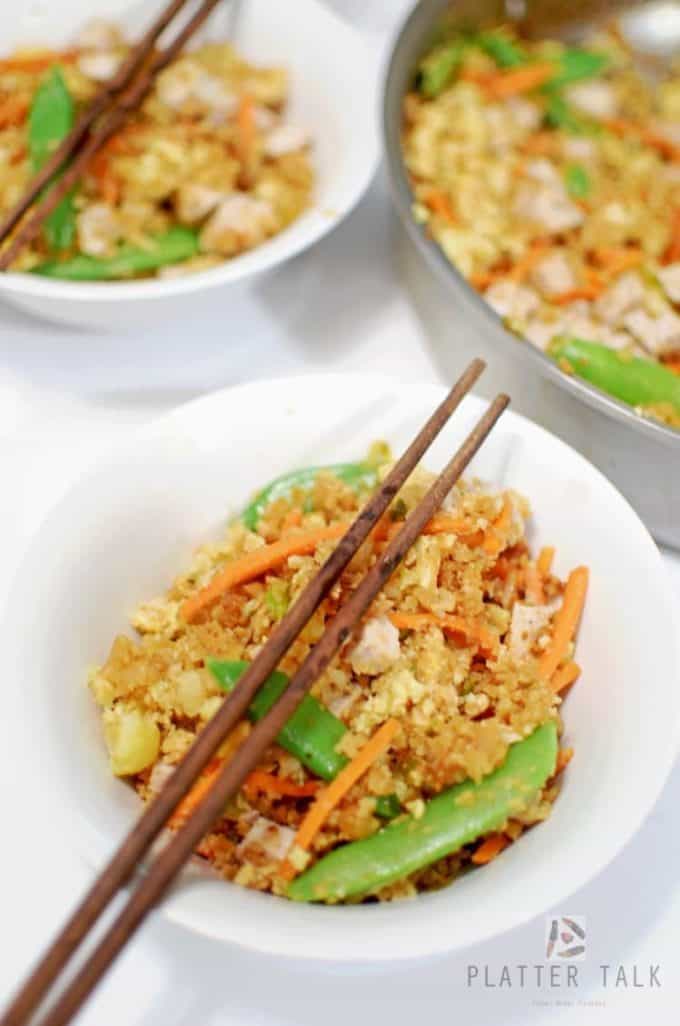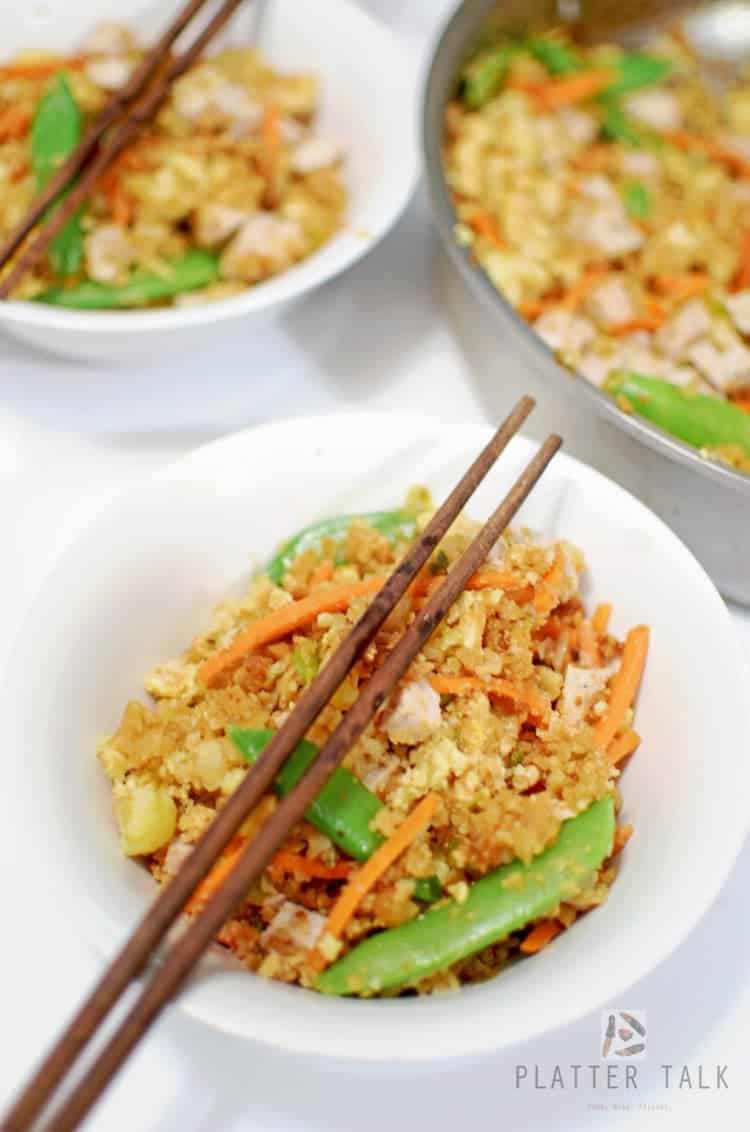 Favorite cauliflower recipes
More easy rice recipes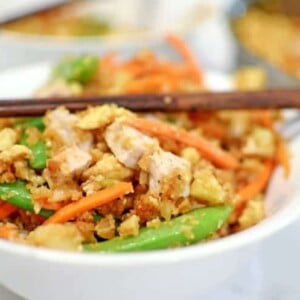 Cauliflower Pork "Fried Rice"
A Platter Talk Exclusive
Ingredients
1

head of cauliflower

3

Tbs

olive oil

1

Tbs

minced garlic

1/4

cup

chopped scallions

,

more or less to taste

2

Tbs

low sodium soy sauce

,

more or less to taste

handful of fresh pea pods

,

substitute frozen peas if you don't have fresh

handful of shredded carrots

3

eggs

2

cups

diced lean thin cut pork chops

salt and pepper
Instructions
In a food processor add cauliflower pieces.

Press the pulse button quickly several times, being careful not to over process the cauliflower. It should be a similar in appearance to rice.

Set cauliflower "rice" to the side.

Season pork chops with salt and pepper.

In a medium to large skillet heat a tablespoon of olive oil over medium heat and pan fry pork chops until browned and fully cook.

Remove from pan.

Dice the pork chops into half inch pieces and set aside.

Add the remainder of oil to the already heated pan.

Saute garlic and scallions briefly.

Add the cauliflower "rice"

Cook for 5-7 minutes or until the "rice" begins to take color, consistently stirring.

Add soy sauce and stir in.

Add carrots and pea pods.

Push the "rice" mixture to the sides of the pan and make an opening in the center of your pan.

Add the eggs and mix until they scrambled and cook.

Stir scrambled eggs into the "rice" mixture.

Add diced pork.

Serve and enjoy
Nutrition
Calories:
377
kcal
,
Carbohydrates:
11
g
,
Protein:
33
g
,
Fat:
22
g
,
Saturated Fat:
5
g
,
Cholesterol:
202
mg
,
Sodium:
499
mg
,
Potassium:
1009
mg
,
Fiber:
4
g
,
Sugar:
4
g
,
Vitamin A:
2967
IU
,
Vitamin C:
75
mg
,
Calcium:
72
mg
,
Iron:
2
mg
Nutrition information is automatically calculated, so should only be used as an approximation.