Cauliflower Latkes
on May 25, 2017, Updated Mar 16, 2021
Cauliflower Latkes make for a great meal or snack if you're in the market for some tasty and satisfying low-carb eating options.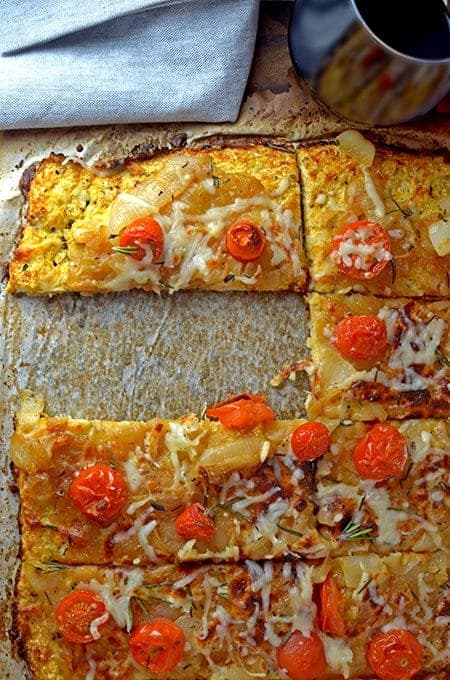 What is this?
This recipe started out as a low-carb flatbread but because I doubled the amount of the cauliflower base, the recipe was not exactly a flatbread. Although the finished product was not what I had intended, it was good enough to enjoy for dinner a few nights ago and the leftovers made for a great lunch the next day at work. Might I just add that this recipe for cauliflower latkes pairs quite nicely with a nice glass of cab.
Whether you want to make some crispy and thin low-carb flatbread using cauliflower, or a batch of cauliflower latkes that are a bit thicker and softer, the ingredients are the same but with different amounts. If you want to go the low-carb route, just use half the amount of eggs, cauliflower, and cheese.
What's in this?

Cauliflower
Eggs
Cheddar cheese
Italian seasoning
Onions
Tomatoes
Cherry Tomatoes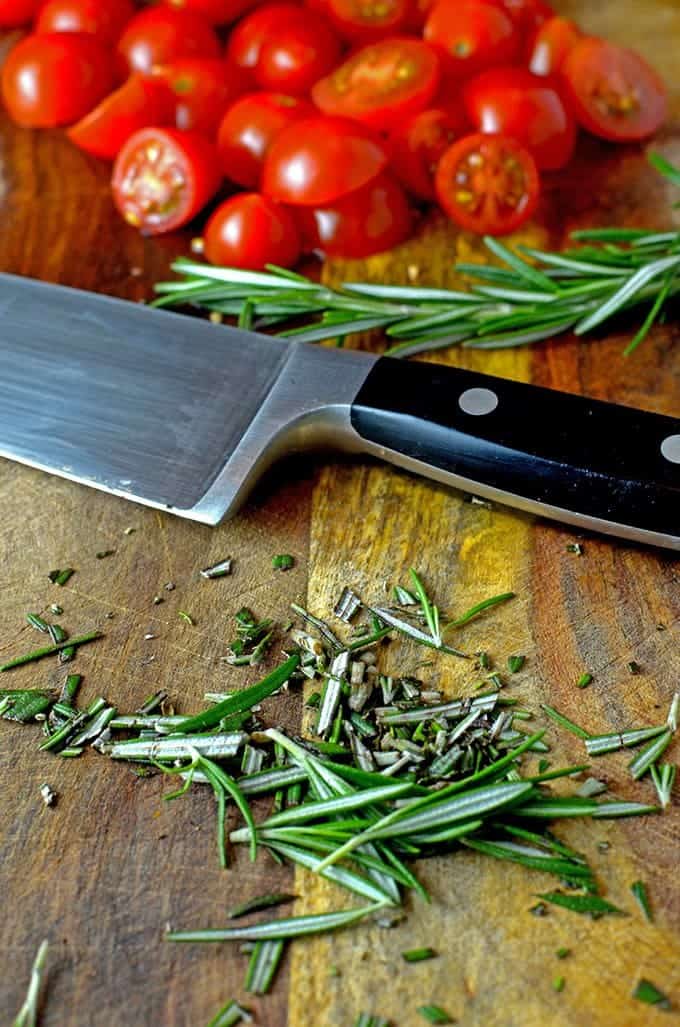 With either the low carb flatbread version or the latkes version, I knew that I was going to use some fresh rosemary and cherry tomatoes. I love oven-roasted cherry tomatoes and the natural enhanced sweetness of the tomatoes from the roasting process was a wonderful topping to this low carb recipe. I also love using fresh herbs in the kitchen. Rosemary is such a versatile flavoring agent, check out one of my all-time favorite Platter Talk dishes that uses rosemary: our lemon-rosemary chicken.
I have become enamored with caramelized onions and I think it all really started when I made this simple goulash recipe a few weeks ago.
I love the structure and sweetness that caramelized onions impart to other ingredients. I found some great information from Food52, regarding the process of making caramelized onions and the different transformations that the onions undergo based on the length of time they are cooked. Learn more about how to carmelize onions.
The two secrets to achieving a nice base for either a low carb flatbread or for this cauliflower latkes recipe are
A hot oven
Squeezing as much water as possible, from the cauliflower.
The cauliflower is sliced up and then placed in a food processor and shredded to a rice-like consistency. Next, use your hands to squeeze out as much water from the cauliflower as possible. We use two heads of cauliflower in this recipe for latkes and squeezed about two cups of water from each head.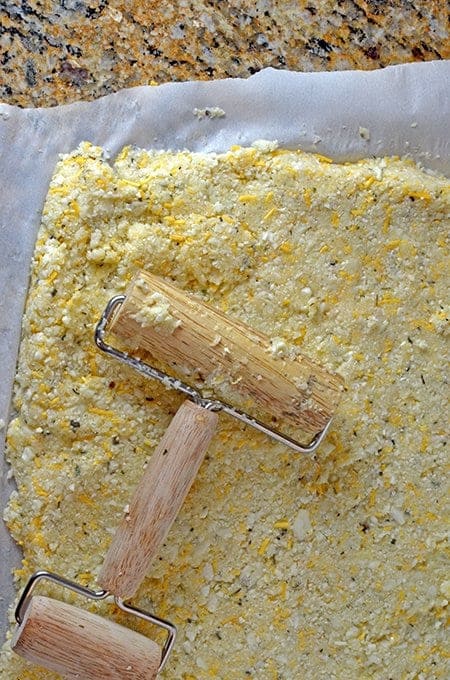 After mixing the base ingredients together, we roll it out on parchment paper and then we use a pizza peel to slide it on a hot stone for the oven. Using a preheated stone will help you achieve a nice crispy bottom for these cauliflower latkes.
Kitchen Tip:
Use a pizza peel like this one to transfer this (or a traditional dough) to a hot pizza stone.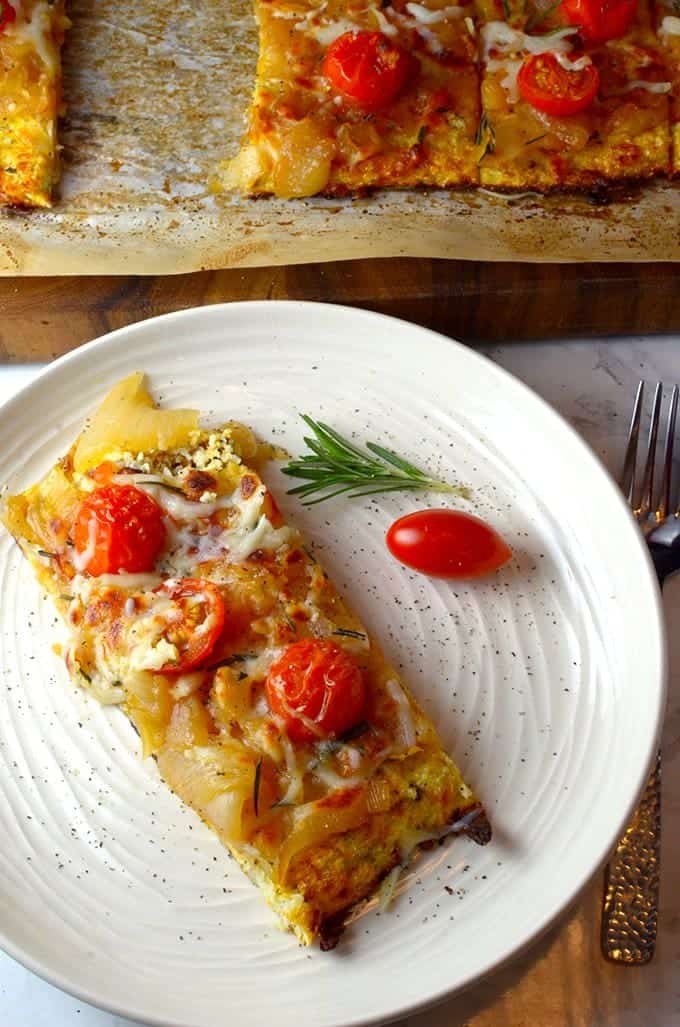 The topping for these cauliflower latkes is as simple as the rest of the process. A pan full of sweet and jammy caramelized onions, some chopped rosemary, sliced cherry tomatoes, and a sprinkling of shredded cheddar cheese. That's all it takes! Baked, not fried, vegetarian and low carb, this is a fresh and healthy recipe that is worth making. – Dan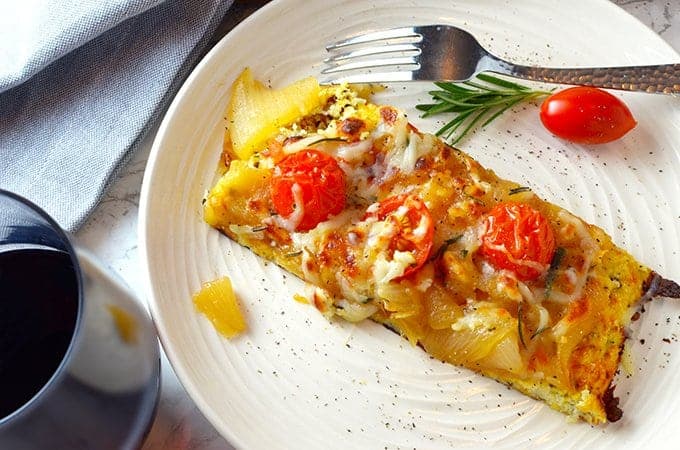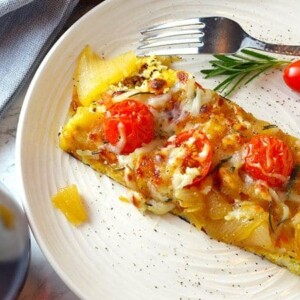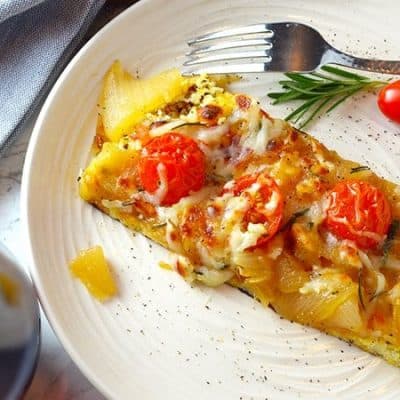 Cauliflower Latkes and Low Carb Flatbread
Cauliflower Latkes and Low Carb Flatbread are two baked and grainless alternatives to traditional latkes. This recipe is for the latkes version, for flatbread, simply halve the ingredients for the base.
Ingredients
For the base
2

heads

cauliflower

2

eggs

1

tbsp

Italian seasoning

8

oz

cheddar cheese

,

shredded
For the topping
6

sweet onions

,

thnly sliced

1

tbsp

butter

8

oz

cherry tomatoes

,

cut in half

4

oz.

chedar cheese

,

shredded

1

tbsp

rosemary

,

fresh, fine chop
Instructions
Preheat oven to 500° F. Place baking stone on center rack.


Caramelize the onions by placing the butter in a large skillet and melt over medium heat. Add onions and stir frequently with a wooden spoon. As the onions begin to caramelize and brown bits begin to stick to the bottom of the pans, add a teaspoon or so of water and continue the process until the onions have attained a dark brown color and a jam-like consistency. Remove from heat, set aside and prepare the base.


Dice cauliflower into small pieces and place in food processor. Process to a rice-like consistency. Remove the cauliflower from food processor and using your hands, squeeze out as much water as you can from the cauliflower.


Placed dried cauliflower into a large mixing bowl and add the eggs, seasoning, and 1 cup of the shredded cheese. Thoroughly incorporate the ingredients.


Spread cauliflower base on sheet of parchment paper. If making flatbread version, you want a thickness of about 1/4 inch.


Use a spoon to spread caramelized onions on top of base, top with tomatoes, shredded cheese, and rosemary.


Use a pizza peel to transfer the parchment paper (with the latke/flatbread) onto the hot stone in the oven. Bake for 20-25 minutes or until the latke/flatbread is a golden brown and crisp around the edges. Remove from oven, place on cutting board. Slice pieces and serve immediately.

Nutrition
Calories:
354
kcal
,
Carbohydrates:
37
g
,
Protein:
18
g
,
Fat:
16
g
,
Saturated Fat:
9
g
,
Cholesterol:
99
mg
,
Sodium:
361
mg
,
Potassium:
1117
mg
,
Fiber:
7
g
,
Sugar:
21
g
,
Vitamin A:
735
IU
,
Vitamin C:
117.2
mg
,
Calcium:
414
mg
,
Iron:
2.9
mg
Nutrition information is automatically calculated, so should only be used as an approximation.