Lemon Rosemary Chicken is a delicious and savory one pot wonder that your family will ask for again and again.
Rosemary Chicken with Lemon
This Rosemary and Lemon Chicken is a simple yet flavorful braised chicken recipe that can be put together in minutes. Thanks to the braising process,  you simply let if finish off in the oven.
Perfect for a Sunday supper, this easy braised chicken makes for a great meal for the best company in town: your family.
I have my mom to thank for this particular recipe, in a sense. She's been gone for too close to 30 years now but the love she put into her dishes still lingers on my palate and on my soul.
Nine out of ten Sundays the base of this recipe is what my mom served at the dinner table to our family.
I merely modified a few things. I added a little lemon and herb and allowed this to finish in a hot oven. Aside from getting my chicken at the grocery store instead of our chicken coop on the farm, very little is different about this rendition of my mom's dish.
My mom made her chicken like most of her other meals, simple but tasteful, reflecting the lady behind the apron.
I notched things up just a bit with the added lemon and rosemary.
Perhaps back then, both of those additions would have seemed and indeed tasted a bit exotic to her.
Truth be told, those simple additions to this simple and rustic dish heighten its character and add just the right amount of complexity to its flavor to keep things interesting, leading you to want another bite.
Side Dish Recommendations for Rosemary Lemon Chicken

Since I already had the oven on while this rosemary lemon chicken was filling our cottage with it's savory aroma, I decided to try a new method of preparing wilted spinach.
The results: Oven Roasted Spinach with Roasted Tomatoes. This side was a the perfect compliment to our Sunday supper, even the boys wolfed it down.
A small pan of roasted potatoes also makes an excellent accompaniment to this oven-finished rosemary lemon chicken.
The lemon and wine reduction gradually mixes with the coating of the chicken as it bastes in the oven resulting in a luxurious and velvety gravy, perfect to slather over the warm chunks of savory chicken, or a few squares of crispy brown potatoes.
Your family is sure to enjoy this dinner and it's one you will make over and over again. I hope you give it a try. -Dan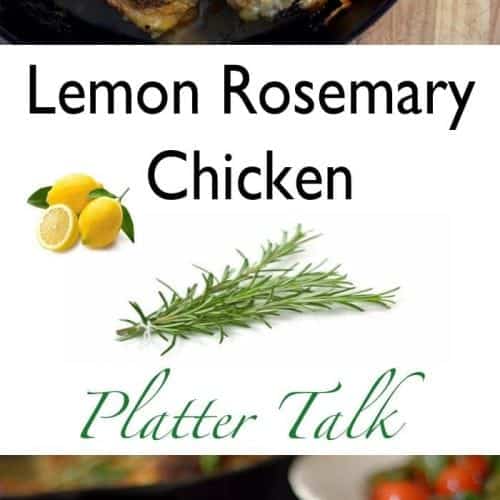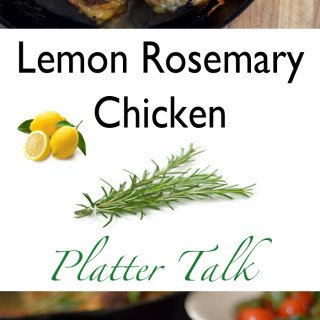 Rosemary Lemon Chicken #Sunday Supper
A Platter Talk Exclusive
Print
Pin
Rate
Ingredients
1

whole chicken

cut into 8 pieces

juice from 2 lemons

zest from 1 lemon

2

cups

all purpose flour

1

teaspoon

kosher salt

1

teaspoon

ground black pepper

2

sprigs fresh rosemary

stems removed and finely chopped, plus more for garnish

1

cup

dry white wine

1/2

cup

vegetable oil
Instructions
Preheat oven to 375 degrees F.

Combine flour, salt and pepper and then divide in two shallow dredging bowls.

In third shallow dredging bowl, combine and stir lemon juice, lemon zest, and rosemary.

Meanwhile, place oil in large oven safe skillet and heat on medium-high setting.

Place chicken in skillet, a few pieces at a time if necessary to avoid crowding.

Brown each piece evenly, about 3-4 minutes per side. Allow to drain on paper bag.

Discard oil from skillet and return chicken to pan. Add wine to skillet and place in oven.

Allow chicken to finish in the oven, covered, about 45-60 minutes, until juices run clear and internal temperature of chicken is 165 degrees F.

Garnish with additional rosemary, if desired.