The BEST Smoked Pork Tenderloin
Smoked pork tenderloin is an easy smoker recipe that won't break the bank and doesn't take forever to make. For added flavor, I like to wrap it in prosciutto and then let our smoker do the magic.
If you're a fan of smoked tenderloin, you'll want to try our smoked beef tenderloin too! It's similar to this pork version but full of beefy flavor.
Whether you're new to smoking meat or an experienced grill daddy, you have to make this amazing pork recipe that is a crowd-pleaser every time!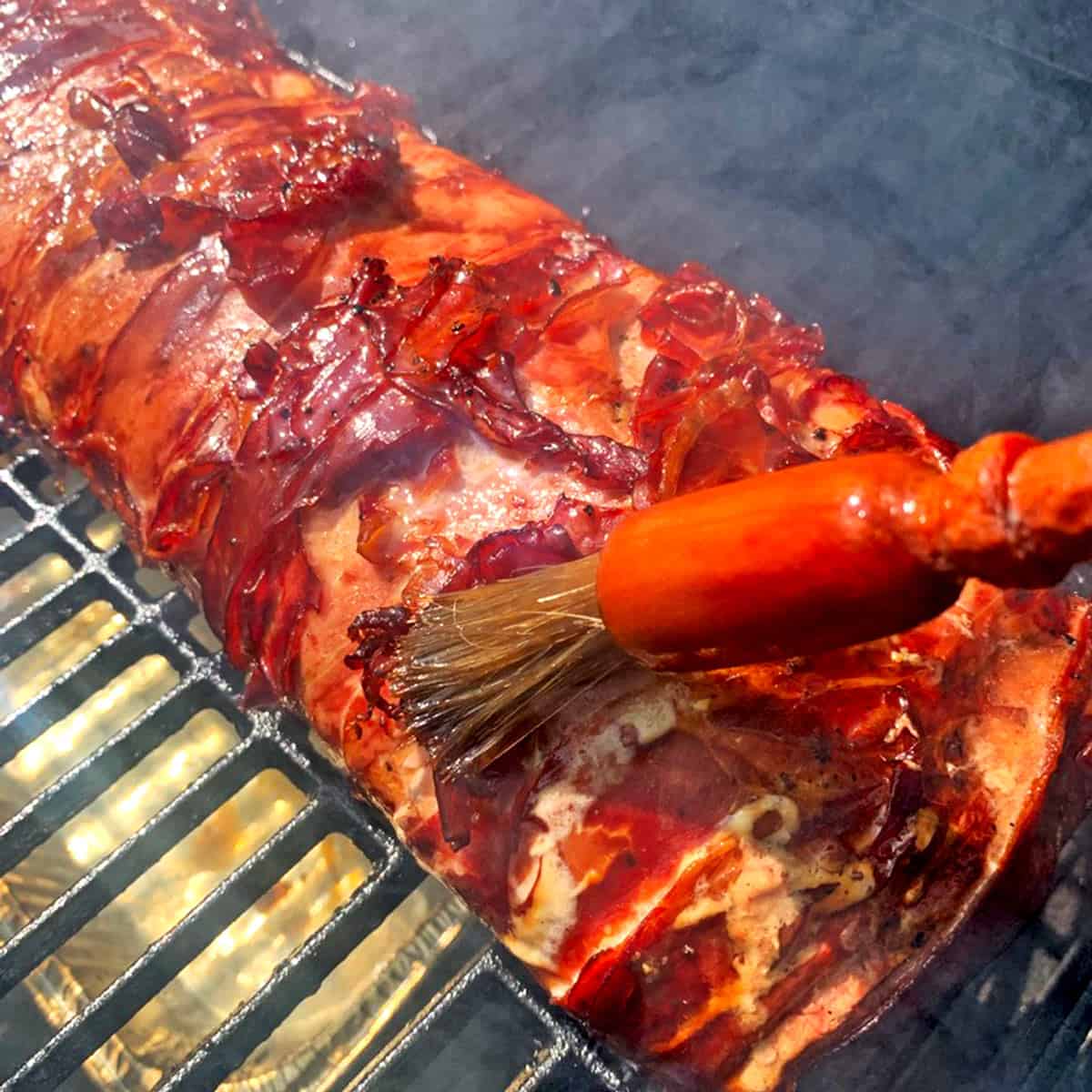 Jump to:
About this
This is one of the easiest smoked meat recipes you can make. It has a shorter prep and smoking time than many similar recipes. There is just a little fat trimming to do and you then can make it as simple as you want (just salt and pepper.)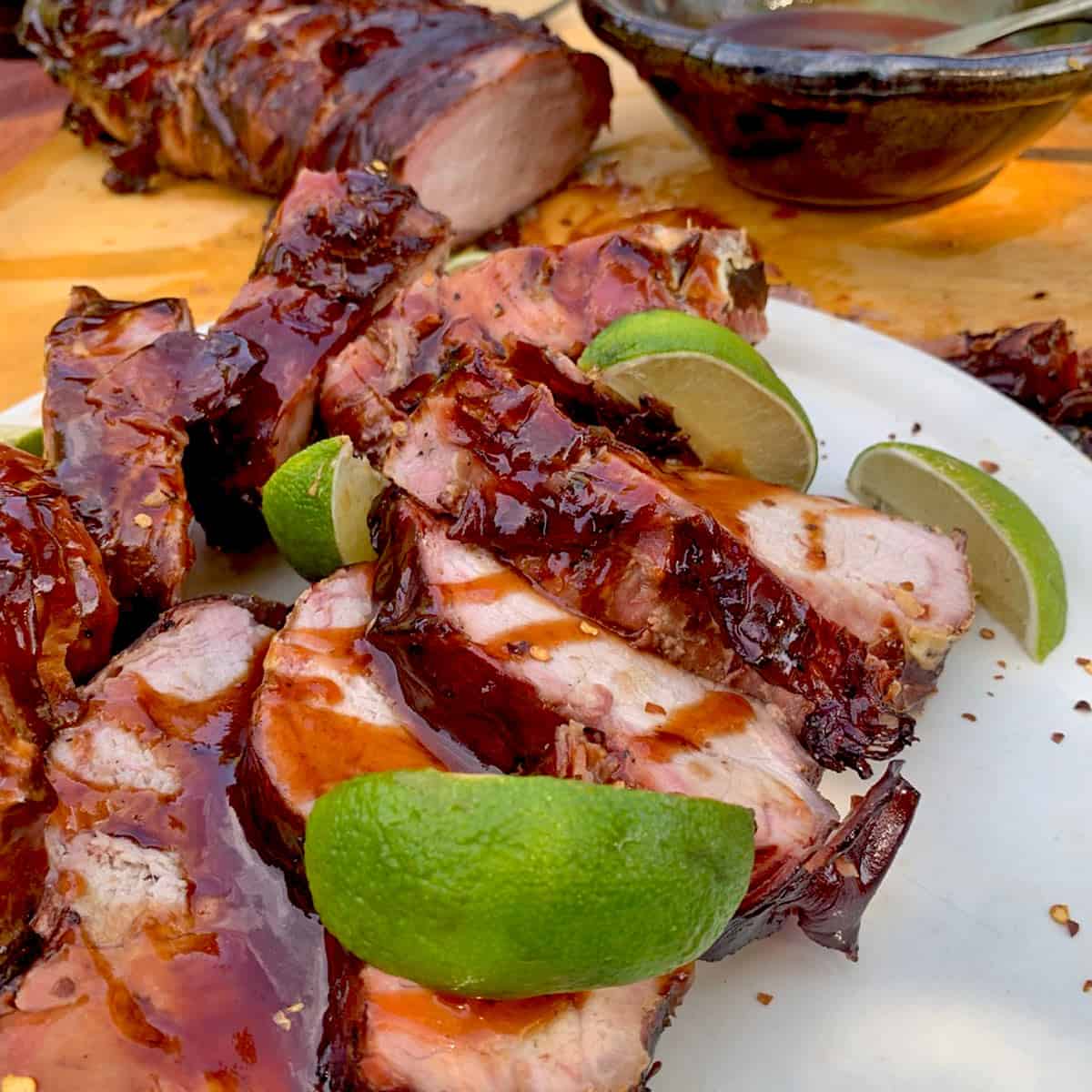 Or, dress it up a bit as we did with this version. Either way, you're going to love this smoker recipe.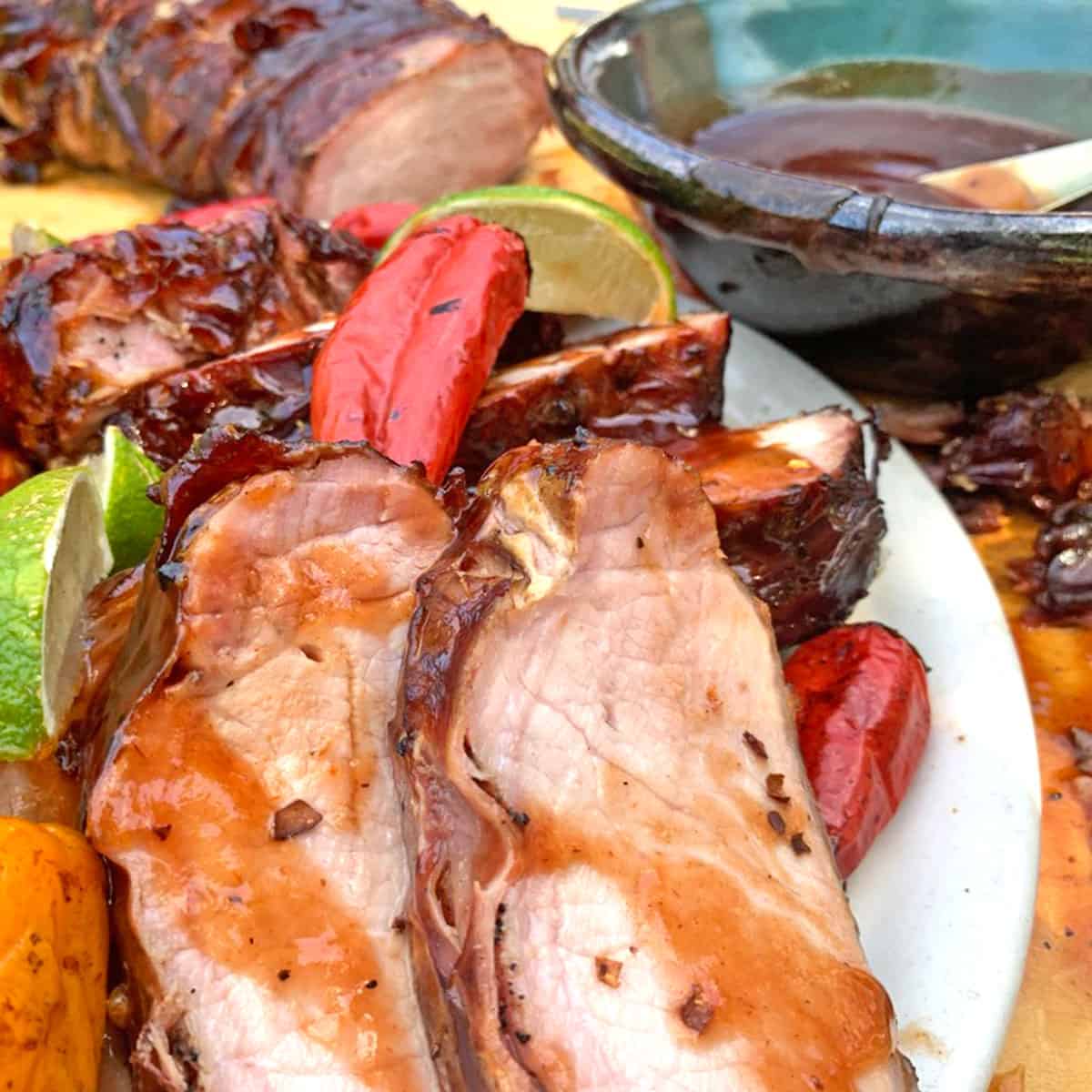 What's in it?
Once again, you can go plain or fancy if you're wondering how to smoke pork tenderloin. The basics you'll need include: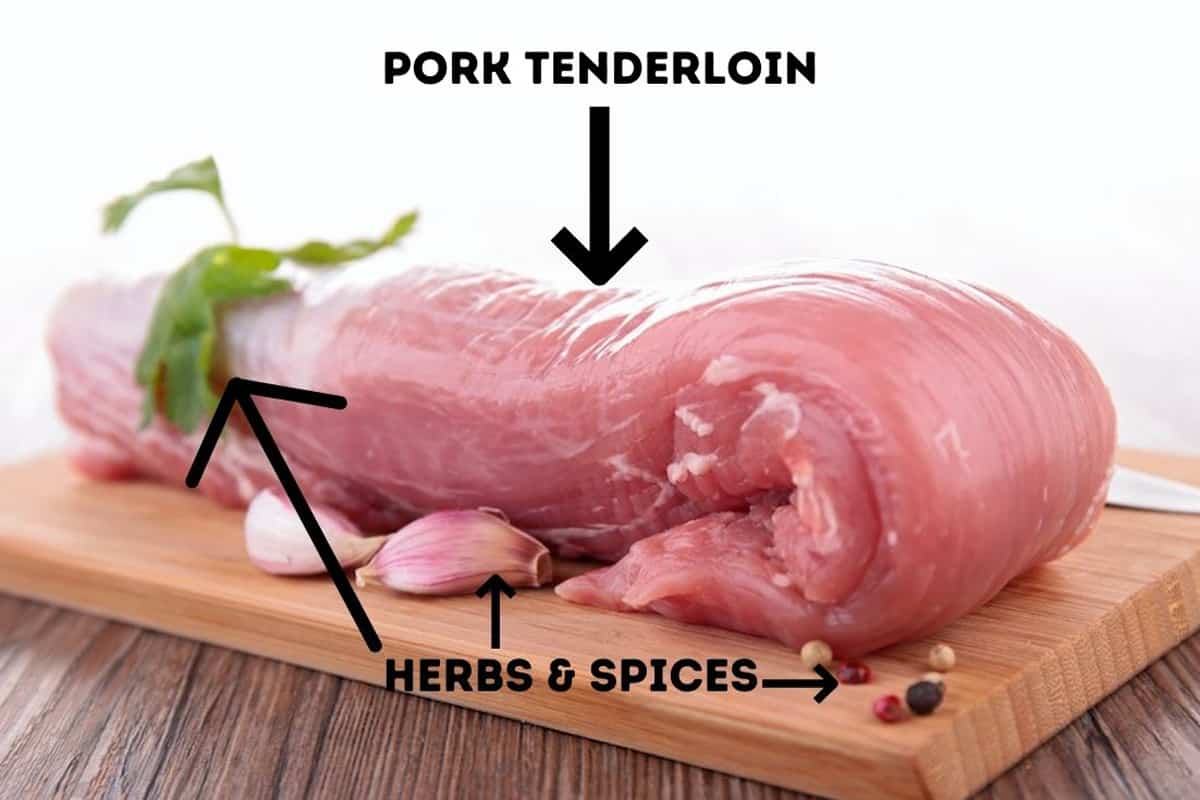 Pork Tenderloin – Look for one that is pinkish-red in color and contains some nice veins or pads of fat. Remember, fat gives flavor! If the cut is pale or there are dark spots in the fat, don't buy that one.
These range in size from under a pound to big ones like the 8-pounder that I picked up at Coscto. Figure on a half-pound per serving and you'll be good to go.
Herbs and Spices – You can get by with seasoning your smoked pork tenderloin with nothing but salt and pepper. Or, toss in some fresh chopped herbs like sage and rosmeary or rub it with fresh garlic.
Variations
I like to wrap my smoked pork tenderloin in prosciutto, the thin Italian ham that you can get in most grocery stores. The fat from the prosciutto slowly melts into the meat while shrinking and encasing it.
This gives you a cispy and flavorful edge to each bite. The smoke findes its way throught the thin layer of proscuitto creating a beautiful-tasting piece of smoked pork.
Toward the end of the smoking process, I like to brush on a layer of pure maple syrup mixed with apple cider vinegar. This step is optional but I think it gives a sweet yet tart finish to the smoked pork.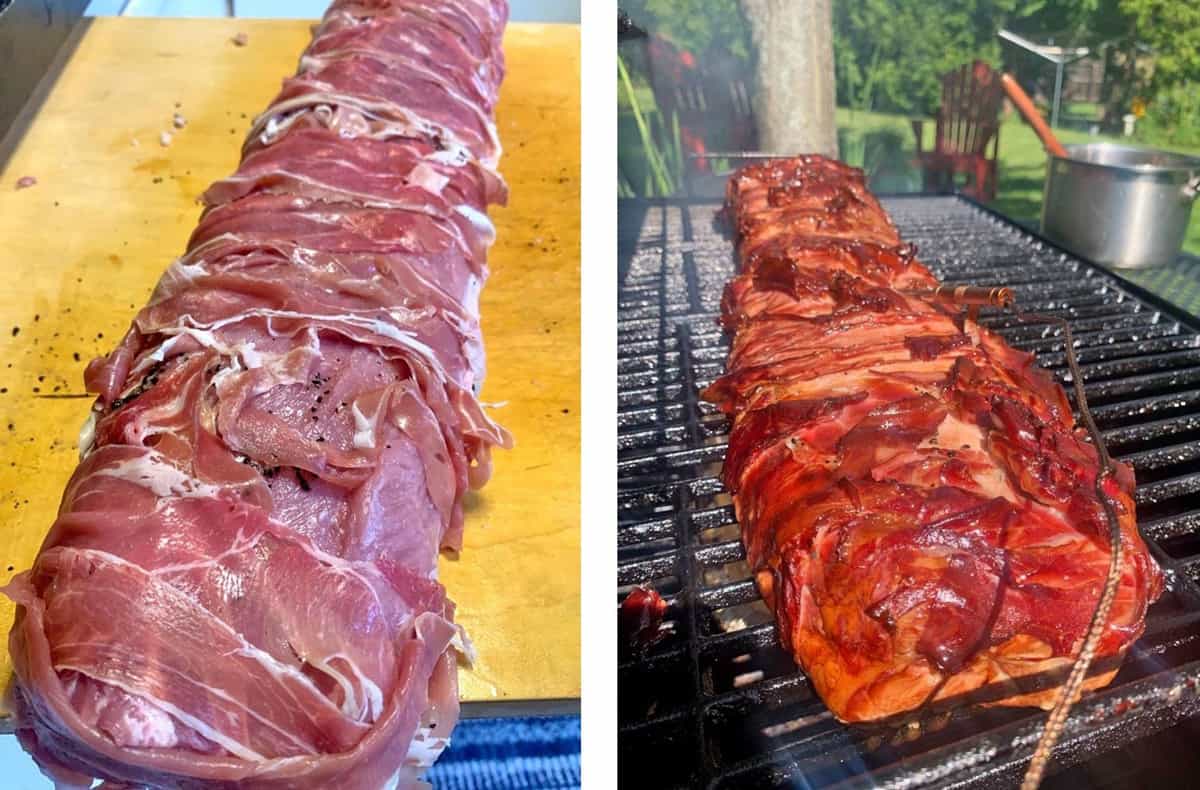 Bacon – You can also wrap this in bacon, with a similar finish to the prosciutto. You'll want to increase the heat of your smoker to about 400° for the last half hour if you want to use bacon.
How to smoke pork tenderloin
Start by taking the meat out of the refrigerator and letting it rest. Depending on it's size, you'll want to take it out of your refrigerator 30 to 60 minutes before putting it on your smoker.
While it is resting, heat your smoker to 225° and then add some smoking chips or blocks.
I like a heavier and smoky flavor so I usually use hickory or mesquite smoking chips for this. But you can't go wrong with apple, oak, or cherry wood.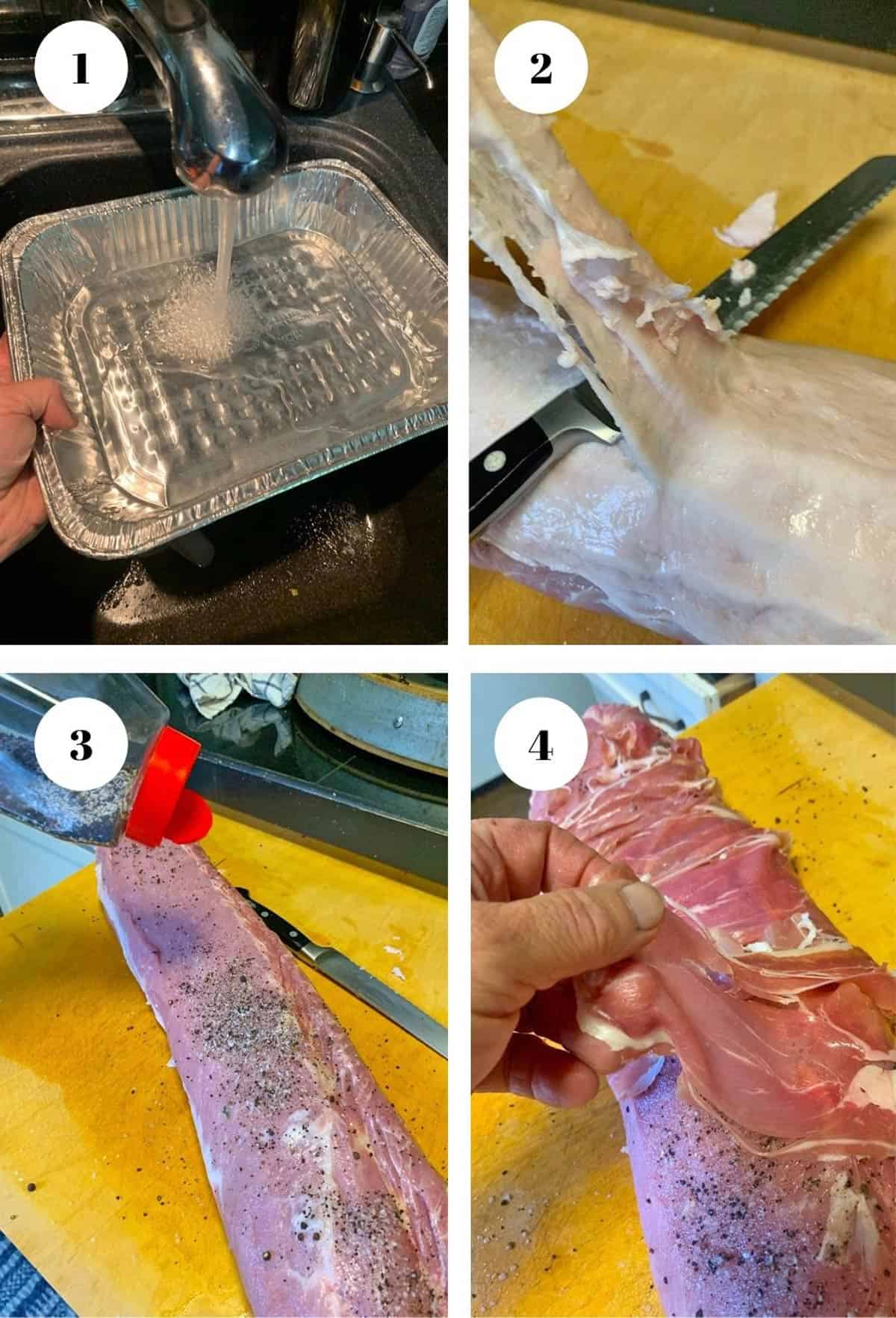 Fill a pan of water that you'll put in your smoker to help prevent the meat from drying out. Pro Smoking Tip – Be sure and add hot water to your pan as cold water will only cool your smoker down and created a longer smoking time.
Use a serrated knife to trim off excess fat from the meat. Reserve this fat in a small skillet.
Lightly season with a combination of kosher salt and fresh ground black pepper.
Wrap the whole thing in a single layer of prosciutto.
Pro Smoking Tip – Use the trimmed fat to add flavor to your smoked pork and to season your smoker.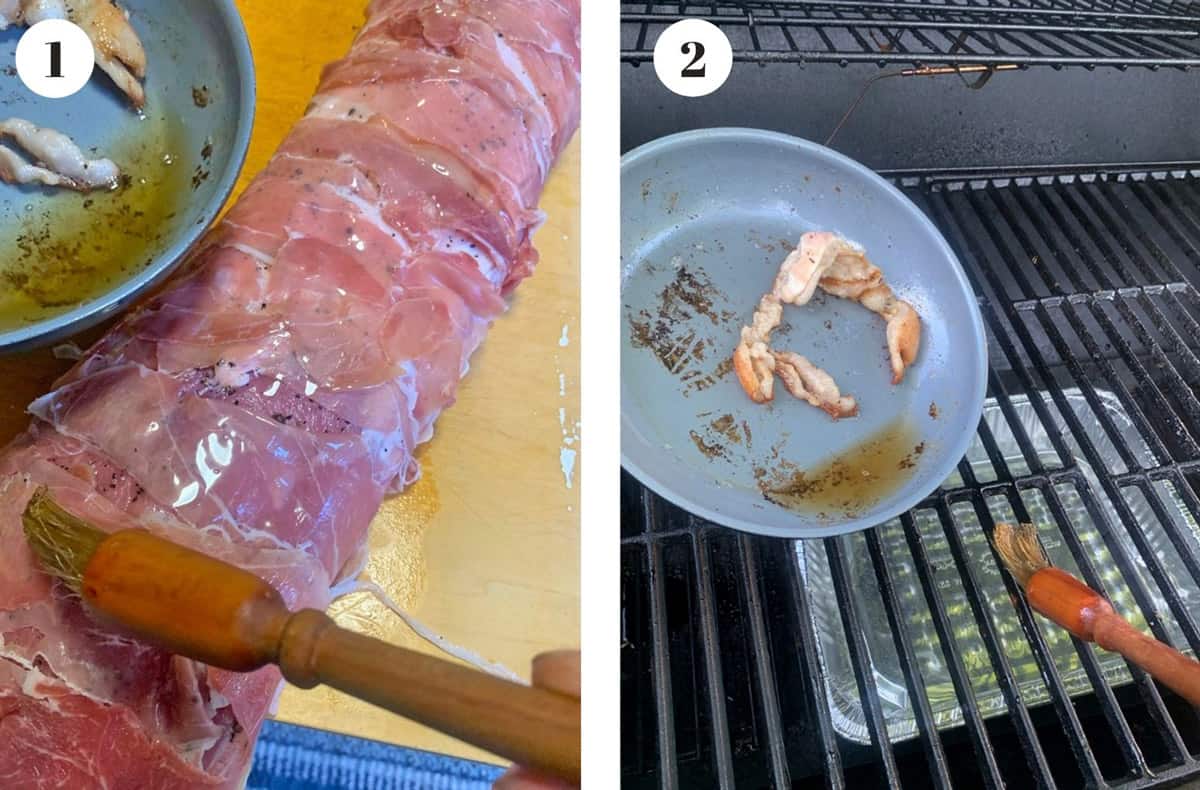 Render the trimmed fat in a small skillet over low heat and then brush it on the meat. This will add flavor and help bind the prosciutto to the meat.
Brush the remaining fat onto the smoker grates. This will add more flavor to the meat and help prevent it from sticking.
You can also use bacon fat for this same purpose.
How long to smoke pork tenderloin
You're going to want this to reach an internal temperature of 145°. This will take an hour to 3 hours or longer, depending on the thickness of the meat. I recommend this instant-read thermometer by Thermoworks. It's crazy-fast (one second), accurate to 1/2 a degree, and has a five-year warranty.
Pro Tip – When the internal temperature reaches 135°, brush on a layer of pure maple syrup and apple cider vinegar. You'll use approximately 1 part syrup to 1 part vinegar. For example, if you use 1/2 cup of vinegar, add 1/2 cup of syrup. Here's how to it: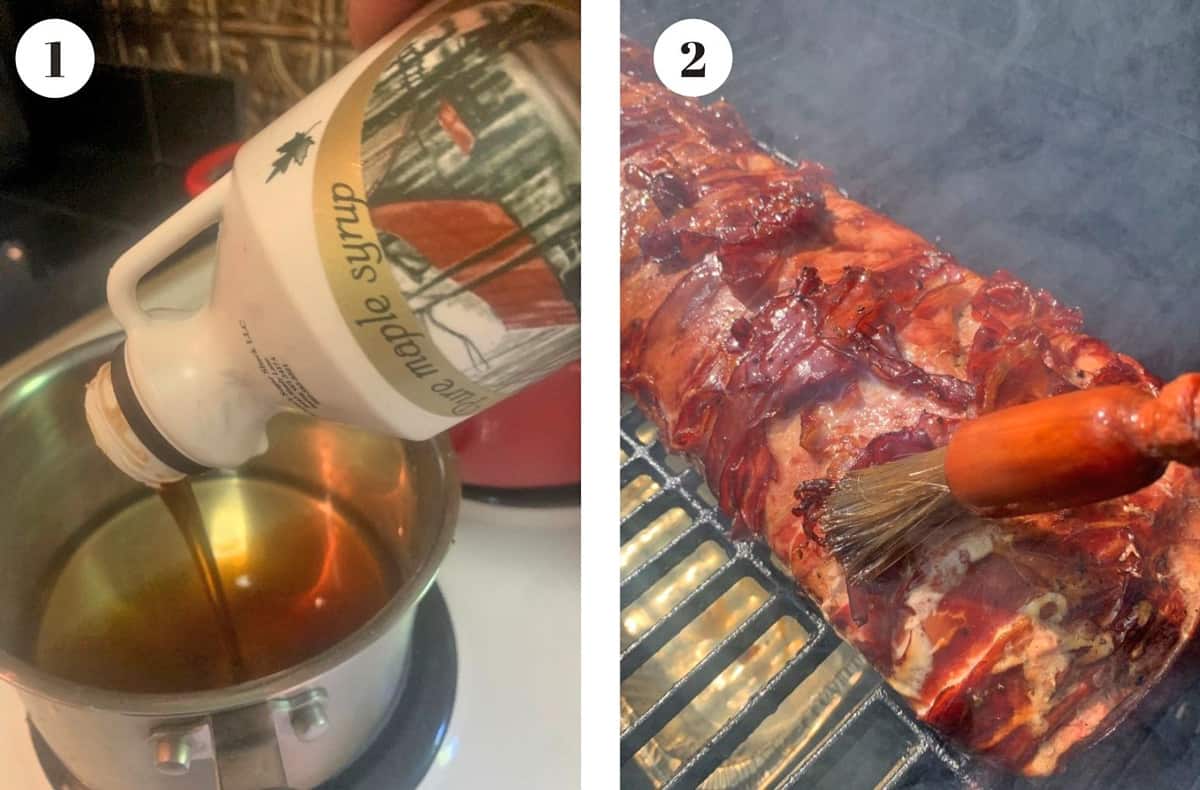 Use a small sauce pan and heat equal parts apple cider vinegar (the dark stuff) and pure maple syrup. Heat on low and stir until well-combined.
When the smoked pork reaches an internal temperature of 135°, brush a layer of the syrup and vinegar mixture to the top and sides.
Do this every 20 to 30 minutes until the internal temperature reaches 145°.
Pro Kitchen Tip – When this is done, wrap it loosely in foil and allow it to rest for 15 minutes before slicing and serving. This allows the meat fibers to reabsorb the juices, adding moisture and flavor to your smoked pork tenderloin.
Common questions
Is pork tenderloin the same as pork loin?
No. Pork tenderloin comes from the muscle that runs next to the backbone. It is long, narrow, and boneless. A pork loin is flat and may be bone-in or boneless. It comes from the back of the pig. Importantly, you cannot substitute one for the other in recipes because they are two completely differnt cuts of meat.
What's the best flavor of wood for smoked pork tenderloin?
This is a personal preference but you can't ever go wrong with apple wood chips when making smoked pork. I prefer a heavy smoked flavor and like to use hickory or mesquite wood chips. By the same token, you can use oak or cherry wood for smoked pork.
What can I do with the leftovers?
You can store the leftovers in the fridge for up to five days. Reheat them in the microwave or on the stove top. Our favorite way to use these leftovers is in this leftover pork tacos recipe.
What goes with this?
Use your favorite barbecue sauce with this. Some great choices for side dishes might include: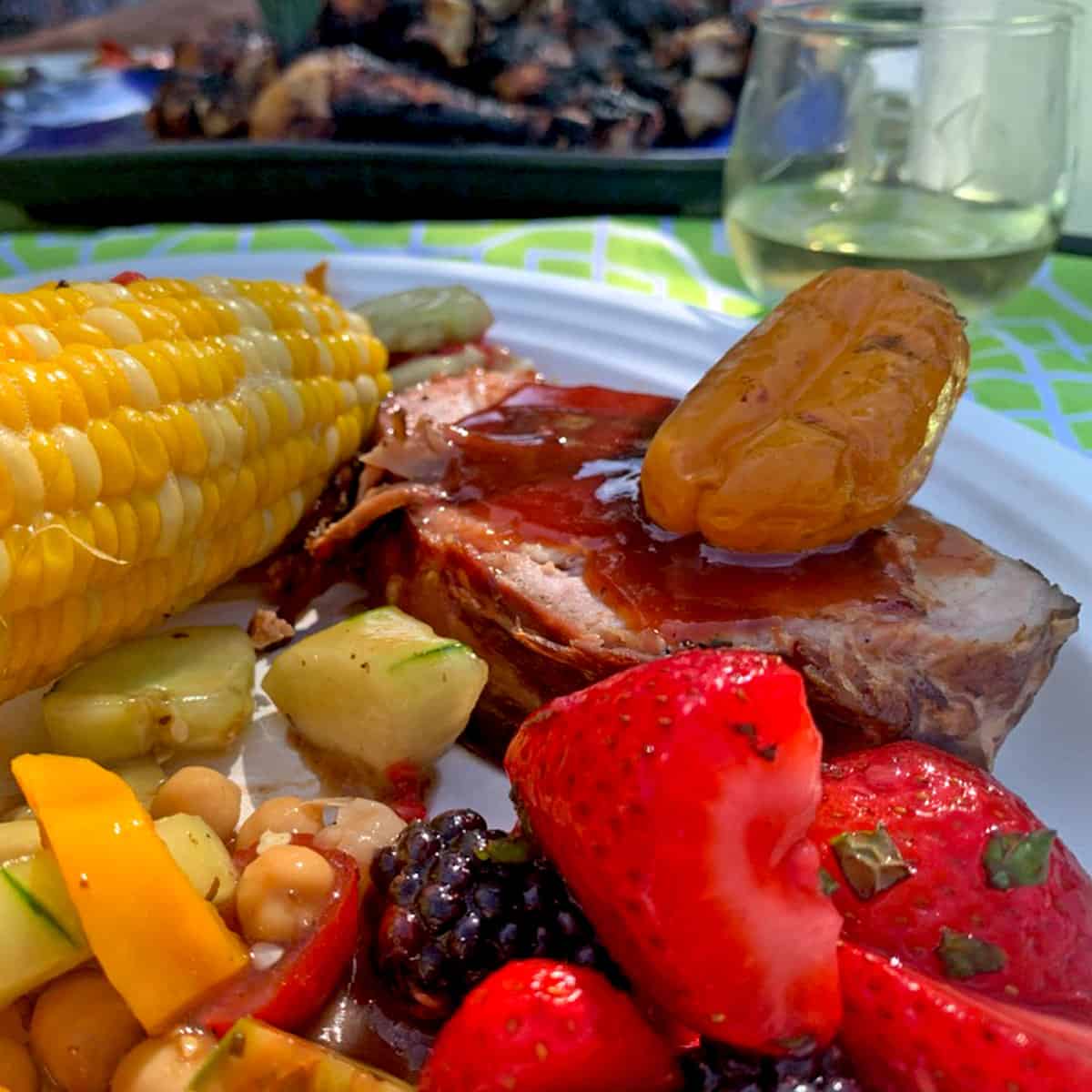 If you're looking for more ideas on how to use a smoker, see our posts on the best ways to make smoked beef.
Take a look at our favorite grilling and smoker accessories. We use these products all the time!
More easy pork recipes
Be sure and see our easy smoked salmon recipe too!
👨‍🍳 Tried this Recipe? Please leave a ⭐⭐⭐⭐⭐ rating in the recipe card below and leave a comment. We love hearing from our readers!
⏩ Stay in touch with us on social media by following us on Facebook, Pinterest, Instagram, and YouTube!
📬Get our Recipes delivered to your inbox for FREE!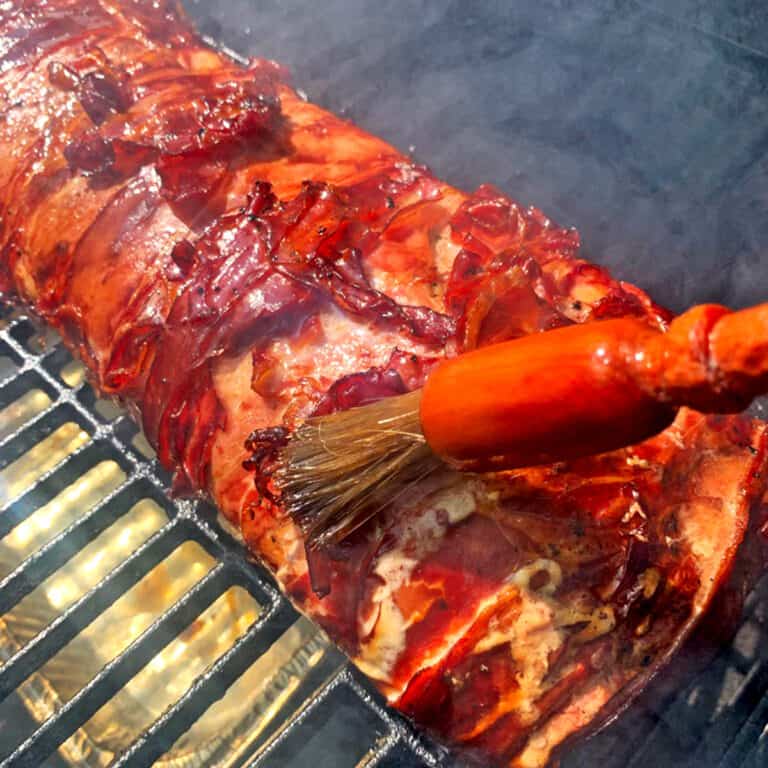 Smoked Pork Tenderloin
Lean how to smoke a pork tenderloin with this faast, easy, and inexpensive recipe.
Ingredients
4

lbs

Pork tenderloin

1/8

cup

Kosher salt

1/8

cup

Fresh ground pepper
Optional Ingredients
6

oz

Prosciutto

,

About 10 slices

1/4

cup

Pure maple syrup

1/4

cup

Apple cider vinegar

1 cup

Barbecue sauce
Instructions
Remove the pork from your refrigerator and allow to rest on your countertop for 30 minutes. Fill a pan with water and place at the bottom of your smoker. Heat your smoker to 225° and add your choice of wood chips.

Using a serrated knife, carefully trip excess fat from the meat, using caution to not cut ito the muscle of the meat. Apply an even layer of salt and pepper in an even layer to all sides and ends of the meat. Render the fat in a small skillet and set aside
Optional Step
Wrap the pork tenderloin in a layer of prosciutto pieces on all sides and ends. Brush a layer of melted fat on the surface of the meat.

Brush the remaining fat on the grates or rack of your smoker.
How to smoke it
Smoke the meat until the internal temperature is 145°. Brush with maple syrup and vinegar mixture if desired when the meat reaches 135°. Remove from smoke and wrap loosely in foil. Then, allow it to rest for 20 minutes before slicing and serving.
Notes
You can use your favorite flavor of wood chips to flavor this smoked pork recipe.
Always allow meat from the smoker to rest for at least 20 minutes before serving. Tent it loosely in foil when doing this.
Easy Barbecue Sauce Hack

Add a cup of your favorite barbecue sauce to a small pan over low heat.
Add a tablespoon of pure maple syrup and a tablespoon of bourbon whiskey.
Adjust quantities to taste.
Stir and heat until well combined, serve over the meat.

Always make sure the water you add to your smoker is hot before putting in the smoker. Cold water will cool the smoker down and create a longer cooking time.
Nutrition
Calories:
390
kcal
,
Carbohydrates:
7
g
,
Protein:
50
g
,
Fat:
16
g
,
Saturated Fat:
6
g
,
Polyunsaturated Fat:
3
g
,
Monounsaturated Fat:
7
g
,
Trans Fat:
1
g
,
Cholesterol:
161
mg
,
Sodium:
2030
mg
,
Potassium:
962
mg
,
Fiber:
1
g
,
Sugar:
6
g
,
Vitamin A:
13
IU
,
Vitamin C:
1
mg
,
Calcium:
27
mg
,
Iron:
2
mg
Nutrition information is automatically calculated, so should only be used as an approximation.
Looking for more tasty smoker recipes? Be sure and see our smoked whole chicken and our easy smoked salmon!