The BEST Smoked Whole Chicken
Smoked whole chicken is an easy smoker recipe that you're going to love. Using a dry brine and your pellet smoker, this delicious family meal is a snap to put together.
The best part of this whole chicken on the smoker is the crispy skin you'll get at the end. This is one of our family's favorite recipes for the smoker. Read on and I'll show you step-by-step instructions for how to make the best smoked chicken ever!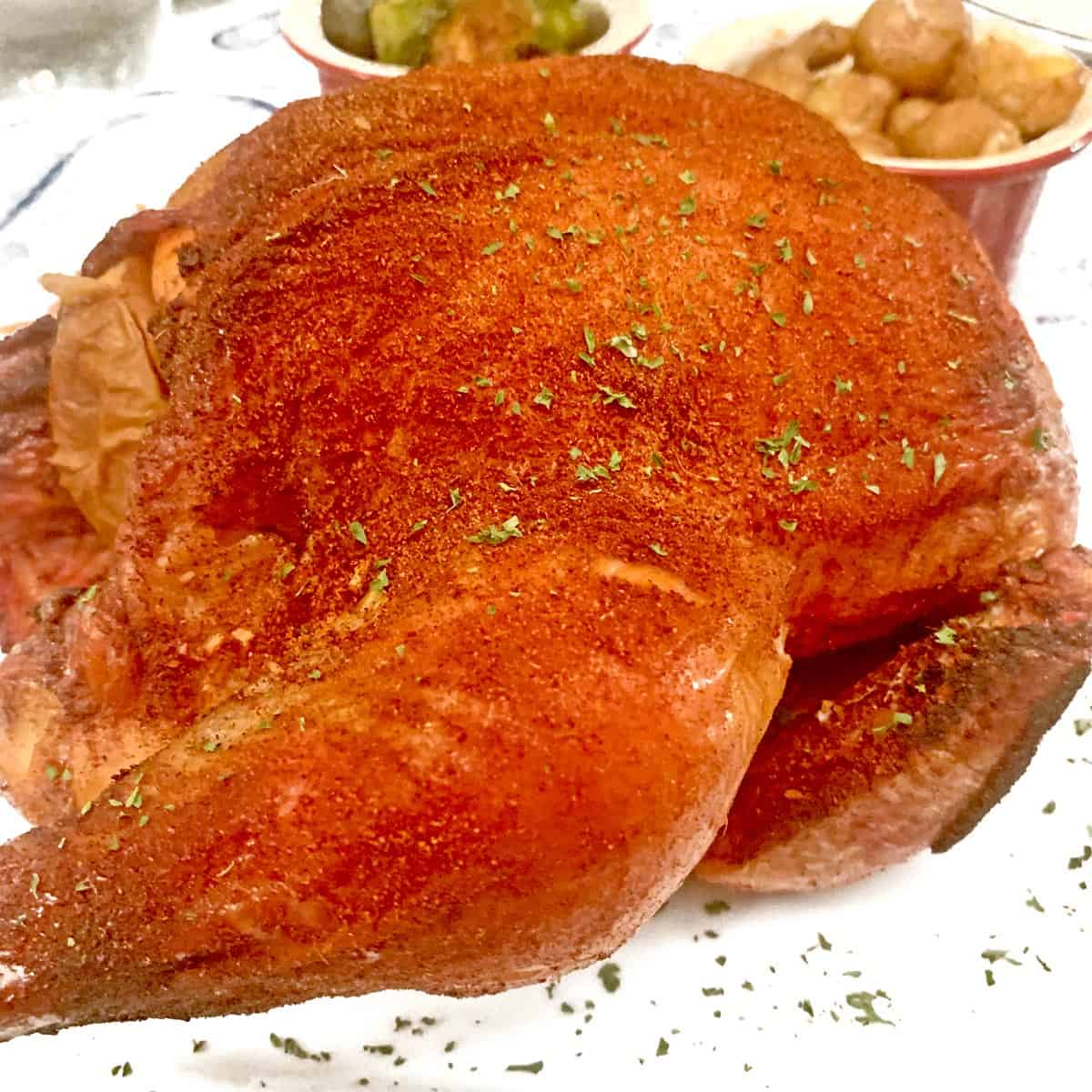 About this
I make this smoked whole chicken on a Traeger pellet smoker with a simple homemade dry rub. Using the same technique, you can easily make this on an off-set smoker as well. It tastes great either way.
Unless I'm making smoked chicken legs, I like to make 2 or 3 smoked whole chickens at a time. Our family eats a lot of different chicken recipes. This smoked recipe is great as a main dish or in our crispy chicken and shells, chicken noodle soup, keto chicken salad, and our chicken and biscuits skillet pot pie.
A common problem with smoked chicken is a rubbery skin at the end. To avoid this, we smoke at a higher temperature and use a smoke tube for extra smokey flavor. You can do this when smoking a whole bird, chicken wings, or even a chicken leg or thigh.
What you need to make this
One of the great things about learning how to smoke a whole chicken is that you only need a handful of ingredients. This is also true when you make a roast chicken. As a bonus, this helps lower the cost of this easy family meal.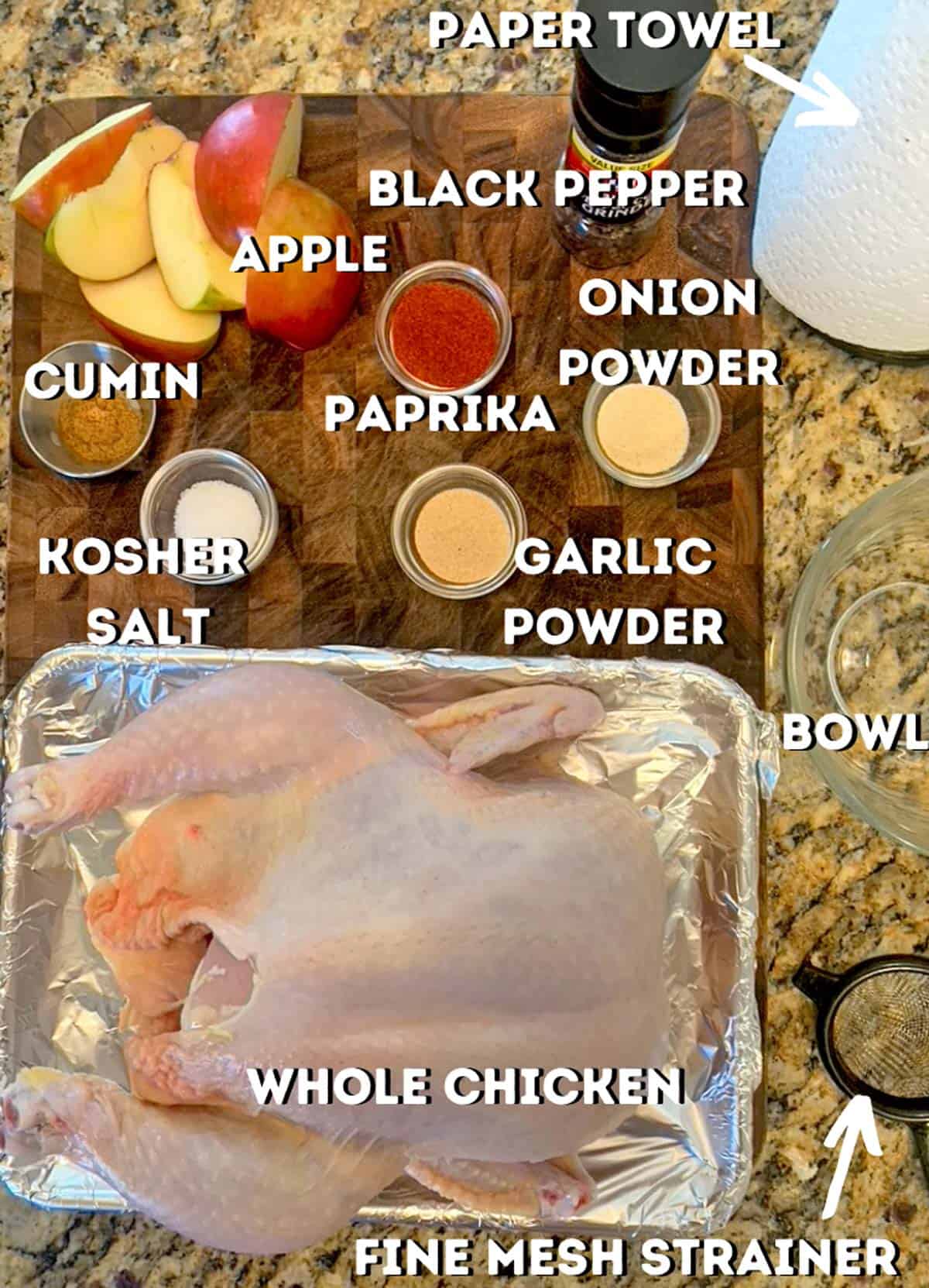 Whole Chicken – With the skin on. Unless you're lucky enough to raise your own, be sure an look for one that is free-range and organically grown. You'll pay more but the quality and amount of meat is very noticeable.
For the Dry Brine – You can use a variety of spices, along with some salt and pepper. I like a combination of Paprika, garlic powder, onion powder, and a touch of cumin.
Paper Towels – You'll need some of these to help dry off the surface of the bird before seasoning it.
A Fine Mesh Strainer – Use one of these to help evenly sprinkle the dry brine over the chicken.
Variations and substitutions
For the spice rub, think about using "warm" spices. Things like chili powder and maybe even a little cayenne pepper. Of course don't forget the black pepper, fresh ground is always best.
Instead of a whole bird, you can use this smoked chicken recipe when using wings, thighs and even a spatchcock chicken.
If you like, add a BBQ rub at the end.
Pro Smoking Tips: Cooking time will vary depending the size of your chicken. For food safety reasons, the internal temperature of the meat has to be at least 165° F.
If you are using an electronic probe thermometer, be sure to calibrate it. I always use a couple of thermometers to be sure the meat is cooked to a safe temperature!
How to smoke a whole chicken
Make a simple spice rub, then evenly apply it to the whole bird.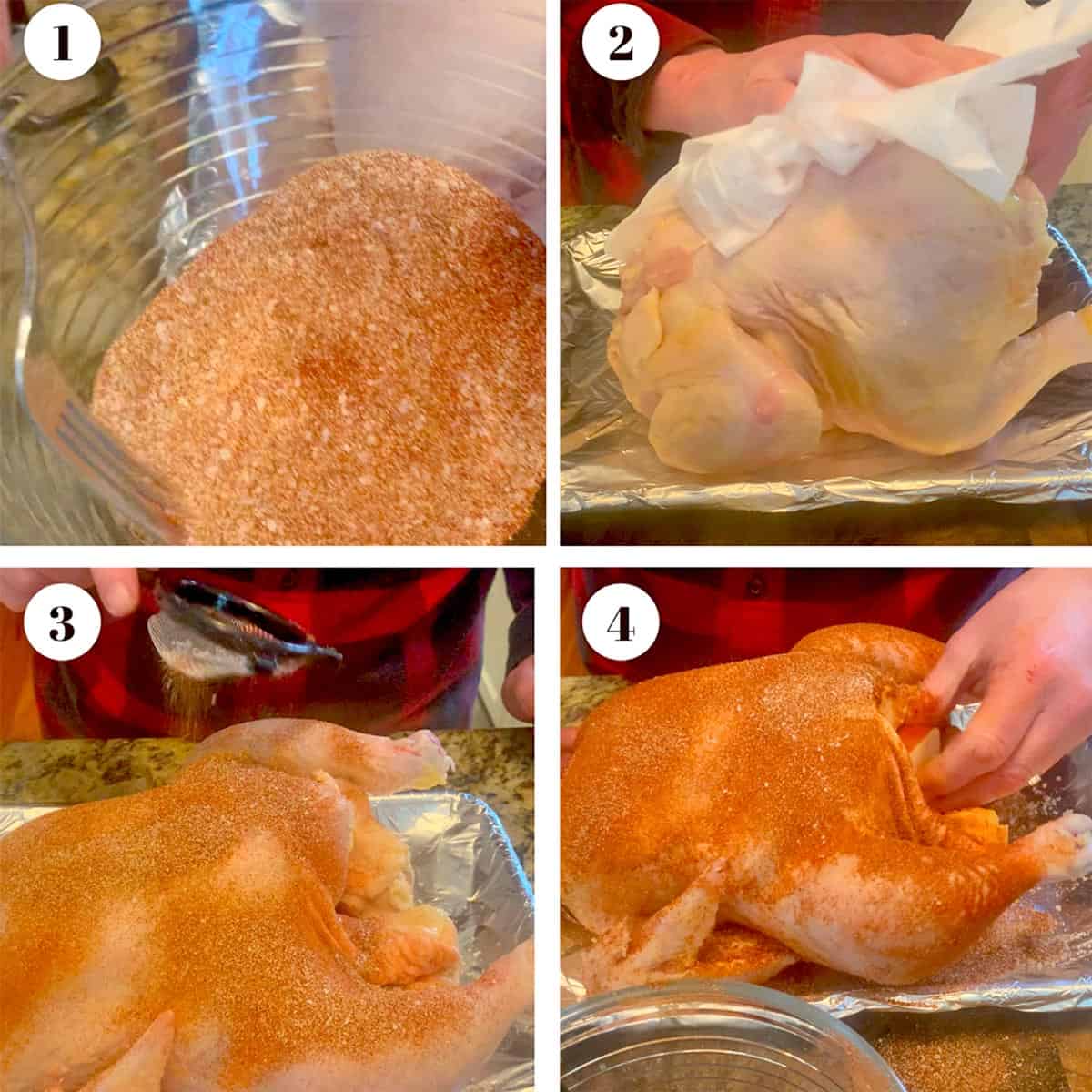 Combine the spices to make a flavorful dry brine.
Use paper towels to pat dry the inside and outside of the bird.
Use a fine mesh strainer to evenly cover the whole thing with the spice blend.
Stuff the cavity with apple wedges.
Now, you are going to let the chicken rest in the refrigerator, uncovered, for at least 4 to 6 hours.
The secret to getting crispier skin when smoking a chicken is to not use a low temperature. A higher temp means a shorter cook time which can also mean less smokey flavor. I'll show you how to fix that little problem!
For best results, I use a smoke tube. It is a stainless steel cylinder that you fill with pellets and then light them up. It produces tons of flavorful smoke.
They are inexpensive, easy to use, and a great way to make this smoked chicken recipe even tastier. A smoke tube is also perfect when using an electric smoker which tends to produce less smoke.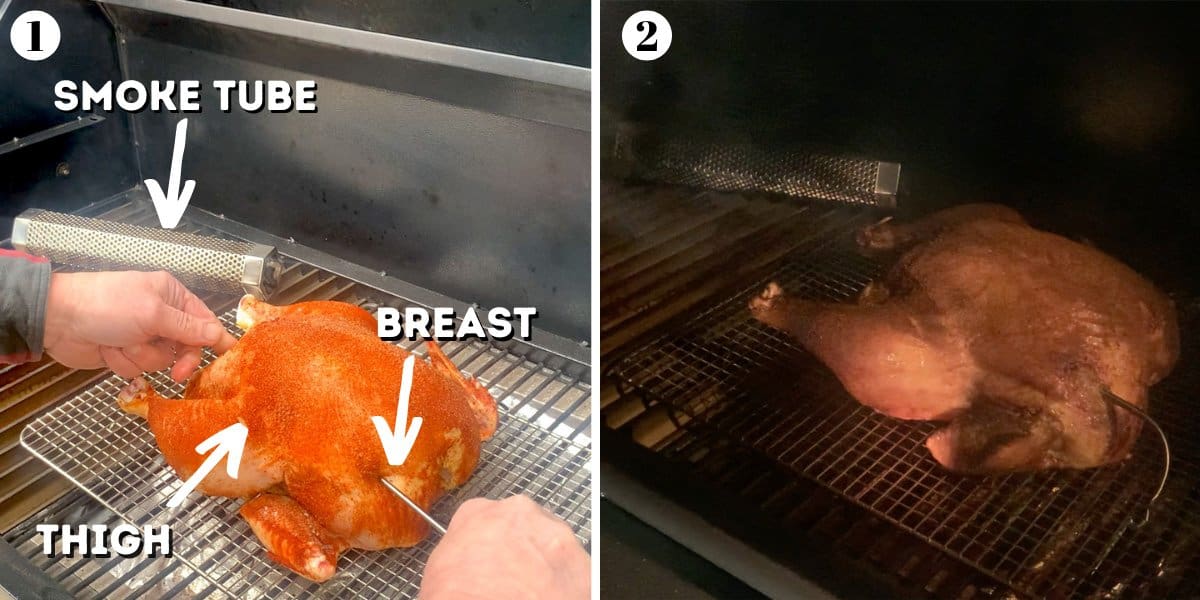 Pro Tip: Smoke your bird on a stainless steel cooling rack to make clean-up easier.
Smoke the chicken at 375°. Insert a temperature probe or meat thermometer into the thickest part of the breast (as shown) or into the thigh. Make sure the temp probe is not touching bone.
When the internal temperature of the chicken is 165 degrees F., take it off the smoker and let it rest for 15 minutes. This will allow the meat fibers to reabsorb some juice.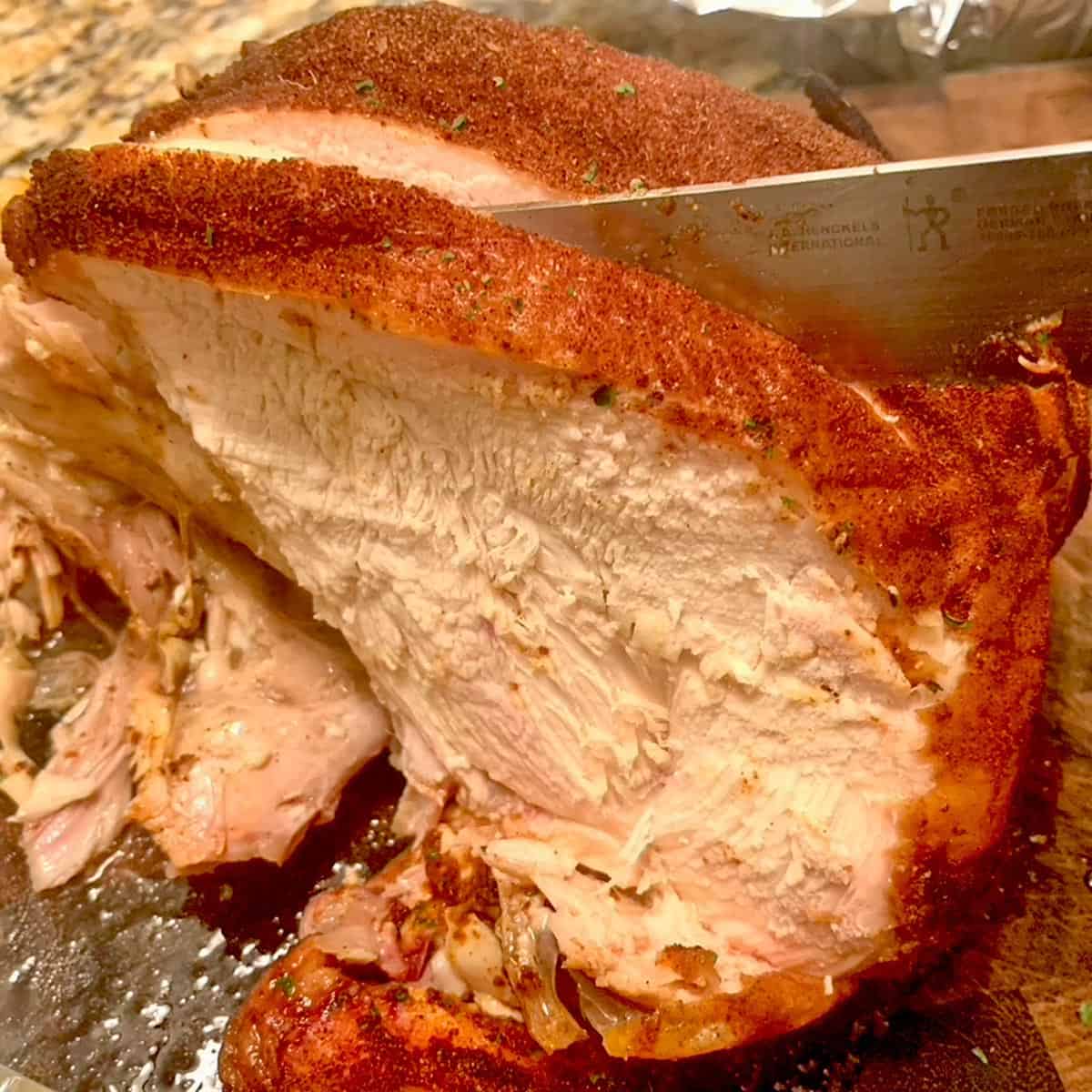 I like to use a serrated knife to slice the finished product. You'll get get nice, even, juicy cuts of succulent meat by doing this.
Common questions
What is the best flavor of pellets for smoking a chicken?
This is a matter of personal preference. Apple-flavored wood chips (or pellets) are always a great choice but you can use whatever you have on hand.
How long does it take to smoke a whole chicken?
There is not an exact time for this. Smoke time depends on the size of the chicken and the smoker temp. It is done with the internal temperature of the meat is at least 165° F.
What to serve with a smoked whole chicken
We like to serve a vegetable like green beans and some type of potato with this smoked whole chicken. Sometimes our kids like to dip it into BBQ sauce or ranch dressing. Most of the times though, we eat this family favorite just like this.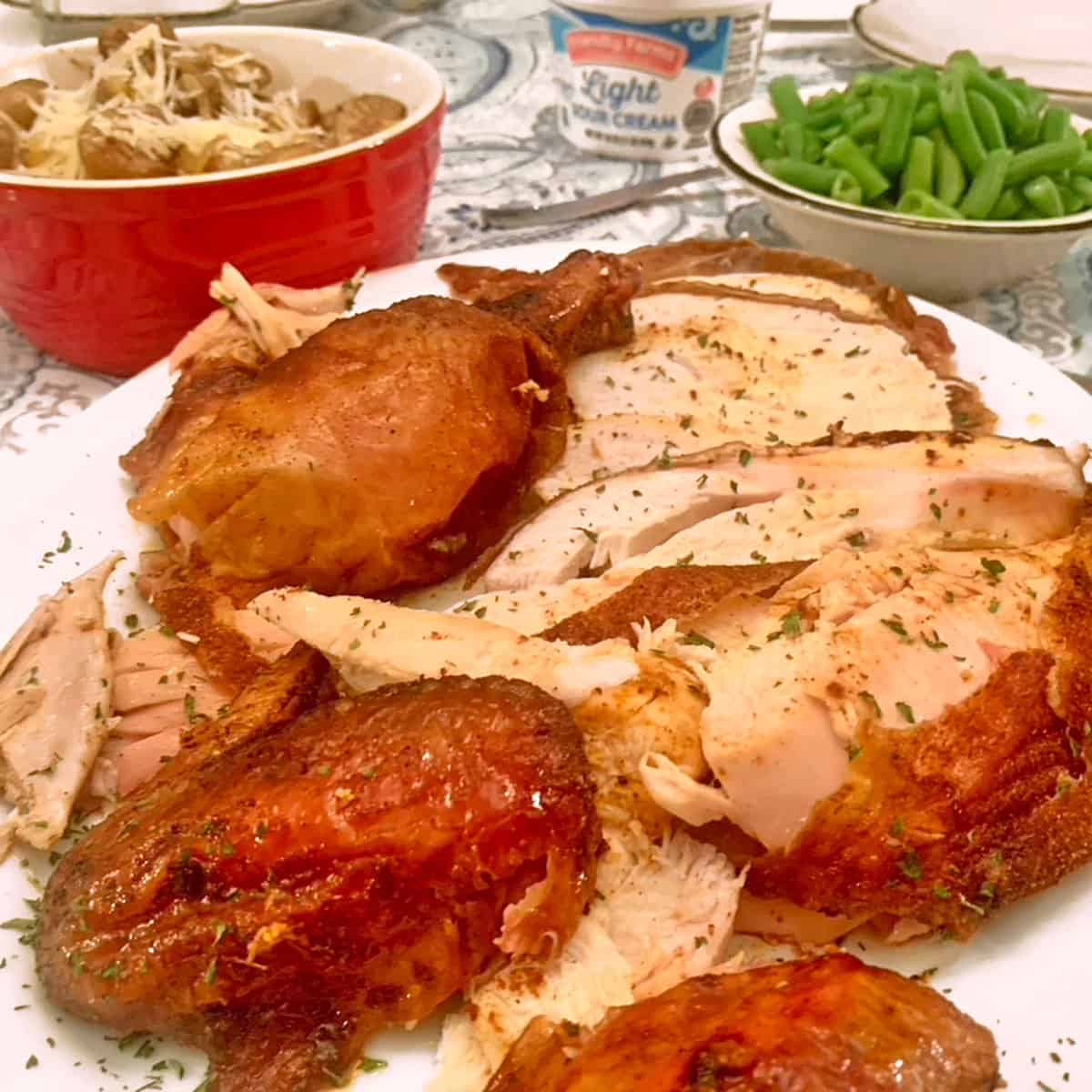 👨‍🍳 Tried this Recipe? Please leave a ⭐⭐⭐⭐⭐ rating in the recipe card below and leave a comment. We love hearing from our readers!
⏩ Stay in touch with us on social media by following us on Facebook, Pinterest, Instagram, and YouTube!
📬Get our Recipes delivered to your inbox for FREE!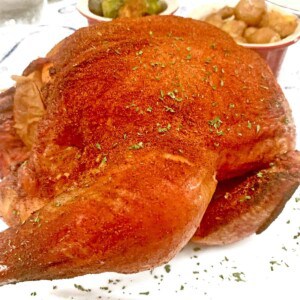 The BEST Smoked Whole Chicken
Learn how to smoke a a whole chicken on a pellet smoker or offset smoker. We'll show you the secret for getting crispy skin and a nice smokey flavor!
Ingredients
1

Whole chicken

,

5 – 7 lbs. Skin on.

1

Honey Crisp Apple
For the Dry Brine
3

tbsp

Paprika

2

tbsp

Garlic Powder

1

tbsp

Onion Powder

1

tsp

Cumin

1

tbsp

Kosher Salt

Fresh Ground Black Pepper
Instructions
Using a small mixing bowl, combine the ingredients for the dry brine and stir thoroughly with a table fork. Slice the apple into 1/8 segments and remove the seeds.

On a hard clean surface, use some paper towels to pat the surface of the chicken dry. Do the same thing inside the cavity.

Use a spoon to transfer the dry brine into the fine mesh strainer and evenly distribute the seasoning onto the chicken. Be sure to get under the drumbsticks and beneath the wings. Stuff the cavity with the apple. Allow the chicken to rest in the refrigerator, uncovered for at least 4 to 6 hours.

Heat your pellet smoker to 375°. Then light a smoke tube and place it on the grill grates. Place the chicken either directly on the grill grates or on a stainless steel cooling rack. Maintain the smoker temperature at 375° and cook the chicken to an internal temperature of at least 165°.

Remove the chicken from the smoker and allow it to rest for 15 minutes. Tent it loosly with foil while it rests.
Notes
ALWAYS cook chicken to an internal temperature of at least 165 degrees F.
Measure the temperature of the smoked chicken in the thickest part of the breast or thigh meat. Make sure the temp probe does not touch bone.
Pellets made from fruit wood are a great option for smoking a chicken. But you can use whatever flavor of pellets that you like.
Smoking time will vary depending on the size of the chicken.
Nutrition
Calories:
235
kcal
,
Carbohydrates:
7
g
,
Protein:
19
g
,
Fat:
15
g
,
Saturated Fat:
4
g
,
Polyunsaturated Fat:
3
g
,
Monounsaturated Fat:
6
g
,
Trans Fat:
1
g
,
Cholesterol:
71
mg
,
Sodium:
943
mg
,
Potassium:
302
mg
,
Fiber:
2
g
,
Sugar:
3
g
,
Vitamin A:
1442
IU
,
Vitamin C:
3
mg
,
Calcium:
26
mg
,
Iron:
2
mg
Nutrition information is automatically calculated, so should only be used as an approximation.
More easy smoker recipes