Lipton Noodle Soup with Rotisserie Chicken
Lipton noodle soup is the gold standard of American soups. I'm going to show you how to take this classic soup mix and make it even better.
The best part, you can have this easy soup recipe in a bowl and ready to eat in just 15 minutes.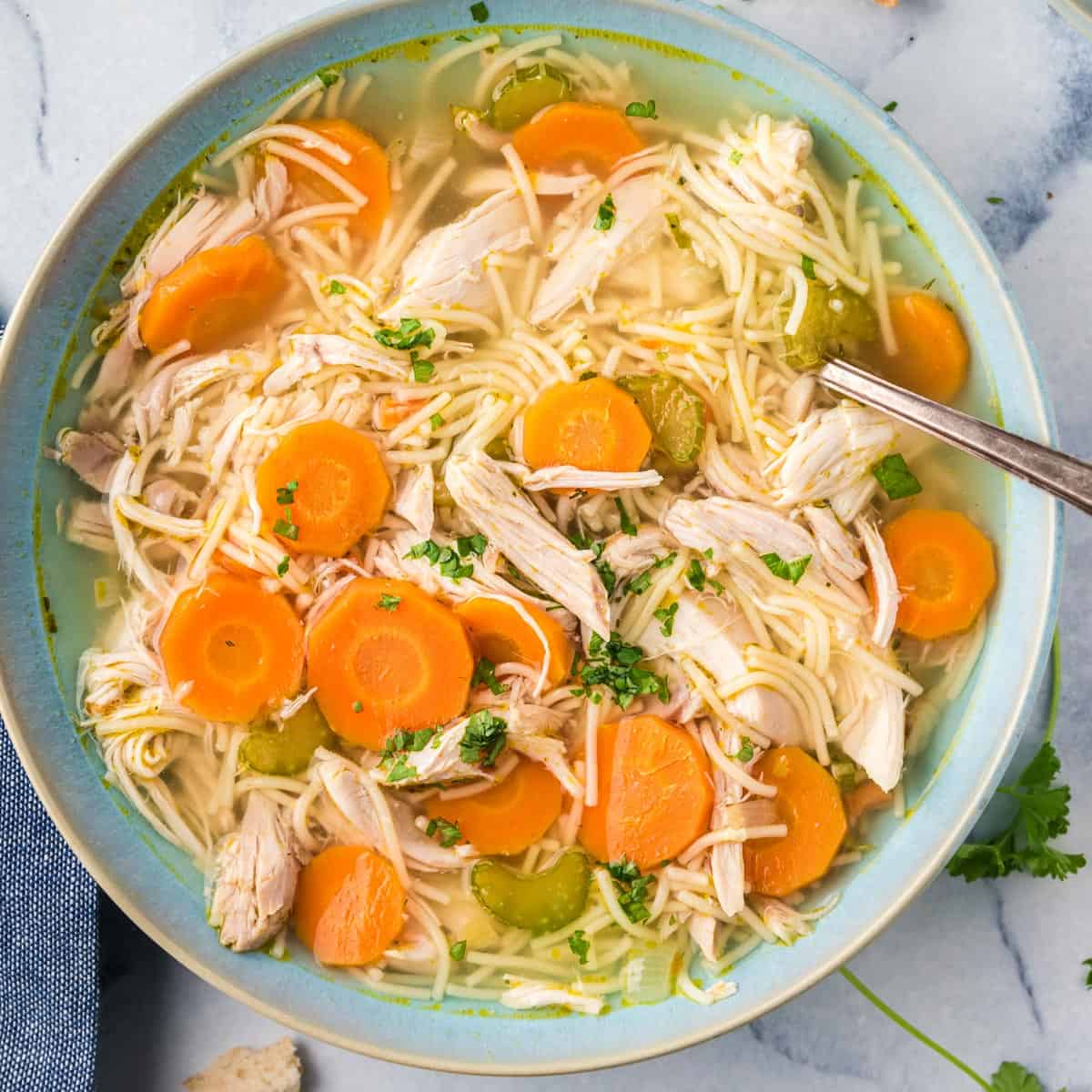 What is this?
I'm all about shortcuts in the kitchen. And cooking hacks. If I can take something that's already pretty good and make it better with a little of this and a little of that, then I'm all in!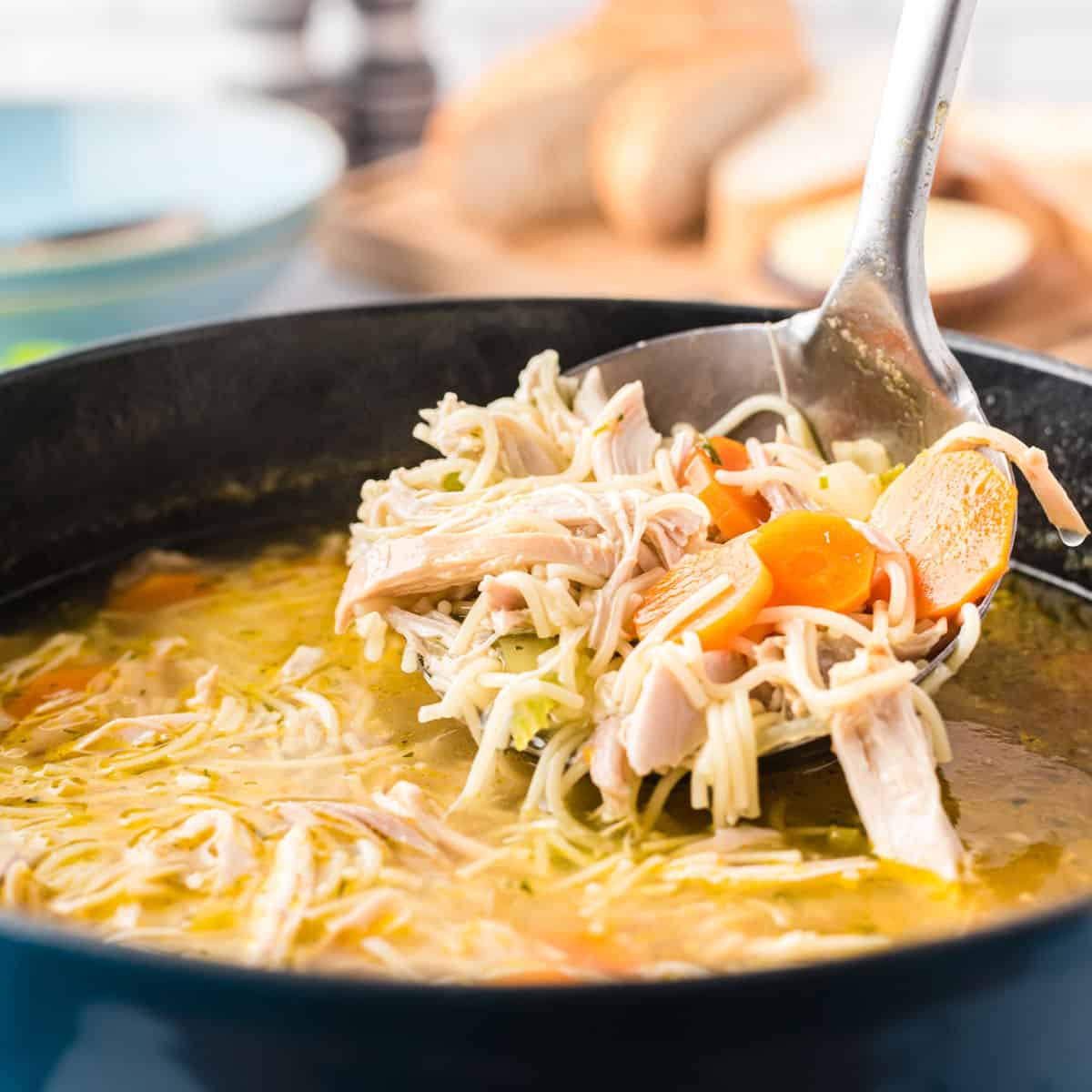 This easy soup recipe starts with a base of Lipton noodle soup. Then you just add a few simple vegetables and some chunks of rotisserie chicken. Or, cook your own diced chicken and use it for this wonderful cooking hack.
Before you even know what just happened, you'll have a big beautiful bowl of hot chicken soup in front of you.
What goes in it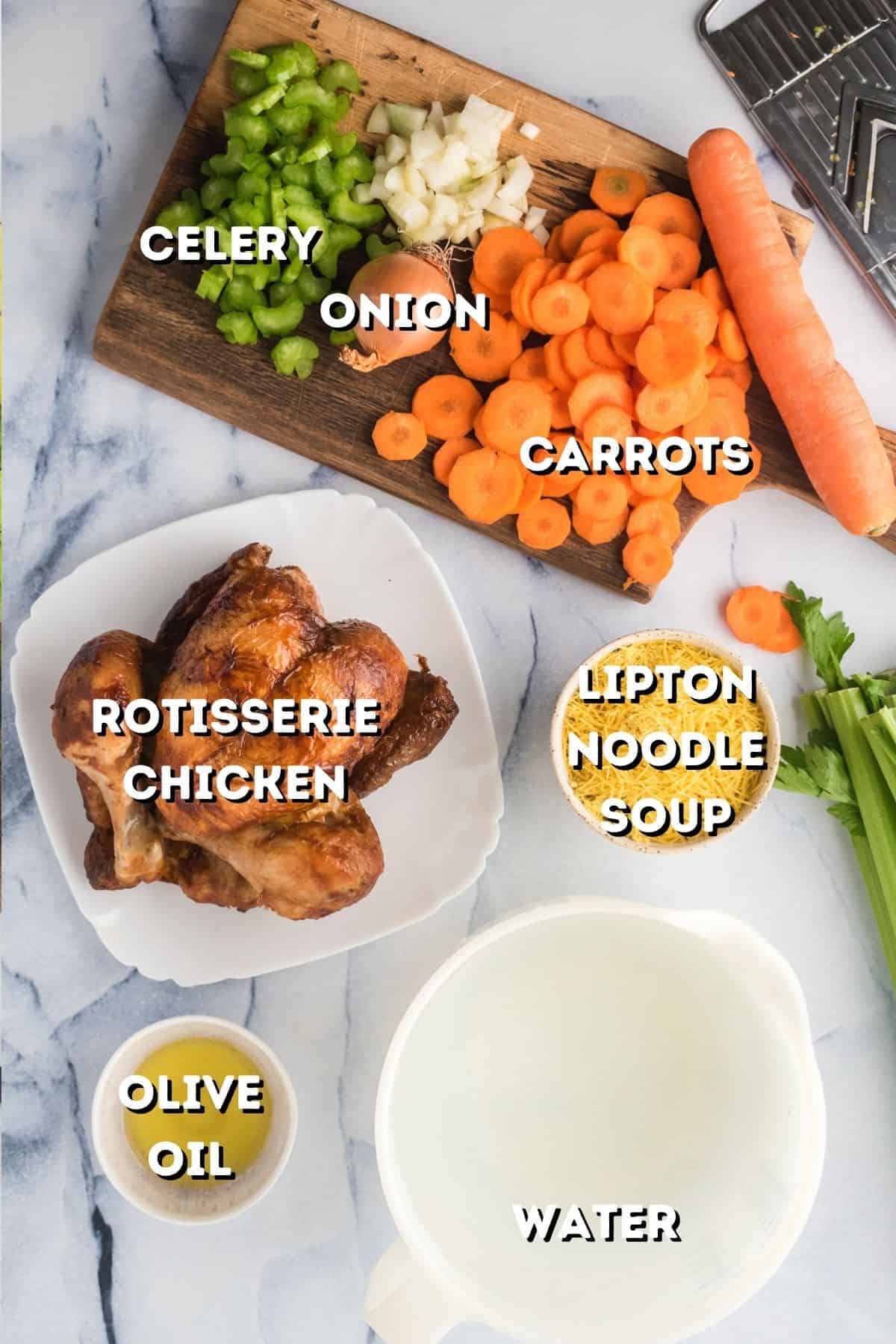 Lipton Noodle Soup – You need 2 boxes (4.5 oz each) for this recipe.
Rotisserie Chicken – Get this at your favorite grocery store or from Costco where they're known for these.
Expert Tips for Choosing a Good Rotisserie Chicken:
Try to get it fresh of the rotisserie if possible. Otherwise, check the time stamp and look for the most recent one.
Looks matter! You want one that is plump and the skin should not be wrinkled and dry looking.
If comparing two of them, take the one that feels heavier.
Check out the legs. If the bone is exposed then pass. This means the rotisserie chicken likely be dry.
If there is a lot of juice at the bottom of the container, move on to the next one. You want the juice in the meat, not in the container!
A Mire Poix – Don't get all nervous if you don't know what this is! It's just a French word for the vegetable base that you use for a soup. In this case, you're going to use a combination of carrot, onion, and celery.
Expert Cooking Tip
Cut the vegetables to an even thickness. You're going to saute these for a few minutes and you want them to cook evenly.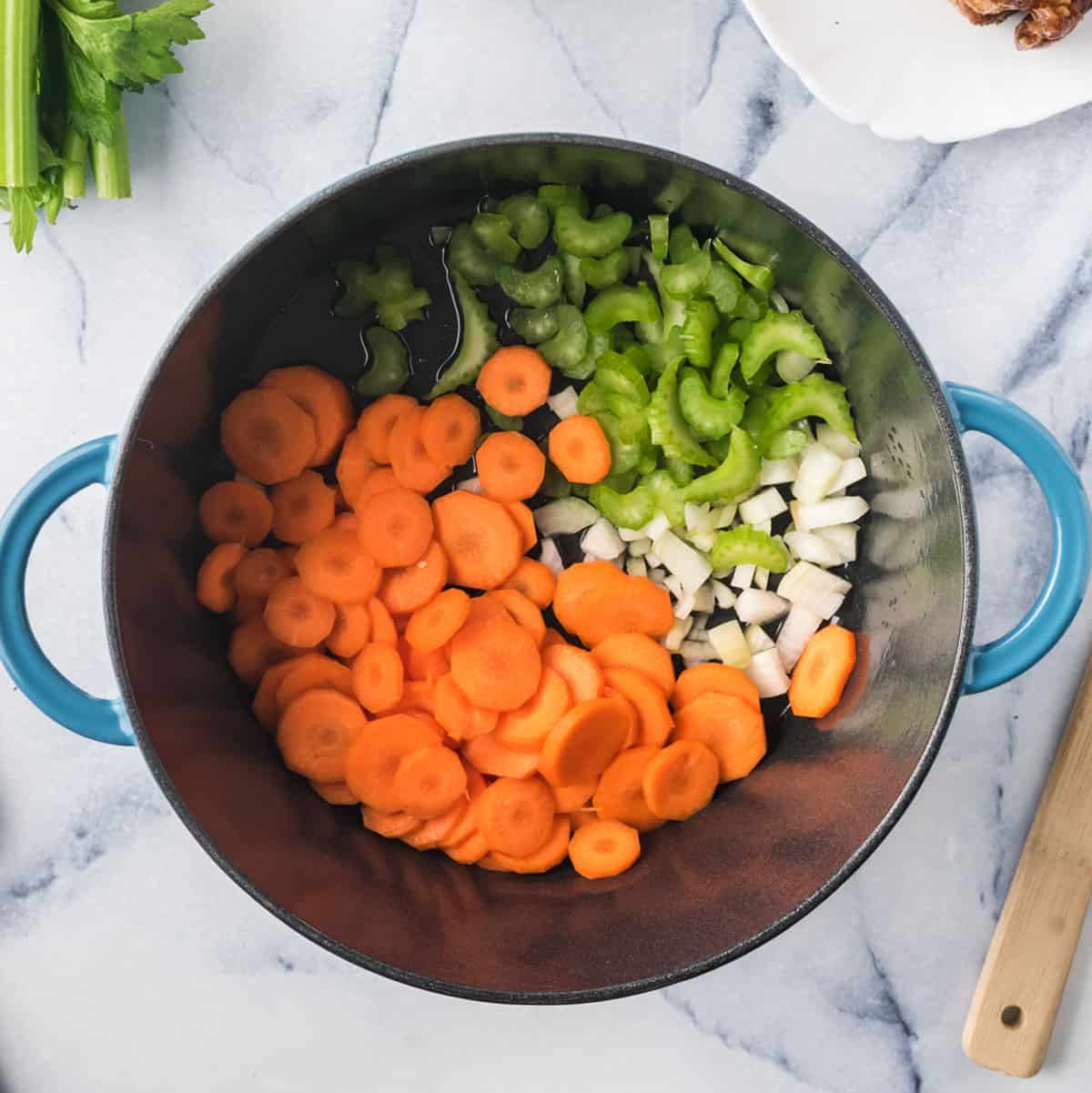 Olive Oil – Extra virgin olive oil (EVOO) works best for this recipe. You need this to saute veggies.
Water – Be sure the water you use is at least warm, if not hot, before adding it to the other ingredients.
Step-by-step-instructions for how to make it
(Full recipe in the recipe card below)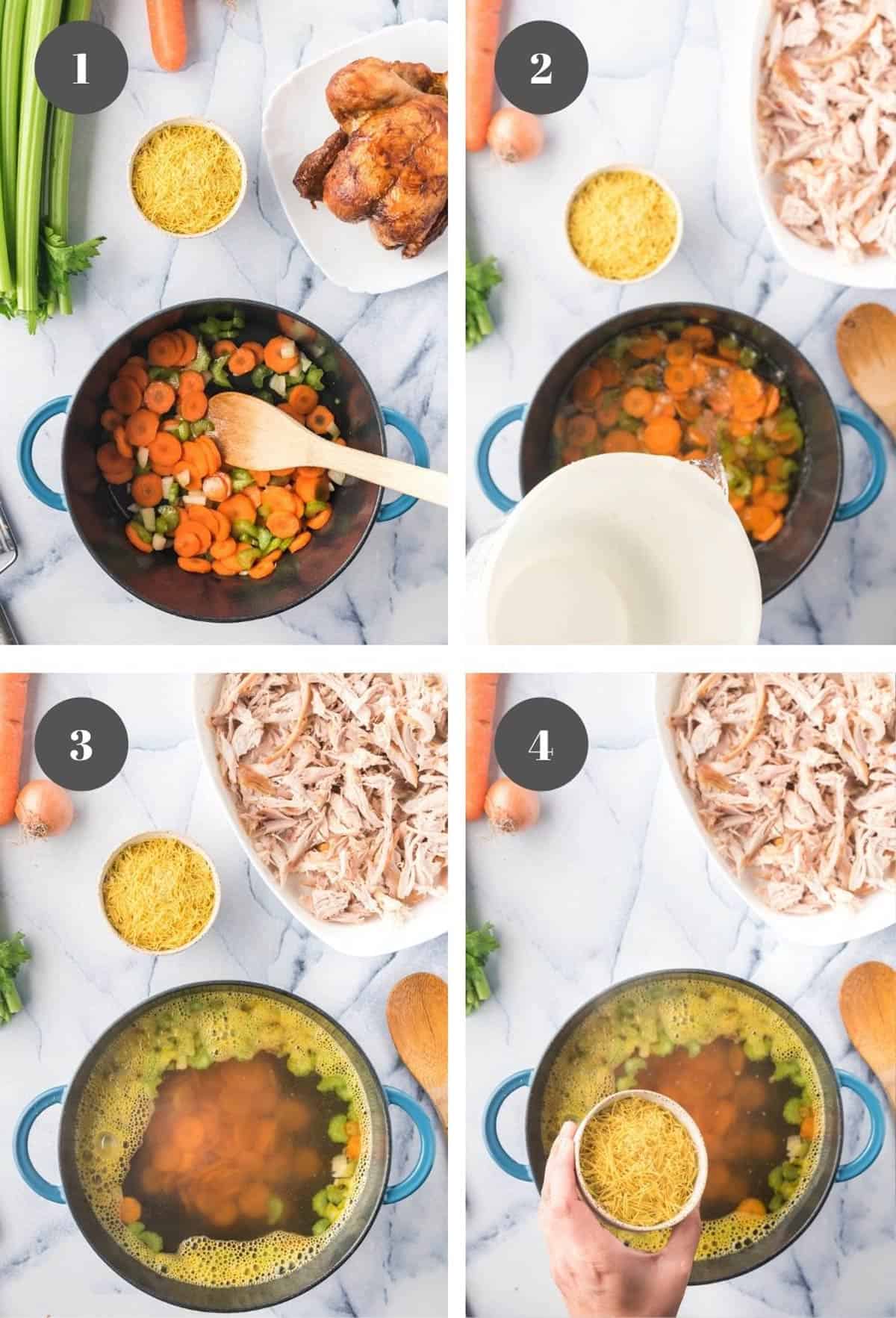 Start by slicking the vegetables to an even thickness, about 1/4″ thick. Then saute them in the hot oil until they're soft. This takes about 5 minutes over medium-high heat.
Add the water to the sauteed vegetables.
Increase the heat of the burner until the water starts to boil. Reduce heat to allow a low boil or simmer and let it do this for five minutes. Be sure not to over-boil or you'll end up with mushy vegetables.
Add the Lipton noodle soup mix to the pot. Stir it in with a wooden spoon to make sure it is well dissolved.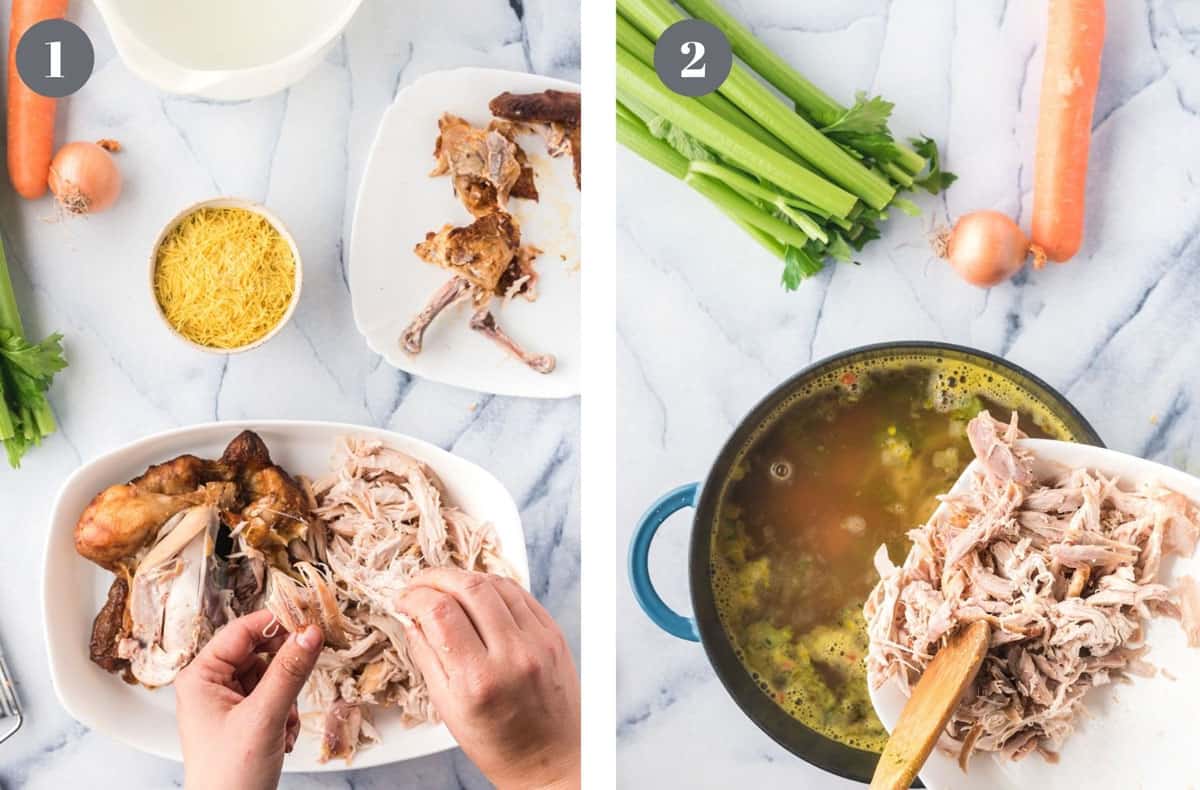 Remove the meat from the bones and shred it with your fingers.
Add the rotisserie chicken to the pot of Lipton noodle soup. Cook for five more minutes before serving.
Variations and substitutions
For the Soup Mix – There are many instant noodle soup brands you can use for this. Use your favorite brand. If you're following a low-sodium diet, look for a box of the reduced-sodium soup mix.
For the Olive Oil – You can saute the vegetables in butter. No one will judge you.
For the Vegetables – These are used to flavor the broth and you can use what you have on hand. Other thing you can add include:
Crushed garlic
Bok choy
Baby spinach
Fennel
Apple (peeled)
For the Rotisserie Chicken – If you're a purist and you have the time, make a roast chicken. You won't regret the extra time involved.
For the Water – Use chicken broth. Save your money and make your own. The store-bought stuff is usually pricey and is like kissing your sister. There's not a lot of flavor to it.
You can make your own easily!
How to make Homemade Chicken Broth
Roast a chicken or use a rotisserie chicken and remove the meat. Reserve the meat in a sealed container in the refrigerate.
Place the chicken carcass in a large stock pot. Add some vegetables like onion, celery, and carrot (no need to slice them.)
Add enough water to cover the carcass. Cover the pot and bring to a boil. Reduce heat and allow to simmer for at least an hour. Longer is better!
Allow the stock to cool, strain the liquid and discard the solids. You can use the remaining stock for this Lipton noodle soup! Or, you can store it in the fridge for up to 3 days, or freeze it for 3 up to 3 months and use later.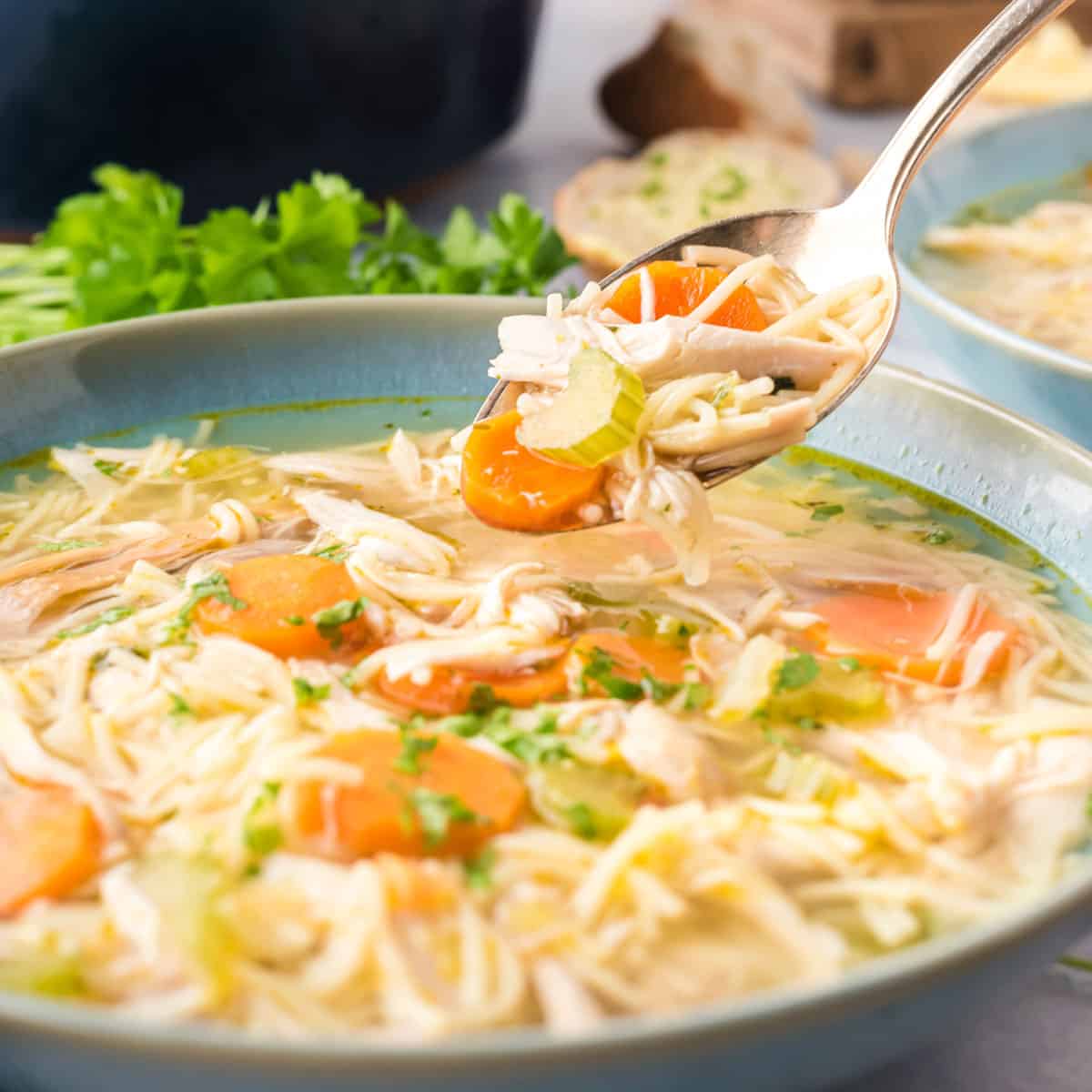 What to serve with this
This Lipton noodle soup with rotisserie chicken has everything you need for a hot nutritious meal. If you wanted to add a little something, I would suggest some of our homemade crusty bread or a quick green salad, or even this Indian spice chicken salad.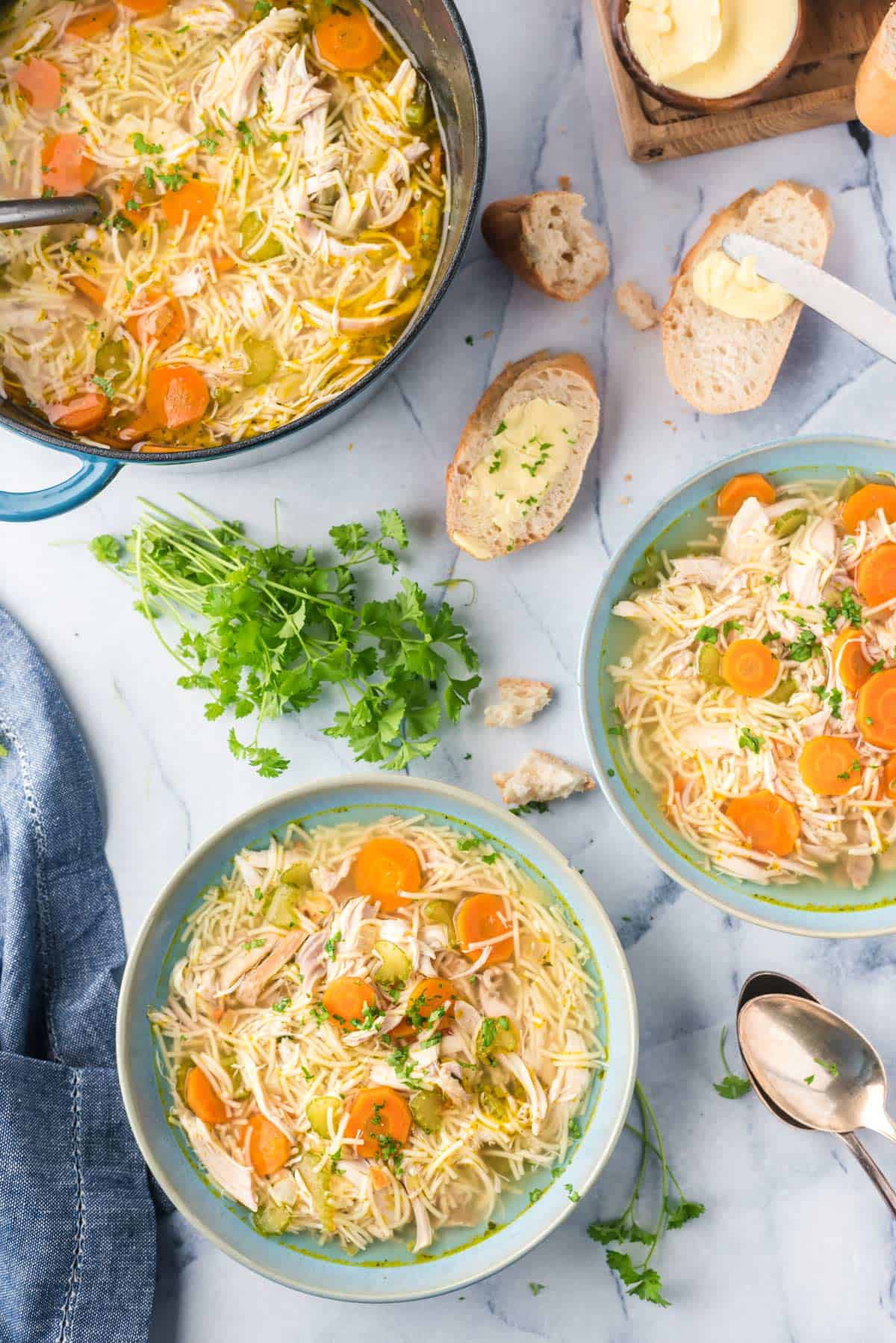 Common questions
Can I freeze this?
You can freeze this Lipton noodle soup with rotisserie chicken and use it for later. Allow it to cool completely then place it in an air-tight container. Freeze for up to 3 months until ready to use.

How long is this good for?
You can store the leftover in your refrigerator for up to 3 days. Make sure you allow it to cool first, then place in an air-tight container.
Why do people eat chicken noodle soup when the don't feel good?
When you eat chicken, your body produces a melatonin which will help you to rest, and seratonin which will make you feel happy and at ease. This is why chicken noodle soup is considered a comfort food!
Related recipes
Try our Roasted Garlic and Cauliflower Soup along with these other easy soup recipes!
👨‍🍳 Tried this Recipe? Please leave a ⭐⭐⭐⭐⭐ rating in the recipe card below and leave a comment. We love hearing from our readers!
⏩ Stay in touch with us on social media by following us on Facebook, Pinterest, Instagram, and YouTube!
📬Get our Recipes delivered to your inbox for FREE!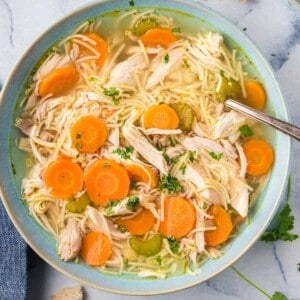 Lipton Noodle Soup with Rotisserie Chicken
Try this easy cooking hack featuring Lipton Noodle Soup, made better with store-bought Rotisserie Chicken. Recipe adapted from Lipton Soup.
Ingredients
2

boxes Lipton soup mix

8

cups

water

2

tablespoons

olive oil

1

small white onion

,

medium chop

1

cup

thinly sliced carrots

1

stalk celery

,

thinly sliced

1

rotisserie roasted chicken
Instructions
Place olive oil in large stock pot and heat over medium high temperature.

Place onion, celery, and carrots in pot and stir and saute until onion is soft and translucent.

Add water to the pot, cover and bring to low boil for 5 minutes

Add contents of soup mix to broth and stir

Remove meat from chicken, shred with fingers and place in stock pot

Cook for five more minutes over low temperature.

Serve hot.
Notes
For extra flavor, make your own chicken stock.
Be sure not to over-cook the vegetables in this recipe.
Serve with crusty bread and a green salad.
Nutrition
Calories:
300
kcal
,
Carbohydrates:
0
g
,
Protein:
28
g
,
Fat:
19
g
,
Saturated Fat:
4
g
,
Cholesterol:
91
mg
,
Sodium:
124
mg
,
Potassium:
266
mg
,
Fiber:
0
g
,
Sugar:
0
g
,
Vitamin A:
120
IU
,
Vitamin C:
0.2
mg
,
Calcium:
24
mg
,
Iron:
1.5
mg
Nutrition information is automatically calculated, so should only be used as an approximation.