How Long to Cook Diced Chicken for Easy Recipes
on Mar 30, 2023, Updated Sep 25, 2023
Knowing how long to cook diced chicken will help you make easy chicken recipes on the stove top, in the oven, air fryer, or even in an instant pot.
Read on, and we will teach you how long to cook chicken pieces for healthy lunch and dinner recipes.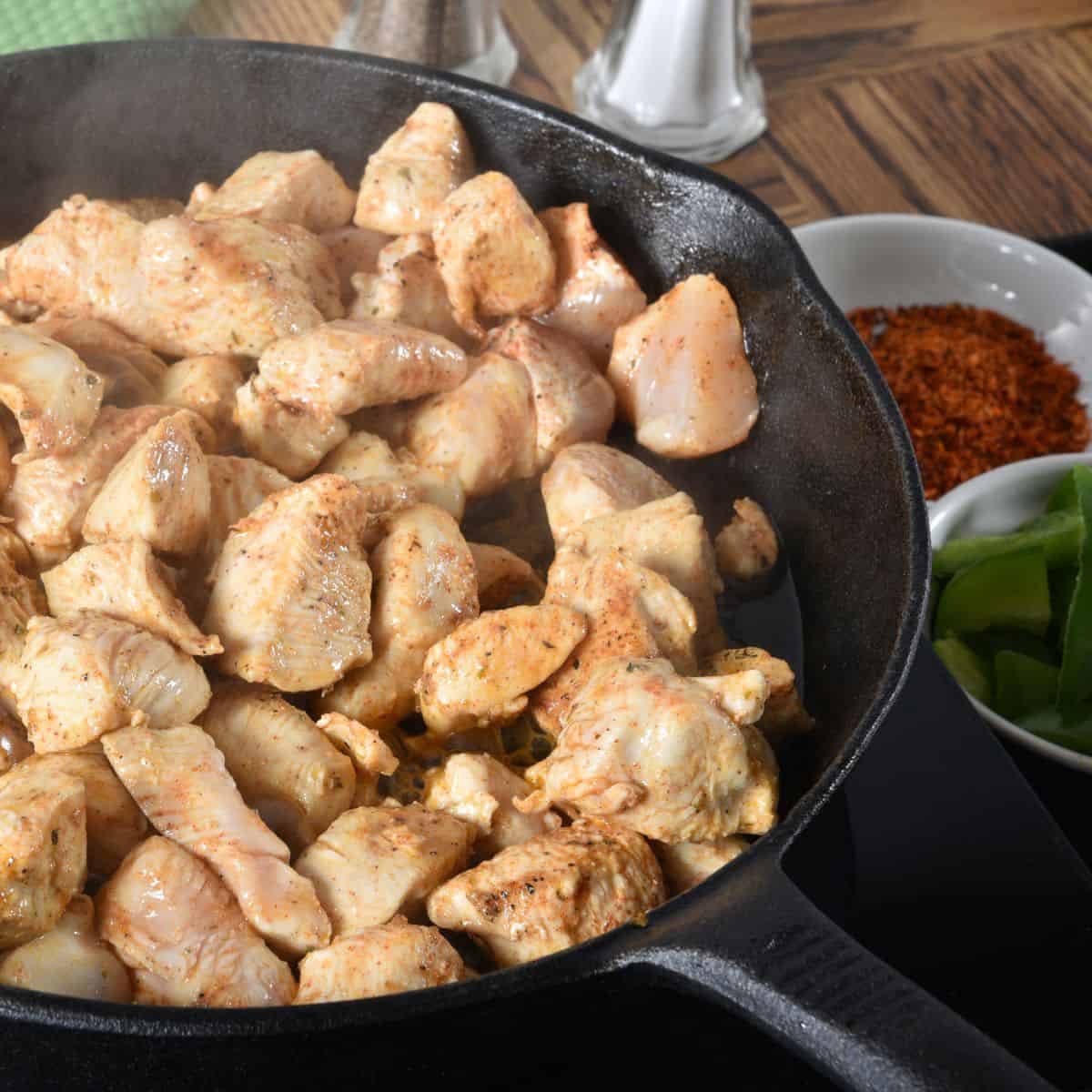 About this
Diced chicken is a favorite way to use boneless skinless chicken breasts and boneless skinless chicken thighs. You can cut these into cubes at home or buy a pre-cut package of diced chicken at the grocery store.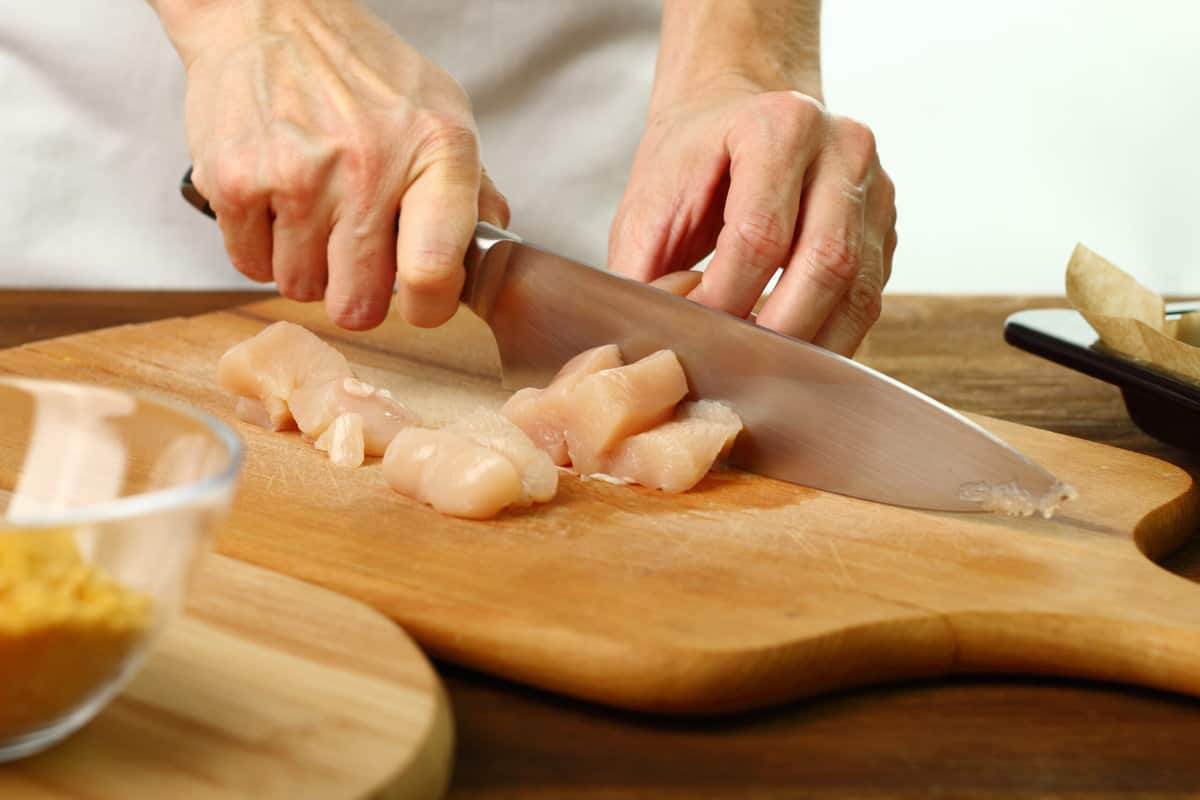 Bite sizes of chicken can vary, but you don't want to cut them any larger than 1-inch cubes. Also, you can expect them to shrink as they cook.
Food safety
Before we start, it's important to note that raw meat can carry harmful bacteria that can cause food poisoning. To prevent this, always carefully handle raw chicken and follow safe food handling practices.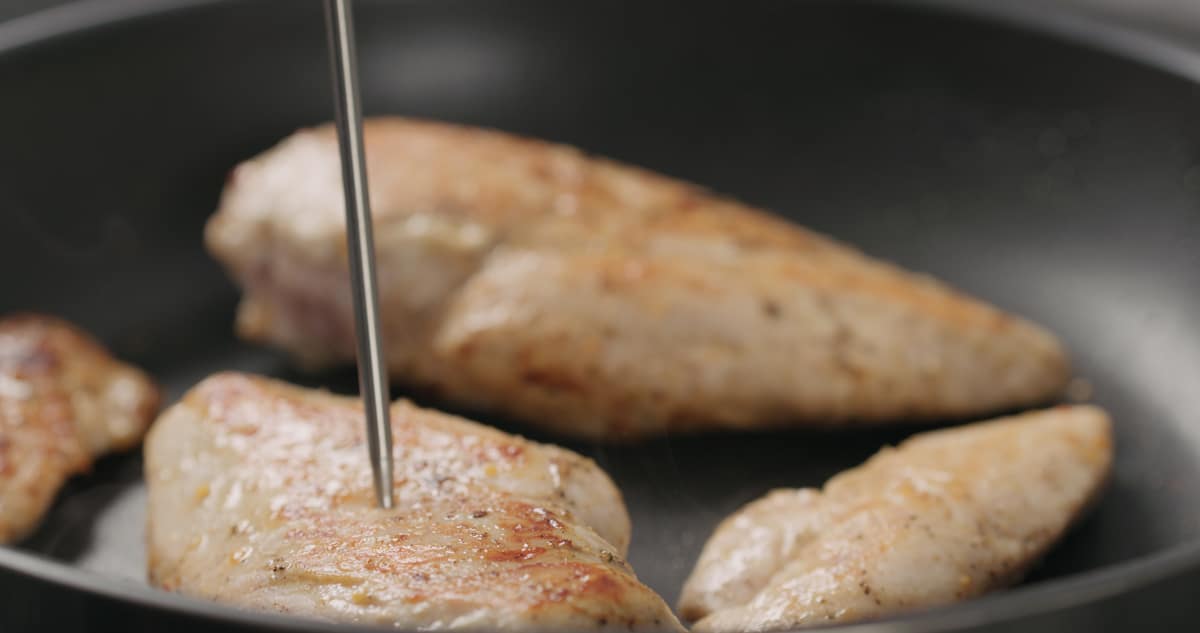 Use a meat thermometer to ensure that the internal temperature of the chicken reaches at least 165°F (74°C) when cooked. I always recommend this Thermapen One from Thermoworks. It is accurate, fast, and has an awesome five-year warranty.
How to cook chicken pieces in a pan
One of the best ways to cook diced chicken is to sauté it in a little bit of olive oil over medium heat. For added flavor, season the poultry with Italian seasoning, garlic powder, and black pepper.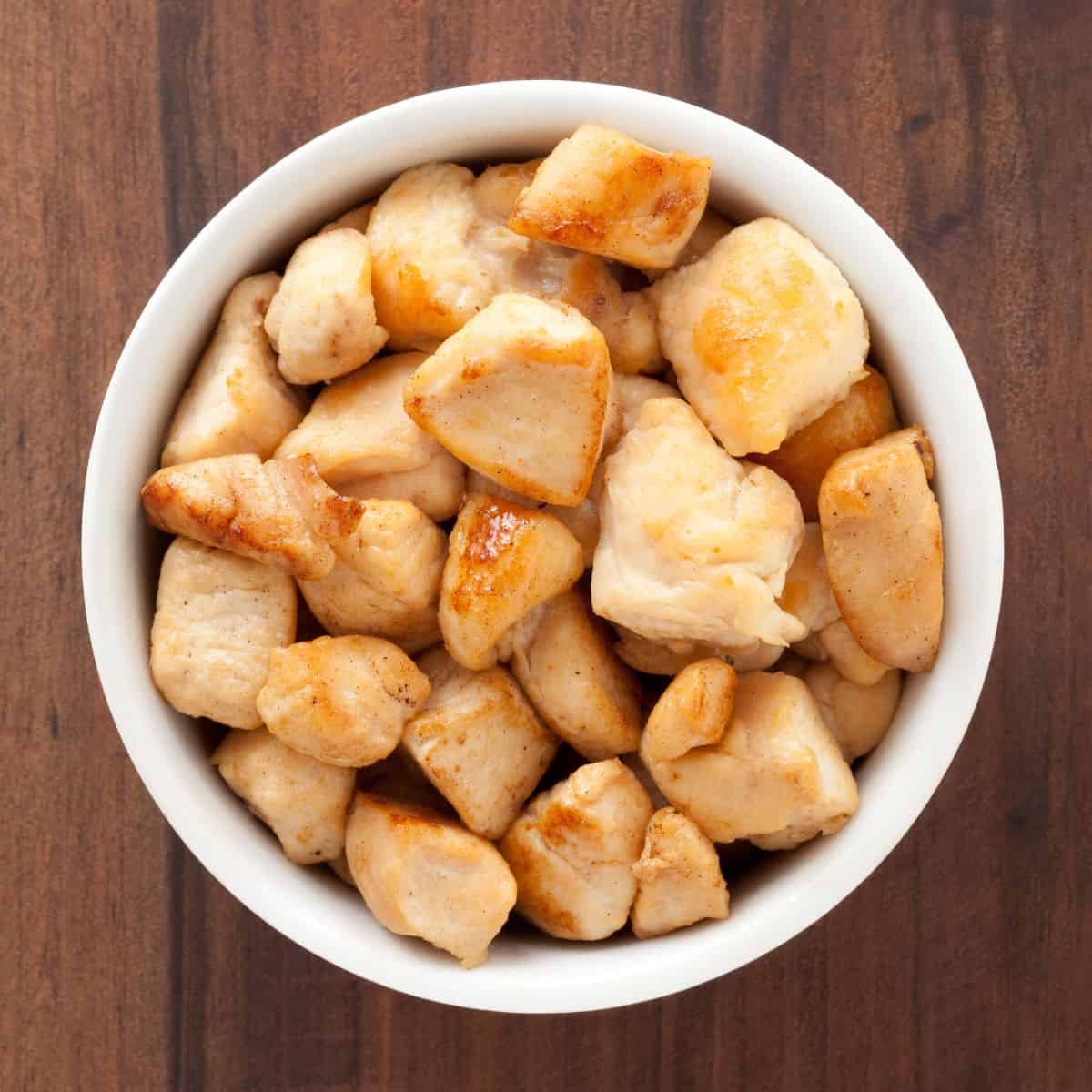 Cook it for about 5-7 minutes, occasionally stirring, until it's golden brown and cooked through.
How to make diced chicken in the oven
If you're looking for a healthier option, try baking this in the oven. Preheat the oven to 425°F (200°C).
Line a cookie sheet with aluminum foil and apply a layer of non-stick cooking spray.
Place the cubes in a mixing bowl, toss olive oil, garlic powder, and Parmesan cheese, and stir well. For some added flavor, a little Italian seasoning goes a long way. Make sure the Parmesan cheese adheres to the cubes of meat. You can also season the chicken with chili powder, cayenne pepper, or your favorite seasoning mix.
To bake this in the oven, spread it in a single layer on the prepared baking sheet. Bake it for about 20 minutes, stirring once or twice, until the chicken is cooked through and golden brown. Once the internal temperature of the chicken reaches 165° F, you can take it out of the oven.
These oven-baked chicken bites are perfect for making soups, salads, and even chicken sandwiches.
How long to cook diced chicken in an air fryer
Another easy recipe for diced chicken is to make chicken nuggets in an air fryer. Simply coat the chicken cubes in corn starch, egg, and breadcrumbs or seasoning mix, and air fry them for about 10 minutes until they're crispy and cooked through.
What to make with diced chicken
This is also great for stir-fried dishes. Heat a little vegetable oil or olive oil in a wok or large pot over medium-high heat.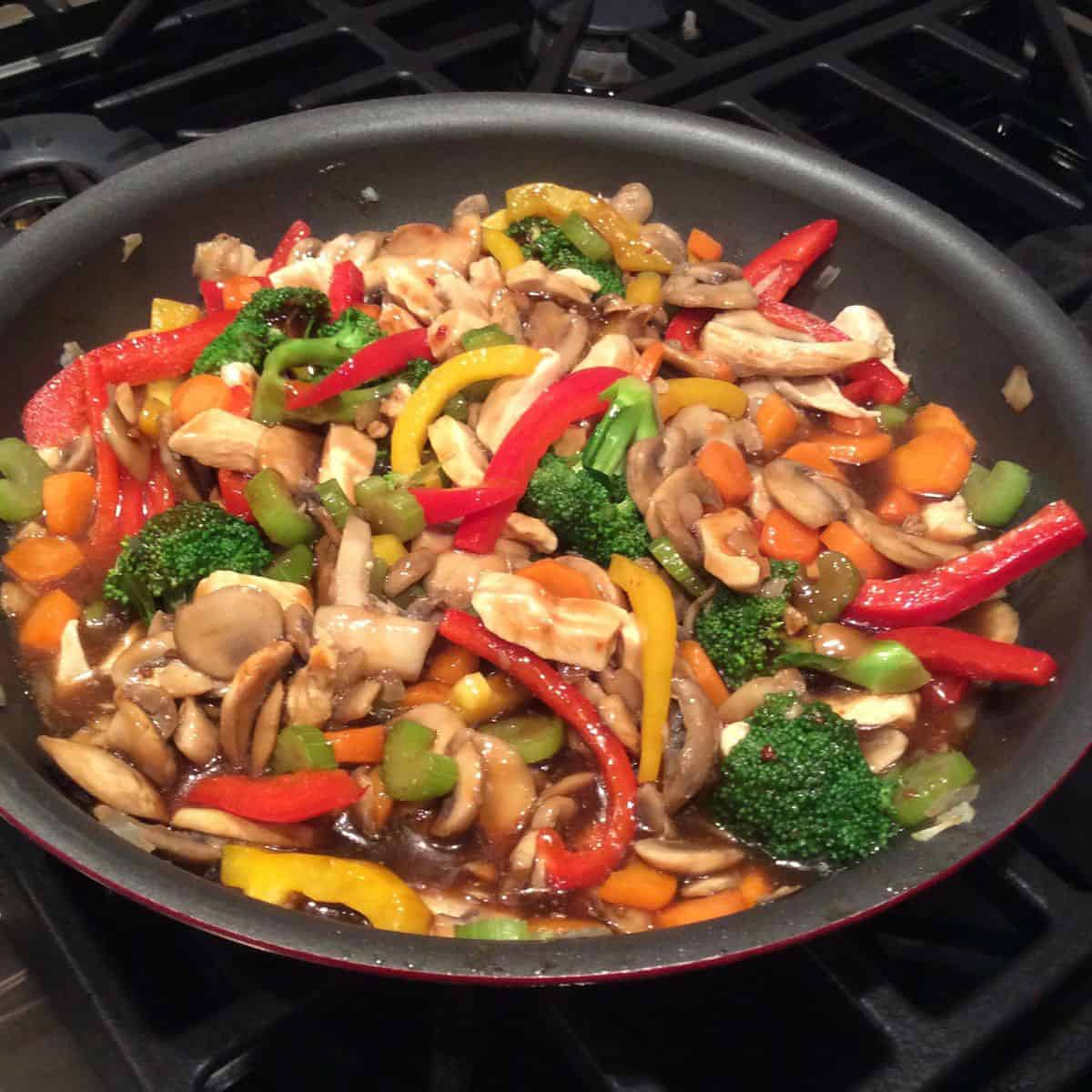 Add the poultry and sliced vegetables like zucchini, onion, and bell pepper, and stir-fry for 5-7 minutes until the meat is cooked.
Season with garlic powder, onion powder, or your favorite seasoning mix, and serve over white rice or cauliflower rice for a delicious meal.
Common questions
Can I cook diced chicken ahead of time?
Yes! You can cook this ahead of time and then store it in the fridge until ready to use. This makes meal times fast and easy.
How long is this good for?
The USDA recommends that leftover cooked chicken be stored at 40° F (or less) and used within 3 or 4 days. You can also keep it in the freezer for up to 3-4 months in an airtight container. After this, you should discard it.

Diced chicken is a versatile meat used in many different recipes. It can also make meal prep time easier because there are so many good ways to use leftover chicken. These are just a few of my favorite ways to use leftover chicken:
👨‍🍳 Tried this Recipe? Please leave a ⭐⭐⭐⭐⭐ rating in the recipe card below and leave a comment. We love hearing from our readers!
⏩ Stay in touch with us on social media by following us on Facebook, Pinterest, Instagram, and YouTube!
📬Get our Recipes delivered to your inbox for FREE!