Leftover Chicken Recipes are pretty popular in our home because we eat a lot of chicken! It is the number one favorite of our boys. Their favorite chicken recipe is our rosemary chicken, but they love it all. With almost 70 chicken recipes on Platter Talk, one thing is for sure. We always seem to have leftover chicken.
If you are wondering what to do with leftover chicken, you're going to love this chicken casserole. You can make it with any kind of leftover chicken. Just some pasta, cheese, and a few other ordinary pantry ingredients.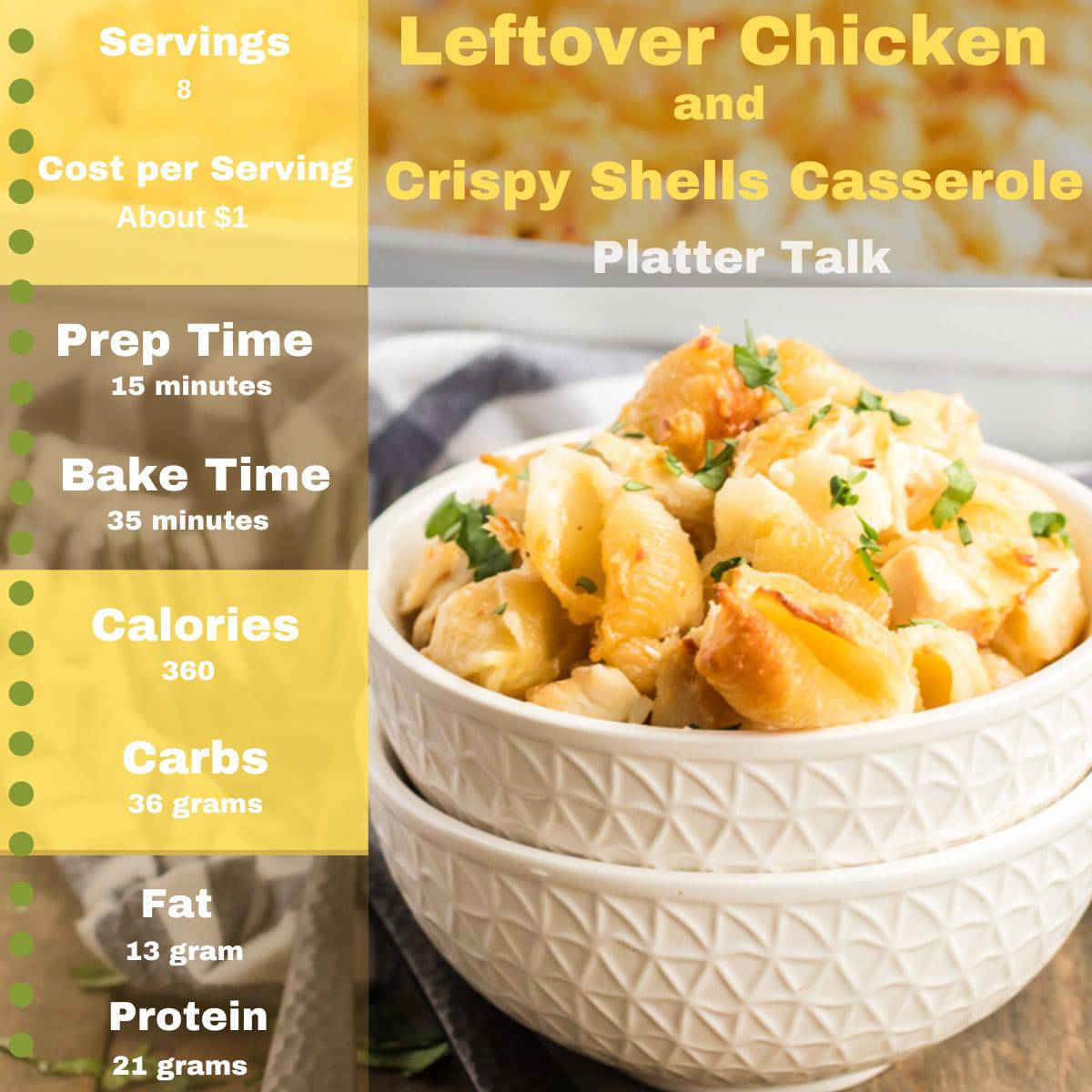 Leftover Chicken Recipe for Crispy Shells Casserole

This easy budget meal is the second act of our French Fried Onion Ring Baked Chicken. Other types of chicken work well too. Leftover barbecued chicken, leftover fried chicken, and leftover roast chicken. Are you starting to see the trend here? This cheesy casserole is one of the best ways to use leftover chicken. Period!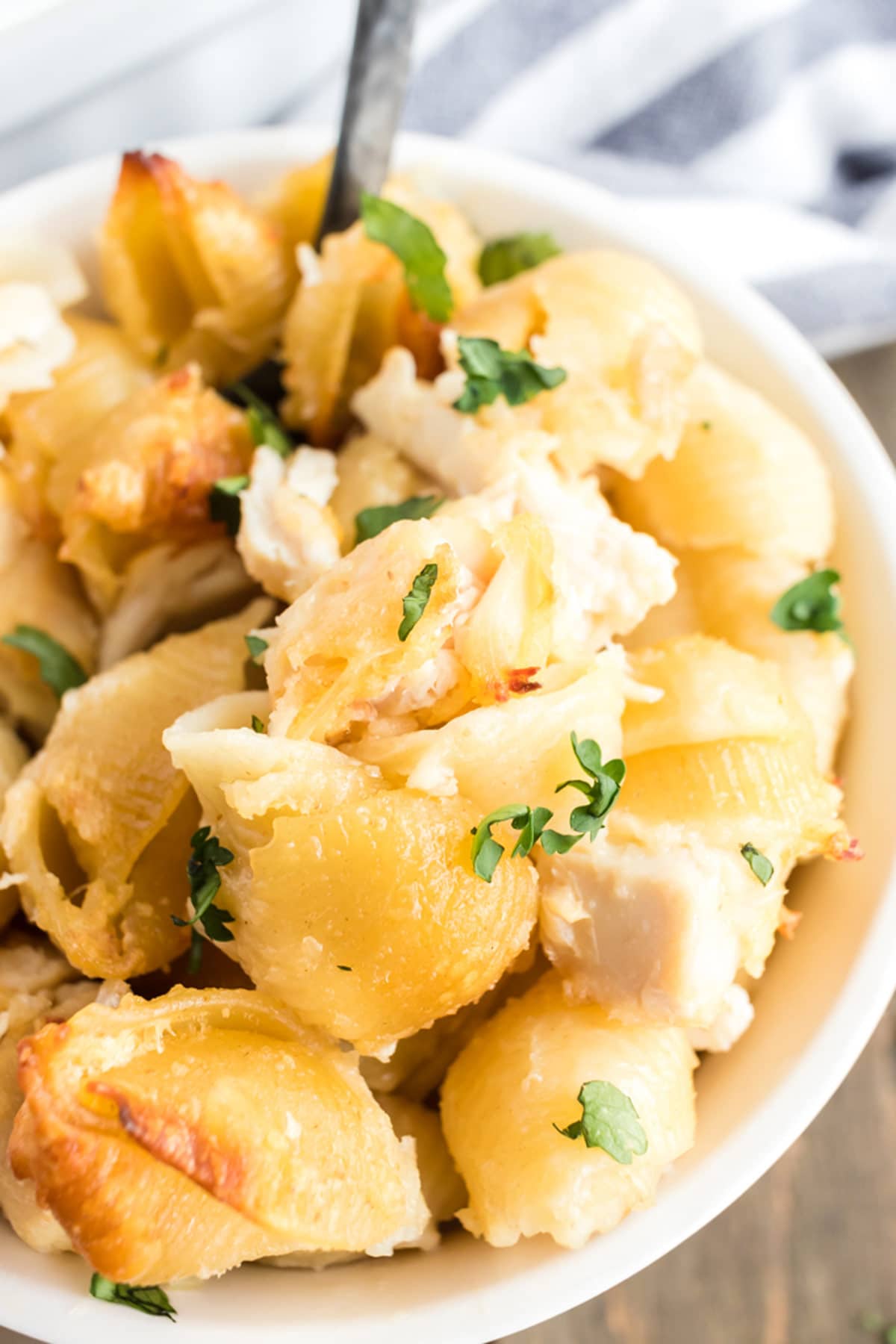 Ingredients for this Chicken Casserole
(Full recipe is found below in the recipe card.)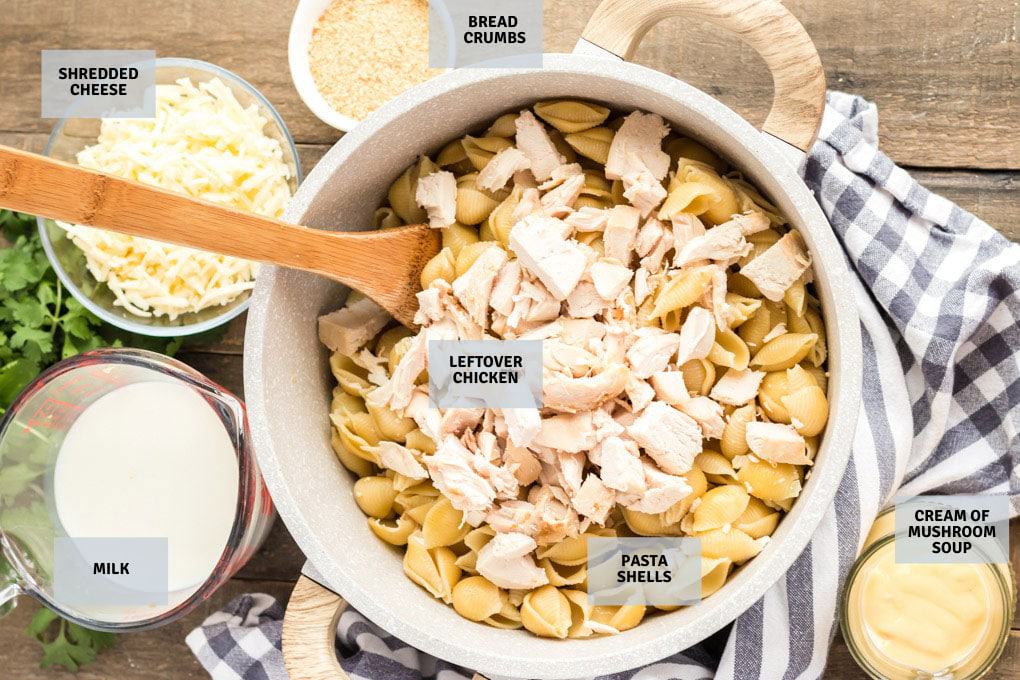 1 lb of leftover chicken
16 oz of medium-size pasta shells
8 oz of shredded cheese (whatever kind that you have handy)
1 can of cream of chicken or mushroom soup
1 cup of milk
¼ cup of breadcrumbs
You probably won't find this leftover chicken recipe at a Michelin-starred restaurant. Lucky for us, our boys are O.K. with that.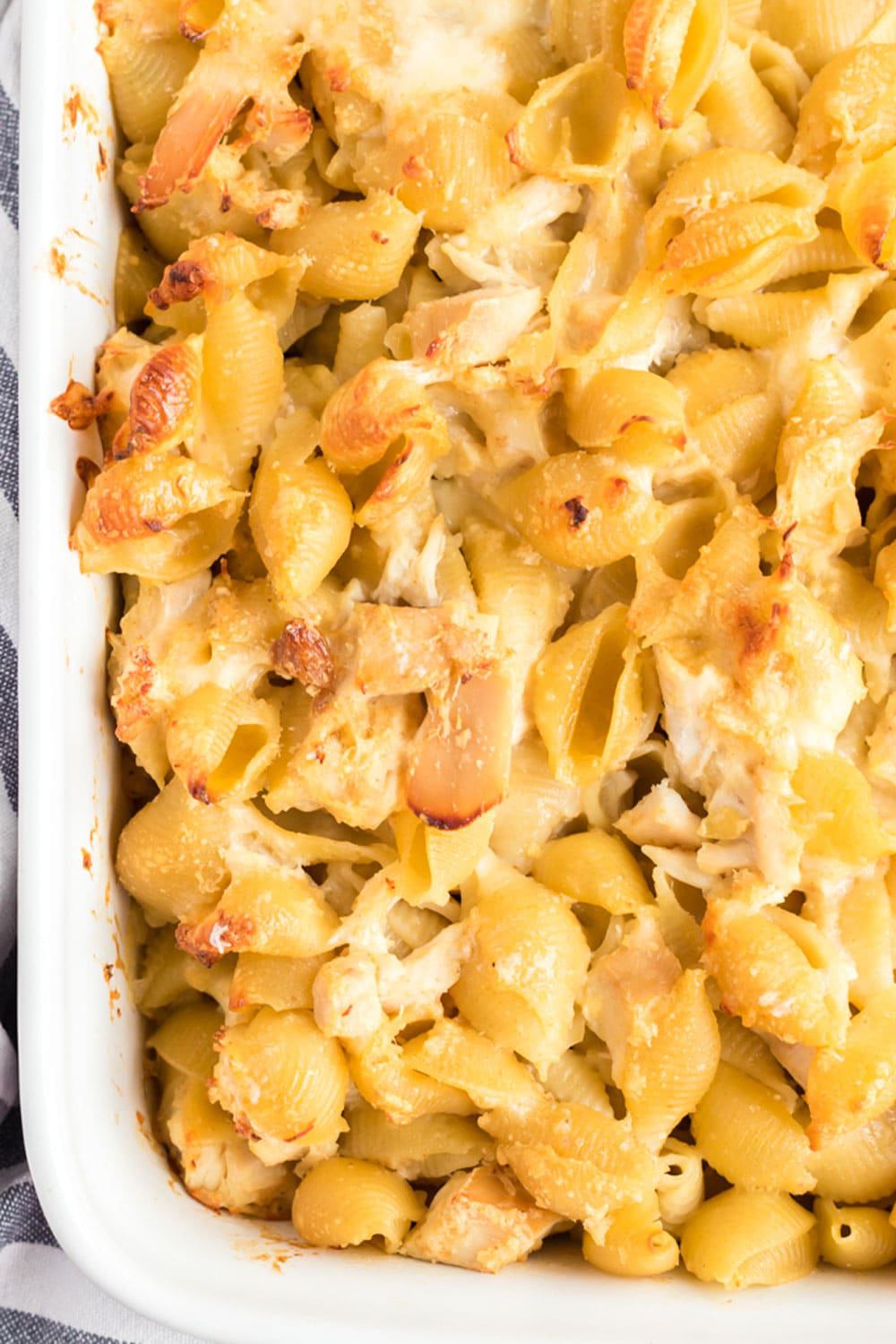 How to Make this Casserole Recipe using Leftover Chicken
The steps to making this quick family dinner are short and sweet. Another bonus to using good leftovers!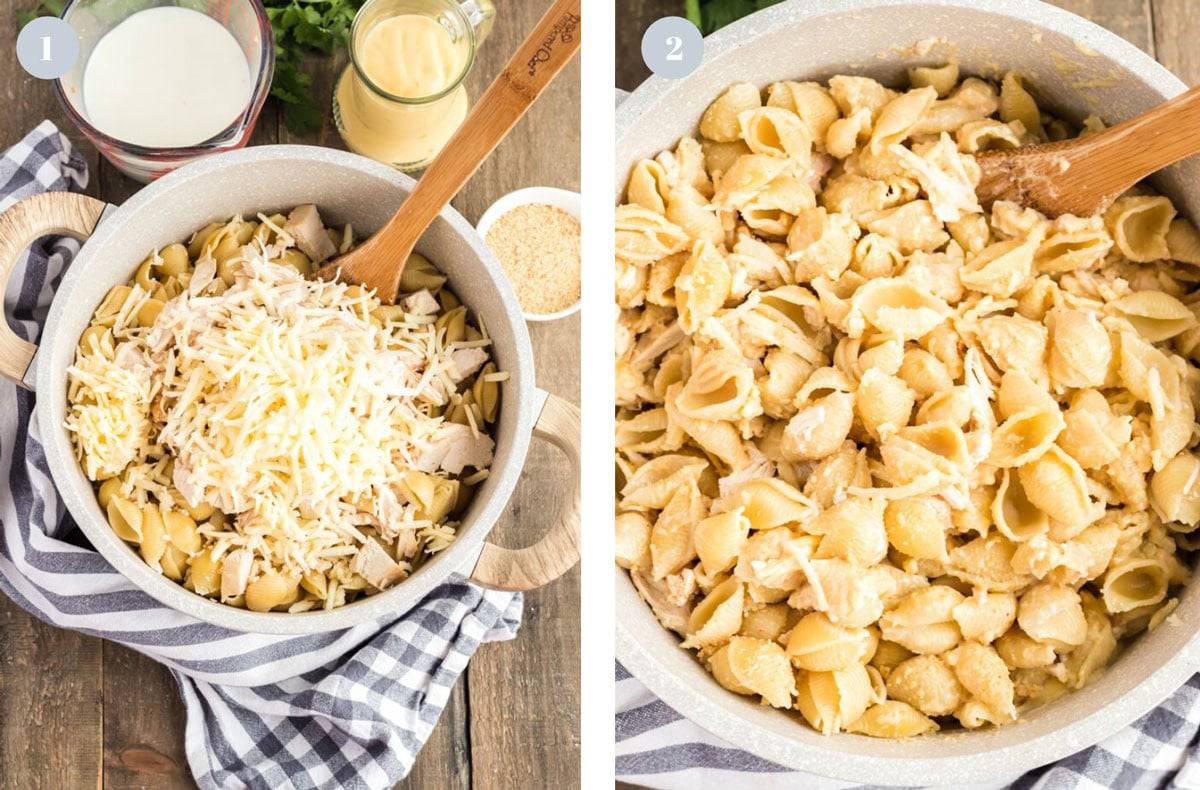 1. Cook and drain the pasta shells as directed. Then combine all the ingredients with the leftover chicken in a large mixing bowl.
2. Stir it all together.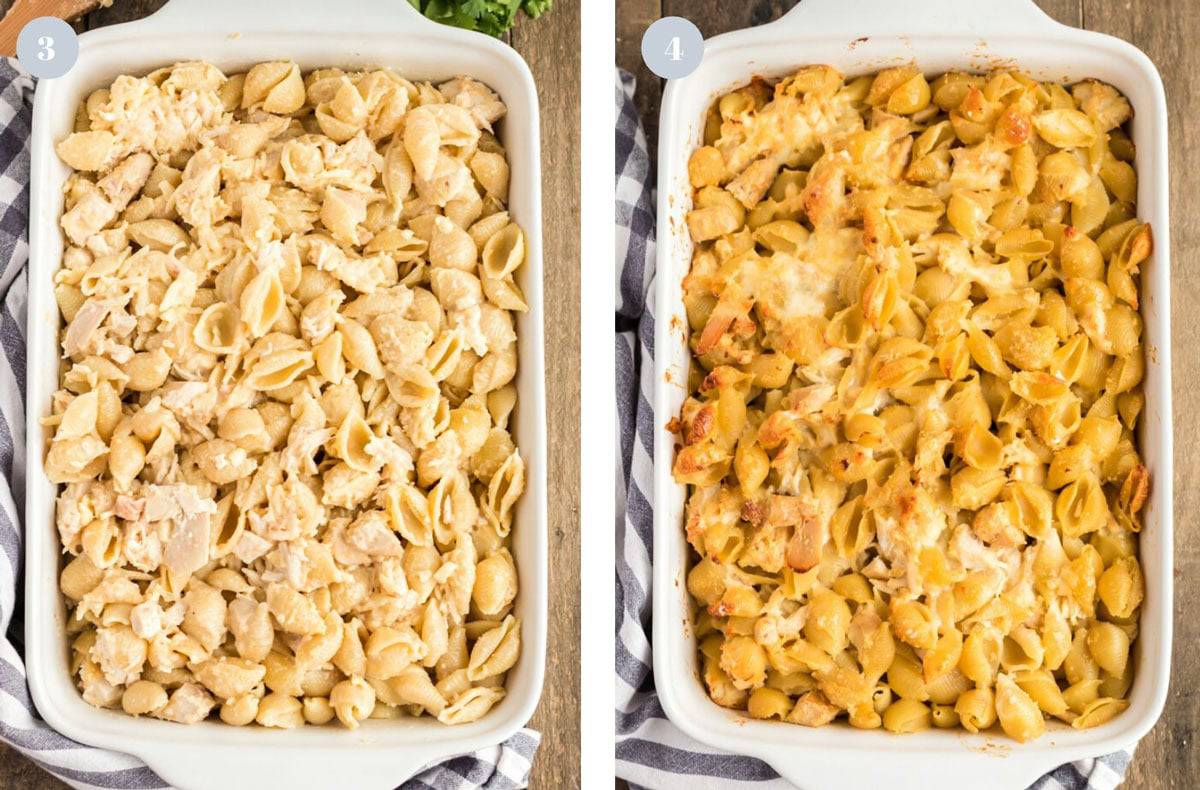 3. Transfer the ingredients to a greased 9 x 13 casserole pan.
4. Bake at 350° for about 35 minutes.

Our whole family loves this comfort food creation. Because it comes from chicken leftovers we are getting a twofer. Of course, this makes it even better!
This tasty leftover meal shows that you can use any leftover chicken or turkey for another meal. It's not only good tasting and fast, but it's also darn affordable.
You can make this family dinner for about $5.00 and well under $1.00 per serving. As my dad use to ask, "How do you like those apples?!"
Take a look at some of our other recipes that use leftover chicken. You're sure to find one that's right for you!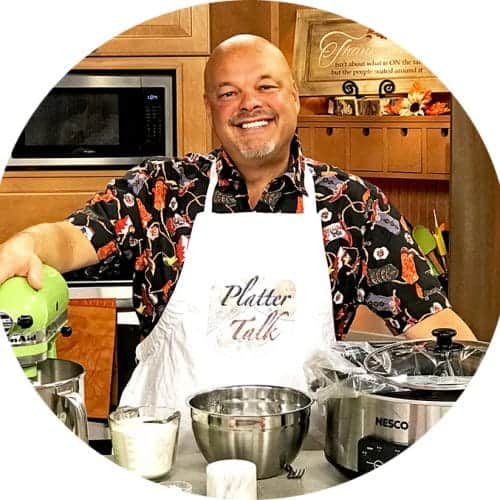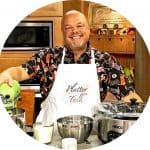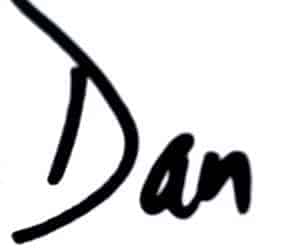 If you're looking for more leftover chicken recipes, you might like these!
Additional hints for making this chicken casserole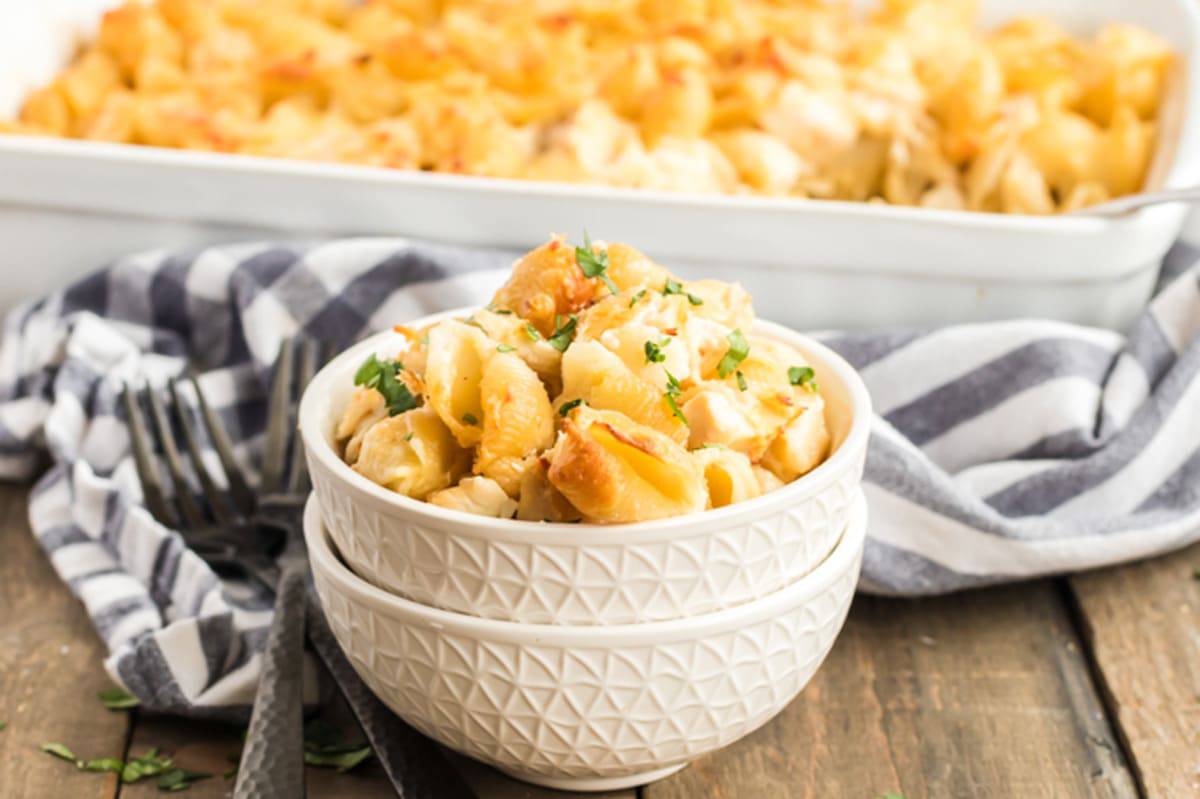 Use whatever kind of chicken that you have leftover.
Use your favorite cheese in this chicken casserole, or whatever you have on hand.

Mozarella cheese works great for a mild and light cheese flavor.
Cheddar cheese will add a little more savory flavor to this chicken casserole.
Parmesan cheese will give it a bit of an Italian flare.
If you don't have cream of chicken soup, use any of the following:

Cream of mushroom soup
Cream of celery soup
FAQ
How do you store leftover chicken?
Leftover chicken should be cooled and then sealed and wrapped in a refrigerator as soon as possible.
Your refrigerator should be no warmer than 40° inside.
Never allow the chicken to set at room temperature for over two hours.
How long is it good for?
Leftover chicken should probably be tossed out after three or four days in the fridge.
If it starts to smell or look funky, it's time to say goodbye and get rid of it.
Can I freeze this casserole?
You can freeze this casserole for up to six months.
Use plastic wrap to seal and wrap it.
Allow thawing in the fridge overnight, the day before you bake it.
---
If you're looking for more leftover chicken recipes, you might light these!
---
Have you made this Leftover Chicken recipe on Platter Talk? Leave a comment or question below; we love hearing from readers! FOLLOW US on FACEBOOK, INSTAGRAM, and PINTEREST to see what we have cooking!
Grab our friend Stacy's casserole cookbook, it's one of our favorites!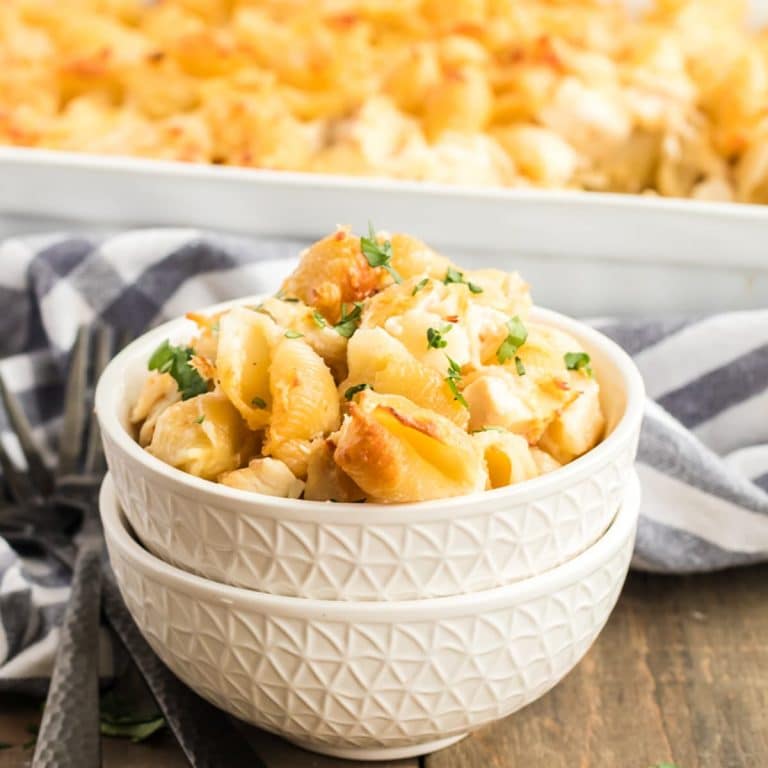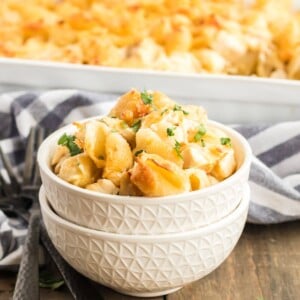 Crispy Leftover Chicken and Shells Casserole Recipe
If you have ever wondered what to do with leftover chicken, this easy and fast kid-friendly recipe is a Godsend!

Print
Pin
Rate
Ingredients
16

oz.

chicken

coarsely cubed

16

oz.

pasta shells

8

oz.

shredded cheese

1

can cream of chicken or mushroom soup

1

cup

milk

¼

cup

breadcrumbs
Instructions
Preheat oven to 350 degrees F°

Grease a 9 x 13 casserole pan.

Prepare pasta as directed, drain.

In large mixing bowl, cube leftover chicken. Add grated cheese, soup, milk, breadcrumbs and pasta.

Stir mixture thoroughly then evenly distribute in prepared casserole dish.

Bake for about 35 minutes, or until golden brown on top.
Notes
You can add fresh or dry herbs to this recipe, depending on your preferences.
Basil
Oregano/Italian seasoning
Thyme
Remember, oven temperatures may vary. The casserole is done with it is brown and bubbly.
Nutrition
Calories:
449
kcal
|
Carbohydrates:
47
g
|
Protein:
26
g
|
Fat:
17
g
|
Saturated Fat:
7
g
|
Cholesterol:
68
mg
|
Sodium:
260
mg
|
Potassium:
302
mg
|
Fiber:
2
g
|
Sugar:
4
g
|
Vitamin A:
320
IU
|
Vitamin C:
1
mg
|
Calcium:
202
mg
|
Iron:
2
mg
This recipe has been updated from the original post of March 3, 2016.