Family-Friendly Chili Dog Casserole with Crescent Rolls
Looking for a cheesy, delicious dinner? Look no further than this mouth-watering Chili Cheese Dog Casserole! Perfectly balanced flavors of chili and cheese, with just the right amount of hot dogs, will have you coming back for seconds.
Get ready to experience dinner like never before!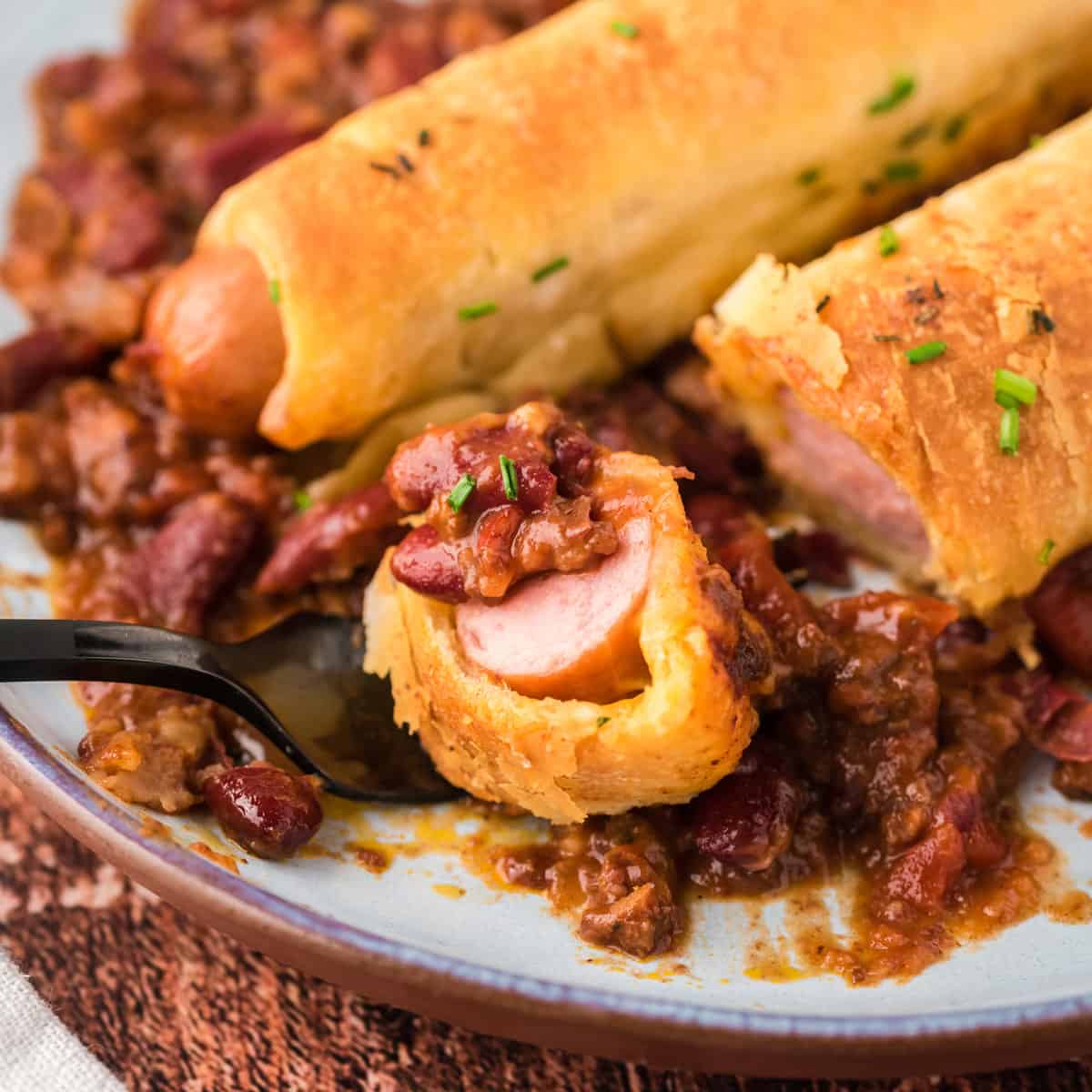 What is this?
Casserole dishes are some of our favorite family meals. I grew up eating the classics, like this easy Tuna Noodle Casserole from my friend Debi at Life Currents. Indeed, there is nothing better!
Today I'm showing you how to make a new casserole recipe. Chili cheese dog casserole is a delicious dish with classic chili dog flavors. It consists of layers of cooked, refrigerated crescent dough, hotdogs, shredded cheddar, and more!
To finish it off, top the casserole with your favorite hot dog toppings like ketchup, mustard, and chopped onions. This is one casserole dish you'll want over and over again!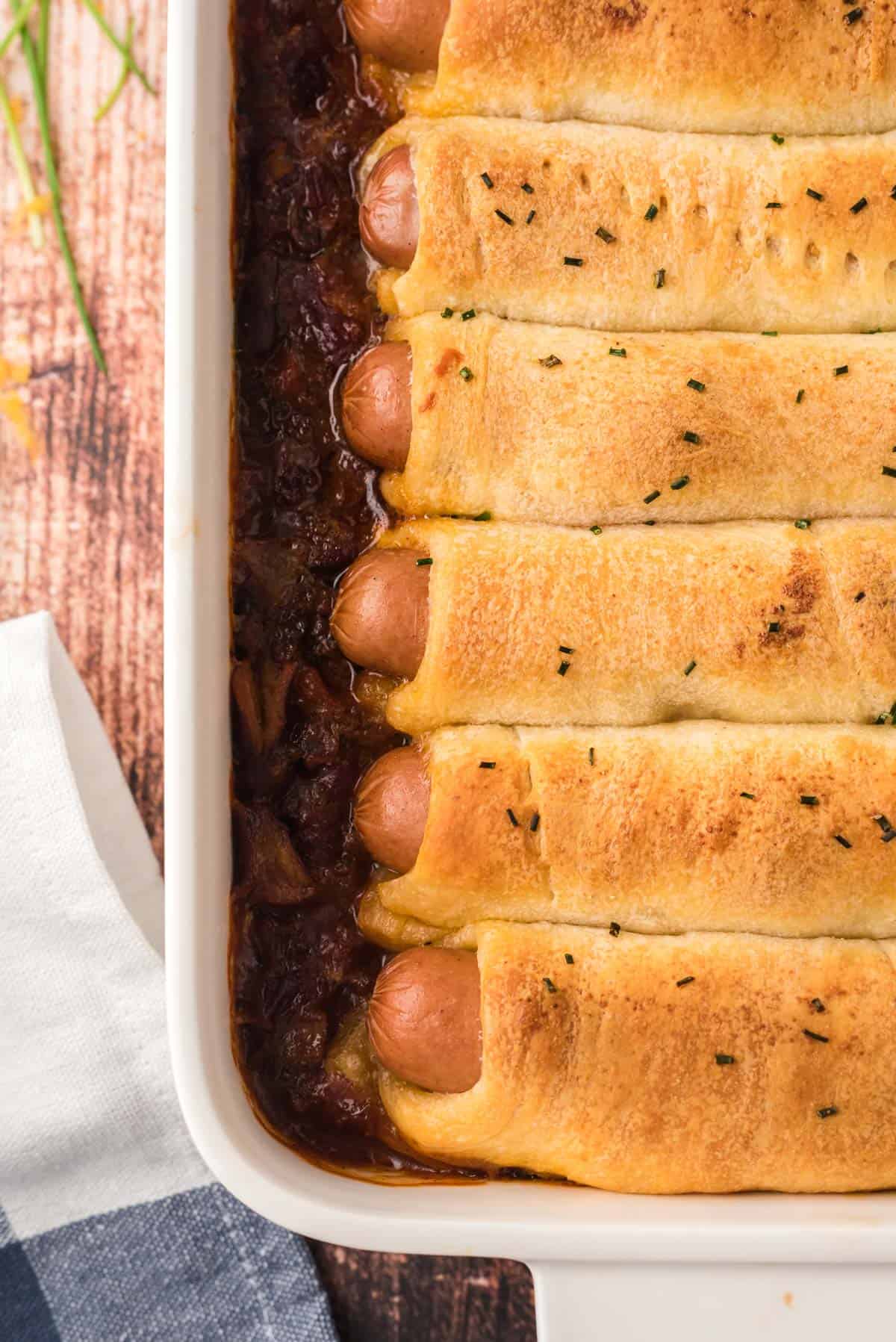 When did the hot dog enter the chat room?
The hot dog is a classic American summer food that has been around for centuries. Its origins can be traced back to the Roman Empire, when Gaius, the cook of Emperor Nero, is thought to have linked the first sausage. The hot dogs we know today are believed to have originated in Germany in the 1800s.
German immigrants brought a sausage called "dachshund sausages," which eventually became known as hot dogs. In 1852, the butcher's guild in Frankfurt wanted to claim full ownership of the sausage and introduced a new smoked sausage later adopted by Americans and became known as a frankfurter or hot dog.
Street vendors started selling them in New York in the 1860s, and the hot dog quickly became associated with baseball and American culture (Source: Hot Dog History | NHDSC).
What's in this?
This is the perfect recipe for getting your favorite chili dog flavors using just a handful of everyday ingredients. See nutrition information in the recipe instructions that follow this post.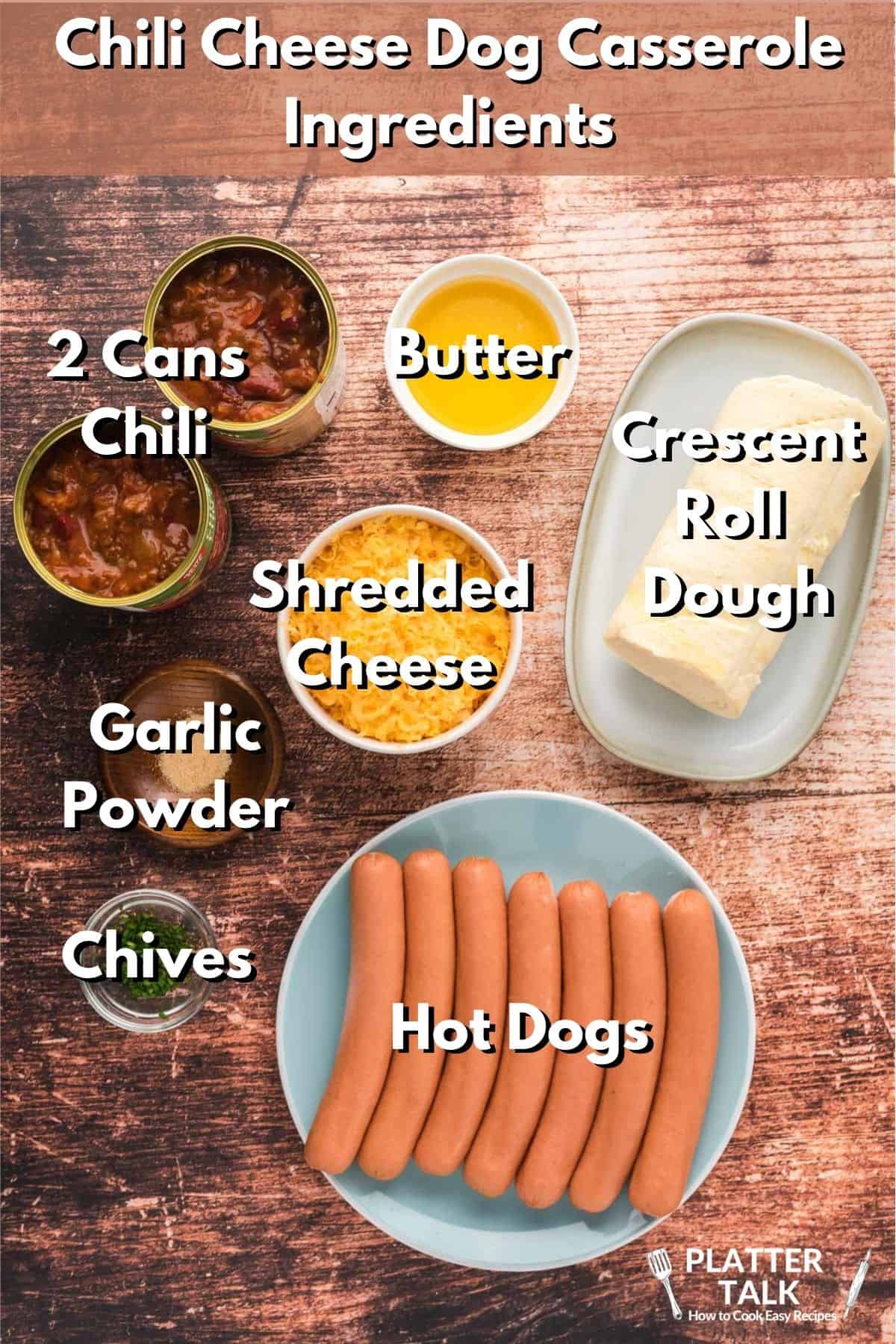 Refrigerated crescent dough is an easy-to-use dough made with pre-made flaky layers of pastry that can be used to make a variety of dishes. We also use this in our Apple Turnover with Crescent Rolls and in our Greek Yogurt Glazed Cinnamon Crescent Rolls.
Hot dogs provide a savory flavor and classic texture to chili cheese dog casseroles. Cut into small cubes or slices to ensure they cook evenly.
Shredded cheddar brings cheesy goodness and provides a creamy texture to the casserole. The gooey cheese brings this guilty pleasure to a whole new level!
Canned chili brings a spicy kick to the recipe and additional protein and rich flavor. Beef chili is a favorite around here. Of course, this yummy chili dog casserole is the perfect home for your own homemade chili leftovers.
Butter adds more richness and helps keep the top of the chili cheese dog casserole from drying out while baking.
Finely chopped chives bring a hint of garlic that compliments all the other flavors in the dish.
Garlic powder enhances all of the flavors without adding too much saltiness or harshness to the dish.
How to make chili cheese dog casserole
(Full recipe is at the end of this post.)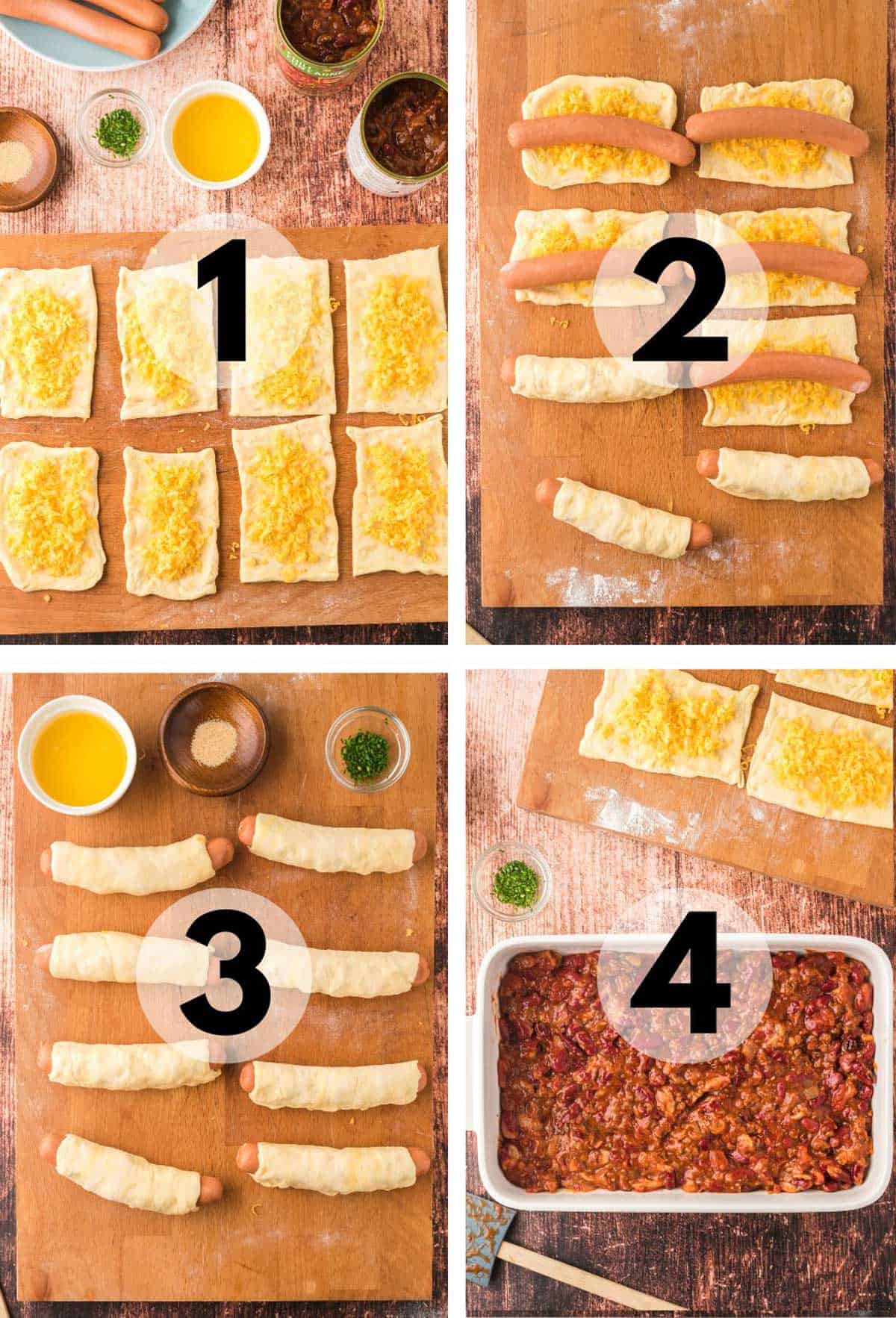 Roll out the crescent dough and cut into 8 even rectangles. Evenly sprinkle the shredded cheese over the dough.
Place the hot dogs on the pieces of crescent roll dough.
Wrap the dough around the hot dogs.
Evenly spread the chili in a 9″x13″ baking pan.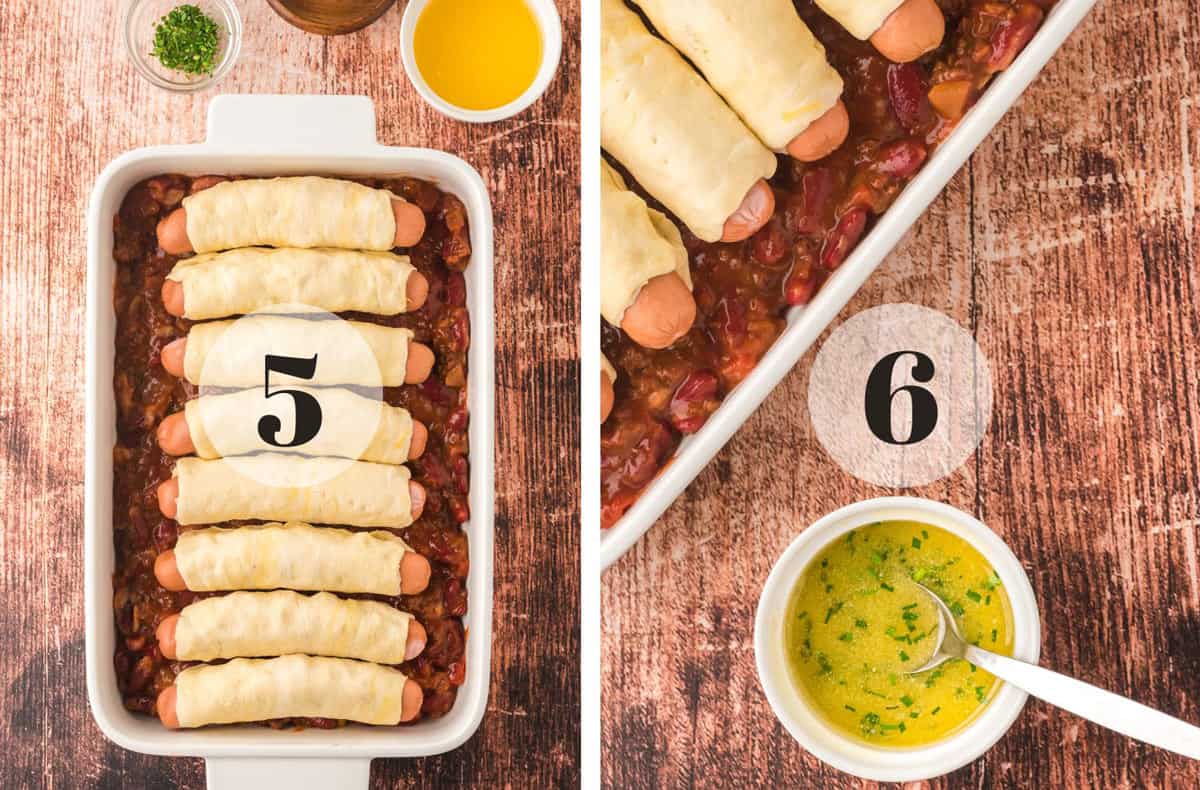 5. Lay the hot dog rolls across the pan of chili.
6. Add the chives and onion powder to the melted butter.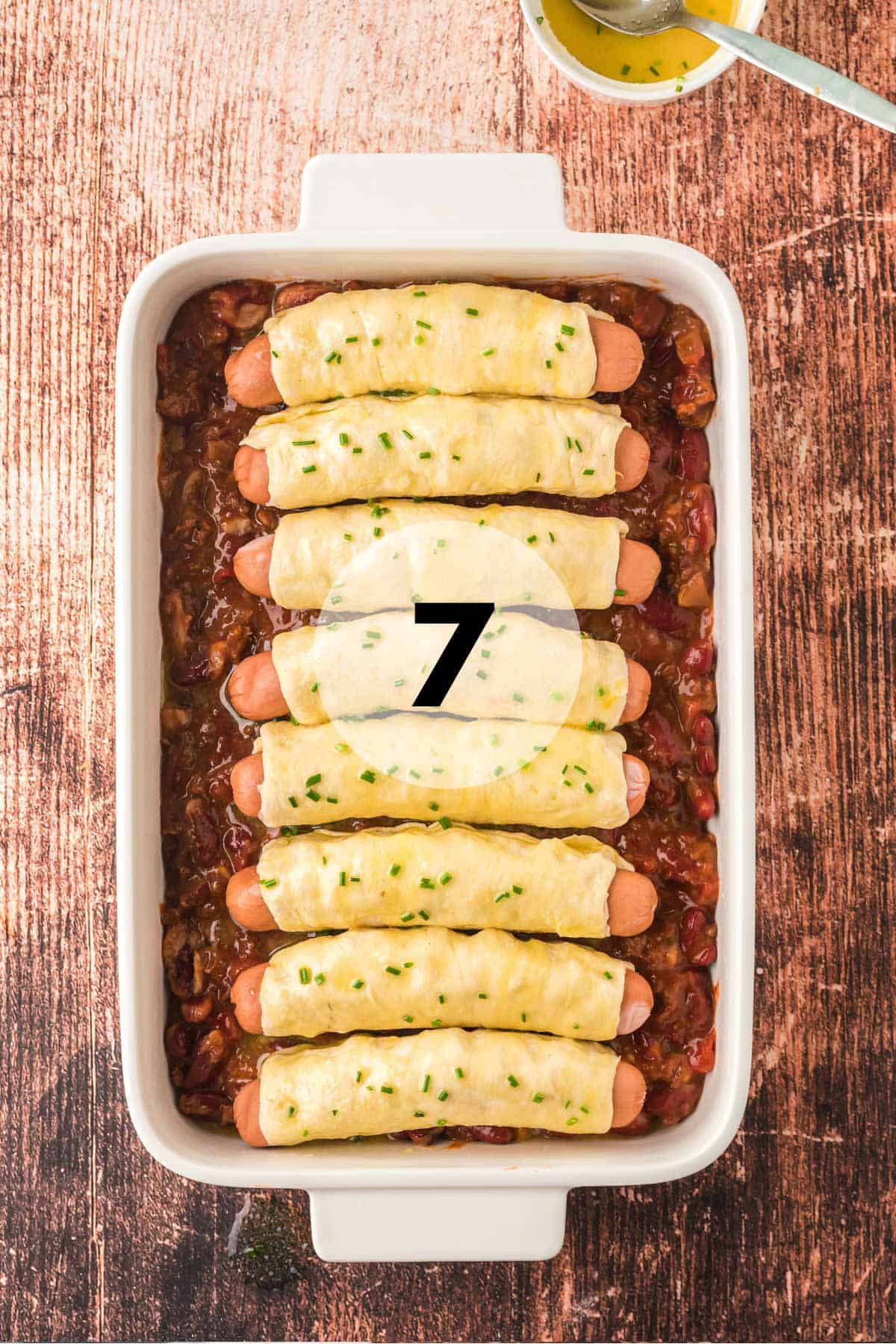 7. Brush the butter mixture over the crescent roll dough. Bake for 30 minutes at 375° F.
Pro baking tip: Here's a pro baking tip for making chili cheese dog casserole: *Prepare the ingredients before assembling*.
Brown the meat, cook the noodles and drain and rinse the beans. When you have all of your ingredients ready, you can quickly assemble your casserole layers without worrying about anything burning or overcooking.
Substitutions and variations
Chili Hot Dog Casserole With Various Cheese: Use your favorite chili, hot dogs, and your favorite cheese to make a delicious casserole.
Cheesy Sausage and Rice Casserole: Add sausage and white rice to the mix of chili, hot dogs, and cheddar cheese for an extra cheesy and hearty meal.
Chili Dogs Taco Bake: Layer chili over corn tortilla chips with hot dogs and top with shredded cheese for a Tex-Mex twist on this classic dish.
Mexican Hot Dog Pie: Mix refried beans, diced tomatoes, onions, jalapenos, and hot dogs before topping with biscuit dough for an unexpected spin on this classic recipe.
Spicy Bean & Hot Dog Casserole: Combine kidney beans, black beans, diced tomatoes, onion powder, garlic powder, and jalapenos before adding in diced hot dog pieces; top 'em off with crushed tortilla chips for a spicy spin. This chili mixture takes comfort food to a whole new level!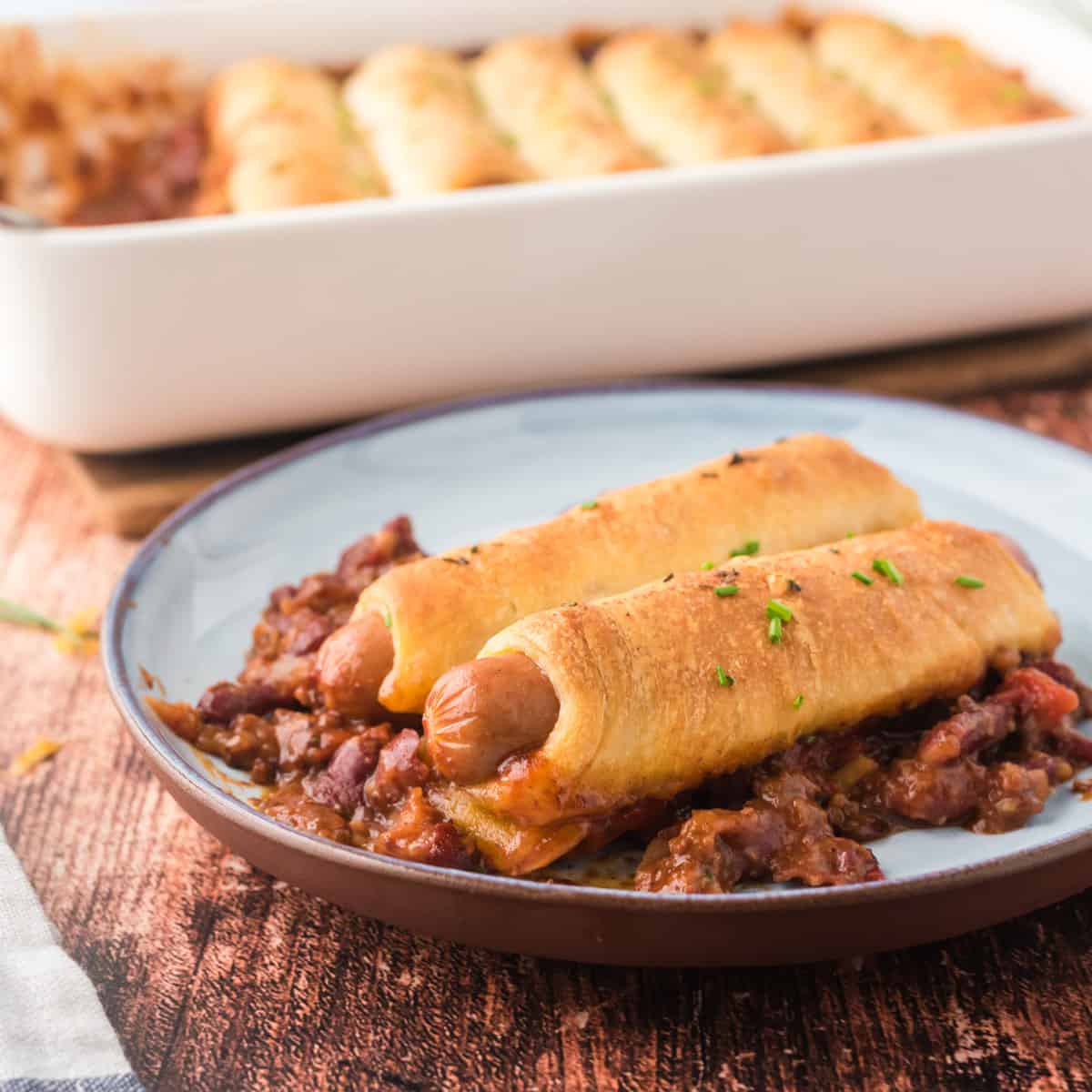 What are the chili toppings options?
There are so many delicious options for topping your chili cheese dog casserole. One of the best things about this recipe is each person can customize their serving with any (or all!) of these popular toppings:
Shredded cheese
Sour cream
Chopped onions
Green onions
Hot sauce
Sliced jalapenos
Diced tomatoes
Guacamole
Crushed tortilla chips
Chopped cilantro
Grated carrot
Chopped bell peppers
Chopped fresh garlic
Olives, either sliced or chopped in rings
Chunky Salsa
Refried Beans
Lime Wedges
Minced Jalapeno Peppers
Kidney Beans
Black Beans
Avocado slices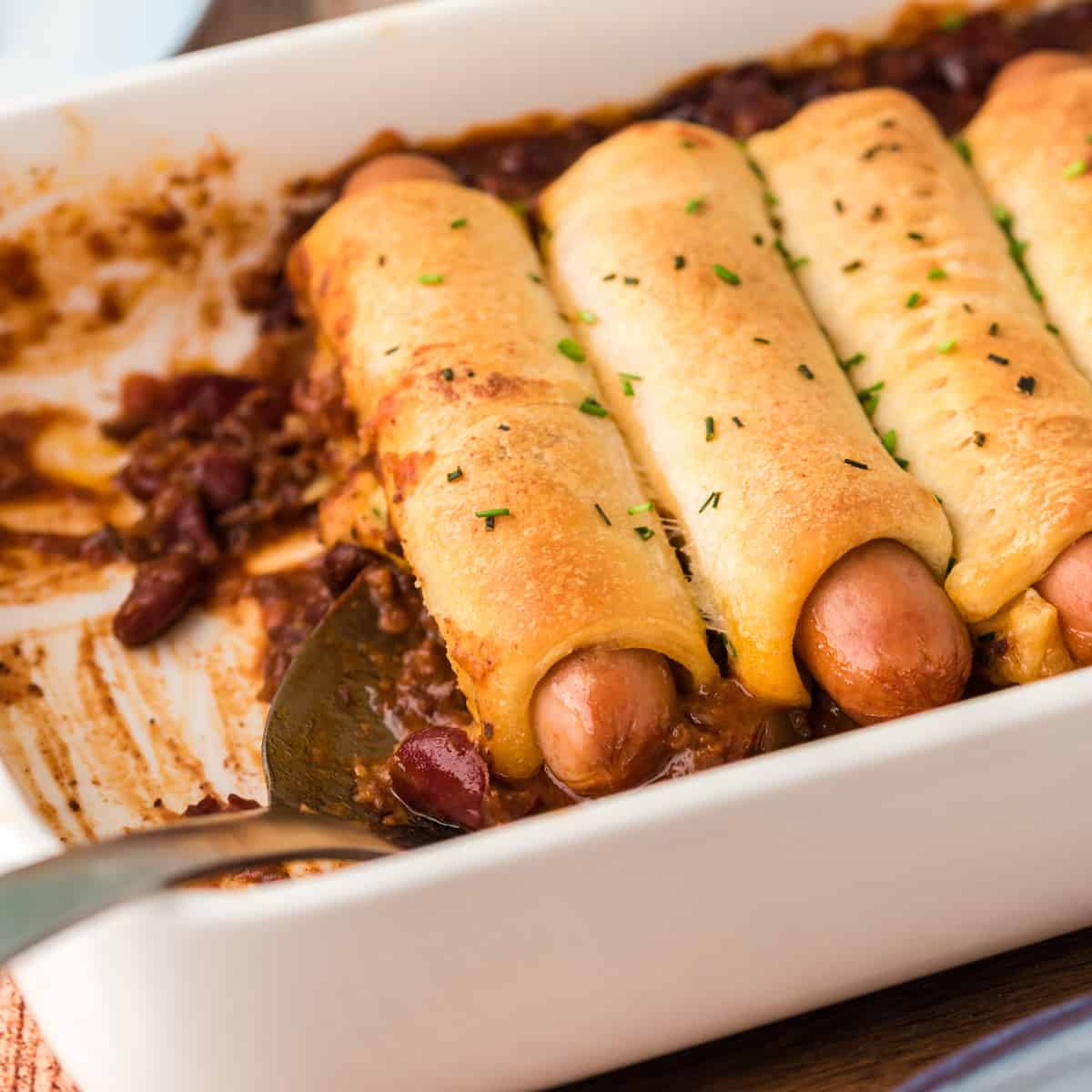 5 tips for making family friendly chili cheese dog casserole
Use a variety of canned chili beans in the casserole, this adds more flavor and texture to the dish.
Add toppings like jalapenos, cheese, scallions, or even sour cream for extra flavor and flare.
Experiment with different types of cheese. Mozzarella, cheddar, or pepper jack cheese can all give your chili cheese dog casserole a unique taste.
Don't forget the spices! A little garlic powder, onion powder, paprika, oregano or parsley can add an extra kick of flavor to your casserole.
Bake your chili cheese dog casserole until it is golden brown on top, it will be worth the wait!
You could also make this chili dog casserole with hot dog buns!
Questions from our readers
Are chili cheese dogs good for you?
No, chili cheese dogs aren't always a very health-conscious option. However, if consumed in moderation, they can be an occasional treat.
Does leftover chili cheese dog casserole need to be put in the fridge?
Yes, any leftover chili cheese dog casserole should be placed in an airtight container and stored in the fridge. It can keep for up to three days when stored properly.
How do I store chili hot dog casserole?
You should store chili hot dog casserole in an airtight container. Place the container in the refrigerator and make sure not to leave it out at room temperature for more than two hours. The casserole should be eaten within three to four days of being stored for optimal freshness.
What should I bake this casserole in?
You should bake chili cheese dog casserole in an oven-safe dish. Make sure the dish is large enough to hold all of the ingredients, and lightly grease it with cooking spray before baking. For best results, cover the dish loosely with aluminum foil while baking to avoid burning the top layer of the casserole.
What is the difference between a chili dog and a Coney Dog?
Chili dogs and Coney dogs are popular varieties of hot dogs. Chili dogs are hot dogs served with chili sauce or chili con carne on the side or over the top of the hot dog.

Coney Dogs, on the other hand, have a different type of topping; they are usually topped with a chili-based meat sauce, onions, and yellow mustard. The two varieties are usually served on different types of rolls as well.
What is the difference between a chili dog and a hot dog?
Chili dogs and hot dogs are both popular varieties of the classic dish. The main difference between the two is that chili dogs are usually served with chili sauce or chili con carne on the side or over the top of the hot dog.

A hot dog is usually just topped with ketchup, mustard, onions, and relish. Chili dogs also tend to be served on different types of rolls than traditional hot dogs.
What is a Cincinnati dog called?
A Cincinnati hot dog is commonly referred to as a Coney. A traditional Coney consists of an all-beef hot dog, mustard, diced onions, and a beef-based chili sauce.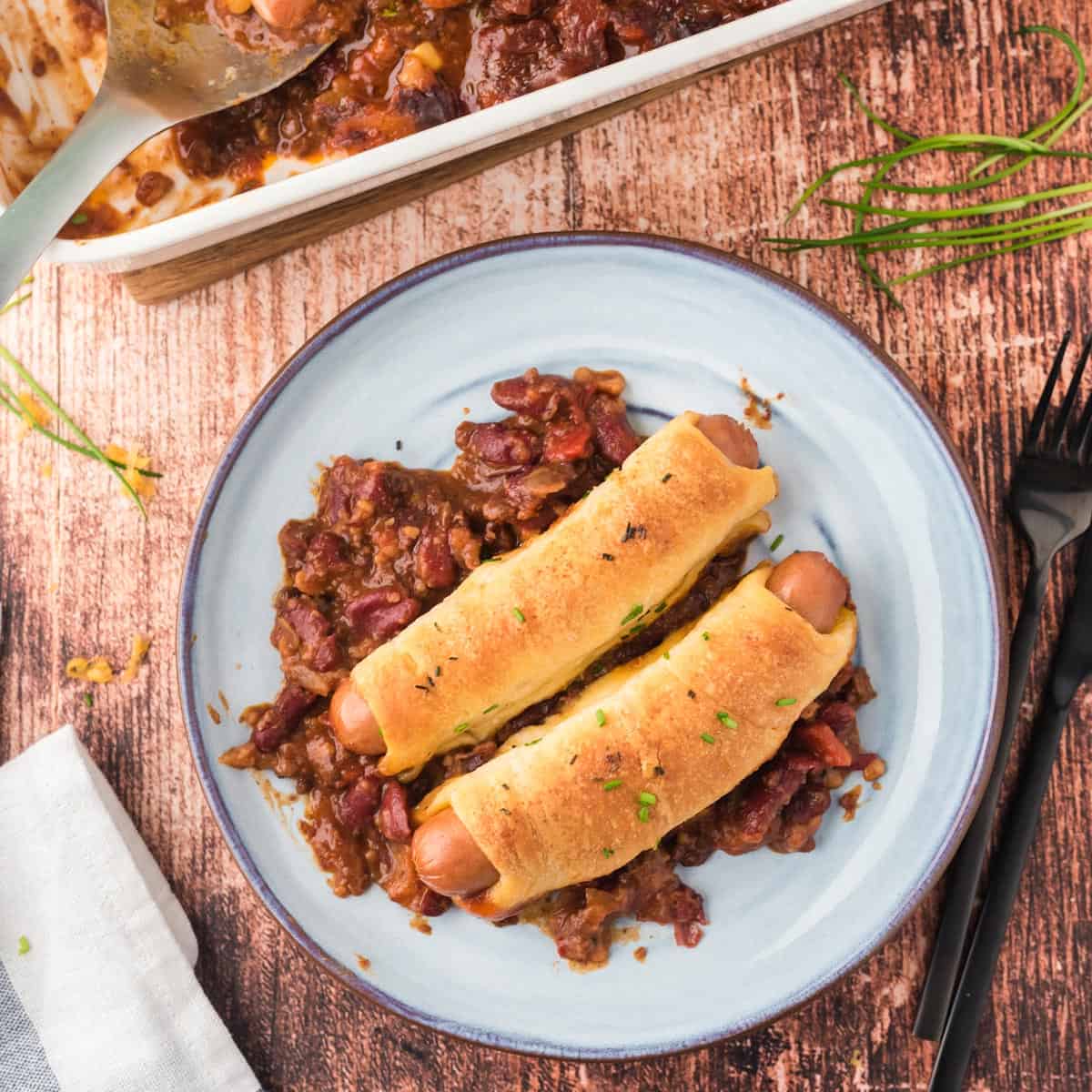 Enjoying the classic flavors of a Cincinnati chili dog has never been easier than with this delicious chili cheese dog casserole.
The heartiness of the chili toppings, shredded cheddar cheese, and array of your favorite spices and toppings make for a dish that's sure to please all palates. Gather your family around the table, and serve up some chili cheese dog casserole.
What to serve with this
More easy casserole recipes
👨‍🍳 Tried this Recipe? Please leave a ⭐⭐⭐⭐⭐ rating in the recipe card below and leave a comment. We love hearing from our readers!
⏩ Stay in touch with us on social media by following us on Facebook, Pinterest, Instagram, and YouTube!
📬Get our Recipes delivered to your inbox for FREE!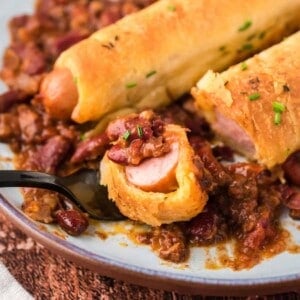 The Best Chili Cheese Dog Casserole
Learn how to transform a can of chili into the perfect dish for a new favorite recipe. This crowd-pleasing family-friendly recipe takes just a few ingredients and is ready to eat in under an hour!
Ingredients
8

oz

Crescent Roll Dough

,

1 can, refrigerated.

8

Hot Dogs

1

cup

Shredded Cheese

30

oz

Chili

,

2 15 oz. cans.

2

tbsp

Butter

,

Melted.

1

tsp

Chives

,

Finely chopped.

1/2

tsp

Garlic Powder
Instructions
Preheat oven to 375°. Roll out crescent dough and pinch the perforations together to seal. Cut into 8 even squares. Sprinkle cheddar on each square and roll around hot dogs.

Spread chili in an even layer on the bottom of a 9"-x-13" baking dish. Place hot dogs in a row side by side on top of chili.

In a small bowl combine melted butter with onion powder and chives. Brush over hot dogs and place in the oven to bake for 30 minutes, covering with foil if the crescent dough begins to get too dark.

Top with more chives and serve.
Notes
For best results, prepare the ingredients before assembling.
Experiment with different toppings for this casserole recipe.
Nutrition
Calories:
578
kcal
,
Carbohydrates:
73
g
,
Protein:
23
g
,
Fat:
34
g
,
Saturated Fat:
11
g
,
Polyunsaturated Fat:
11
g
,
Monounsaturated Fat:
9
g
,
Trans Fat:
0.1
g
,
Cholesterol:
39
mg
,
Sodium:
2384
mg
,
Potassium:
2153
mg
,
Fiber:
37
g
,
Sugar:
11
g
,
Vitamin A:
31709
IU
,
Vitamin C:
1
mg
,
Calcium:
433
mg
,
Iron:
20
mg
Nutrition information is automatically calculated, so should only be used as an approximation.