These dinner rolls are easy and fool-proof enough that anyone can put them together, even a life long baker like myself who has never been able to make good good dinner rolls or bread.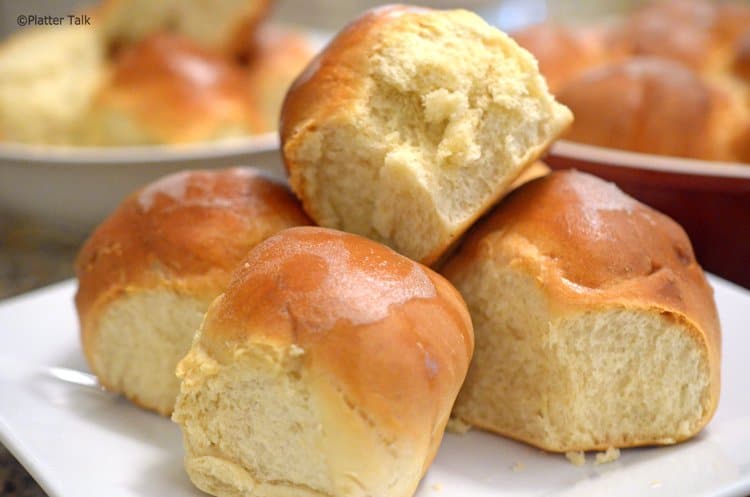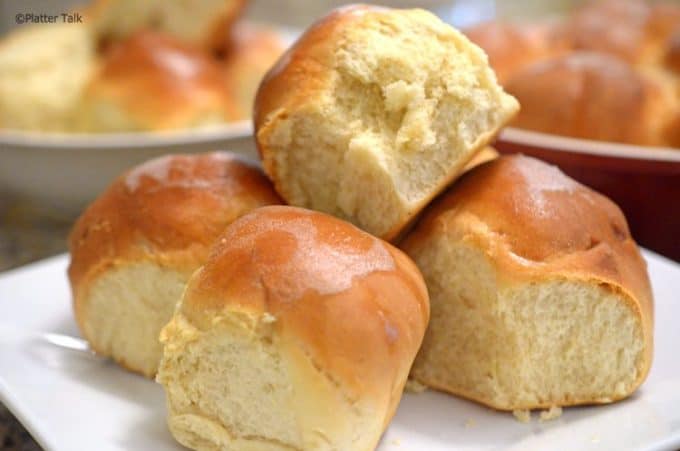 Thankfully, I think that personal kitchen challenge of mine has changed.  Take a look at these rolls and the recipe that follows.  Believe me, if I can put these together, anyone can do the same.
Dinner Rolls Recipe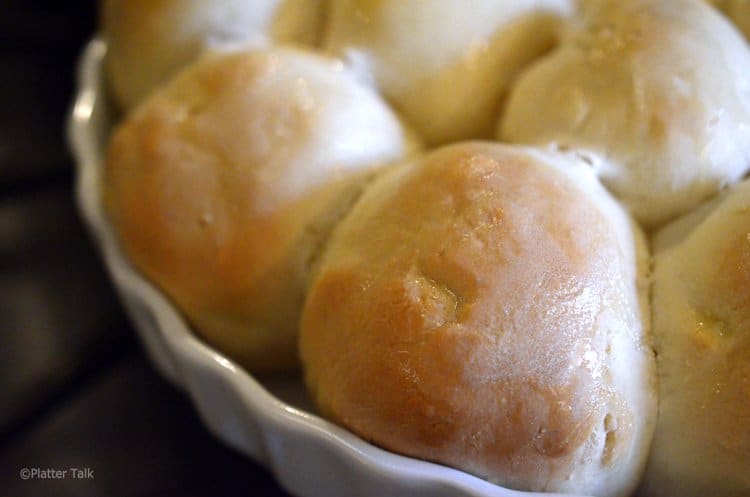 I suppose that in some ways I grew up somewhat of an oddity compared to many of my friends.  One trait I possessed at an early age, which I'm fairly certain was not common among the other 10 year-old boys that were among my peers, was my love of baking.
I started baking at an early age and I baked a lot.  My oldest sister, a kitchen master, would even invite me to her house to spend  Saturday mornings making cookies for her family.  While the other farm kids were sending cattle and poultry to the local county fair, my baked good were going to the state fair in Syracuse.
By the time I left home to set out on my own, it's true that I had boxes and boxes of ribbons,  mostly blue and a few red among them.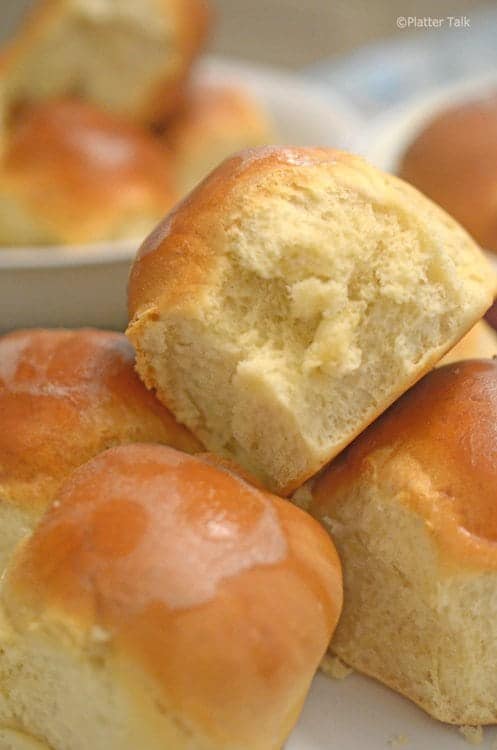 Yet for all the baked good I put together, there is one oven delicacy that eluded my ability to work with flour and in this case, yeast.   Breads and rolls are something I've enjoyed my whole life.
As much as I loved them though, I was never able to put them together myself – until a week or so ago when I found this recipe over at Our Best Bites.   These are probably the best all-around dinner rolls I have ever made.  T
This recie for dinner rolls is light, soft, and melt-in-your mouth delicious.  As warm and wonderful as they are, I'm not stopping with these.   This recipe has given me a new and badly needed confidence to find more bread and roll recipes.
Thus, you can expect to read about more featured roll and bread recipes from us here at Platter Talk.  In the mean time,  give these a try, they will complement any Thanksgiving Day feast or special dinner, perfectly.    -Dan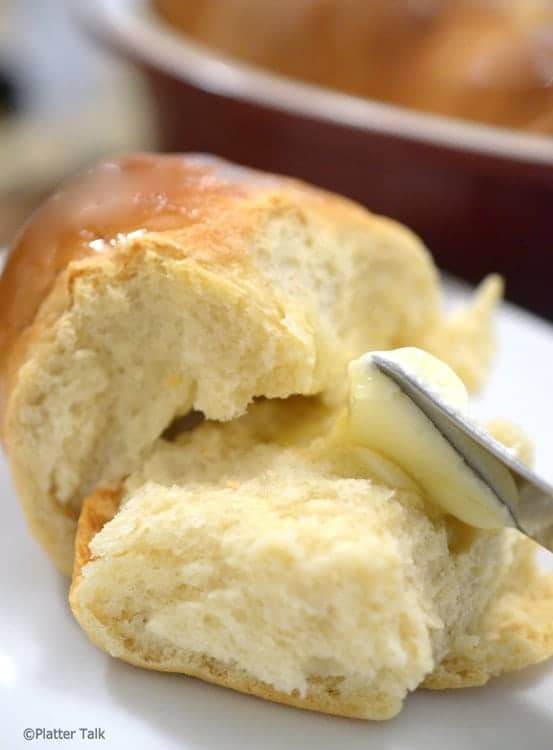 Be sure and read about our easy crusty bread recipe!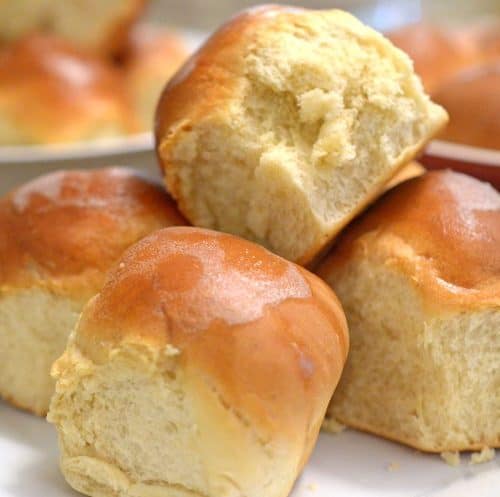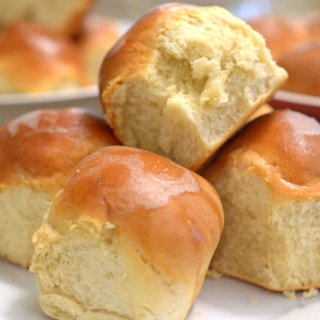 Ingredients
2

c.

whole milk

if you're in a pinch, you can use 2%, but whole is best. Don't use 1% or skim

½

cup

+ 1 tablespoon sugar

divided

1/3

cup

5 1/3 tablespoons butter

2

teaspoons

kosher salt

2

packages active dry yeast

or 4 1/2 tsp., preferably bread machine yeast

2/3

cup

warm

105-115-degree water

8-9

cups

all-purpose flour

3

beaten eggs
Instructions
Combine milk, 1/2 c. sugar, butter, and salt in a medium saucepan. Heat over medium heat until butter melts. Remove from heat. Allow to cool to lukewarm. I usually rub some ice cubes along the sides of the pan or pop the entire pan in a sink full of ice cubes to cool the mixture down because this step can take forever. This step is really important because if the mixture is too hot, it will kill the yeast.

While the milk mixture is cooling, dissolve the yeast and 1 tablespoon sugar in warm water. Let stand about 10 minutes. If the yeast hasn't bubbled, you'll need to repeat this step–moving on with yeast that hasn't been activated properly will only end in heartache for you and hate mail for us.

In a large mixing bowl, combine 3 c. flour and milk mixture. Beat on low for 30 seconds, scraping sides of bowl constantly. Add yeast mixture and beat on high for 3 minutes.

Add beaten eggs. Why should you beat your eggs first? Same reason you should combine your dry ingredients before adding them to moist ingredients when making cookies and cakes–it ensures everything is well-mixed and can be evenly-distributed through your dough or batter. If you add the whole eggs, your dough may not be as consistent.

Stir in as much remaining flour as needed to make a soft dough. This dough should be very soft–it will be coming away from the sides of the bowl, but it will still stick to your finger when you touch it. Don't worry, it will firm up during the rising process. Part of what makes these rolls so good is that they're so soft and light; if you add too much flour, they will be heavy and dense. Place the bowl in a warm place and cover with a clean towel; allow to rise 1 hour.

Punch down dough. Lightly flour your work surface and turn dough out onto surface. Divide in half.

Spray 2 9×13 glass pans with cooking spray. Roll first portion of dough into a rectangle and then cut it into 12 equal-sized pieces. I like to use a pizza cutter because it has a blade on each side, so it cuts right through dough without sticking to the blade. This dough should be very easy to work with. Shape each piece into a ball and place in prepared pan. Repeat with remaining dough in the second pan.

Cover with a clean cloth and allow to rise in a warm place for about 30 minutes. When dough has about 15-20 minutes to go (depending on your oven), preheat oven to 375.

Bake for 15-18 minutes or until golden-brown.
Notes
It is important to note that when baking these rolls, variables such as altitude and differences among ovens can affect baking time required. Some readers have left feedback suggesting that a longer baking time may be necessary for these rolls. As always, with baking, do not remove from oven until completely done. Moral of this story: Baking (and cooking in general) is not an exact science.
Nutrition
Calories:
327
kcal
|
Carbohydrates:
65
g
|
Protein:
10
g
|
Fat:
2
g
|
Saturated Fat:
1
g
|
Cholesterol:
4
mg
|
Sodium:
406
mg
|
Potassium:
141
mg
|
Fiber:
2
g
|
Sugar:
2
g
|
Vitamin A:
64
IU
|
Calcium:
57
mg
|
Iron:
4
mg