Crock-Pot Apple Butter
on Sep 01, 2019, Updated Oct 13, 2021
This crockpot apple butter is a simple apple recipe that allows all of your senses to celebrate the glory of autumn.
Apple butter is traditionally made over many hours on the stove top or even in the oven, and today we are showing you a simpler way.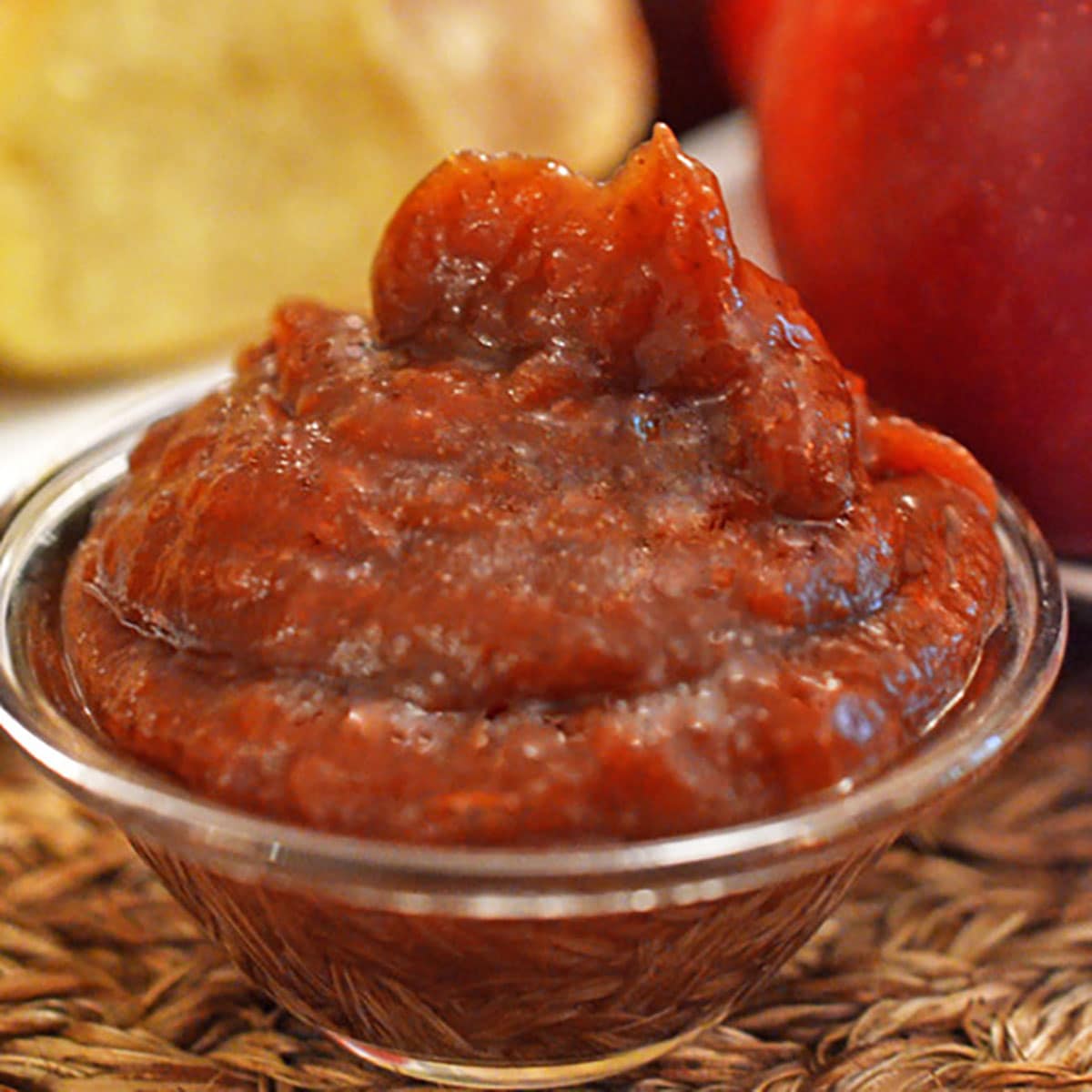 Growing up in the foothills of New York State's Adirondack mountains, when fall arrived we were surrounded by apples galore.
My dear cousin recanted a favorite apple story of mine.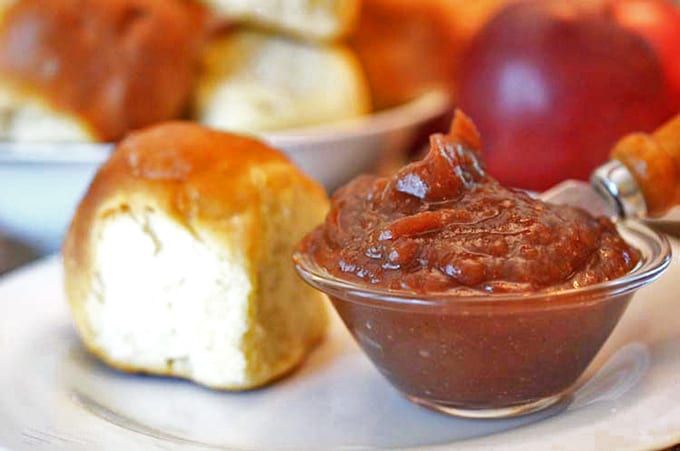 One of our aunts asked her sister if she had the apple pie recipe of one of their other sisters.
Our aunt Esther summarily and succinctly responded, "I think she uses macs."
That's how folks rolled back then in those parts and apple season was a highly anticipated time.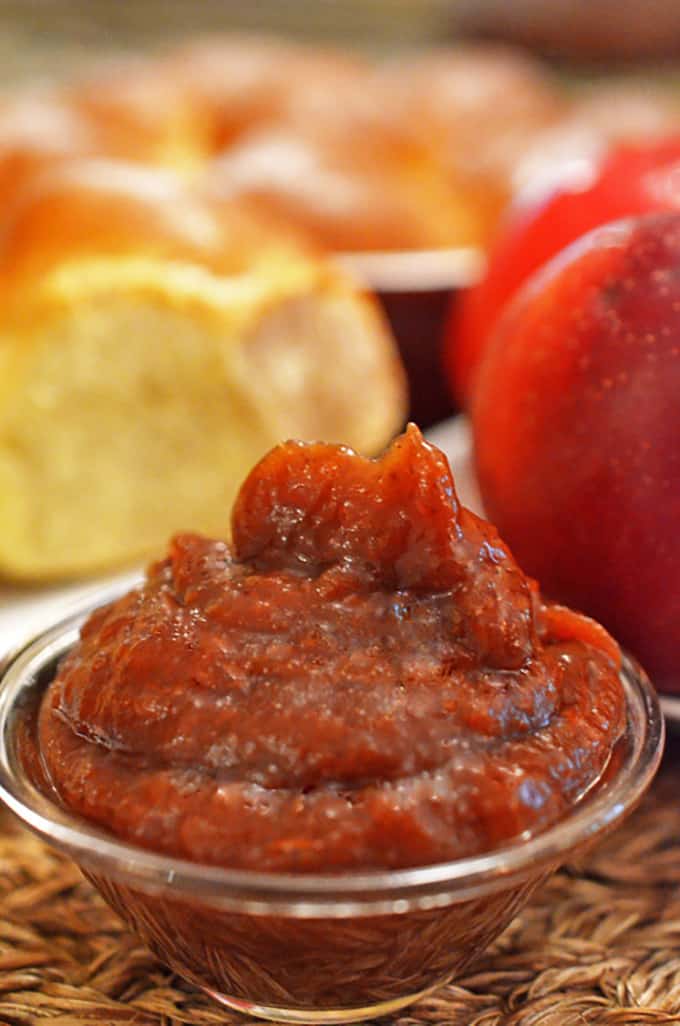 Make your own crockpot apple butter recipe at home!
What is apple butter?
Apple butter is essentially cooked-down applesauce.
It can be used as a savory spread (like jam) or any number of apple recipes.
The Best Apples for this Apple Butter Recipe

If you're wondering what are the best apples to use for making apple butter, I would say whatever apples you have on hand!
Although some sources will tell you that the soft varieties are the best apples for this recipe because they cook down faster, this factor is less critical when you are making slow cooker apple recipe.
How to make apple butter in a crock pot
Core about 3 pounds of apples, leave the skins on, and put them in your slow cooker.
Add cinnamon, nutmeg, allspice, and cloves.
Let the slow cooker work its magic!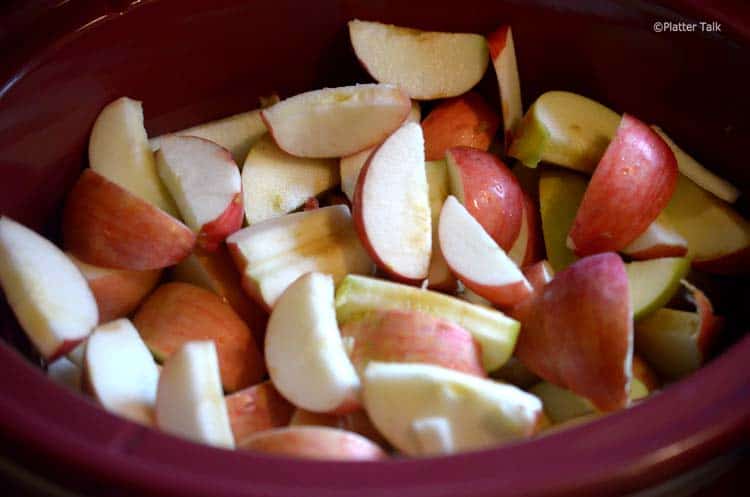 We use Honey Crisp apples from our backyard for this easy fall recipe.
Even though we had plenty of fresh apples of all varieties and even our own local apple cider mill, we still did not have access to one apple delicacy in particular: Apple Butter.
Or so I thought.
To get this coveted apple recipe, our family had to drive 60 miles or so to the Ontario border, at the very top of New York state.
Or, was this just part of an elaborate scheme for my folks to take a few days off from farming and pay their kin a visit to the Motherland?
My mom and dad were smart people.
This crockpot apple recipe will fill your whole neighborhood with the delicious scents of fall.
Top Recipe Tips
Leave the apple skins on.
Let the mixture cook slowly, for hours and hours.
Use an immersion blender to smooth everything out at the end.
Reduce any excess liquid at the end by slow cooking with the cover off.
While I was putting this together, which could hardly be less complicated, I could not help but wonder if my folks were aware how easy this is to make.
Granted, crock pots weren't marketed until around 1971 and took a while to come into vogue.
Still, this apple recipe and countless others serve as stark reminders of the usefulness of our slow cookers. Today, it's hard to imagine any kitchen without one.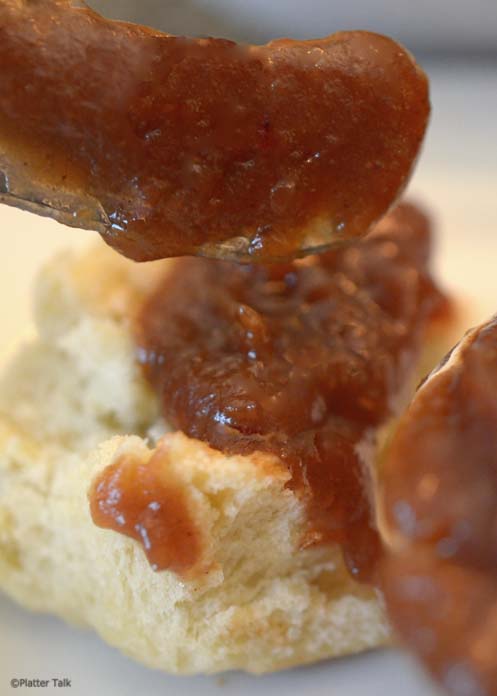 This flavorful spread makes an excellent topping for dinner rolls or toast.
As I mentioned, we did consider this food a delicacy – to the point that I grew up thinking that it was made exclusively in Canada.
Thus, the 2 hours or so journey to the birthplace of my great-grandfather, the namesake for our oldest son, was made once or twice each year.
These visits usually occurred in the fall and lasted a week or so while my parents made their rounds, visiting and staying with one cousin of theirs or another.
Every time we crossed the border on the trip back from Ontario to New York, we always brought with us the memories of a lifetime.
And apple butter. Happy fall to you.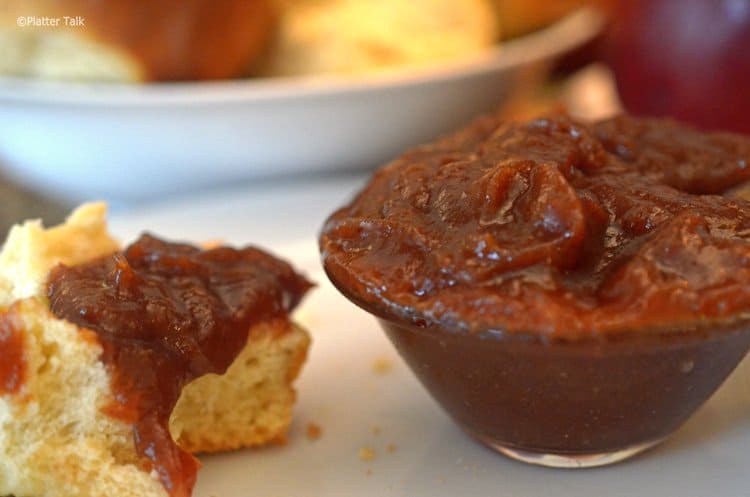 Try this sweet and savory apple recipe this fall!
Besides using it as a spread, this easy apple recipe can be used as an ingredient in many different other recipes.
See our homemade apple butter recipe below, along with some of our favorites recipes that use apple butter
More Apple Recipes for You
👨‍🍳 Tried this Recipe? Please leave a ⭐⭐⭐⭐⭐ rating in the recipe card below and leave a comment. We love hearing from our readers!
⏩ Stay in touch with us on social media by following us on Facebook, Pinterest, Instagram, and YouTube!
📬Get our Recipes delivered to your inbox for FREE!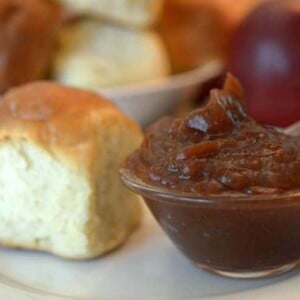 Apple Butter
This slow cooker apple butter is an easy crockpot apple butter recipe that uses fresh apples and warm spices.

Ingredients
Approximately 3 lb. apples

2

cups

sugar

2

tsp.

cinnamon

1

tsp.

nutmeg

1/2

tsp.

allspice

1/2

tsp.

cloves

Dash of salt

3/4

cup

water or fresh apple cider
Instructions
Fill Crock-pot 3/4 full with cored and sliced apples.

Add the remaining ingredients and stir until evenly mixed.

Cover and cook on low setting overnight or until the butter is of a thick, spreadable consistency.

Use immersion blender to purée and incorporate skins into the apple butter.

If apple butter has too much liquid, remove lid and cook on high until thickened. Stir often as butter thickens to prevent scorching.
Notes
If apple butter has too much liquid, remove lid and cook on high until thickened. Stir often as butter thickens to prevent scorching.
Use immersion blender to purée and incorporate skins into the apple butter.
Store in refrigerator for up to 6 weeks. Freeze for longer storage.
Variation: For a less sweet apple butter, substitute 1 cup honey for the sugar.
Nutrition
Calories:
96
kcal
,
Carbohydrates:
25
g
,
Protein:
0
g
,
Fat:
0
g
,
Saturated Fat:
0
g
,
Cholesterol:
0
mg
,
Sodium:
1
mg
,
Potassium:
62
mg
,
Fiber:
1
g
,
Sugar:
22
g
,
Vitamin A:
30
IU
,
Vitamin C:
2.6
mg
,
Calcium:
9
mg
,
Iron:
0.1
mg
Nutrition information is automatically calculated, so should only be used as an approximation.
Updated from the original recipe of November 5, 2014.
Recipes that use apple butter